Maryland Baptist Aged Home
2801 RAYNER AVENUE
BALTIMORE, MD 21216
(410) 945-7650
Basic Profile
Located in Baltimore City, Maryland
Nonprofit Corporation
Certified beds: 29
Last Medicare rating: 4 stars
Maryland Baptist Aged Home, a nonprofit corporation in Baltimore, specializes in providing assisted living care to long-term residents. Its total of 29 certified beds makes it considerably smaller than the nursing home average.
This facility does not reveal much about itself on the Internet, which raises some questions in our minds. But these little non-profit religious affiliated nursing homes you can usually predict will be pretty decent (or at least score well with Medicare). Maryland Baptist is no exception. Medicare gives it an overall 4-star rating (above average), and based on what we can learn about it, Maryland Baptist Aged Home does appear to do pretty well by its residents.
We could not find a website for this facility, so we called them. A staffer gave us a website address that didn't work. Maryland Baptist seems to be affiliated with the United Baptist Missionary Convention & Auxiliaries, a national organization; but we are not sure of the nature of the connection.
From what we can discern from the U.S. Medicare data and other websites, however, this facility does specialize in providing assisted living care (according to an outside source, Assisted Living), and (according to another outside source, Wellness), it "provides extended-stay nursing care to seniors with varying levels of disabilities."
We know one other thing about this nursing home and it is not good. In 2013, a staff member was convicted after mistreating a resident. The employee directed a 53-year-old male vulnerable adult resident to sit in a chair because the resident appeared agitated. Inexplicably, the employee then pinched the resident on the chest with both hands. Other employees saw what had happened and, to their credit, they called the police.
Was this criminal act Maryland Baptist's fault? It is impossible to say. Sometimes nursing homes make what appears to be good hiring decisions at the time that end up being the wrong people. But is sure does not give you a warm fuzzy feeling.
Maryland Baptist Aged Home Competitors
There may be more nursing homes in this zip code than any other in Maryland. So there is a lot of competition for this nursing home. Here are a few of the competitors:
Crawford Retreat: This Baltimore facility's Medicare ratings are very closely comparable to those of Maryland Baptist Aged Home. Notably, both facilities get five stars for quality measures and a 4-star rating overall.
Bridgepark Healthcare Center: With an overall 1-star Medicare rating and 1 star for its staff inspection, this Baltimore facility hardly competes with Maryland Baptist, which got an overall 4-star rating.
FutureCare Sandtown-Winchester: The Medicare scores of Maryland Baptist and FutureCare Sandtown-Winchester are nearly identical - except that the Baltimore FutureCare facility gets a one-point better mark on staffing.
Autumn Lake Healthcare at Alice Manor: Whereas Maryland Baptist is at least a bit above average in the Medicare ratings, (4 stars overall), Autumn Lake in Baltimore is a bit below average (2 stars overall).
FutureCare Irvington: One of a string of FutureCare facilities in Baltimore, FutureCare Irvington is close to comparable with Maryland Baptist on the Medicare scores - better on staffing, less good on quality measures. Both facilities get overall 4-star ratings.
Fayette Healthcare and Rehabilitation Center: This facility in Baltimore received Medicare ratings very similar to those of FutureCare Irvington, and it poses about the same nearly par level of competition to Maryland Baptist.
Brinton Woods Health & Rehabilitation Center at Arlington West: Definitely an also-ran to Maryland Baptist, this Baltimore facility got an overall Medicare rating of 2 stars (below average) versus 4 stars for Maryland Baptist, which outscored it on the health inspection and quality measures.
Northwest Healthcare Center: Northwest falls short of Maryland Baptist in all four of the main Medicare rating categories, including its overall score of 2 stars to the other Baltimore facility's four stars.
Westgate Hills Rehabilitation & Healthcare Center: Westgate Hills comes close to on par with Maryland Baptist, but that facility edged Baltimore-based Westgate Hills on quality measures and overall Medicare rating.
Caton Manor: This Baltimore facility's Medicare scores are so low that it hardly competes with anyone. It falls well behind Maryland Baptist in all four main Medicare categories, including its overall rating (4 stars for Maryland Baptist, 1 star for Caton Manor).
Great Stats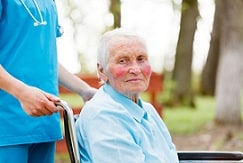 Maryland Baptist had only 27 residents at the last official count - making it exceptionally small in terms of population. (The U.S. average is about three times as high, the Maryland average about four times as high.)
It stands to reason that a facility specializing in assisted living would not have residents who plan on staying only temporarily. That would mean that all 27 residents here are of the long-stay variety. This would explain why the last standard Medicare inspection (October 2015) had practically no data on short-stay residents. For the Medicare category of quality measures (numerical measures of care), eight out of nine statistical categories for short-stay residents were marked "NOT AVAILABLE."
(For some odd reason, Medicare did provide a single stat for short-stay residents: 80 percent of them got flu vaccinations. We're guessing that this facility briefly may have had five short-stay residents and given flu shots to four of them.)
Yet Maryland Baptist got a 5-star rating - tops - for quality measures. That rating is based on this facility's stats for long-stay residents. These stats were fantastic. This facility outscored the Maryland and U.S. averages in 11 out of 15 measured categories, and in seven of those categories, its scores were far better than the state and national averages.
None of this facility's long-term residents had a pressure sore. None of them reported having serious pain. None of them needed ongoing catheterization. None of them were subjected to physical restraints. You can't do better than that for these categories, and Maryland Baptist totally bested the state and national averages each time. It was much superior in preventing urinary tract infections: the rate here was well under half the state and national rates. It was far more successful in maintaining its residents' continence - only 31.6 percent having lost control of bowels or bladder, versus the U.S. average of 46.8 percent and the Maryland average of 58.5 percent.
Additionally, this facility's long-term residents were notably more able to maintain their mobility and their independence in conducting daily activities; and less likely to suffer a fall with injury or the loss of too much weight. The rate of depression among these residents was right about on par with the state and U.S. averages, but these residents were three to four times less likely to need antipsychotic meds.
The only notably downward statistic here was for pneumonia vaccinations: only seven in ten residents here got the shots, versus over nine in ten statewide and nationally.
Close to Par
Maryland Baptist did less well on two other main Medicare rating categories. It got a 3-star rating (average) for its health inspection, and a 2-star rating on staffing.
The health inspection found a total of 11 deficiencies, a fraction better than the Maryland state average of 11.4, and a bit above the national average of 7.1. This facility slightly beat both the Maryland and U.S. averages on fire safety in terms of the number of related deficiencies.
Medicare appears to base its rating for staffing (that is, nurse staffing) mainly on the amount of time nurses spend with residents. Maryland Baptist was lower than the Maryland and U.S. averages on total nursing time per resident per day (by a matter of minutes). It was very close to par with the state and national norms for daily time spent by certified nursing assistants and physical therapists. However, it was far lower than the state and U.S. averages for resident daily time with LPNs and LVNs (licensed practical nurses, licensed vocational nurses): only 18 minutes a day - just over a third as much as the state and national averages. This facility did get a 4-star rating for its RN staffing (which Medicare treats as a subcategory); this facility beat the Maryland and U.S. averages (albeit only by minutes) in terms of RN time per resident per day.
Maryland Baptist has had no federal fines or payment denials in the past three years. It did have a complaint inspection in May, 2016, that investigated over half a dozen issues. However, all of these issues were very much the same in nature: Medicare cited the facility for failure to provide a resident's medical records to the family promptly; failure to update a resident's records; failure to maintain an assessment record accurately; a transcription error, etc. All of these complaints were administrative or clerical in nature: it seems that record-keeping is not this facility's strong suit. But compared with complaints that have arisen at other Baltimore nursing homes (for instance involving physical abuse of residents), the issues at Maryland Baptist were (we think) very minor.
It is easy to find nursing homes in Baltimore that serve well over 100 residents, both short-stay and long-stay. In serving so few residents (a maximum of 29) and only those in the long-stay category, Maryland Baptist Aged Home is what one might call a specialized facility. They do not do everything here, but - based on their quality measure scores - what they do do, they do mostly well.
Baltimore Nursing Home Lawyer
Has someone in your family suffered needlessly at the hands of a nursing home that made a mistake? Call our nursing home lawyer at Miller & Zois today at (800) 553-8082 or get a FREE no obligation case review.
More Information
1Vital Statistics
Number of Beds:
24 certified beds

Beds in the nursing home that have been approved by the federal government to participate in Medicare or Medicaid.
Accepts:
Medicare and Medicaid

Shows if the nursing home participates in the Medicare, Medicaid, or both.
2Key Ratings
Star Rating Summary
Overall Rating
Much Above Average
Health Inspection

Medicare assigns the star rating based on a nursing home's weighted score from recent health inspections. More stars means fewer health risks

Above Average
Staffing

Medicare assigns the star rating based on the nursing home's staffing hours for Registered Nurses (RNs), Licensed Practice Nurses (LPNs), Licensed Vocational Nurses (LVNs), and Nurse aides. More stars means a better level of staffing per nursing home resident

Much Above Average
RN Staffing
Much Below Average
Quality Measures

Medicare assigns the star rating based on data from a select set of clinical data measures. More stars means better quality of care

Much Above Average
3Key Short Stay Statistics
Description
Maryland Baptist Aged Home
Maryland
Average
Percent of short-stay residents who self-report moderate to severe pain
Lower percentages are better.
Not Available%
10.4%
Percentage of SNF residents with pressure ulcers that are new or worsened
Lower percentages are better.
Not Available%
Not Available
Percent of short-stay residents assessed and given, appropriately, the seasonal influenza vaccine
Higher percentages are better.
Not Available%
85.3%
Percent of short-stay residents assessed and given, appropriately, the pneumococcal vaccine
Higher percentages are better.
Not Available%
84.0%
Percentage of short-stay residents who got antipsychotic medication for the first time
Lower percentages are better.
Not Available%
1.7%
4Key Long Stay Statistics
Description
Maryland Baptist Aged Home
Maryland
Average
Percent of long-stay residents experiencing one or more falls with major injury
Lower percentages are better.
0.0%
2.7%
Percent of long-stay residents with a urinary tract infection
Lower percentages are better.
0.0%
2.5%
Percent of long-stay residents who self-report moderate to severe pain
Lower percentages are better.
1.5%
5.4%
Percent of long-stay high-risk residents with pressure ulcers
Lower percentages are better.
0.0%
8.8%
Percent of long-stay low-risk residents who lose control of their bowels or bladder
Lower percentages are better.
16.3%
62.3%
Percent of long-stay residents who have or had a catheter inserted and left in their bladder
Lower percentages are better.
0.0%
1.7%
Percent of long-stay residents who were physically restrained
Lower percentages are better.
0.0%
0.2%
Percentage of long-stay residents whose ability to move independently worsened
Lower percentages are better.
13.6%
22.5%
Percent of long-stay residents whose need for help with daily activities has increased
Lower percentages are better.
11.7%
18.0%
Percent of long-stay residents who lose too much weight
Lower percentages are better.
5.7%
5.8%
Percent of long-stay residents who have depressive symptoms
Lower percentages are better.
1.0%
3.9%
Percentage of long-stay residents who received an antianxiety or hypnotic medication
Lower percentages are better.
15.5%
16.2%
Percent of long-stay residents assessed and given, appropriately, the seasonal influenza vaccine
Higher percentages are better.
96.3%
96.7%
Percent of long-stay residents assessed and given, appropriately, the pneumococcal vaccine
Higher percentages are better.
87.5%
94.1%
Percent of long-stay residents who received an antipsychotic medication
Lower percentages are better.
2.3%
12.4%
5Inspection Summary
Date of standard health inspection:12/11/2017
Total number of health deficiencies:10
Average number of health deficiencies in Maryland:14.9