Future Care Irvington
22 SOUTH ATHOL AVENUE
BALTIMORE, MD 21229
(410) 947-3052
Basic Profile:
Located in Baltimore City, Maryland
For-profit partnership
Certified beds: 200
Last Medicare rating: 4 stars
FutureCare Irvington, in Baltimore, is a unit of FutureCare, which operates 14 nursing home facilities in Maryland, including a total of eight in the city of Baltimore. FutureCare has had this facility since 2003.
A very much for-profit partnership, the Irvington venue is exceptionally large, maintaining 200 certified beds. A provider of both rehabilitation services and long-term care, this facility offers respiratory therapy, on-site dialysis, stroke recovery, wound care management, IV therapy, and other services.
FutureCare Irvington calls itself "the perfect place to call home, for a number of reasons." A look at this facility's record tells us that it is probably at least average. But let's say it hasn't quite reached perfection.
This FutureCare facility got an overall Medicare ranking of 4 stars - above average. It also got four stars for the subcategories of its health inspection and its staffing, and a 3-star (average) rating for quality measures. Another Baltimore facility called Little Sisters of the Poor, about one mile away, beat FutureCare Irvington in every Medicare category.
FutureCare Irvington Competitors Large Scale
This facility is big: at last official count. At last count it had 192 residents - far higher than the Maryland state average of 107.5 residents, and well over twice the national average (86.2).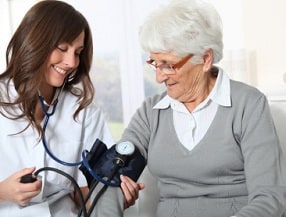 Its last standard Medicare inspection, in August 2015, turned up eight deficiencies in the health inspection -- middling between the Maryland average of 11.4 deficiencies and the U.S. average of 7.1 deficiencies. The six fire safety deficiencies at FutureCare Irvington were higher than the Maryland average (4) and the national average (3.4).
This facility has had two relatively recent complaint inspections, in December 2015, and March 2016. The two cases at issue, in the complaint inspection of December 2015, involved what may have been a single employee's accounting errors. The complaint inspection of March 2016 concerned two residents, one of whom, cognitively impaired, refused care; the other for whom the facility failed to revise its care plan to reflect necessary new interventions. (In the first case, the resident refused to submit to routine diagnostic procedures, refused to wear protective clothing or change clothes, and tried to hit staffers with a stick, among other uncooperative behaviorisms. We cannot much fault the facility for a case like this.)
Middling
FutureCare Irvington's 4-star rating for staffing reflects its above-average provision of nursing time to its residents. This facility also got a 4-star rating for RNs, giving residents an average of 1 hour, 17 minutes per day with registered nurses, versus the Maryland average of 59 minutes and the U.S. average of 50 minutes.
This FutureCare home beat the Maryland and U.S. averages for daily nursing time per resident (18 minutes more than the Maryland average, 27 minutes more than the national average). It was lower than average on time spent by LPNs and LVNs (licensed practical nurses, licensed vocational nurses) and physical therapists, but higher than average on time spent by certified nursing assistants.
Its nursing care produced a 3-star "average" rating for this facility on quality measures, which are numerical gauges of the level of care residents receive. In fact, the detailed metrics suggest that FutureCare Irvington may be a bit above average for this crucial metric, which looks separately at short-stay and long-stay residents.
Although this facility's short-stay residents' rates of improvement in function and successful discharge rates were a bit below the Maryland and U.S. averages, these residents (once discharged) were less likely than average to need rehospitalization or a visit to the ER. FutureCare Irvington short-termers were a bit more likely than average to receive antipsychotic meds (a minus), but they also were more likely than average to get flu and pneumonia shots (a plus).
This facility's best stat for short-stay residents was on the incidence of pressure ulcers (bed sores): a mere 0.5 percent, less than half the Maryland and U.S. rates (1.3 percent and 1.2 percent, respectively).
For long-stay residents, FutureCare Irvington was better than the state and national averages for six categories, worse for five categories, and about on par with the averages for four categories.
On two bellwether metrics, it did extremely well. Its long-term residents' rate of falling with injury was a mere 0.3 percent - about one-tenth of the Maryland and U.S. averages of 2.9 percent and 3.3 percent, respectively. The rate of depressive symptoms among long-stayers here was only 1 percent - about one-fifth as high as the Maryland (4.7 percent) and U.S. (5.4 percent) averages.
FutureCare Irvington long-stayers were more likely than average to get flu shots, and less likely than average to receive antipsychotic meds. They were just over half as likely as the state and U.S. averages to experience serious weight loss. They were slightly less likely than average to maintain their mobility, but they were above the state and U.S. averages in being able to carry out their daily activities independently.
On the minus side, long-stay residents here were more apt than the norms to have urinary tract infections, incontinence, and ongoing catheterization. As for the incidence of pressure ulcers - one of this facility's best stats for short-stay residents - it was one of its worst stats for long-stayers: at 16.6 percent, it was more than twice as high as the Maryland and U.S. averages of 6.9 percent and 5.7 percent, respectively.
We don't mean to pick on this facility, but we do believe in truth in advertising. FutureCare Irvington's Medicare rankings are better than average. But this facility's record doesn't quite match its claim of being "perfect."
Baltimore Nursing Home Lawyer
Has a FutureCare nursing home made an error that ended in tragedy? We can help navigate Baltimore's legal system, give you your legal options, and fight for justice and compensation for you. Our legal system and a Baltimore jury will hold a responsible nursing home accountable if the nursing home does not make the settlement offer that justice requires. Call our nursing home lawyer at Miller & Zois today at (800) 553-8082 or get a FREE no obligation case review.
Miller & Zois' important appellate victory in the Maryland Court of Special Appeals against FutureCare in a wrongful death case
Get information on the settlement value of nursing home and assisted living lawsuits in Maryland
Our lawyers conduct a similar analysis of each nursing homes in Maryland
Review a sample legal complaint FutureCare
If you or a loved one has been a victim or a nursing home mistake, you have questions. We have answers to many of your nursing home lawsuit questions
Call our nursing home lawyers right nowat (800) 553-8082 or get a FREE online case review if you believe you may have a potential nursing home neglect or abuse lawsuit in Maryland.
1Vital Statistics
Number of Beds:
200 certified beds

Beds in the nursing home that have been approved by the federal government to participate in Medicare or Medicaid.
Accepts:
Medicare and Medicaid

Shows if the nursing home participates in the Medicare, Medicaid, or both.
2Key Ratings
Star Rating Summary
Overall Rating
Below Average
Health Inspection

Medicare assigns the star rating based on a nursing home's weighted score from recent health inspections. More stars means fewer health risks

Much Below Average
Staffing

Medicare assigns the star rating based on the nursing home's staffing hours for Registered Nurses (RNs), Licensed Practice Nurses (LPNs), Licensed Vocational Nurses (LVNs), and Nurse aides. More stars means a better level of staffing per nursing home resident

Average
RN Staffing
Average
Quality Measures

Medicare assigns the star rating based on data from a select set of clinical data measures. More stars means better quality of care

Much Above Average
3Key Short Stay Statistics
Description
Future Care Irvington
Maryland
Average
Percent of short-stay residents who self-report moderate to severe pain
Lower percentages are better.
13.7%
10.4%
Percentage of SNF residents with pressure ulcers that are new or worsened
Lower percentages are better.
6.1%
Not Available
Percent of short-stay residents assessed and given, appropriately, the seasonal influenza vaccine
Higher percentages are better.
74.3%
85.3%
Percent of short-stay residents assessed and given, appropriately, the pneumococcal vaccine
Higher percentages are better.
52.6%
84.0%
Percentage of short-stay residents who got antipsychotic medication for the first time
Lower percentages are better.
2.7%
1.7%
4Key Long Stay Statistics
Description
Future Care Irvington
Maryland
Average
Percent of long-stay residents experiencing one or more falls with major injury
Lower percentages are better.
0.7%
2.7%
Percent of long-stay residents with a urinary tract infection
Lower percentages are better.
2.7%
2.5%
Percent of long-stay residents who self-report moderate to severe pain
Lower percentages are better.
8.7%
5.4%
Percent of long-stay high-risk residents with pressure ulcers
Lower percentages are better.
22.6%
8.8%
Percent of long-stay low-risk residents who lose control of their bowels or bladder
Lower percentages are better.
71.2%
62.3%
Percent of long-stay residents who have or had a catheter inserted and left in their bladder
Lower percentages are better.
3.5%
1.7%
Percent of long-stay residents who were physically restrained
Lower percentages are better.
0.0%
0.2%
Percentage of long-stay residents whose ability to move independently worsened
Lower percentages are better.
21.9%
22.5%
Percent of long-stay residents whose need for help with daily activities has increased
Lower percentages are better.
18.3%
18.0%
Percent of long-stay residents who lose too much weight
Lower percentages are better.
6.1%
5.8%
Percent of long-stay residents who have depressive symptoms
Lower percentages are better.
16.3%
3.9%
Percentage of long-stay residents who received an antianxiety or hypnotic medication
Lower percentages are better.
24.9%
16.2%
Percent of long-stay residents assessed and given, appropriately, the seasonal influenza vaccine
Higher percentages are better.
94.0%
96.7%
Percent of long-stay residents assessed and given, appropriately, the pneumococcal vaccine
Higher percentages are better.
81.2%
94.1%
Percent of long-stay residents who received an antipsychotic medication
Lower percentages are better.
10.8%
12.4%
5Inspection Summary
Date of standard health inspection:10/30/2017
Total number of health deficiencies:19
Average number of health deficiencies in Maryland:14.9