Bed Sores Lawsuits in Maryland
Background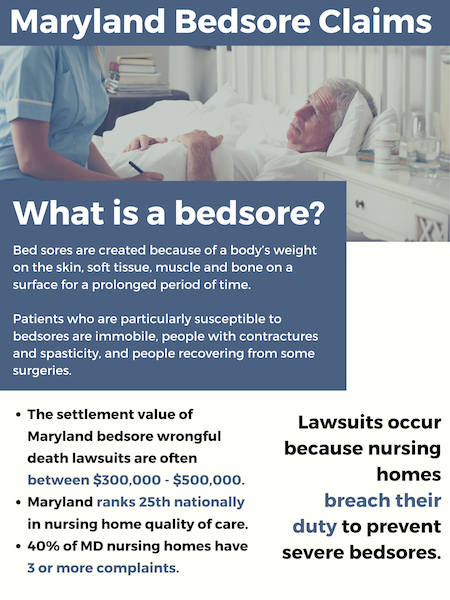 Bed sore injuries and deaths infuriate jurors to the point now where these cases rarely reach a jury because they almost always settle before trial. Our nursing home lawyers work to bring understaffed and uncaring nursing home facilities to justice.
The fancy name for bed sore is decubitus ulcer. You may have also heard it call a pressure sore or a skin sore. Most bedsores start off innocently enough, with a small mark on the skin, often on the lower back or buttocks. Bed sores are not a big deal when they first appear.
Unrecognized and untreated, those innocuous marks can grow to full Stage IV holes in the skin that penetrate to the bone. In the worst cases, the flesh becomes necrotic and dies, and surrounding tissue, organs, and bone become infected. Stage IV ulcers are often fatal.
Anatomy 101: Bed Sores
Bed sores are created because of a body's weight on the skin, soft tissue, muscle and bone on a surface. Active people don't typically have problems with pressure sores because constant pressure is required to initiate a sore. In someone who is less mobile, however, the capillaries cannot refill adequately, and the lack of blood flow harms the skin.
Patients who are particularly susceptible to bedsores are immobile, people with contractures and spasticity, and people recovering from some surgeries (for example, hip fractures).
Stages
There are four stages of decubitus ulcers. Each stage corresponds to a particular depth of sore. Not all ulcers follow a clear progression from stage I to stage IV, however. Most nursing home decubitus ulcer lawsuits are the result of a failure to identify developing bedsores.
Stage I: Intact skin with signs of impending ulceration. The skin may appear white, indicating less oxygenation to the skin.
Stage II: Partial thickness loss of skin into the subcutaneous tissue (third layer of skin); looks like an abrasion or blister. Here is a pretty stunning fact: almost 6% of nursing home patients have at least a stage two bed sore.
Stage III: Full thickness loss of skin into the subcutaneous tissue; looks like a crater.
Stage IV: Full thickness loss of skin and subcutaneous tissue with extension into muscle, tendon or bone.
Ulcers may cause foul odors, wound drainage, and necrotic tissue. If the wound is necrotic or comes into close contact with urine or feces, life-threatening infection is possible.
Treatment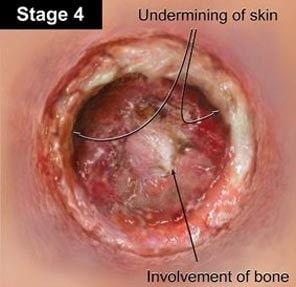 Treatment of bedsores depends on the stage and severity. In the case of minor sores, the solution is usually to keep pressure off of the developing ulcer. Sometimes, getting a patient off of a standard mattress or wheelchair and onto specialized bedding or padding, like foam devices and air-filled devices, can help the wound to heal and prevent reoccurrence. In all cases, patients should frequently be repositioned.
We care about victims and their loved ones and fight to get them the compensation they truly deserve.
The wounds must be kept dry and clean. Antibiotics may be necessary in the case of infection. In more severe cases, a specialized dressing should be applied to the wound. If necessary, the wound may need debridement (removal of dead, damaged or infected tissue) to avoid sepsis, necrotizing fasciitis, and gangrene. Surgery may eventually be necessary.
Treatment can be made more difficult with patients who are malnourished, or anemic (poor oxygenation in the blood). It is not enough to deal with the bedsore—the whole patient must be treated.
Statistics
Two-thirds of pressure sores occur in people over 70 years old
17-28% of nursing home patients develop pressure sores
7-8% of all paraplegics die because of pressure sores
Nursing Home Duty to Prevent Bedsores
Nursing homes and other assisted care facilities have a duty to prevent severe bedsores. The reality is that bedsores are not always avoidable. Exacerbation of bedsores, however, is preventable. Nursing home staff must be trained and given the time to thoroughly check their patients and residents for signs of bedsores. At the first sign, if appropriate measures are taken, more severe medical complications can be avoided. Failure to properly treat these ulcers, which may require a physician or surgical intervention, can cause serious injury and death.
Common Defense to Bed Sore Nursing Home Lawsuits
These are some of the common defenses we see in these cases:
Bed sores could not be prevented in light of the plaintiff's poor health
Pointing to someone else. For example, the nurse or the nursing home, and not the doctor, was responsible. This is almost always a good thing for us if the defendants are pointing at each other
The bed sore was not there when the patient was at the hospital/nursing home/doctor's office
The reality is not one they can easily run from in these cases: you are rarely going to see significant bed sores if the nursing home or hospital is doing their job.
How Our Lawyers Prove That Nursing Homes Were Negligent
Nursing homes conduct extensive intakes on their patients. In most cases we have litigated, the patient enters the nursing home with no skin problems, and ends up with a fatal stage IV decubitus ulcer.
When my sister was killed, we turned to Miller & Zois to fight for us. They stood by us every step of the way, and we ended up getting more money than we asked for.
- C.B.
The nursing home records often tell the complete story: records frequently document regular skin checks and rotation, yet somehow an ulcer is found suddenly at stage IV with no warning signs. A proper inspection would have revealed that wound well before it became a life-threatening problem. The nursing home is often caught in its own lies.
It is estimated that treatment of bedsores costs over $6 billion in the United States. One prime area of discovery in nursing home cases in some states (especially when punitive damages are available) is the nursing homes financial records and staffing records.
That data on this point is unequivocal: poor staffing means inadequate attention which means greater risk to nursing home residents. Where a nursing home is understaffed, a jury is allowed to infer a financial motive to provided inadequate care.
Contact Us
If someone you love has a bedsore or other injury that you suspect stems from that a nursing home that violated the law or providing improper care, call our Maryland nursing home attorneys at (800) 553-8082 for a free consultation, or get a free internet consultation. There are no fees or expenses unless money damages are obtained for you.
For More Information
ManorCare: Maryland Nursing Home Lawsuits
FutureCare: Maryland Nursing Home Lawsuits
More Background on Bed Sore Cases
Three nursing home bed sore lawsuits filed against Genesis in 2016
Sample Nursing Home Legal Complaints: