Kennedy Terminal Ulcers Lawsuits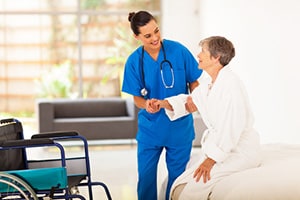 Kennedy Terminal Ulcers (KTU) are a very specific type of ulcer first formally classified in the late 1980s. Also called terminal ulcers, this bedsore presents as a pear-shaped purple area of the skin, often seen within 2-3 days before death.Named after pioneering nurse practitioner Karen Lou Kennedy-Evans, these are a kind of pressure sore that develops and progresses very quickly in elderly patients. Kennedy-Evans identified this specific type of skin breakdown in dying patients that is a harbinger of an early death.These ulcers can start as a large discolored blister and transform into a Stage IV ulcer within hours. Because of how quickly these ulcers progress, death can occur after as little as 24 hours.
Nursing homes and doctors sometimes tell the surviving children or spouse of someone who died that the cause of death was a Kennedy Terminal Ulcer instead of an ordinary bed sore that was not properly treated. Why? Because they want to avoid a nursing home lawsuit.
What are Ulcers?
Ulcers - also known as bed sores or pressure sores - are serious tissue injuries that can develop in bed-ridden patients with limited mobility. An ulcer usually develops when pressure on the body creates limited blood circulation. Pressure sores are most often seen in elderly, disabled or extremely obese patients who have been hospitalized.
What Causes a Kennedy Terminal Ulcer?
While doctors don't know for sure why these ulcers develop, a popular theory is that they are an indicator of organ failure die to old age. As our skin is the body's largest organ, they are the first to show outward signs that the slow shutdown of our internal organs has begun.
Signs and Symptoms of a Kennedy Terminal Ulcer
Kennedy ulcers are determined based on several key factors aside from their rapid progression. Kennedy ulcer wounds are usually large and spread downward rather than horizontally. They are often described as "pear" or "horseshoe" shaped. These ulcers are usually located on the sacral region of the spine. Kennedy terminal ulcers are almost always exclusive to elderly patients.
Treatment
Due to the nature and rapid development of Kennedy ulcers, treatment is difficult. As a result, doctors will primarily focus on relieving the patient's pain as they near the end of their life. In the medical community, a Kennedy ulcer is not considered a preventable condition. The National Pressure Ulcer Advisory Panel (NPUAP) reports that there are ulcers that will occur despite interventions that are provided to safeguard a high risk patient. These ulcers are referred to as "unavoidable".
Kennedy Terminal Ulcer Verdicts and Settlements
A Kennedy terminal ulcer may appear as a crucial element of a medical malpractice lawsuit, although it is very difficult to bring as a claim. Attorneys may allege a Kennedy ulcer for the basis of a hospital or nursing home defense, as it is widely accepted to be an indicator of a natural death and not medical negligence. On the plaintiff side, it could appear as part of an allegation of conscious pain and suffering during palliative care. But what you are typically seeing in nursing home cases is nursing home raising a Kennedy terminal ulcer as a defense to claim the loss and death was unavoidable when it fact the death was cause an ordinary bedsore that the hospital or nursing home let get out of control.
Massachusetts, 2017: $275,000 settlement.

An 82 year old man living in a nursing home was diagnosed with a Stage IV decubitis sacral ulcer. The man was transferred into a hospice care unit and died within a month of the ulcer's diagnosis. The estate of the deceased sued the nursing home, alleging that the fatal ulcer developed because of his caregivers' failure to turn the bedridden patient. The defense denied any negligence, arguing the patient developed a spontaneous Kennedy ulcer. They maintained that the ulcer could not have been prevented and that the patient had received appropriate care prior to his death. Following mediation, the parties agreed to a confidential $275,000 settlement.

Texas, 2014: Defense verdict.

An 84 year old Alzheimer's patient was admitted to a nursing home. Although the patient was not admitted with any skin infections, she eventually died due to complications from a large sacral ulcer, pneumonia and renal failure. The deceased patient's son sued the nursing home, alleging it had failed to take proper measures to prevent or treat her condition. He specifically argued that the facility failed to reposition the patient to relieve pressure on the body or monitor/revise the patient's nutritional intake. The defense denied any role in the patient's death, asserting that the patient developed a Kennedy terminal ulcer indicative of a natural death. In their verdict, the jury found for the defense.

Virginia, 2011: Defense verdict.

A man was charged with felony elder abuse after his elderly aunt was hospitalized with fatal bedsores. The prosecution alleged that the man neglected his aunt while living off of her government benefits. The defense denied any neglect and relied on testimony from a nurse practitioner specializing in wound care. The expert testified that the woman had developed Kennedy ulcers and that these wounds were unavoidable. The prosecution relied on testimony from the woman's treating physicians, who disputed any claim that a Kennedy ulcer played a role in the death. The case was dismissed in lieu of a scheduled criminal trial.
Call Miller & Zois Today
Does this sound like your case? If you have been injured as the result of medical or hospital malpractice or negligence, call us at (800) 553-8082 or click here for a free consultation.