Urinary Tract Infection Nursing Home Lawsuits
Urinary Tract Infection (UTI)
A urinary tract infection is an infection in any part of your urinary system. (kidneys, ureters, bladder, and urethra) However, in most cases, the infections are involved in the lower tract (bladder and urethra). A urinary tract infection occurs when bacteria multiples in the urine. If left untreated, UTIs can lead to acute or chronic kidney infections. UTI's are also the leading cause of sepsis.
Anyone can get a UTI. But UTIs are the subject of many nursing home lawsuits because residents are more susceptible to getting urinary tract infections and nursing home facilities often fail to recognize the symptoms before the patient suffers a significant injury or death.
If you or someone you care for has suffered from a UTI that went unnoticed and undiagnosed in nursing home, fill out our free online case review or call us today at (800) 553-8082. Our experienced nursing home attorneys will tell you whether you may have a claim and give you details on your options to pursue a settlement or verdict in your case. There is no cost or obligation for this free consultation.
Symptoms
Symptoms of urinary tract infections typically include urine that appears cloudy, bloody urine, strong or foul-smelling urine odor, frequent or urgent need to urinate, pain or burning with urination, pressure in the lower pelvis, low-grade fevers, and night sweats, shaking, or chills.
Symptoms of UTI's in the elderly are frequently lacking and are often mistaken as the early stages of dementia or Alzheimer's because the symptoms include confusion, agitation, hallucinations, other behavioral changes, poor motor skills, and falls. Sometimes these are the only symptoms of an UTI that are present in the elderly.
Treatment/Prevention
People with incontinence are more at risk for UTIs because of the close contact that adult briefs have with their skin, which can reintroduce bacteria into the bladder. To prevent UTIs and to reduce the risk the following is recommended: Change the briefs frequently, encourage front-to-back cleansing, keep the genital area clean and to set reminders for those who are who are memory-impaired to try to use the bathroom instead of the adult brief.
Other ways to prevent UTIs include, drinking plenty of fluids, Drinking cranberry juice or use cranberry tablets, avoiding caffeine and alcohol, Wearing cotton-cloth underwear, and changing them least once a day.
Antibiotics usually are the first line treatment for urinary tract infections. Which drugs are prescribed and for how long depend on your health condition and the type of bacteria found in your urine.
Nursing Home UTIs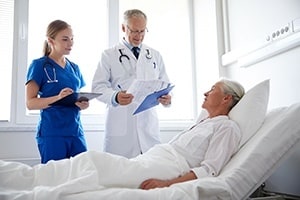 Nursing residents are at risk of infection because of their frequent hospital stays, advance age, expose to multiple courses of anti-biotics and numerous comorbidities. Studies have shown that infections such as UTIs are associated with high rates of morbidity, morality, and re-hospitalization. Also residents with catheters are more prone to UTIs. The National Nursing Home Survey in 2004 showed that was a rate of 5.7% for UTIs in nursing home residents older than the Age of 65. Also 50% of the residents with catheters will have catheter-related UTIs.
Sample Settlements and Verdicts
Below are some examples of jury verdicts and settlements in Maryland and other jurisdictions that deal with urinary tract infections cases. These cases can be used as a first look at what is involved after the failure to diagnose or treat UTIs properly, and to see what the cases could be worth. It is important to note in most of these cases that UTIs are the underlying problems that cause larger injuries.
2016, Pennsylvania: $475,000 Settlement. A male resident of the defendant's nursing facility was showing signs of decreased health which included bruising and cuts to the body indicating falls or trauma, decreased urine output and weight loss and lack of interest in eating. The male resident was diagnosed with a urinary tract infection. The resident's mental condition was also deteriorating and he laid in bed groaning and in distress. Despite his condition, he was not taken to the hospital for two days. The resident was rushed to a local emergency room where he was diagnosed with sepsis and died shortly after. The Plaintiff alleges the nursing Home failed to provide proper care for the decedent which allowed the decedent's health to decline severely before seeking medical care The plaintiff alleges the defendants falling hire appropriately trained staff, failing to complete daily medical records of the decedent's care and condition, failing to ensure that the decedent did not develop serious and permanent injuries and failing to provide adequate and proper healthcare. The parties settled the dispute for $475,000.
2014, Virginia: $0 Verdict. A female resident enters the defendant's nursing home facility with a stage 1 pressure ulcer on her sacrum and bilateral lower extremity weakness. Within two months of her stay in the nursing home, her pressure ulcer advanced to stage II, and she developed two UTIs, showed signs of confusion, vomiting, fever, stomach pain, and pain and swelling of her lower extremities, as well as additional wounds. She then is taken to the hospital where she is diagnosed with sever sepsis, a UTI, pneumonia and kidney failure. However, shortly after her admission to the hospital, her condition worsens and dies in the hospital. The plaintiff argues that the nursing home failed to provide a reasonable amount of attention and skill in caring for the resident, failed to properly evaluate, examine, diagnose, monitor, manage and treat the decedent's deteriorating conditions, failed to implement a care plan, failed to provide appropriate care to her lower extremities, and failed to treat her UTI. Jurors returned a verdict in favor of the defendant, finding no negligence by the defendant or its employees.
2014, Mass.: $13,939,605 Verdict. A ninety year old female was a resident at a nursing home owned, managed and/or operated by defendants. After residing at the nursing home, she died of congestive heart failure as a consequence of acute renal failure with acute appendicitis, type II diabetes, and a splenic abscess as contributing factors. She suffered from a urinary tract infection and appendicitis that progressed to sepsis and renal failure, which weakened her and worsened her congestive heart condition. The Plaintiff argues defendants' failure to comply with the standard of care caused the UTI, and the prolonged pain associated with an undiagnosed UTI. Defendants admitted to negligence but denied that their negligence contributed in causing the conscious pain and suffering or death. A jury found the defendants' negligence was a substantial contributing and awarded $675,000 in damages as well as $12,514,605 in punitive damages.
2014, Pennsylvania: $0 verdict. An elderly nursing home resident died from dehydration, multiple recurring urinary tract infections and sepsis. The plaintiff argues that this resulted from the negligence of the defendant's nursing home. A jury in this county found that the defendant Highland Park Care Center caused the death of the decedent by providing substandard care. The decedent's estate was awarded $193,500. On remand from the Pennsylvania Supreme Court, the judge decided Grane Healthcare (the management company) had no duty to the decedent and that the defendant did not act in an outrageous manner with wanton or willful indifference. The court dismissed the case.
2012, Pennsylvania: $175,000 Verdict: A 90 year old resident of three nursing homes suffers from severe dehydration, anorexia, fecal impaction, urinary tract infections, weight loss, pressure ulcers, infections which led to her death. The plaintiff argues that this occurred from the substandard health carethat was received from these facilities. The decedent's three surviving children reach a partial settlement of $175,000 with two of three defendants.
2009, Maryland, Baltimore City: $287,654.44 Verdict. A female patient of Good Samaritan Hospital, who was transferred to ManorCare nursing home, suffers from decubitus ulcers and during her stay at ManorCare this condition worsened. She is diagnosed with a fever, elevated blood pressure, rapid pulse, and osteomyelitis in her sacral region, infected stage IV decubitus sacral ulcer, stage III left heel decubitus ulcer and a urinary tract infection at Greater Baltimore Medical. She later died as a result of sepsis at Mercy Medical Center. The Plaintiff alleges the defendant failed to provide necessary care and treatment for the decedent's ulcers when she first entered ManorCare, failed to prescribe necessary medications, failed to properly care and treat the ulcers and monitor their development, failed to properly nourish her and failed to diagnose and treat her urinary tract infection. The Plaintiff was awarded $287,654.44.
2006, Maryland, Montgomery County: $0 Verdict. A female resident was spending time in a nursing home type setting and lost a significant amount of weight in the summer and fall of 2001. She was She was admitted to Holy Cross Hospital of Silver Spring with diagnoses of dehydration and rule out sepsis. She was treated with antibiotics but died shortly after from urosepsis or a UTI. The jury found that neither the nursing home nor the breached the standard of care in their treatment.
2005, Florida: $0 Verdict. The decedent was a long term resident at the defendant's nursing home facility. The decedent suffered malnutrition, severe dehydration, several falls, bruises, skin tears, cuts, cellulitis of the arm, urinary tract infection, acute renal failure, sepsis and decubitus ulcers of the coccyx and heels. These aliments later caused the death of the decedent. The plaintiff further argues that the ailments caused by the defendant's negligent care combined to result in a downward health spiral suffered by the decedent prior to her death. The defendant argued that the decedent's advanced age and underlying medical conditions caused her to suffer a urinary tract infection which resulted in dehydration and sepsis. The jury found no negligence on the part of the defendant.
2005, Florida: $0 Verdict. The decedent sustained severe sunburn which Plaintiff alleges was a result of being left unattended outside Defendant's facility in the sun without sunscreen. After the fall, decedent developed a urinary tract infection. Plaintiff alleges that Defendant was negligent in its care and treatment of decedent in violation of decedent's nursing home resident's rights by failing to: (1) properly provide and/or implement an appropriate program to prevent decedent from falling within its facility; (2) provide and administer sunscreen to decedent when decedent was brought outside Defendant's facility in the sun; (3) monitor decedent's significant signs and symptoms indicating the development of a urinary tract infection; and (4) timely notify decedent's physician of changes in decedent's health condition including but not limited to the development of a urinary tract infection. The jury found that there was no negligence and that there was no violation of nursing home resident's rights.
1997, Florida: $1126 Verdict. A female in her 70's suffers from a UTI and a downward spiral in her heath that has been resulting in Alzheimer's-like symptoms, continuous urinary tract infection, and skin breakdown. She was given an improper catheterization by the defendant nursing service. The defendant admits liability for the negligent cauterization but argues that this has no relationship with the plaintiff's UTI. The defendant also contends that the urinary tract infection may have been present before the catheterization since the plaintiff had a long history of urinary tract infections. The plaintiff was awarded $1126.
1987, California: $256,427.90 Verdict. A seventy year old suffering from Parkinson's disease is admitted into a Hospital following removal and replacement of a hip prosthesis. He is scheduled for short term physical therapy and weight bearing training care. He anticipates staying at the Defendant's nursing home for 6 to 8 weeks. During his stay at the defendant's nursing home, he has developed multiple bed sores, a severely dislocated hip prosthesis, and a urinary tract infection. The defendants argue that the dislocation was due to tremors caused by the Parkinson's disease and that the bedsores and urinary tract infections are common in nursing homes thus the care was within the standard of care in the community. The plaintiff was awarded $256,427.90.
Getting the Right Nursing Home Lawyer for You
Has someone you love suffered from abuse, neglect or malpractice in Maryland nursing home or assisted living facility? Fill out this free online case review or call us at (800) 553-8082. Talk to our nursing home lawyer and get real information about your options for justice by a settlement or verdict for the harm that has been done in your case.
More Malpractice Claim Information
What is your case worth? Look at average and sample settlement values of a nursing home injury or wrongful death claims in Baltimore-Washington area
Look at a 2016 lawsuit UTI nursing home lawsuit filed in Baltimore County
CALL (800) 553-8082 or get an immediate response to a free online Maryland nursing home claim evaluation