Venous Skin Ulcer Cases
Nursing home lawsuits from bed sores or wound related injuries are running rampant in Maryland. One problem you see in nursing homes is venous skin ulcers (or stasis ulcers) that the staff and medical professionals let get completely out of control.
These skin ulcers are caused by poor extremity circulation that prevent blood from flowing. So what you get is a shallow wound the results because the leg veins fail to return blood back toward the heart the way they should. The term you will hear doctors' use for this problem is venous insufficiency.
Patients with venous insufficiency have dry scaly skin, thin dermal layers, edema and induration of tissue, and may have subcutaneous hemorrhage resulting in dark bruising and brown discoloration of the skin of the legs. Untreated, which is often the case in our nursing homes, venous stasis causes characteristic changes to the skin of the lower extremities, which lead to eventual skin ulceration and non-healing ulcers.
Who Gets Venous Skin Ulcers?
You will see the stasis ulcers from people who have varicose veins or something similar where the blood supply does not circulate that well. You will see it even more so in diabetic patients or in people, overweight people, and people who have had blood clots in their legs where the arterial blood supply can get down, and then it pools and they have trouble getting it back up. Then the skin becomes acidotic and breaks down.
How to Treat Venous Insufficiency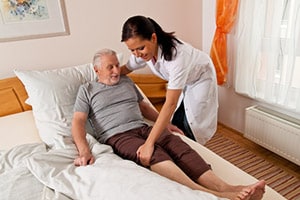 Venous skin ulcers are often treated with compression dressings that assist the return of pooled blood to the central circulation. Three times out of four if the nursing home just does this, they solve the problem. Far too often, nothing is done. At the least, all the nursing home has to do is pay enough attention to see the problem and notify a doctor. Sometimes, the doctor makes a mistake. But, in most cases, the problem is that the nursing home staff never bothers to communicate these obvious symptoms of a problem to a medical doctor who is trained to treat the problem.
How is a Pressure Sore Different?
Pressure sores have a different cause. Most pressure sores are the result of sustained pressure on an area of the body, often from the lack of movement that cuts off blood flow. The treatment for a pressure sore is different too. Both conditions are a skin breakdown that becomes infected. But the real common thread between pressure sores and venous skin ulcers is that just a little care from the nursing home providers can usually solve the trick.
Are There Also Skin Ulcer Medical Malpractice Cases?
Both nursing home and traditional medical malpractice cases are governed by the Maryland Health Care Malpractice Claims Act. Our law firm handles these cases whether the negligence is committed by a medical doctor or a nursing home
Getting Nursing Home Lawyer in Maryland
Nursing homes are regulated by both federal and Maryland law. Yet we still have far too many nursing homes in Maryland that are treating patients in a way that shocks our conscience. If you or someone you love has suffered a serious injury or death in a nursing home, we are willing to fight to bring justice. Call us today at (800) 553-8082 or get a free online consultation.
More Information