Maryland Lawyer in Nursing Home Pressure Sore Cases
Background
Pressure sore ulcers represent a serious and common health care problem in nursing homes. The definition of a pressure ulcer is 'a localized injury to the skin and/or underlying tissue usually over a bony prominence, as a result of pressure, or as a result of pressure, or pressure in combination with shear'. Pressure sores can negatively impact a residents quality of life, need for intensive nursing and medical care and increased rate of morbidity or mortality. In other words, they can be awful. They can even, if left untreated, kill.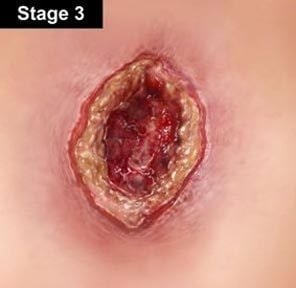 Pressure ulcers are categorized into four stages:
Stage 1 - persistent redness of skin
Stage 2 - loss of partial thickness of skin appearing as an abrasion, blister, or shallow crater
Stage 3 - loss of full thickness of skin, presented as a deep crater
Stage 4 - loss of full thickness of skin exposing muscle or bone
With proper care and treatment for an assisted living, nursing home or hospital patient, pressure sores should not advance beyond Stage I or II. Even our government - a passive player in mandating quality care for seniors - views Stage III and IV pressure sores to be "never events" that only happen when there is negligence. As a result, the government refuses to pay for the treatment of pressure sores if the patient had Medicaid or Medicare.
Risk Factors for Pressure Sores
There are many factors associated with the development of pressure ulcers. These include both patient/resident related factors, nurse related factors (physically moving residents and the performance of nutritional care), process oriented factors, and structural factors. Structural factors include staff quality and staffing levels.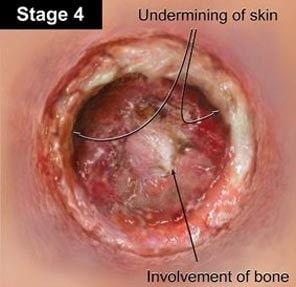 Patient/resident related factors for pressure sores include age, mobility and activity levels, current medical conditions or diseases (e.g. diabetes mellitus, Alzheimer disease, and cardiovascular diseases), orthopedic problems, malnutrition, skin moisture, incontinence and medication usage (i.e. sedatives, analgesics and anesthetics).
A meta-analysis published in the British Medical Journal found on review of 82 studies, that a higher quality care was provided in not-for-profit nursing homes with respect to the occurrence of pressure sores. This study confirmed the findings of two previous meta-analyses published in peer reviewed journals.
In the bed sore lawsuits our law firm handles, we often see a lot of notations in the medical records that reference dark mushy circular areas even thought the outer layer of the resident's skin appearing intact. These are "heads-up" signs that need follow-up. Another telltale sign we see in cases where the patients are forced to sue is thick dark scabbing on the skin (eschar is the medical term).. Instead of moistured dressings to start to tackle the problem, the overworked and underpaid staff just ignores them. Then they accelerate.
Prevalance
The average rate of incidence of pressure ulcers in nursing home residents is 12.5% nationally in residents with mobility impairments, malnourishment or those in a coma, and 2.5% in residents without any of these conditions. Overall, of the 1.5 million nursing home residents, approximately 159,000 residents (11%) had pressure sores. They are more common in men than women and in new residents (those residing in the nursing home for 1 year or less), the age of the resident is also a risk factor.
Treatment
Have you or someone you loved suffered from a bed sore case that should have been controlled by the nursing home or the hospital? We have earned tens of millions of dollars for victims by fighting every single case like it was our last case. Call (800) 553-8082 or get an online consultation.
Treatment of bedsores depends on the stage and severity. In case of minor sores, the solution is usually to keep pressure off of the developing ulcer. Sometimes, getting a patient off of a standard mattress or wheelchair and onto specialized bedding or padding, like foam devices and air-filled devices, can help the wound to heal and prevent reoccurrence. In all cases, patients should be repositioned frequently.
The wounds must be kept dry and clean. Antibiotics may be necessary in case of infection. In more severe cases, a specialized dressing should be applied to the wound. If necessary, the wound may need debridement (removal of dead, damaged or infected tissue) to avoid sepsis, necrotizing fasciitis and gangrene. Surgery may eventually be necessary.
Treatment can be made more difficult with patients who are malnourished, or anemic (poor oxygenation in the blood). It is not enough to simply treat the bedsore—the whole patient must be treated.
Prevention
There are many recommended steps to prevent pressure sores in nursing home residents. For all residents, a pressure ulcer admission assessment should be conducted, and risk should be reassessed on a daily basis. Residents at risk should have their skin inspected daily and moisture managed, nutrition and hydration should be optimized and pressure minimized. The Wisconsin Pressure Ulcer Coalition provided learning sessions, regional meetings, webinars, e-newsletters and data analysis to provide information and tools to help reduce pressure ulcers in nursing homes. These efforts resulted in a 33% reduction in the rate of pressure sores in its first year.
Pressure sores are preventable with proper care, proper nutrition and regular inspection. Negligence is the most common root cause of pressure sores and can be due to nurses or medical staff failing to re-position immobile residents, which should be done every two hours; failing to provide proper nutrition and adequate fluids; exposing residents to moisture or urine (specifically in those who are incontinent); failure to provide proper care of potential pressure sores, and inadequate staffing or training of nurses.
Nursing Home Duty to Prevent Bedsores
Nursing homes and other assisted care facilities have a duty to prevent severe bedsores. The reality is that bedsores are not always avoidable. Exacerbation of bedsores, however, is avoidable. Nursing home stuff must be trained and given the time to thoroughly check their patients and residents for signs of bedsores. At the first sign, if appropriate measures are taken, more severe medical complications can be avoided. Failure to properly treat these ulcers, which may require physician or surgical intervention, can cause serious injury and death.
How Our Lawyers Prove That Nursing Homes Were Negligent
Nursing homes conduct extensive intakes on their patients. In most cases we have litigated, the patient enters the nursing home with no skin problems, and ends up with a fatal stage IV decubitus ulcer.
The nursing home records often tell the complete story: records frequently document regular skin checks and rotation, yet somehow an ulcer is found suddenly at stage IV with no warning signs. Proper inspection would have revealed that wound well before it became a life-threatening problem. The nursing home is often caught in its own lies.
It is estimated that treatment of bedsores costs over $6 billion in the United States. Most of this economic cost and human suffering could be avoided with just a decent, humane level of care for nursing home patients and assisted living residents. Nursing home lawyers often find gold for their case when getting a hold of the nursing homes' financial records and staffing records. Where a nursing home is understaffed, a jury is allowed to infer a financial motive to provided very limited and inadequate care.
Contact Us
If someone you love has a pressure sore or other injury that you suspect stems from that a nursing home violating the law or providing negligent and improper care, call our Maryland nursing home attorneys at (800) 553-8082 for a free consultation, or get a free internet consultation. There are no fees or expenses unless money damages are awarded by a judge or jury or obtained by settlement in your Maryland nursing home case.
For More Information