Westgate Hills Rehabilitation & Healthcare Center
10 N. ROCK GLEN ROAD
BALTIMORE, MD 21229
(410) 646-2100
Basic Profile:
Located in Baltimore City, Maryland
For-profit Corporation Owned by Marquis Health Services
Certified beds: 120
Last Medicare rating: 3 stars
Most Recent Lawsuit Against Westgate: March 2017
A 120-bed for-profit facility in Baltimore near Catonsville, Westgate Hills Rehabilitation & Healthcare Center offers post-surgical care; physical, occupational, and speech therapy; and long-term care. Before 2015, this nursing home was called Rock Glen Nursing and Rehabilitation Center.
Westgate Hills is a part of Marquis Health Services. Marquis is a subsidiary of Tryko Partners which owns Loch Raven Village Apartments in Baltimore and a complex in Salisbury. This appears to be the only nursing home Marquis owns in Maryland.
Marquis Health Services aims to provide the highest quality life for its residents. In Baltimore, it has not managed to pull this off. Westgate Hills does excel a bit in some respects. But mostly it is average. But Marquis bought this facility in February 2015 so maybe they will turn it around. The jury is still out.
Why the hope? One positive sign is that Westgate Hills completed in late 2016 a $1.5 million renovation. The new facility has treadmills, parallel bars, stairs, space for floor exercises and hydraulic equipment for physical therapy. If the new owner is committing real money to the facility, you can hope that it comes with a new commitment to quality.
Westgate Hills Competitors
Before we get into the nuts and bolts of Westgate's performance, let's look at the competition.
Slightly Less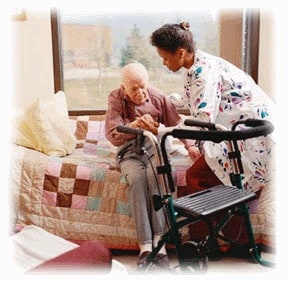 In its most recent Medicare health inspection, Westgate Hills got three stars: an average rating. Its total of 10 health-related deficiencies placed it in between the national average (7.1 deficiencies) and the Maryland state average (11.4 deficiencies). Westgate Hills had deficiencies in seven of the eight health inspection categories, including one for mistreatment. It did better on its fire safety inspection, which turned up zero deficiencies (the average in Maryland is four). This facility, which has been in operation since 1996, has had no federal fines or payment denials in the past three years.
Westgate Hills also got the 3-star average rating for its staffing (which really means nurse staffing). That was the case although its total nursing time per resident per day was 16 minutes less than the Maryland average, seven minutes less than the U.S. average. Westgate Hills was a shade below average on total daily RN time, and on residents' daily time with LPNs and LVNs (licensed practical nurses, licensed vocational nurses) and certified nursing assistants. It was slightly above average in terms of residents' time per day with physical therapists.
This facility's best Medicare score was its 4-star (above average) rating for quality measures, which Medicare collects separately for short-stay and long-stay residents. (With a total of 111 residents at the last official tally, Westgate Hills was just above the Maryland average in terms of resident population, and about 25 residents above the national nursing home population average.)
Mostly Better
By the most recent set of quality measures, Westgate Hills did quite well by its short-stay residents, with above-average scores in five of nine Medicare categories, and about equal scores in two others.
Short-stay residents here were significantly ahead of average in terms of improving their functionality. They were only one-third as likely as the state and national averages to have a bedsore and less than a third as likely to need antipsychotic meds. These are both important statistics. The rate of successful discharges here was about on par with the Maryland and U.S. averages, but former short-stay residents from here were a bit less likely than average to need an ER visit later.
The notable negative stat here was the percentage of short-stay residents who reported having moderate to severe pain: the percentage at Westgate Hills was 26.3 percent, as opposed to 13.8 percent for Maryland statewide and 16.4 percent nationally. Is this a function of the care or just the patients Westgate has? It is impossible to say.
For long-stay residents, this facility's Medicare stats were more positive than negative. Very few long-term residents here had depressive symptoms: a mere 0.6 percent, which was eight to nine times lower than the Maryland and U.S. averages. They were less likely than average to need meds for anxiety, and they were just over one-third as likely as average to be taking antipsychotic meds. Very few of them suffered a fall with injury (a third as many as the national average); fewer than average required ongoing catheterization; and none of them were subjected to physical restraints.
On the downside, long-term residents here were a bit more likely than average to have pressure ulcers; slightly more likely to acquire urinary tract infections; and also slightly more apt to experience serious weight loss. The least positive stat here was that 30.1 percent of this facility's long-stay residents came to need help in conducting daily activities - significantly more than the 18.3 percent average for Maryland and the 15.3 percent U.S. average.
This facility's last standard Medicare inspection was on June 6, 2016. (That is after the new owner Marquis arrived on the scene.) Medicare officials conducted a concurrent complaint inspection on the same day. This inspection addressed three separate issues.
Facility staffers failed to give regularly scheduled pain meds to one resident. Staffers also failed to follow a doctor's orders in checking a resident's blood glucose levels on a regular basis (they missed doing so in 12 of 56 occasions). And the facility was found to have "failed to provide ongoing monitoring of a resident… with a history of sexually inappropriate behavior who was observed touching a cognitively impaired resident… inappropriately."
And it is not in the least unusual for a facility to have a complaint inspection. In this respect, Westgate Hills was about - average.
That is where Westgate Hills is right now: average. Let's reserve judgment until we see the results of all of these new efforts to make a better facility.
Recent Westgate Nursing Home Lawsuits
2019: Young v. Westgate - A wrongful death claim involving a man passing from septic shock after no health care plan was initiated when it was found he was possibly suffering from pneumonia.
Baltimore Nursing Home Lawyer
Has someone you love suffered needlessly at Westgate Hills Rehabilitation & Healthcare Center or other Baltimore elder care facility? Call our medical negligence attorneys at Miller & Zois today at (800) 553-8082. We will help you explore your options. You can also get a FREE no obligation, confidential case review online. We are available to speak with you 24 hours a day.
More Information
1Vital Statistics
Number of Beds:
120 certified beds

Beds in the nursing home that have been approved by the federal government to participate in Medicare or Medicaid.
Accepts:
Medicare and Medicaid

Shows if the nursing home participates in the Medicare, Medicaid, or both.
2Key Ratings
Star Rating Summary
Overall Rating
Much Below Average
Health Inspection

Medicare assigns the star rating based on a nursing home's weighted score from recent health inspections. More stars means fewer health risks

Much Below Average
Staffing

Medicare assigns the star rating based on the nursing home's staffing hours for Registered Nurses (RNs), Licensed Practice Nurses (LPNs), Licensed Vocational Nurses (LVNs), and Nurse aides. More stars means a better level of staffing per nursing home resident

Below Average
RN Staffing
Much Below Average
Quality Measures

Medicare assigns the star rating based on data from a select set of clinical data measures. More stars means better quality of care

Above Average
3Key Short Stay Statistics
Description
Westgate Hills Rehab & Healthcare Ctr
Maryland
Average
Percent of short-stay residents who self-report moderate to severe pain
Lower percentages are better.
1.0%
10.4%
Percentage of SNF residents with pressure ulcers that are new or worsened
Lower percentages are better.
1.6%
Not Available
Percent of short-stay residents assessed and given, appropriately, the seasonal influenza vaccine
Higher percentages are better.
65.3%
85.3%
Percent of short-stay residents assessed and given, appropriately, the pneumococcal vaccine
Higher percentages are better.
41.7%
84.0%
Percentage of short-stay residents who got antipsychotic medication for the first time
Lower percentages are better.
1.3%
1.7%
4Key Long Stay Statistics
Description
Westgate Hills Rehab & Healthcare Ctr
Maryland
Average
Percent of long-stay residents experiencing one or more falls with major injury
Lower percentages are better.
0.3%
2.7%
Percent of long-stay residents with a urinary tract infection
Lower percentages are better.
0.6%
2.5%
Percent of long-stay residents who self-report moderate to severe pain
Lower percentages are better.
1.6%
5.4%
Percent of long-stay high-risk residents with pressure ulcers
Lower percentages are better.
8.4%
8.8%
Percent of long-stay low-risk residents who lose control of their bowels or bladder
Lower percentages are better.
54.6%
62.3%
Percent of long-stay residents who have or had a catheter inserted and left in their bladder
Lower percentages are better.
2.7%
1.7%
Percent of long-stay residents who were physically restrained
Lower percentages are better.
0.0%
0.2%
Percentage of long-stay residents whose ability to move independently worsened
Lower percentages are better.
23.1%
22.5%
Percent of long-stay residents whose need for help with daily activities has increased
Lower percentages are better.
30.7%
18.0%
Percent of long-stay residents who lose too much weight
Lower percentages are better.
5.0%
5.8%
Percent of long-stay residents who have depressive symptoms
Lower percentages are better.
0.3%
3.9%
Percentage of long-stay residents who received an antianxiety or hypnotic medication
Lower percentages are better.
7.8%
16.2%
Percent of long-stay residents assessed and given, appropriately, the seasonal influenza vaccine
Higher percentages are better.
92.5%
96.7%
Percent of long-stay residents assessed and given, appropriately, the pneumococcal vaccine
Higher percentages are better.
84.4%
94.1%
Percent of long-stay residents who received an antipsychotic medication
Lower percentages are better.
10.7%
12.4%
5Inspection Summary
Date of standard health inspection:08/09/2018
Total number of health deficiencies:36
Average number of health deficiencies in Maryland:14.9