Crawford Retreat
2117 DENISON STREET
BALTIMORE, MD 21216
(410) 947-7286
Basic Profile:
Located in Baltimore City, Maryland
For-profit corporation
Certified beds: 20
Last Medicare rating: 4 stars
Crawford Retreat
Crawford Retreat is a very small nursing home in Baltimore City that provides care for long-term residents. It does not appear even to have a website. This Baltimore nursing home's most recent Medicare scores were phenomenal: Crawford Retreat got perfect scores in seven measured categories.
Is this misleading? Probably. It did so for its total of 17 residents - that's right, 17. This facility's resident population, at last official count, was less than one-sixth the national average, and less than one-seventh the Maryland state average. It should be easier to have a smaller nursing home. If this facility was six times larger would it have the same scores? Probably not.
So this nursing home's scores and its size make Crawford Retreat not only unusual, but rather mysterious: how did it achieve such scores? It is a fair representation of the quality of this nursing home? To add to the mystery, Medicare somehow was unable to obtain one large and important body of data from this facility (quite unusual), and the U.S. agency wasn't even able to determine the facility's ownership or legal business name. We found that it is owned by Crawford Retreat, Inc., which really tells us nothing
And these are not the only anomalies emerging from this facility. One private website ranked Crawford Retreat as about average for Baltimore, while another placed it near the top of all facilities in Maryland. As for Medicare, it gave Crawford Retreat an overall rating of 4 stars: above average.
Reviews
Crawford Retreat has been the subject of some conflicting opinions. A private "health site" called HealthGrove (www.nursing-homes.healthgrove.com) said rather dismissively of Crawford Retreat that "This is only the 21st highest ranked center in the city [Baltimore], but you have 45 other local options." Great Places went the other way, ranking Crawford Retreat the fourth-best nursing facility in all of Maryland. How does a facility get such contradictory reviews?
The mystery persists when one turns to the Medicare rankings. In its last standard inspection (March 2015), Crawford Retreat somehow managed to score a low two stars (below average), even though it had fewer deficiencies (6 in all) than the Maryland and national averages (11 and 7.1, respectively).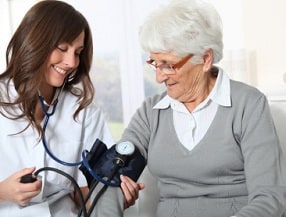 Its six deficiencies broke down as 3 for environmental issues, two on residential assessment, one on administration. Crawford Retreat had zero deficiencies in the categories of quality care, resident rights, nutrition and dietary issues, pharmacy services, and mistreatment. So why only the 2-star rating?
In terms of fire safety, Crawford Retreat aced this point. The average number of fire safety deficiencies in Maryland nursing homes is 4; the U.S. average is 3.4. In its last standard inspection, Crawford Retreat had none. And that was just the first of the "perfect" scores this facility would achieve in the latest Medicare survey.
Not Available
Crawford Retreat scored an above-average rating (4 stars) on staffing, which brings up yet another curious point. This facility also got a 4-star rating on RN staffing in particular. Otherwise, Crawford Retreat was very close to the U.S. and Maryland averages for nursing time per resident per day - except in the category of physical therapy time. The U.S. and Maryland averages on this metric are not very high (6 minutes and 8 minutes, respectively, per day), but in this category, Crawford Retreat's average was zero minutes per day. Yet another anomaly.
For quality measures (which gauge levels of care), Crawford Retreat got five stars - tops. Yet for some reason, Medicare found that quality measure data on Crawford Retreat short-stay residents were "NOT AVAILABLE" for all of its nine measured categories. Medicare offered no explanation for this. But if it had no data for the very significant category of short-stay residents, how did it determine that this facility should get a 5-star rating for quality measures overall? (One might guess that with only 17 residents in total, this facility might not have any short-stayers.)
Perfection
The mystery continues with respect to this facility's long-stay residents. For two categories here, too, the statistical information was "NOT AVAILABLE" - no reason given. In two categories Crawford Retreat was on par with the Maryland and national averages. But for the other nine categories measured by Medicare, Crawford Retreat not only did better than the state and U.S. averages: it did much better -- strikingly so.
It came in about equal on the average rate of urinary tract infections, and on the rate at which residents needed help with daily activities. The incontinence rate here was slightly above average; and this facility was far higher than the Maryland and U.S. averages in terms of dispensing antianxiety meds;
But in nine other categories for long-stayers, Crawford Retreat had terrific scores, no doubt contributing to (if not determining) its overall 5-star rating for quality measures. The incidence of pressure ulcers, and cases of serious weight loss, were less than half as frequent at Crawford Retreat, compared with the Maryland and U.S. averages. And these were this facility's least impressive positive metrics.
The percentage of falls with injury at Crawford Retreat: zero. Resident reports of serious pain: zero. Extended use of catheters: zero. Use of physical restraints: zero. Rate of depression: zero. Inoculation against flu and pneumonia: 100 percent. Needless to say, Crawford Retreat trounced the Maryland and U.S. averages in every one of these metrics. Out of nine categories for which Medicare could find any data, Crawford scored "perfectly" in seven of them. Whether we're talking about rates of vaccination, or rates of depression, you can't do better than 100 percent for vaccinating, and zero percent for depression. With these sorts of numbers, it is no surprise that Crawford Retreat has had no federal fines or payment denials in the past three years, nor any complaint inspections since at least September 2015.
Mysteries
Still, it is puzzling that Medicare was able to give this facility a 5-star rating for quality measures - and, in fact, an overall rating at all - when it lacked so much data. Apparently, Medicare liked what it did see.
So here we have a facility with fabulous quality ratings, but whose tiny residential population would seem to prevent its attaining economies of scale. And having so few residents means having a very small client pool from which to earn fees. Yet according to the website of HealthGrove, Crawford Retreat is a private facility that does not accept Medicare or Medicaid.
If you're hoping to clear up any of these mysteries by going to Crawford Retreat's website, your first problem may be in finding that site at all. Our repeated attempts to find it were unsuccessful; and when we phoned Crawford Retreat to ask them what their website address was, they said they didn't know.
Crawford Retreat Competitors
Maryland Baptist Aged Home: This Baltimore facility is Crawford Retreat's nearest nursing home neighbor. It is 1.4 miles away but a 5-minute drive mostly on Franklintown Road in Baltimore traffic. Its Medicare ratings are almost identical. Crawford Retreat scores higher on staffing, while Maryland Baptist scores higher on the health inspection.
Bridgepark Health Center: Bridgepark Healthcare matches Crawford Retreat with an excellent 5-star rating on quality measures. This facility is less than 2 miles away (Denison to Windsor to Liberty Heights). But otherwise, this Baltimore facility scores below Crawford Retreat on the other main Medicare measures, including its overall rating (2 stars).
FutureCare Sandtown-Winchester: This FutureCare facility, about 2.4 miles from Crawford Retreat, gets 3-star (average) ratings across the board, except for quality measures. Even here, Crawford's Retreat outscores it (5 stars to 4).
Baltimore Nursing Home Lawyer
Do you have a possible nursing home lawsuit against this Baltimore nursing home or another elder care facility in Baltimore? The reality is that some of the worst nursing home care in Maryland is found in Baltimore. Call our nursing home attorneys at Miller & Zois today at (800) 553-8082 or get an easy, free no obligation case review. We can counsel you and your family on your options for settlement or a lawsuit and how to get the compensation and justice you deserve for the unnecessary harm that has been done.
More Information
1
Vital Statistics
Number of Beds:
20 certified beds

Beds in the nursing home that have been approved by the federal government to participate in Medicare or Medicaid.
Accepts:
Medicare and Medicaid

Shows if the nursing home participates in the Medicare, Medicaid, or both.
2
Key Ratings
Star Rating Summary
Overall Rating
Above Average
Health Inspection

A rating of 1 to 5 stars based on the nursing home's health inspection results. More stars are better.

Below Average
Staffing

A rating of 1 to 5 stars based on the nursing home's staffing hours for Registered Nurses (RNs), Licensed Practical Nurses (LPNs), Licensed Vocational Nurses (LVNs), and Certified Nursing Assistants (CNAs). More stars are better.

Above Average
RN Staffing

A rating of 1 to 5 stars based on the amount of time Registered Nurses (RNs) spend with residents as reported by the nursing home. More stars are better.

Above Average
Quality Measures

A rating of 1 to 5 stars based on resident assessment data that show how well the nursing home cares for residents' needs. More stars are better.

Much Above Average
3
Key Short Stay Statistics
Description
Crawford Retreat

Average
Percent of short-stay residents who self-report moderate to severe pain.
Lower percentages are better.
NOT AVAILABLE
14.2%
Percent of short-stay residents with pressure ulcers that are new or worsened.
Lower percentages are better.
NOT AVAILABLE
1.3%
Percent of short-stay residents assessed and given, appropriately, the seasonal influenza vaccine.
Higher percentages are better.
NOT AVAILABLE
82.5%
Percent of short-stay residents assessed and given, appropriately, the pneumococcal vaccine.
Higher percentages are better.
NOT AVAILABLE
81.2%
Percent of short-stay residents who newly received an antipsychotic medication.
Lower percentages are better.
NOT AVAILABLE
2.2%
4
Key Long Stay Statistics
Description
Crawford Retreat

Average
Percentage of long-stay residents experiencing one or more falls with major injury.
Lower percentages are better.
0.0%
2.9%
Percentage of long-stay residents with a urinary tract infection.
Lower percentages are better.
4.5%
4.5%
Percentage of long-stay residents who self-report moderate to severe pain.
Lower percentages are better.
0.0%
6.4%
Percentage of long-stay high-risk residents with pressure ulcers.
Lower percentages are better.
3.0%
6.8%
Percentage of long-stay low-risk residents who lose control of their bowels or bladder.
Lower percentages are better.
61.8%
58.0%
Percentage of long-stay residents who have/had a catheter inserted and left in their bladder.
Lower percentages are better.
0.0%
2.5%
Percentage of long-stay residents who were physically restrained.
Lower percentages are better.
0.0%
0.6%
Percentage of long-stay residents whose ability to move independently worsened.
Lower percentages are better.
NOT AVAILABLE
22.3%
Percentage of long-stay residents whose need for help with daily activities has increased.
Lower percentages are better.
16.7%
18.7%
Percentage of long-stay residents who lose too much weight.
Lower percentages are better.
3.0%
6.3%
Percentage of long-stay residents who have depressive symptoms.
Lower percentages are better.
0.0%
4.8%
Percentage of long-stay residents who received an antianxiety or hypnotic medication.
Lower percentages are better.
41.8%
18.3%
Percentage of long-stay residents assessed and given, appropriately, the seasonal influenza vaccine.
Higher percentages are better.
100.0%
95.0%
Percentage of long-stay residents assessed and given, appropriately, the pneumococcal vaccine.
Higher percentages are better.
100.0%
92.2%
Percentage of long-stay residents who received an antipsychotic medication.
Lower percentages are better.
NOT AVAILABLE
14.1%
5
Inspection Summary
Date of standard health inspection: 03/26/2015
Total number of health deficiencies: 6
Average number of health deficiencies in : 10.6