Fayette Health and Rehabilitation Center
1217 WEST FAYETTE STREET
BALTIMORE, MD 21223
(410) 727-3947
Basic Profile
Located in Baltimore City, Maryland
For-profit corporation
Certified beds: 156
Last Medicare rating: 4 stars
Located in downtown Baltimore, Fayette Health and Rehabilitation Center is a for-profit facility with 156 certified beds. It offers short-term recovery and rehabilitation services, as well as long-term care. Owned and operated by CommuniCare, an Ohio-based chain with eight Maryland nursing homes. Communicare has had trouble with some of its nursing homes in Maryland. While flawed, Fayette is clearly one of the better ones.
It is common for nursing facilities to have average or good Medicare scores for their short-stay residents and more mixed or negative scores for their long-term residents. That seems logical enough since long-stay residents are apt to have more serious health issues. Fayette Health and Rehab goes against this grain. Based on its latest Medicare metrics, this facility's strongest appeal is its excellent record of service to long-staying residents - which no doubt helped Fayette earn a reasonably good overall 4-star rating from Medicare.
Fayette Competitors
Our nursing home attorneys focus on Baltimore not just because our offices are located her. The primary reason Baltimore nursing home are first on our radar is because the nursing homes are often just terrible.
But the nursing homes in the immediate area near Fayette Health are pretty decent. Caton Manor is really the only extremely poorly ranked facility in the immediate area.
Much Better
With respect to short-stay residents, Fayette's record leaves much to be desired. Fayette was excellent - in fact, perfect - on prevention of pressure ulcers, or bed sores, with zero percent of short-stay residents having this condition. Short-stayers here also were less likely than average to report having moderate to severe pain.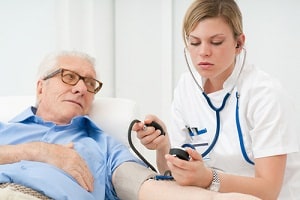 But Fayette had a below-average rate of successful discharges. Former residents were more likely than average to require rehospitalization; and they were almost twice as likely to make a visit to the ER (20.2 percent, versus 10.2 percent for Maryland, 12.1 percent nationally). Short-termers at Fayette were less than half as likely as the Maryland and U.S. averages to experience improvement in functionality, and they were three times as likely as the state and U.S. averages to be on antipsychotic meds.
Fayette appears to have earned a 4-star rating for quality measures thanks to its care of long-term residents. This facility outscored the Maryland and U.S. averages in 12 of 15 categories - and in 7 of these categories, it was much better than the state and national averages.
Fayette long-stayers' rate of falls with injury was a mere 0.7 percent: less than a quarter of the Maryland and U.S. averages. Their rate of urinary tract infections was 1.9 percent, well less than half the state and U.S. averages. Their reports of moderate to severe pain were only one-quarter to one-third the U.S. and Maryland averages. Fayette scored a perfect zero on physical restraints - using none. Even better, Fayette scored a perfect zero on depressive symptoms - its long-stay residents having none. (The Maryland average rate of depression is 4.7 percent, the U.S. average 5.4 percent.)
Fayette was significantly ahead of the Maryland and U.S. averages on maintaining its long-stay residents' continence; on giving them fewer antianxiety meds; on helping these residents maintain their mobility, their independence in daily activities, and healthy weight levels. Fayette's long-stayers also had fewer problems with pressure ulcers than the Maryland and U.S. averages.
Fire Alarm
Also contributing to Fayette's overall 4-star Medicare rating was its 4-star score for staffing (and within that score, four stars for RN staffing). Fayette came close to matching the Maryland and U.S. averages for time spent by LPNs and LVNs (licensed practical nurses, licensed vocational nurses) and certified nursing assistants. But it was much lower on (quite expensive) physical therapist time: a mere 2 minutes daily per resident, versus 9 minutes for the Maryland average, 6 minutes nationally. In terms of total nursing time per resident per day, Fayette was a bit below the Maryland and U.S. averages. Given that most nursing homes are woefully understaffed, this is not a good mark on Fayette's resume.
Fayette got a 3-star rating in its last standard Medicare health inspection, even though its total of 7 deficiencies bested the Maryland average (11.4 deficiencies) and slightly edged the national average (7.1 deficiencies).
This facility's most serious negative score came in a category that doesn't usually raise big issues: fire safety. Fayette's last fire safety inspection turned up eight deficiencies: twice the Maryland average (4.0) and more than twice the U.S. average (3.4). Notably, Fayette had three deficiencies in its automatic sprinkler systems - which a nursing facility obviously must keep in good working order. Fire safety is a marker for how much the nursing home sweats the small stuff. You really want a nursing home that can do manage the details because that is what good patient care is all about.
Fayette had a fire inspection in September 2015, which identified eight fire safety deficiencies -- including three for the sprinkler systems.
The sprinkler system deficiencies had the potential to harm "many" residents. There is no arguing that point. With a total resident population of 146 at the last official count, Fayette could have put a great many at risk by failing to keep its automatic sprinkler systems functional. We trust that Fayette has addressed this basic but essential maintenance task - and averted a tragedy.
Complaint Inspections
In addition to the fire safety deficiencies, Fayette had a Medicare complaint inspection on January 5, 2016. This inspection was for a single complaint in which it was found that Fayette did not settle a resident's account within the standard 30 days of the resident's death. Not related to patient safety but, again, you worry about the continued markers for lack of attention to details.
Still, that one complaint does not strike us as highly serious. However, the Skilled Nursing Facilities website says that Fayette also had two complaint inspections in 2014 and another in July, 2015 - to investigate a total of 15 complaints. Medicare does not mention these prior complaint inspections in its most current report about Fayette.
Baltimore Nursing Home Lawyer
Has your loved one has been badly harmed or unexpectedly passed away in a Baltimore nursing home or assisted living facility? You need an experienced nursing home attorney to help you determine whether you may be entitled to money damages for the harms and losses you have been forced to endure. Call our lawyers today at (800) 553-8082 or get a free online case evaluation. We will fight for you.
More Information
1Vital Statistics
Number of Beds:
156 certified beds

Beds in the nursing home that have been approved by the federal government to participate in Medicare or Medicaid.
Accepts:
Medicare and Medicaid

Shows if the nursing home participates in the Medicare, Medicaid, or both.
2Key Ratings
Star Rating Summary
Overall Rating
Below Average
Health Inspection

Medicare assigns the star rating based on a nursing home's weighted score from recent health inspections. More stars means fewer health risks

Below Average
Staffing

Medicare assigns the star rating based on the nursing home's staffing hours for Registered Nurses (RNs), Licensed Practice Nurses (LPNs), Licensed Vocational Nurses (LVNs), and Nurse aides. More stars means a better level of staffing per nursing home resident

Below Average
RN Staffing
Below Average
Quality Measures

Medicare assigns the star rating based on data from a select set of clinical data measures. More stars means better quality of care

Average
3Key Short Stay Statistics
Description
Fayette Health And Rehabilitation Center
Maryland
Average
Percent of short-stay residents who self-report moderate to severe pain
Lower percentages are better.
0.7%
10.4%
Percentage of SNF residents with pressure ulcers that are new or worsened
Lower percentages are better.
0.0%
Not Available
Percent of short-stay residents assessed and given, appropriately, the seasonal influenza vaccine
Higher percentages are better.
92.9%
85.3%
Percent of short-stay residents assessed and given, appropriately, the pneumococcal vaccine
Higher percentages are better.
93.0%
84.0%
Percentage of short-stay residents who got antipsychotic medication for the first time
Lower percentages are better.
1.3%
1.7%
4Key Long Stay Statistics
Description
Fayette Health And Rehabilitation Center
Maryland
Average
Percent of long-stay residents experiencing one or more falls with major injury
Lower percentages are better.
0.8%
2.7%
Percent of long-stay residents with a urinary tract infection
Lower percentages are better.
0.6%
2.5%
Percent of long-stay residents who self-report moderate to severe pain
Lower percentages are better.
0.3%
5.4%
Percent of long-stay high-risk residents with pressure ulcers
Lower percentages are better.
6.9%
8.8%
Percent of long-stay low-risk residents who lose control of their bowels or bladder
Lower percentages are better.
37.8%
62.3%
Percent of long-stay residents who have or had a catheter inserted and left in their bladder
Lower percentages are better.
0.0%
1.7%
Percent of long-stay residents who were physically restrained
Lower percentages are better.
0.0%
0.2%
Percentage of long-stay residents whose ability to move independently worsened
Lower percentages are better.
13.5%
22.5%
Percent of long-stay residents whose need for help with daily activities has increased
Lower percentages are better.
26.4%
18.0%
Percent of long-stay residents who lose too much weight
Lower percentages are better.
3.0%
5.8%
Percent of long-stay residents who have depressive symptoms
Lower percentages are better.
8.5%
3.9%
Percentage of long-stay residents who received an antianxiety or hypnotic medication
Lower percentages are better.
10.6%
16.2%
Percent of long-stay residents assessed and given, appropriately, the seasonal influenza vaccine
Higher percentages are better.
100.0%
96.7%
Percent of long-stay residents assessed and given, appropriately, the pneumococcal vaccine
Higher percentages are better.
99.6%
94.1%
Percent of long-stay residents who received an antipsychotic medication
Lower percentages are better.
10.7%
12.4%
5Inspection Summary
Date of standard health inspection:10/06/2017
Total number of health deficiencies:11
Average number of health deficiencies in Maryland:14.9