Communicare Rehabilitation
Background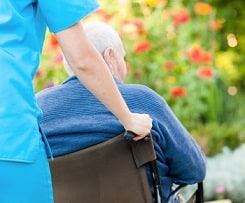 Communicare runs 15 nursing rehabilitation centers in Maryland, doubling the number of Maryland nursing homes in just a few years.
Primarily what Communicare does is treat people with injuries in a professional setting as opposed to recovering at home without medical professionals.
Communicare has doctors, nurses, social workers, physical therapists and others to try to accomplish that goal. The company says that it provides "comprehensive management services for the development and management of adult living communities."
It is a big company with a presence in four states. It has 33 facilities alone in Ohio, eight as we said in Maryland, two in Missouri, and two in Pennsylvania. It is interesting to us that an Ohio company would make its next big splash into Maryland. Do we not have enough nursing and rehabilitation centers here? Is it because of our cap on non-economic damages in medical malpractice cases that helps keep their insurance rates down?
What We Know About Lawsuits Against Communicare
We don't know much about Communicare. We have never filed a lawsuit against them. What prompted our interest in Communicare was a new wrongful death case we received where it seems, at first glance, that the care the patient received was pretty awful.
We have not been able to find any lawsuits filed against any Maryland facilities. Center, however there have been two filed against another CommuniCare Facility. In 2008, a case settled for $212,500, when an 83-year-old woman alleged that she suffered a foot fracture after her foot was trapped under a wheelchair she was in at the nursing home. She alleged that CommuniCare failed to properly train and supervise its staff.
More recently, in 2014, a case settled for $300,000 against a CommuniCare facility. This was a wrongful death and survival action brought by a woman's estate, alleging she died due to fatal injuries she incurred when she fell while at the nursing home.
But, again, nothing yet in Maryland. When we got the call on this CommuniCare case, we first asked our fellow trial lawyers about them. We have did not find anyone who knew anything about them.
So we went to their website to learn more, clicking, as you would expect on the "About Us" page. That also did not tell us much other than random facts about the CEO: his favorite book, that he studied the art of science and aging in college (how many classes were there?), and that he knew the Morrie from Tuesday's with Morrie. It is not a crime, it is just a little odd that "About Us" in a company with hundreds of employees would be deep and miscellaneous details of the biography of the founder. At some point, we will learn more about the company and we will update this page.
You can also read these opinions from former employees about the company who do address quality of care issues. These folks were not too impressed with their time with this company. But you always have to take these with at least a few grains of salt. Happy employees tend to stay and do not run out to give reviews on how great the company is.
You can also read some actual inspections to get a flavor for the types of mistakes Communicare is making. Certainly, their BridgePark Baltimore location is struggling. But if you really want to use this tool properly, you need to pull up competitor sites to gauge the relative quality of these facilities.
Sample Lawsuits and Expert Reports
Our lawyers handle nursing home injury and wrongful death cases throughout Maryland. Many potential victims have questions about what a lawsuit entails. We have some information and samples below that will help begin to demystify the claims and, if necessary, the lawsuit process.
Contacting a Nursing Home Lawyer
If you or someone you love was injured or killed as a result of the negligence of a nursing home, call our law firm at (800) 553-8082 for a free Internet consultation. We may be able to help you or, at a minimum, point you in the right direction.