St. Thomas More Medical Complex
NMS Healthcare of Hyattsville (Formerly St. Thomas More Medical Complex)
4922 LASALLE ROAD
HYATTSVILLE, MD 20782
(301) 864-2333
Basic Profile:
Located in Prince George's County, Maryland
For-profit corporation
Certified beds: 260
Last Medicare rating: 4 stars
NMS Healthcare of Hyattsville is the entity formerly known as the St. Thomas More Medical Complex. The latter appears to have been acquired in 2008 (according to Medicare ownership data). Medicare rather confusingly states that the name of this facility is "St. Thomas More Medical Complex," but that the legal business name is "NMS Healthcare of Hyattsville LLC."
NMS-Hyattsville, located in that Maryland town, is a for-profit corporation operating 260 certified beds. Its services include post-acute care, rehabilitation services, pulmonary management, transitional care, pain management, hospice care, IV therapy, and complex wound care.
NMS Healthcare of Hyattsville is an unusual quantity. In fact, "quantity" is a good word for it: with 244 residents at last count, this facility is far larger than average: well over twice the Maryland state nursing home norm, and nearly three times as large as the typical home nationally, in terms of population size.
Ultimately, every single thing our nursing home lawyers say about this nursing home has to be filtered through the lens of this lawsuit brought by the State of Maryland. that over 1,000 elderly residents were tossed from NMS nursing homes to make room for patients who could pay NMS more money. Many of these alleged victims were sent to homeless shelters or unqualified nursing homes. The allegations are that over 1,000 residents were illegally kicked out of NMS nursing homes to make room for patients who could pay NMS more money. Allegedly, some of this victims were dropped off at homeless shelters.
Does this make us question their quality scores and everything else about this nursing home? It should. So the ratings here are halfway decent and that is what we talk about below. But there is reason to be wary of NMS nursing homes.
NMS Healthcare of Hyattsville Competition
Before we get deep into this facility, let's look at the competition in the area.
Haircuts and Manicures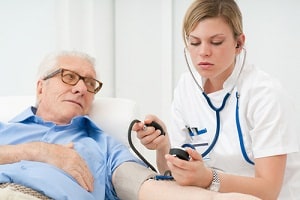 With a total of seven deficiencies in its last standard health inspection (November, 2015), NMS Healthcare came in just below the U.S. average (7.2 deficiencies) and cleanly below the Maryland average (11.5 deficiencies). The Medicare rating for this facility's health inspection: 3 stars. NMS-Hyattsville had four separate Medicare complaint inspections in 2016.
A complaint inspection in February, 2016, addressed the single complaint that staffers were slow in ordering a new motorized wheelchair for a resident after her chair had broken down. (Asked how this delay affected her, she said it made it harder for her to get haircuts and manicures and go to the movies.) Another such inspection in April found that the facility had not evaluated a new resident for intellectual disability, which the residents subsequently was found to have.
A July inspection dealt with two money matters: first, the facility had failed to make a complete accounting of some residents' personal funds; second, it failed to bring to closure the personal accounts of two deceased residents within a 30-day period. An August inspection found that the facility had failed to give the required 30-day notice of its intention to discharge a resident.
Are these directly related to patient safety? No. Does it give you a warm and fuzzy feeling about this facility that is being accused of awful things by the State of Maryland? No.
This NMS facility has had no federal fines or payment denials in the past three years.
A Comparison
With respect to nurse staffing, NMS Healthcare was better than the Maryland and national averages in four of five measured categories. Bear that in mind when you read on to find out what overall rating this facility got for staffing.
Residents at NMS got nearly three times as much daily attention from LPNs and LVNs (licensed practical nurses, licensed vocational nurses), as well as from physical therapists. They also had more daily time with certified nursing assistants. NMS Healthcare fell well below average, however, in the amount of RN time its residents got: only half as much as the national average, less than half the Maryland state average. (Medicare gave NMS a 1-star rating for RN staffing.) Despite the low RN figure, this facility did give residents more total daily nursing time than either the Maryland or U.S. averages.
So it would appear that this facility's one low number (RN minutes per day) pulled down its other three high numbers (including LPN/LVN/physical therapist numbers that were very high) to give NMS Healthcare a 2-star rating for staffing.
Staffing
For the category of staffing, we compared the Medicare stats for NMS Healthcare with those of Sacred Heart Home. Both facilities are in Hyattsville, and they are less than two miles apart.
NMS Healthcare gave its residents more total daily nursing time than the state and U.S. averages; Sacred Heart gave sharply less than average. Both facilities were skimpy on providing daily RN time: at NMS residents saw RNs 25 minutes a day; at Sacred Heart they saw them only 22 minutes a day.
But Sacred Heart got a 2-star rating for RN staffing, while NMS got a 1-star RN rating. How do you figure that? NMS was way ahead in terms of LPN/LVN daily time per resident, while Sacred Heart was average. Sacred Heart did provide significantly more time with certified nursing assistants, but NMS was above average on this metric, too. NMS gave residents 27 minutes a day with physical therapists (three to four times the state and U.S. averages) while Sacred Heart gave them none. The verdict: Medicare gave NMS Healthcare 2 stars for staffing, and gave 3 stars to Sacred Heart.
Explanation Needed
NMS Healthcare-Hyattsville had some good stats, and some not so good yet somehow they get a (cynic alert) a five star rating. For short-stay residents, NMS performed better than the Maryland and U.S. averages in two categories, about equally in one, and worse than the averages in six measured categories. Its worst stat was for resident improvement in functionality: only 37.4 percent of the short-stay residents saw functional improvement, versus the much higher Maryland and U.S. averages of 64.6 percent and 63.3 percent, respectively. So far, we have seen no justification for giving this facility a 5-star rating for quality measures.
This facility's stats for long-stay residents were better than the state and U.S. averages in nine of 15 measured categories. More residents here were able to maintain their mobility, none of them suffered a fall with injury, and none were subjected to physical restraints. Hardly any of the long-term residents here had depressive symptoms (0.7 percent, about one-seventh the state and U.S. averages), and these residents were much less likely to need antianxiety or antipsychotic meds. Three more points for NMS. Long-stay residents here were less inclined to report having serious pain; less likely to need help in performing routine daily activities and much less likely (by more than half) to have urinary tract infections.
But these residents were more likely than average to experience incontinence, or need ongoing catheterization, or lose too much weight. They were about twice as likely as the state and U.S. averages to have problems with pressure ulcers (bed sores). They were a little less likely than average to get flu shots. Subtract five points.
Looking at the short-stay and long-stay stats combined, we find that NMS did better than average in exactly 11 categories, and worse than average in exactly 11 categories. How did such a middling performance merit a 5-star rating overall for quality measures? Who knows? Are we more skeptical about postive facts about this nursing home because the allegations against NMS? You bet we are.
Prince George's County Nursing Home Lawyer
Has a ManorCare nursing home made a mistake with someone you love that ended in an awful tragedy? We can guide you through the Prince George's County's legal system, give you all your legal options, and fight for justice and compensation that you and your family deserve. Our legal system and a Prince George's County jury will hold a nursing home accountable if the facility does not make the settlement offer that justice demands. Call our nursing home attorneys at Miller & Zois today at (800) 553-8082 or get a FREE no obligation case evaluation and review.
More Information
Get the same detailed look at other Maryland nursing home facilities.
Information about UTI, fall and bedsore lawsuits which are the most common nursing home claims our lawyer see.
Call our nursing home attorneys todayat (800) 553-8082 or get a FREE confidential and case evaluation online. Our attorneys will help you better appreciate your settlement and litigation options and assist you in charting a clear path to maximizing the trial or settlement value of your claim.
1Vital Statistics
Number of Beds:
270 certified beds

Beds in the nursing home that have been approved by the federal government to participate in Medicare or Medicaid.
Accepts:
Medicare and Medicaid

Shows if the nursing home participates in the Medicare, Medicaid, or both.
2Key Ratings
Star Rating Summary
Overall Rating
Average
Health Inspection

Medicare assigns the star rating based on a nursing home's weighted score from recent health inspections. More stars means fewer health risks

Average
Staffing

Medicare assigns the star rating based on the nursing home's staffing hours for Registered Nurses (RNs), Licensed Practice Nurses (LPNs), Licensed Vocational Nurses (LVNs), and Nurse aides. More stars means a better level of staffing per nursing home resident

Below Average
RN Staffing
Below Average
Quality Measures

Medicare assigns the star rating based on data from a select set of clinical data measures. More stars means better quality of care

Average
3Key Short Stay Statistics
Description
Cadia Healthcare - Hyattsville
Maryland
Average
Percent of short-stay residents who self-report moderate to severe pain
Lower percentages are better.
7.4%
10.4%
Percentage of SNF residents with pressure ulcers that are new or worsened
Lower percentages are better.
3.7%
Not Available
Percent of short-stay residents assessed and given, appropriately, the seasonal influenza vaccine
Higher percentages are better.
81.8%
85.3%
Percent of short-stay residents assessed and given, appropriately, the pneumococcal vaccine
Higher percentages are better.
80.3%
84.0%
Percentage of short-stay residents who got antipsychotic medication for the first time
Lower percentages are better.
0.4%
1.7%
4Key Long Stay Statistics
Description
Cadia Healthcare - Hyattsville
Maryland
Average
Percent of long-stay residents experiencing one or more falls with major injury
Lower percentages are better.
1.7%
2.7%
Percent of long-stay residents with a urinary tract infection
Lower percentages are better.
0.6%
2.5%
Percent of long-stay residents who self-report moderate to severe pain
Lower percentages are better.
7.1%
5.4%
Percent of long-stay high-risk residents with pressure ulcers
Lower percentages are better.
15.8%
8.8%
Percent of long-stay low-risk residents who lose control of their bowels or bladder
Lower percentages are better.
65.4%
62.3%
Percent of long-stay residents who have or had a catheter inserted and left in their bladder
Lower percentages are better.
2.9%
1.7%
Percent of long-stay residents who were physically restrained
Lower percentages are better.
0.0%
0.2%
Percentage of long-stay residents whose ability to move independently worsened
Lower percentages are better.
26.6%
22.5%
Percent of long-stay residents whose need for help with daily activities has increased
Lower percentages are better.
14.8%
18.0%
Percent of long-stay residents who lose too much weight
Lower percentages are better.
6.0%
5.8%
Percent of long-stay residents who have depressive symptoms
Lower percentages are better.
0.4%
3.9%
Percentage of long-stay residents who received an antianxiety or hypnotic medication
Lower percentages are better.
13.5%
16.2%
Percent of long-stay residents assessed and given, appropriately, the seasonal influenza vaccine
Higher percentages are better.
92.7%
96.7%
Percent of long-stay residents assessed and given, appropriately, the pneumococcal vaccine
Higher percentages are better.
92.6%
94.1%
Percent of long-stay residents who received an antipsychotic medication
Lower percentages are better.
3.0%
12.4%
5Inspection Summary
Date of standard health inspection:05/24/2018
Total number of health deficiencies:10
Average number of health deficiencies in Maryland:14.9