Manor Care Health Services - Hyattsville
6500 RIGGS ROAD
HYATTSVILLE, MD 20783
(301) 559-0300
Basic Profile
Located in Prince George's County, Maryland
For-profit corporation: ManorCare
Certified beds: 160
Last Medicare rating: 4 stars
Overview of ManorCare in Hyattsville
ManorCare Health Services - Hyattsville, named for the Maryland town, is a for-profit corporation with 160 certified beds. Its services include post-hospital care, rehabilitation, memory care, IV care, independent and assisted living, and hospice.
ManorCare Ownership
This ManorCare facility is a unit of HCR ManorCare, which in turn consists of Heartland Health Care and ManorCare Health Services. The combined entity operates over 250 facilities nationally. ManorCare Health Services has a very strong presence in Baltimore and elsewhere in Maryland, including Bethesda, Chevy Chase, and Towson. (There is some confusion about the names of facilities: the parent company also refers to ManorCare - Hyattsville as Heartland Health Care Center - Hyattsville.)
This is a very average nursing home if you look at the Medicare statistics. Our nursing home lawyer think an average nursing home in Maryland is a poor nursing home.
Quality measures - and many of its stats in this category were exceptional.
Problems at ManorCare Hyattsville
In the health inspection tied to its last standard Medicare survey (in April, 2016), ManorCare - Hyattsville's total of 12 deficiencies placed it just above the Maryland average of 11.5 deficiencies. This facility had 3 deficiencies for quality of care, but none for mistreatment.
Just one month before its standard inspection, however, this ManorCare facility had a complaint inspection, in which Medicare surveyors looked into five separate issues. The issues in the inspection on March 2016, appeared to represent five different cases of staffers making inadvertent mistakes in handling residents' care, such as not ensuring that a resident kept a scheduled appointment with a hearing specialist, or not continuing to maintain the same diet plan for a resident who had been transferred to hospice. In a nursing home, little things make a difference.
Staffers failed to get a doctor-ordered urine specimen from a resident with a urinary tract infection, thus delaying treatment as the infection worsened. They say they did in fact try to get the specimen, but the resident was uncooperative and the sample they got seemed tainted, so they chucked it - then failed to get another one. Do you believe them? It is really hard to know where the truth lies. Certainly, the number of errors makes you suspicious.
In another complaint inspection, in May 2016, the facility was faulted in two cases for not making a full and complete accounting in handling petty sums of residents' money. In six cases involving deceased or discharged residents, the facility failed to make final accounting of the residents' personal funds within 30 days.
The more residents a facility has, the more details it has to track - in terms of med schedules, dietary restrictions, money issues, and so on. In our reckoning, a bigger facility is more prone to error than a small one. Its total of 134 residents at last count makes this facility a bit larger than the Maryland average (107.4 residents on average) and quite a bit larger than the U.S. average (86.1 residents). This is why you need the staffing to support the number of residents you have.
Staffing at ManorCare Hyattsville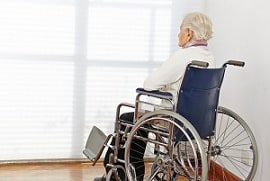 This ManorCare facility got a 3-star average rating for nurse staffing, which is odd, considering that residents here got more than the daily average amount of time with RNs - the lead caregivers - and the facility got a 4-star rating for RNs in particular. Residents here also got more than the average time per day with LPNs and LVNs (licensed practical nurses, licensed vocational nurses). They got less-than-average time with certified nursing assistants but about the usual six minutes a day (the Maryland average) with physical therapists. The total amount of time each resident saw one nursing staffer or another also exceeded the Maryland and U.S. averages. This nursing home should get some credit for this.
Positive Action
ManorCare - Hyattsville got the coveted 5-star rating for quality measures, by which Medicare gives a statistical picture of the types and amounts of care residents receive. The usual pattern is for a facility to have better stats for its short-stay residents than its long-stayers (who are more apt to have ongoing health issues). It was the other way around at this facility, which has done extremely well by its long-stay residents.
The short-stay residents at this facility had almost no trouble with pressure ulcers - only 0.2 percent of them so affected (one-sixth the state and national averages). The Maryland statewide nursing home average number of residents who report having significant pain is 13.8 percent; the national average is 16.4 percent. At this ManorCare facility, the percentage was 1.3 percent: these residents were nearly pain-free.
But this facility also had negative stats in four categories pertaining to short-stay residents. Most notably, residents here were only about two-thirds as likely as the state and U.S. averages to experience improved functionality during their stays. However, that stat is flawed because Medicare doesn't measure how many residents needed to improve their functionality in the first place.
If the stats for its short-stay residents were somewhat mixed, ManorCare - Hyattsville more than made up with it regarding its long-stay residents. Although it didn't beat the state and U.S. averages every time, it did so - by a lot - in eight of the 15 measured categories.
A slight 0.2 percent of the long-term residents here had had a bad fall, resulting in injury. The state and national averages were about 15 times higher. None of the long-term residents here had urinary tract infections. A mere 0.8 percent of them reported having serious pain; the U.S. average is almost ten times higher. The rate of depression here was a minimal 0.3 percent (the Maryland average was 15 times higher, the U.S. average even worse); and residents here were less than half as likely as average to need antianxiety or antipsychotic meds. Every long-stay resident here got a pneumonia shot, and not a single one of them was subjected to physical restraints.
ManorCare - Hyattsville Competitors (within 2 miles) Prince George's County Nursing Home Lawyers
Has a ManorCare nursing home made an error that ended in a completely unnecessary tragedy? We can help navigate Prince George's legal system, give you your legal options. We fight for justice and compensation for you. We have a track record of success. Our justice system and a Prince George's County jury will hold a nursing home accountable if the facility does not make an out-of-court settlement offer that justice demands. Call our nursing home lawyers at Miller & Zois today at (800) 553-8082 or get a FREE no obligation case review.
More Information
1Vital Statistics
Number of Beds:
160 certified beds

Beds in the nursing home that have been approved by the federal government to participate in Medicare or Medicaid.
Accepts:
Medicare and Medicaid

Shows if the nursing home participates in the Medicare, Medicaid, or both.
2Key Ratings
Star Rating Summary
Overall Rating
Below Average
Health Inspection

Medicare assigns the star rating based on a nursing home's weighted score from recent health inspections. More stars means fewer health risks

Much Below Average
Staffing

Medicare assigns the star rating based on the nursing home's staffing hours for Registered Nurses (RNs), Licensed Practice Nurses (LPNs), Licensed Vocational Nurses (LVNs), and Nurse aides. More stars means a better level of staffing per nursing home resident

Above Average
RN Staffing
Much Above Average
Quality Measures

Medicare assigns the star rating based on data from a select set of clinical data measures. More stars means better quality of care

Much Above Average
3Key Short Stay Statistics
Description
White Oak Rehabilitation And Nursing Center
Maryland
Average
Percent of short-stay residents who self-report moderate to severe pain
Lower percentages are better.
5.5%
10.4%
Percentage of SNF residents with pressure ulcers that are new or worsened
Lower percentages are better.
1.6%
Not Available
Percent of short-stay residents assessed and given, appropriately, the seasonal influenza vaccine
Higher percentages are better.
90.7%
85.3%
Percent of short-stay residents assessed and given, appropriately, the pneumococcal vaccine
Higher percentages are better.
92.7%
84.0%
Percentage of short-stay residents who got antipsychotic medication for the first time
Lower percentages are better.
1.4%
1.7%
4Key Long Stay Statistics
Description
White Oak Rehabilitation And Nursing Center
Maryland
Average
Percent of long-stay residents experiencing one or more falls with major injury
Lower percentages are better.
1.5%
2.7%
Percent of long-stay residents with a urinary tract infection
Lower percentages are better.
1.5%
2.5%
Percent of long-stay residents who self-report moderate to severe pain
Lower percentages are better.
3.3%
5.4%
Percent of long-stay high-risk residents with pressure ulcers
Lower percentages are better.
10.1%
8.8%
Percent of long-stay low-risk residents who lose control of their bowels or bladder
Lower percentages are better.
49.4%
62.3%
Percent of long-stay residents who have or had a catheter inserted and left in their bladder
Lower percentages are better.
1.1%
1.7%
Percent of long-stay residents who were physically restrained
Lower percentages are better.
0.0%
0.2%
Percentage of long-stay residents whose ability to move independently worsened
Lower percentages are better.
14.6%
22.5%
Percent of long-stay residents whose need for help with daily activities has increased
Lower percentages are better.
22.1%
18.0%
Percent of long-stay residents who lose too much weight
Lower percentages are better.
7.4%
5.8%
Percent of long-stay residents who have depressive symptoms
Lower percentages are better.
0.0%
3.9%
Percentage of long-stay residents who received an antianxiety or hypnotic medication
Lower percentages are better.
3.3%
16.2%
Percent of long-stay residents assessed and given, appropriately, the seasonal influenza vaccine
Higher percentages are better.
96.2%
96.7%
Percent of long-stay residents assessed and given, appropriately, the pneumococcal vaccine
Higher percentages are better.
95.4%
94.1%
Percent of long-stay residents who received an antipsychotic medication
Lower percentages are better.
3.7%
12.4%
5Inspection Summary
Date of standard health inspection:10/24/2018
Total number of health deficiencies:5
Average number of health deficiencies in Maryland:14.9