Sacred Heart Home Inc
5805 QUEENS CHAPEL ROAD
HYATTSVILLE, MD 20782
(301) 277-6500
Basic profile
Located in Prince George's County, Maryland
Nonprofit/church-related
Certified beds: 102
Last Medicare rating: 5 stars
A nonprofit (church-affiliated) facility in Hyattsville, Sacred Heart Home maintains 102 certified beds. It provides both short-term and long-term care, although it stresses the latter, terming itself "an intermediate long-term care residence." Residents' own doctors supervise care. This facility also offers "social services," "activity professionals," a registered dietitian, and spiritual counseling. Sacred Heart Home is openly and avowedly on a religious mission, operating under the slogan, "Ministry of Sisters Servants of Mary Immaculate."
This facility is not without flaws, and it would hardly be a surprise if a nursing home lawsuit against this facility. But if you dig into this nursing home and the Medicare ratings, this nursing home is doing fairly well.
Competition in Hyattsville Area Short Staff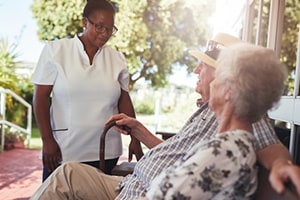 The last standard Medicare inspection at this facility was in June 2016. Sacred Heart did have a complaint inspection in October 2016, which addressed a single issue. (Staffers missed dosing a terminal resident with pain medication, and they were late in handling related paperwork.) This facility has had no federal fines or payment denials in the past three years. (Medicare says that the legal business name and ownership data for this facility are "Not Available." That's something we rarely see.)
Sacred Heart's most recent health inspection, in June 2016, turned up only five deficiencies - better than the 7.2-deficiency national average and well ahead of the 11.5-deficiency Maryland average. This performance earned Sacred Heart a 4-star rating (above average) from Medicare.
Medicare gave Sacred Heart a 3-star (average) rating for nurse staffing, despite the fact that this facility came up much short of the state and averages in terms of daily nursing time per resident. Total nursing time per day here, at 1 hour, 12 minutes, was significantly below the Maryland and U.S. averages (1 hour, 51 minutes for Maryland; 1 hour, 41 minutes nationally).
Sacred Heart was sharply lower in giving residents time with registered nurses: a mere 22 minutes per day (state average: 58 minutes; U.S. average, 50 minutes). The RN rating for this facility was two stars (below average). In terms of nursing time, Sacred Heart was by far most generous with its CMAs (certified nursing assistants), exceeding the state and U.S. averages by about 45 minutes per day. But it gave residents no daily time at all with physical therapists.
These figures suggest that the 3-star rating should have been two stars. What's more puzzling is that the relatively meager amount of nursing time would seem to contradict this facility's stated purpose of "mercy, in the form of caring for the aged… with love, understanding, and compassion…. Our nurses are available to deliver passionate, loving care around the clock…."
Good Outcomes
Medicare collects stats on the types and amounts of care residents receive, which it collectively terms quality measures. Medicare assembles the stat separately for short-stay and long-stay residents.
Perhaps in keeping with its status as an "intermediate long-term care residence," Sacred Heart appears to have very few short-term residents; at least, there were no data available for five of the nine categories applicable to short-stayers. The stats Medicare did obtain were exceptionally odd: zero percent of these residents reported having serious pain (which is terrific), but 35.7 percent of them had problems with pressure ulcers, or bed sores (which is horrific: the state and U.S. averages, by contrast, are 1.3 and 1.2 percent).
There could be a simple explanation for these jarringly different metrics: for instance, if Sacred Heart had only a very few short-stay residents, the statistics would be skewed. (If you have just two residents, and one has a pressure ulcer, that's 50 percent.) But however many (or few) short-stay residents had pressure ulcer problems, they apparently acquired them while at this facility. (Medicare measures the "Percentage of short-stay residents with pressure ulcers that are new or worsened.")
It seems clear, then, that Sacred Heart's 5-star rating for quality measures was due to its stats applicable to long-stay residents. This facility had better - or much better -- stats than the Maryland and U.S. averages in 13 out of 15 measured categories.
Again, the number of residents reporting serious pain was zero - but this time the figure probably applies to far more of this facility's residents. (Sacred Heart's total of 98 residents was about average.) The rate of depression among long-term residents here was an almost negligible 0.3 percent; the Maryland average was over 15 times higher. Sacred Heart was only about half as likely as the state and U.S. nursing home averages to dispense antianxiety or antipsychotic meds (which Medicare considers a good point). Everyone got flu and pneumonia vaccinations. No one was subjected to ongoing catheterization or physical restraints.
The number of residents who needed help with daily activities was about half that of the state and U.S. averages. The urinary tract infection rate here was lower than average, and, significantly, so was the rate of pressure ulcers - again suggesting that the pressure ulcer statistic for short-stay residents was anomalous.
Hiring a Hyattsville Nursing Home Lawyer
Our law firm handles nursing home cases on behalf of victims in Prince George's County and throughout Maryland. Have you or someone you love been mistreated or received substandard care in a nursing home? We can help you. Call us today to discuss your options at (800) 553-8082 or contact us online.
More Information
Get an inside look at every Maryland nursing home. Do good nursing homes like this one get sued? Absolutely. But, more often than not, it is the worst nursing homes that make up the lion's share of the claims.
Learn about nursing home UTI and bedsore cases. These are two of the most common lawsuits against Maryland nursing homes.
Call Miller Zois' nursing home attorneys today at (800) 553-8082 or get a FREE, online case evaluation.
1Vital Statistics
Number of Beds:
102 certified beds

Beds in the nursing home that have been approved by the federal government to participate in Medicare or Medicaid.
Accepts:
Medicaid

Shows if the nursing home participates in the Medicare, Medicaid, or both.
2Key Ratings
Star Rating Summary
Overall Rating
Much Above Average
Health Inspection

Medicare assigns the star rating based on a nursing home's weighted score from recent health inspections. More stars means fewer health risks

Above Average
Staffing

Medicare assigns the star rating based on the nursing home's staffing hours for Registered Nurses (RNs), Licensed Practice Nurses (LPNs), Licensed Vocational Nurses (LVNs), and Nurse aides. More stars means a better level of staffing per nursing home resident

Average
RN Staffing
Average
Quality Measures

Medicare assigns the star rating based on data from a select set of clinical data measures. More stars means better quality of care

Much Above Average
3Key Short Stay Statistics
Description
Sacred Heart Home Inc
Maryland
Average
Percent of short-stay residents who self-report moderate to severe pain
Lower percentages are better.
4.0%
10.4%
Percentage of SNF residents with pressure ulcers that are new or worsened
Lower percentages are better.
Not Available%
Not Available
Percent of short-stay residents assessed and given, appropriately, the seasonal influenza vaccine
Higher percentages are better.
66.7%
85.3%
Percent of short-stay residents assessed and given, appropriately, the pneumococcal vaccine
Higher percentages are better.
75.0%
84.0%
Percentage of short-stay residents who got antipsychotic medication for the first time
Lower percentages are better.
Not Available%
1.7%
4Key Long Stay Statistics
Description
Sacred Heart Home Inc
Maryland
Average
Percent of long-stay residents experiencing one or more falls with major injury
Lower percentages are better.
0.9%
2.7%
Percent of long-stay residents with a urinary tract infection
Lower percentages are better.
1.5%
2.5%
Percent of long-stay residents who self-report moderate to severe pain
Lower percentages are better.
0.4%
5.4%
Percent of long-stay high-risk residents with pressure ulcers
Lower percentages are better.
2.6%
8.8%
Percent of long-stay low-risk residents who lose control of their bowels or bladder
Lower percentages are better.
64.9%
62.3%
Percent of long-stay residents who have or had a catheter inserted and left in their bladder
Lower percentages are better.
2.5%
1.7%
Percent of long-stay residents who were physically restrained
Lower percentages are better.
0.0%
0.2%
Percentage of long-stay residents whose ability to move independently worsened
Lower percentages are better.
20.6%
22.5%
Percent of long-stay residents whose need for help with daily activities has increased
Lower percentages are better.
15.1%
18.0%
Percent of long-stay residents who lose too much weight
Lower percentages are better.
2.2%
5.8%
Percent of long-stay residents who have depressive symptoms
Lower percentages are better.
0.0%
3.9%
Percentage of long-stay residents who received an antianxiety or hypnotic medication
Lower percentages are better.
11.8%
16.2%
Percent of long-stay residents assessed and given, appropriately, the seasonal influenza vaccine
Higher percentages are better.
100.0%
96.7%
Percent of long-stay residents assessed and given, appropriately, the pneumococcal vaccine
Higher percentages are better.
97.6%
94.1%
Percent of long-stay residents who received an antipsychotic medication
Lower percentages are better.
9.8%
12.4%
5Inspection Summary
Date of standard health inspection:01/25/2019
Total number of health deficiencies:8
Average number of health deficiencies in Maryland:14.9