Crescent Cities Center
4409 EAST WEST HIGHWAY
RIVERDALE, MD 20737
(301) 699-2000
Basic Profile:
Located in Prince George's County, Maryland
Owned by Genesis
Certified beds: 140
Last overall Medicare rating: 4 stars
Located at the intersection of Route 1 and East-West Highway in Riverside, Maryland, Crescent Cities Center is a 140-bed nursing home that provides short and long-term skilled nursing care and rehabilitation. With a total resident count of 132 in the last official census, Crescent Cities exceeds the average residential populations for Maryland (107.5) and the U.S. (86.2). It is owned by Genesis, the nation's biggest provider of nursing homes, generating approximately $5 billion in revenue every year.
Crescent got an overall 4-star rating from Medicare. That's pretty good. But the deeper picture this facility produces a very mixed picture. We are nursing home lawyers with a bias against nursing homes in general and Genesis in particular (and, in fairness, all big nursing home chains we believe put profits ahead of people). That's our bias. So go through the data on this facility and decide for yourself.
Big Picture
In its most recent standard Medicare inspection it received a 4-star rating for staffing ("above average") and the top 5-star rating for quality measures, which are numerical gauges of the level of care. These ratings would seem to justify the Genesis claim that "Crescent Cities Center provides excellent service to our patients, residents, family members and staff."
So the numerical ratings of Crescent Cities are mostly good. But what about the resident who slid from partial to total urinary incontinence without getting a treatment plan? What about the resident who tried to eat eggs with her fingers, and kept missing her mouth? What about the ten residents found living in dirty or decrepit quarters? These are just a few points of concern that come up in this facility's complaint inspection reports. Again, do not take our word for it. Click on the inspection report and decide for yourself.
Staff Rating
Crescent Cities got a 4-star rating on staffing which is high for Genesis. One recent complaint inspection cited Crescent Cities staffers for failing to carry out a medical diagnostic procedure as ordered; failing to administer a resident's blood pressure medication; failing to accurately document two residents' conditions, as mandated by U.S. law; and other such failures of omission.
Although this facility's residents got less RN time per day than average (47 minutes, versus the 59-minute average for Maryland and U.S. average of 51 minutes), Crescent Cities got a 4-star rating for RNs in particular. It is not a surprise that Genesis would skip on the expensive registered nurses. But the rating would seem to indicate the care is going in spite of significantly less RN time per resident.
It was average on the amount of physical therapist time per resident per day, and it was better than the Maryland and U.S. averages for daily time spent by (cheaper) LPNs and LVNs (licensed practical nurses, licensed vocational nurses) and certified nursing assistants. Its total nursing-time-per-resident-per-day figure also was modestly above the state and national averages.
Good Scores
Crescent Cities Center's best Medicare score (based on its last standard inspection) was its 5-star rating for quality measures.
To its credit, Crescent Cities scored above average in seven of nine quality measures for short-term residents. These residents were only about one-third to one-quarter as likely as average to report having serious pain (4.7 percent at Crescent Cities, versus 14.2 percent for Maryland, 16.9 percent for the U.S.) They were more than five times less likely than the Maryland and U.S. averages to need antipsychotic meds. And the incidence of pressure ulcers (bed sores) among this facility's short-stay residents was a very healthy zero. This is the kind of number you like to see. Bed sore incidence can serve as sort of a barometer for how a nursing home focuses on the details. You find a correlation between things like fire safety and incidence of bed sores and whether the nursing home has been a recent target of a nursing home lawsuit.
Crescent Cities was modestly better than the Maryland and U.S. averages on its rate of successful discharges; below average on former residents' need for rehospitalization, but slightly above average on former residents' need for ER visits. This facility also beat the state and national averages for administering flu and pneumonia shots.
For short-stay residents, Crescent Cities had only one markedly negative category, but potentially a serious one. In terms of short-stay residents' improving their functionality, the rate of improvement for Maryland facilities, on average, is 64.8 percent; the U.S. average almost the same, at 63.3 percent. The rate at Crescent Cities was 23.7 percent - little over a third of the state and national averages. However, it is possible that far fewer Crescent Cities short-termers needed to improve their functionality in the first place.
Ups and Downs
For quality measures as applied to long-stay residents, the big picture again looks good: for these metrics, Crescent Cities scored better than average in 10 of 15 measured Medicare categories.
Among its best scores were its zero percent of long-stay residents who reported significant pain; its zero percent use of physical restraints on these residents; and its near-zero percent use of ongoing catheterization. Crescent Cities easily beat the Maryland and U.S. averages in all three of these categories. It was better than average on giving flu and pneumonia vaccinations (almost all of its long-stayers got them), and its residents were less apt to suffer a fall with injury. Crescent Cities far excelled the Maryland and U.S. averages on preventing serious weight loss: its 1.6 percent rate being about one-quarter as high as the state (6.3 percent) and U.S. (7.1 percent) averages. And its rate of urinary tract infections (2.1 percent) was less than half of the Maryland and U.S. averages (4.5 percent and 4.8 percent, respectively.)
But Crescent Cities did have some serious negatives for long-stay residents. Its long-stayers were a bit more likely than average to experience declines in their mobility and their ability to perform daily activities without help. They were more likely to have pressure ulcers (bed sores). They were far more likely than average to have problems with bowel or bladder control: 75.8 percent of these residents were incontinent, versus the Maryland average of 58 percent, the national average 46.6 percent.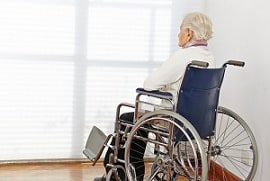 In mental health areas, this facility produced an odd set of stats. It was far less likely than average to dole out meds (about one-third as likely to dispense antipsychotics, about one-fourth as likely to distribute antianxiety meds). Giving out fewer of these meds is considered a good thing. But couple these numbers with Crescent Cities long-stayers' rate of depression: 17.2 percent of these residents were found to have depressive symptoms - about three times as high as the Maryland and U.S. averages (4.8 percent and 5.4 percent, respectively). That's a seriously high rate of depression by comparison.
Beyond the Numbers
Numbers don't lie, but they can mislead. As noted above, a facility's residents might have a very low rate of improvement in functionality, but perhaps that's because they didn't need improvement in the first place. On the other hand, a facility with a very high amount of nursing time per day might get Medicare's 5-star rating. But what if the facility's nurses are poorly trained? What if they don't know or care what they're doing? One cannot know the quality of care merely by checking on who does what for how many minutes.
But unlike the standard Medicare inspection, complaint inspections do not deal solely in numbers: they report details. In a complaint inspection on October 15, 2015 (which was concurrent with its last standard inspection), Medicare investigated 11 separate complaints about Crescent Cities. Less than three weeks later (November 3, 2015) the inspectors returned to check out two more complaints.
Some complaints concerned a specific individual - as in the case of the resident who tried to eat eggs with her fingers, kept missing her mouth and dropped the bits of egg on her gown. (Shortly thereafter, a visitor found her chewing on a Styrofoam cup.) Medicare cited Crescent Cities for failing to update this resident's plan of care for feeding assistance, as clearly warranted. But this case raises a question: how long had this resident been dropping eggs on her gown? Did this facility correct the problem only because Medicare inspectors had shown up?
Routine Neglect
The disturbing pattern emerging from the complaint inspections is that this facility has had problems that were habitual in nature, as though accepted parts of the routine; and they have affected many (perhaps all) of this facility's residents.
In the November 2015 complaint inspection, Medicare found only "potential for minimal harm" in one case - but, "Residents affected: Many." In this case, investigators were able to find "no evidence that statements of each resident's personal fund account had been appropriately furnished" - for all of that year. Residents had gone over nine months without receiving regular statements about their money. Crescent Cities had 132 residents at this point, so, yes, many were affected. This was not a case of an accountant taking the day off and failing to file one report: this went on for over nine months, and it may have affected every single resident. This facility was skipping the issuance of those fund statements routinely.
In the complaint inspection of October 2015, investigators found that "the facility staff failed to discard expired and unsealed laboratory supplies." They went into another room and found that staffers were keeping around containers of nutritional supplements that were five months past their expiration date. They looked around some more, and found that staffers were holding on to expired medical products, which "placed residents at risk of receiving potentially harmful medication" or being exposed to "unsafe administration equipment." These issues did not happen overnight, but over months. Staffers at this facility routinely failed to toss items that, long past expiration, could have harmed residents. Again one wonders: how long had this been going on, and would Crescent Cities ever have cleaned up its act if the Medicare inspectors hadn't dropped by?
The same pattern of habitual neglect also appeared in other details: wheelchairs with damaged or missing armrests or cushions (so affecting nine residents); residents' rooms that were dirty, some with damaged walls, and some with basic bathroom fixtures out of order (so affecting ten residents). Then there was the case in which staffers failed to document residents' meal intake as ordered; for one resident, staffers made the required notations in only 32 of 90 applicable times. Inspectors also came across a filthy "dayroom" -- sitting right across from a nursing station. Routine neglect.
For 12 of 13 complaint items, Medicare determined that the level of harm to residents was "Minimal harm or potential for actual harm." However, in some of these cases more than a few residents were affected. Then there was the financial statement lapse that may have affected everyone. But even if there was "minimal harm" in most of these cases, how did this facility get an overall Medicare rating of 4 stars?
Incidentally, Crescent Cities did get a 2-star rating (below average) on its last standard health inspection: it had 14 deficiencies, exceeding the Maryland average (11) and about twice the national average (7.1). It had deficiencies in 7 of 8 health inspection categories; the good news (if any) is that it had none for mistreatment. Crescent Cities somehow has managed to avoid any federal fines or payment denials in the last three years. But the parent company has had some trouble.
Riverdale Nursing Home Competitors
This is the only nursing home in Riverdale but there is plenty of competition in the area.
Sacred Heart Home: This Hyattsville facility is on par with Crescent Cities in two of the four major Medicare ranking categories (staffing and quality measures), but it gets superior ratings for its health inspection and its overall performance. Sacred Heart Home is a Catholic intermediate long-term care residence. It is located just 1.4 miles from Crescent Cities, just a short jaunt down East-West Highway and Queens Chapel Road.
St. Thomas More Medical Complex: An extremely large but well-rated nursing home in Hyattsville that is 2.8 miles (8-minute drive) from Crescent Cities. It is owned by NMS Healthcare which also owns four other Maryland nursing homes.
Doctors Community Rehabilitation and Patient Care: Yet another Genesis owned nursing home, this facility is comparable with Crescent Cities on the metrics, scoring the same on staffing, higher for its health inspection, but lower for its quality measures. Located in Lanham, two miles from Crescent Cities, this facility also got the overall Medicare rating of 4 stars. It is less than 5 miles and a 12-minute drive from Crescent Cities.
Prince George's County Nursing Home Lawyer
Do you have a possible nursing home lawsuit against this Riverside nursing home or another elder care facility in Baltimore? The reality is that some of the worst nursing home care in Maryland is in Prince George's County. Is this a bad nursing home? No, it is not. But the inspection report shows mistakes at Crescent Cities are not uncommon. If you or someone you love has been harmed as the result of a mistake at this or any other nursing home, call Miller & Zois today at (800) 553-8082 or get an easy, free no obligation case review. We can counsel you and your family on your options for settlement or a lawsuit and how to get the compensation and justice you deserve for the unnecessary harm that has been done.
More Information
Our lawyers conduct a similar analysis of each nursing homes in Maryland
Settlement value your potential lawsuit. Learn about how nursing home neglect and abuse claims are evaluated by attorneys, insurance companies, and juries.
Call our nursing home lawyers today at (800) 553-8082 or get a free online case review if you believe you may have a potential nursing home neglect or abuse claim in Maryland you think might warrant a lawsuit or lead to a settlement.
1Vital Statistics
Number of Beds:
140 certified beds

Beds in the nursing home that have been approved by the federal government to participate in Medicare or Medicaid.
Accepts:
Medicare and Medicaid

Shows if the nursing home participates in the Medicare, Medicaid, or both.
2Key Ratings
Star Rating Summary
Overall Rating
Below Average
Health Inspection

Medicare assigns the star rating based on a nursing home's weighted score from recent health inspections. More stars means fewer health risks

Below Average
Staffing

Medicare assigns the star rating based on the nursing home's staffing hours for Registered Nurses (RNs), Licensed Practice Nurses (LPNs), Licensed Vocational Nurses (LVNs), and Nurse aides. More stars means a better level of staffing per nursing home resident

Average
RN Staffing
Much Above Average
Quality Measures

Medicare assigns the star rating based on data from a select set of clinical data measures. More stars means better quality of care

Above Average
3Key Short Stay Statistics
Description
Crescent Cities Nursing & Rehabilitation Center
Maryland
Average
Percent of short-stay residents who self-report moderate to severe pain
Lower percentages are better.
3.1%
10.4%
Percentage of SNF residents with pressure ulcers that are new or worsened
Lower percentages are better.
0.0%
Not Available
Percent of short-stay residents assessed and given, appropriately, the seasonal influenza vaccine
Higher percentages are better.
80.3%
85.3%
Percent of short-stay residents assessed and given, appropriately, the pneumococcal vaccine
Higher percentages are better.
91.7%
84.0%
Percentage of short-stay residents who got antipsychotic medication for the first time
Lower percentages are better.
0.3%
1.7%
4Key Long Stay Statistics
Description
Crescent Cities Nursing & Rehabilitation Center
Maryland
Average
Percent of long-stay residents experiencing one or more falls with major injury
Lower percentages are better.
0.0%
2.7%
Percent of long-stay residents with a urinary tract infection
Lower percentages are better.
1.5%
2.5%
Percent of long-stay residents who self-report moderate to severe pain
Lower percentages are better.
0.3%
5.4%
Percent of long-stay high-risk residents with pressure ulcers
Lower percentages are better.
8.4%
8.8%
Percent of long-stay low-risk residents who lose control of their bowels or bladder
Lower percentages are better.
87.3%
62.3%
Percent of long-stay residents who have or had a catheter inserted and left in their bladder
Lower percentages are better.
3.7%
1.7%
Percent of long-stay residents who were physically restrained
Lower percentages are better.
0.0%
0.2%
Percentage of long-stay residents whose ability to move independently worsened
Lower percentages are better.
22.8%
22.5%
Percent of long-stay residents whose need for help with daily activities has increased
Lower percentages are better.
16.8%
18.0%
Percent of long-stay residents who lose too much weight
Lower percentages are better.
1.0%
5.8%
Percent of long-stay residents who have depressive symptoms
Lower percentages are better.
21.9%
3.9%
Percentage of long-stay residents who received an antianxiety or hypnotic medication
Lower percentages are better.
5.4%
16.2%
Percent of long-stay residents assessed and given, appropriately, the seasonal influenza vaccine
Higher percentages are better.
97.2%
96.7%
Percent of long-stay residents assessed and given, appropriately, the pneumococcal vaccine
Higher percentages are better.
99.5%
94.1%
Percent of long-stay residents who received an antipsychotic medication
Lower percentages are better.
9.4%
12.4%
5Inspection Summary
Date of standard health inspection:03/29/2018
Total number of health deficiencies:11
Average number of health deficiencies in Maryland:14.9