Doctors Community Rehabilitation and Patient Care
6710 MALLERY DRIVE
LANHAM, MD 20706
(301) 552-2000
Basic Profile
Opened in 2015, Doctors Community Rehabilitation Center is a unit of Genesis Healthcare, which founded it jointly with Doctors Community Hospital. Genesis HealthCare operates over 500 facilities across the U.S.
With 104 certified beds, Doctors Community Rehabilitation Center is close in size to the Maryland and U.S. averages. Located in Lanham, it offers transitional and short-stay care, cardiac and pulmonary programs, and hospice care.
Doctors Community Rehabilitation and Patient Care can claim an overall 4-star rating (above average) from Medicare, but when you put it into perspective, it's not much to write home about. A brand-new facility, Doctors Community got the same four stars as Villa Rosa, its nearest neighbor in the nursing home field - and one that is 50 years old. Yet even though Doctors Community is founded upon a hospital, it scored less well than Villa Rosa in terms of quality measures - which track levels of care.
Medicare's standard rating system for nursing homes goes strictly by the numbers. But numbers can be relative. Should a brand-new facility, based around a hospital, be held to a higher standard than a facility half a century old? Does a 4-star rating mean the same thing at both places?
Still, this is probably putting too fine of a point on it. As Maryland nursing home lawyers, we may be programmed with an anti-Genesis bias. All things considered, this is a decent nursing home.
Lanham Nursing Home Competition
Before we dig deeper into this Genesis owned facility, let's look at the competition. Doctors Community is the only nursing home in Lanham. But there are a number of nursing homes in the greater Lanham area that are generally quite good.
Villa Rosa Nursing and Rehabilitation: Villa Rosa, which is 4.7 miles away in Bowie, is an up and coming nursing home that has improved in recent you so that it is similar to Doctors Community in terms of the Medicare ratings. Both facilities received an overall 4-star rating, and four stars for staffing. Doctors Community did a bit better on the health inspection, but Villa Rosa was the better in terms of its top 5-star rating for quality measures.
Collington Episcopal Life Care: A very small and very good Episcopal nursing home in Mitchellville that is also 6.9 miles from Doctors Community
Crescent Cities Center: Yet another Genesis owned facility in Riverdale, it is a less than five mile/12-minute drive from Doctors Community. Crescent Cities has a good rating, but its last health inspection was not very good.
Complaints
Genesis HealthCare, which operates over 500 facilities across the U.S., opened Doctors Community in August 2015. "A collaboration between Genesis HealthCare and Doctors Community Hospital," Doctors Community (parent company Genesis HealthCare says) is "state-of-the-art."
Maybe so, but this state-of-the-art facility had its first complaint inspection in November 2015 - about three months after it opened. It had a second complaint inspection in March 2016: that's two complaint inspections within about seven months of its launching. (We know of many nursing home facilities that have had no complaint inspections over the same period.)
These two inspections addressed a total of four complaints at Doctors Community. Two of the complaints were for staffers' failure to follow doctors' orders; the other two concerned the facility's failure to develop care plans for residents. Each of these four cases involved only one individual resident, and in each case Medicare concluded that there was minimal harm or potential for actual harm. But this facility is linked directly to a hospital: why were they not developing care plans or following doctors' orders?
Comparisons
That second complaint inspection, in March 2016, took place concurrently with Medicare's standard inspection - probably the only one this facility has had so far. The standard survey gave Doctors Community an overall 4-star rating - including four stars for staffing, but only three stars apiece for its health inspection and quality measures.
The health inspection turned up nine deficiencies at this spanking new facility - placing Doctors Community right between the U.S. and Maryland averages (7.1 and 11, respectively) for total deficiencies. Doctors Community had at least one deficiency in seven of the eight measured categories. And despite being new, this facility was only slightly better than the state and national averages in terms of fire safety deficiencies.
This facility did beat the state and national norms in terms of total nursing time per resident per day. RN time per day at this facility was 58 minutes - one minute less than the Maryland average, seven minutes above the U.S. average; for RN staffing, this facility got four stars. It was higher than the Maryland and U.S. averages for daily time spent by LPNs and LVNs (licensed practical nurses, licensed vocational nurses); it was a bit lower in time spent by certified nursing assistants and physical therapists.
Mixed Figures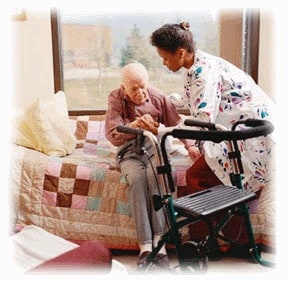 For quality measures, Doctors Community got three stars. It might have gotten a higher rating if it were being measured for short-stay residents alone. (This facility's total resident count of 93 placed it right in between the averages for the U.S. and Maryland.) For short-stay residents, this facility beat the Maryland and U.S. averages in eight out of nine measured categories (and tied them in one other). In seven of eight cases, its stats were only a little better than the state and national averages. But in terms of residents' self-reports of pain, Doctors Community was significantly better than the averages: 7.2 percent of its short-stay residents reported having moderate to severe pain - about half the Maryland and U.S. averages of 14.2 percent and 16.9 percent, respectively.
For long-stay residents, however, the stats at Doctors Community were decidedly mixed. This facility beat the Maryland and U.S. averages in seven categories, came in lower than the norms for six, and was about on par for two.
Again this facility was excellent on residents' pain levels: only 2.6 percent of its long-stayers reported having serious pain - about one-third as many as the Maryland and U.S. averages (6.4 percent and 8.2 percent, respectively). Doctors Community was much less likely to dispense antianxiety and antipsychotic meds. This is a good sign in a nursing home. It shows the facility is not trying to medicate its residents into compliance.
It was above the state and national averages in giving vaccinations for flu and pneumonia. It resorted less often to ongoing catheterization, and its long-term residents had less than the average rates of urinary tract infections.
Other metrics pulled down its overall rating, however. This facility had a sharply high rate of depression: 11.2 percent of its long-stayers had depressive symptoms, more than twice the Maryland and U.S. averages of 4.8 percent and 5.4 percent, respectively. Nice, new facility… it is hard to figure out what the problem is here. Could it be that you have higher rates of depression with less medication, so this is just a byproduct of not overmedication its patients? It is hard to say.
Long-stayers here were about twice as likely as the state and national averages to experience serious weight loss. They were significantly more likely to experience declines in their mobility and in carrying out their daily activities independently. They were quite more likely to have pressure ulcers (bed sores): 10.2 percent here, versus the Maryland and U.S. averages of 6.8 percent and 5.8 percent, respectively. Doctors Community applied physical restraints to 1.4 percent of its long-term residents - versus the Maryland and U.S. averages of 0.6 percent and 0.8 percent, respectively.
Compared with all other nursing homes, Doctors Community did have some good metrics on quality measures. But considering that this is a new facility linked directly to a hospital, it seems incongruous that it should have trouble maintaining residents' weight, or preventing pressure ulcers (all residents having been there less than a year), or that more than one in ten of its long-term residents should be depressed. At any rate, fifty-year-old Villa Rosa got five stars for quality measures - 2 stars better than one-year-old "state-of-the-art" Doctors Community.
Lanham Nursing Home Lawyer
If your loved one has been badly harmed or unexpectedly passed away in a nursing home or assisted living facility, you need an experienced nursing home lawyer to help you find out whether you may be entitled to money damages for the losses you have been forced to endure. Call our lawyers today at (800) 553-8082 or get a free online case evaluation.
More Information
1Vital Statistics
Number of Beds:
130 certified beds

Beds in the nursing home that have been approved by the federal government to participate in Medicare or Medicaid.
Accepts:
Medicare and Medicaid

Shows if the nursing home participates in the Medicare, Medicaid, or both.
2Key Ratings
Star Rating Summary
Overall Rating
Much Above Average
Health Inspection

Medicare assigns the star rating based on a nursing home's weighted score from recent health inspections. More stars means fewer health risks

Above Average
Staffing

Medicare assigns the star rating based on the nursing home's staffing hours for Registered Nurses (RNs), Licensed Practice Nurses (LPNs), Licensed Vocational Nurses (LVNs), and Nurse aides. More stars means a better level of staffing per nursing home resident

Above Average
RN Staffing
Above Average
Quality Measures

Medicare assigns the star rating based on data from a select set of clinical data measures. More stars means better quality of care

Much Above Average
3Key Short Stay Statistics
Description
Doctors Community Rehabilitation And Patient Care
Maryland
Average
Percent of short-stay residents who self-report moderate to severe pain
Lower percentages are better.
3.5%
10.4%
Percentage of SNF residents with pressure ulcers that are new or worsened
Lower percentages are better.
1.9%
Not Available
Percent of short-stay residents assessed and given, appropriately, the seasonal influenza vaccine
Higher percentages are better.
89.1%
85.3%
Percent of short-stay residents assessed and given, appropriately, the pneumococcal vaccine
Higher percentages are better.
89.8%
84.0%
Percentage of short-stay residents who got antipsychotic medication for the first time
Lower percentages are better.
1.6%
1.7%
4Key Long Stay Statistics
Description
Doctors Community Rehabilitation And Patient Care
Maryland
Average
Percent of long-stay residents experiencing one or more falls with major injury
Lower percentages are better.
1.4%
2.7%
Percent of long-stay residents with a urinary tract infection
Lower percentages are better.
2.4%
2.5%
Percent of long-stay residents who self-report moderate to severe pain
Lower percentages are better.
4.0%
5.4%
Percent of long-stay high-risk residents with pressure ulcers
Lower percentages are better.
12.2%
8.8%
Percent of long-stay low-risk residents who lose control of their bowels or bladder
Lower percentages are better.
68.6%
62.3%
Percent of long-stay residents who have or had a catheter inserted and left in their bladder
Lower percentages are better.
3.0%
1.7%
Percent of long-stay residents who were physically restrained
Lower percentages are better.
0.0%
0.2%
Percentage of long-stay residents whose ability to move independently worsened
Lower percentages are better.
27.9%
22.5%
Percent of long-stay residents whose need for help with daily activities has increased
Lower percentages are better.
22.4%
18.0%
Percent of long-stay residents who lose too much weight
Lower percentages are better.
7.7%
5.8%
Percent of long-stay residents who have depressive symptoms
Lower percentages are better.
2.0%
3.9%
Percentage of long-stay residents who received an antianxiety or hypnotic medication
Lower percentages are better.
4.7%
16.2%
Percent of long-stay residents assessed and given, appropriately, the seasonal influenza vaccine
Higher percentages are better.
98.8%
96.7%
Percent of long-stay residents assessed and given, appropriately, the pneumococcal vaccine
Higher percentages are better.
97.2%
94.1%
Percent of long-stay residents who received an antipsychotic medication
Lower percentages are better.
4.9%
12.4%
5Inspection Summary
Date of standard health inspection:12/14/2017
Total number of health deficiencies:8
Average number of health deficiencies in Maryland:14.9