Future Care Homewood Nursing Home
2700 N. CHARLES ST.
BALTIMORE, MD 21218
(410) 554-6300
Basic Profile
Located in Baltimore City, Maryland
A for-profit corporation owned by FutureCare
Certified beds: 141
Last Medicare rating: 4 stars
Most Recent Lawsuit: 2018
FutureCare Homewood, located near Johns Hopkins University, is a for-profit corporation operating 141 certified beds for both short-term and long-term residents. This FutureCare facility's services include on-site dialysis, cardiac rehabilitation, pain and wound management, and specialized IV therapies. It has been managed and operated by FutureCare since 2007, a Pasadena, Maryland-based company that has 14 nursing homes in our state.
Our nursing home lawyers have successfully battled this nursing home chain. We think the nursing home care in this state is awful and that a contributing cause is nursing home chains that put profits over people. But FutureCare is a local Maryland company that seems to do a slightly better job than the other big nursing home chains. We may be extra hard on FutureCare because they seem to be involved in so many lawsuits. But, in their defense, they do have 14 nursing homes in the state.
The last Medicare health inspection at FutureCare Homewood found only three deficiencies in total: less than half the U.S. average (7.1) and less than a third of the Maryland average (11.4). This facility got a 4-star rating (above average) for that inspection, as well as a 4-star Medicare rating overall. On fire safety, this Baltimore facility was perfect, with zero deficiencies (versus the Maryland average of 4 deficiencies, and the U.S. average of 3.4 deficiencies).
FutureCare Homewood did have a complaint inspection concurrently with the last standard Medicare inspection, in April 2016. But this is not the type of thing that attracts lawsuits or even has a meaningful long-term impact on many patients. Medicare inspectors investigated some damaged window molding. They said that a resident wasn't drinking from the right kind of specialized cup. The facility had failed to implement a dental care plan for a resident, and it was tardy in starting restorative services for a resident who was having difficulty walking. Each of these complaints was found to pose minimal harm or potential for actual harm.
Plenty of Care
With a 4-star rating for staffing overall, this facility exceeded the Maryland and U.S. averages for total nursing time per resident per day (beating Maryland by 15 minutes, the U.S. average by 24 minutes). It was very quite generous with RN time per resident: 1 hour, 24 minutes per resident per day, versus 59 minutes for Maryland on average, 50 minutes nationally on average. Its RN staffing score was tops with five stars. This registered nurse commitment is particularly impressive because those are the most expensive nurses.
FutureCare Homewood gave residents less than the average amount of time with LPNs and LVNs (licensed practical nurses, licensed vocational nurses) and physical therapists, but made up for it in part by providing more than the average amount of time with certified nursing assistants. You cannot help but wonder if they are sometimes skipping over quality with at least a portion of their hires - you would expect better quality scores, right? But that is mere speculation.
All that nursing care translated into mixed results regarding outcomes, as gauged by Medicare's quality measures. For this overall metric FutureCare, Homewood got three stars, reflecting some very good scores and some that were less so.
For short-term residents at nursing facilities, it would stand to reason that two of their most important concerns are minimizing their pain (while they're in the facility) and improving their functionality (so they can go home). On these two metrics, FutureCare Homewood did exceptionally well. Only 7.9 percent of its short-stay residents reported having moderate to severe pain, versus 13.8 percent on average for Maryland, and 16.4 percent on average (twice as high) nationally. Three-quarters of this facility's short-stay residents experienced improvement in function, versus less than two-thirds of residents, on average, in Maryland and across the U.S.
On the downside, this facility's short-stay residents had moderately higher-than-average usage of antipsychotic meds - a classic large nursing home problem -- and incidences of pressure ulcers (bed sores). And for some reason, this facility little availed itself of the obvious preventive measures of flu and pneumonia vaccinations - giving shots to only about half of its short-stay residents (versus the state and U.S. averages of about four-fifths).
More Positives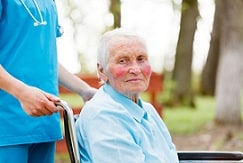 For long-stay residents, FutureCare Homewood had more positive marks than negative ones. As with its short-stay residents, its long-stayers were far less likely to report having serious pain (2.5 percent, less than half the Maryland and U.S. averages of 6.0 and 7.8 percent, respectively).
Statewide and nationally, about three in 100 residents (on average) will suffer a fall with injury; at this facility, it hardly happened at all (only 0.2 percent of residents so affected). FutureCare Homewood was perfect on using physical restraints: it used none which is impressive and not uncommon at FutureCare facilities. Long-stay residents here also were less likely than the state and U.S. averages to lose too much weight or require ongoing catheterization.
The rate of depressive symptoms among this facility's long-term residents was a bit higher than the Maryland and U.S. averages, but this facility was significantly less apt to dole out antianxiety or antipsychotic meds (which is considered a positive). On flu and pneumonia vaccinations, this facility still fell short of the Maryland and U.S. averages, but only moderately so (reaching eight out of ten residents, versus nine out of ten on average, statewide and nationally).
A notably negative metric at this facility was the incidence of pressure ulcers among long-stay residents here: 10.4 percent, versus 6.9 percent for Maryland, 5.7 percent for the U.S. The incidence of pressure ulcers, or bed sores, is one important indicator of the amount of care that residents receive. FutureCare Homewood also scored a little less well than the Maryland and U.S. averages for three other categories (urinary tract infections; maintaining residents' mobility; and maintaining their ability to conduct daily activities without help).
At the last official count, FutureCare Homewood had a total of 136 residents - significantly higher than the Maryland and U.S. averages (107.5 and 86.2, respectively). And 136 people make for a pretty big household. But based on its overall Medicare scores, this facility has tried to live up to its homey name.
FutureCare Homewood Competitors
The problem with many nursing homes is that the lack of competition in the area makes it easy to provide poor care. That is not the problem in this area of Baltimore. FutureCare Homewood is competing with so many nursing homes, including three FutureCare facilities right in the area. Let's take a look at first at the nearby FutureCare facilities.
FutureCare Charles Village: This FutureCare facility is about three blocks down Charles Street away from FutureCare Homewood. Homewood seems to be better than the seemingly average Charles Village.
FutureCare Cold Spring: Another not so great FutureCare nursing home that gets two stars overall and just 1 star for its awful health inspection (whereas FutureCare Homewood got four stars for each). But even this facility is well staffed.
FutureCare Sandtown: This facility is pretty comparable to Homewood. Sandtown is not far from Druid Hill Park. It is 2.7 miles (a 10-minute drive in rush hour) from Homewood.
Again, the competition is brisk, and it has some great nursing homes and some just awful ones.
Baltimore Nursing Home Lawyer
Has a FutureCare nursing home made an error that ended in tragedy? We can help navigate Baltimore's legal system, give you your legal options, and fight for justice and compensation for you. Our legal system and a Baltimore jury will hold a responsible nursing home accountable if the nursing home does not make the settlement offer that justice requires. Call our nursing home lawyer at Miller & Zois today at (800) 553-8082 or get a FREE no-obligation case review.
1Vital Statistics
Number of Beds:
141 certified beds

Beds in the nursing home that have been approved by the federal government to participate in Medicare or Medicaid.
Accepts:
Medicare and Medicaid

Shows if the nursing home participates in the Medicare, Medicaid, or both.
2Key Ratings
Star Rating Summary
Overall Rating
Average
Health Inspection

Medicare assigns the star rating based on a nursing home's weighted score from recent health inspections. More stars means fewer health risks

Below Average
Staffing

Medicare assigns the star rating based on the nursing home's staffing hours for Registered Nurses (RNs), Licensed Practice Nurses (LPNs), Licensed Vocational Nurses (LVNs), and Nurse aides. More stars means a better level of staffing per nursing home resident

Above Average
RN Staffing
Average
Quality Measures

Medicare assigns the star rating based on data from a select set of clinical data measures. More stars means better quality of care

Above Average
3Key Short Stay Statistics
Description
Future Care Homewood
Maryland
Average
Percent of short-stay residents who self-report moderate to severe pain
Lower percentages are better.
7.8%
10.4%
Percentage of SNF residents with pressure ulcers that are new or worsened
Lower percentages are better.
2.7%
Not Available
Percent of short-stay residents assessed and given, appropriately, the seasonal influenza vaccine
Higher percentages are better.
78.0%
85.3%
Percent of short-stay residents assessed and given, appropriately, the pneumococcal vaccine
Higher percentages are better.
66.7%
84.0%
Percentage of short-stay residents who got antipsychotic medication for the first time
Lower percentages are better.
2.2%
1.7%
4Key Long Stay Statistics
Description
Future Care Homewood
Maryland
Average
Percent of long-stay residents experiencing one or more falls with major injury
Lower percentages are better.
1.0%
2.7%
Percent of long-stay residents with a urinary tract infection
Lower percentages are better.
1.5%
2.5%
Percent of long-stay residents who self-report moderate to severe pain
Lower percentages are better.
2.2%
5.4%
Percent of long-stay high-risk residents with pressure ulcers
Lower percentages are better.
17.2%
8.8%
Percent of long-stay low-risk residents who lose control of their bowels or bladder
Lower percentages are better.
52.0%
62.3%
Percent of long-stay residents who have or had a catheter inserted and left in their bladder
Lower percentages are better.
4.0%
1.7%
Percent of long-stay residents who were physically restrained
Lower percentages are better.
0.3%
0.2%
Percentage of long-stay residents whose ability to move independently worsened
Lower percentages are better.
27.4%
22.5%
Percent of long-stay residents whose need for help with daily activities has increased
Lower percentages are better.
22.3%
18.0%
Percent of long-stay residents who lose too much weight
Lower percentages are better.
5.2%
5.8%
Percent of long-stay residents who have depressive symptoms
Lower percentages are better.
14.4%
3.9%
Percentage of long-stay residents who received an antianxiety or hypnotic medication
Lower percentages are better.
9.2%
16.2%
Percent of long-stay residents assessed and given, appropriately, the seasonal influenza vaccine
Higher percentages are better.
98.1%
96.7%
Percent of long-stay residents assessed and given, appropriately, the pneumococcal vaccine
Higher percentages are better.
91.6%
94.1%
Percent of long-stay residents who received an antipsychotic medication
Lower percentages are better.
10.8%
12.4%
5Inspection Summary
Date of standard health inspection:10/05/2018
Total number of health deficiencies:30
Average number of health deficiencies in Maryland:14.9