Long Green Cente
115 EAST MELROSE AVENUE
BALTIMORE, MD 21212
(410) 435-9073
Basic Profile:
Located in Baltimore City, Maryland
Owned by Genesis, the biggest national chain of nursing homes
Certified beds: 135
Last Medicare rating: 1 star
Last nursing home malpractice case filed against Long Green: March 2018 (hip fracture led to gangrene and death)
Long Green Center is a nursing home in Baltimore City. With 135 certified beds, Long Green Center provides short-term and long-term care, transitional care, and cardiac management, among other services.
It is a unit of Genesis HealthCare, which operates over 500 facilities across the U.S. Our nursing home lawyers are not a big fan of Genesis. You can find out more about that clicking on the preceding link to our page on Genesis.
You have heard of "an accident waiting to happen." At Long Green Center, accidents do happen. The record at Long Green Center, a Genesis HealthCare unit since 2011, is not a good one.
Long Green Center's last standard Medicare inspection (October, 2015) gave this facility dismal 1-star ratings for its health inspection and its staffing, as well as a 1-star rating overall. This facility did somehow manage to earn a 3-star (average) rating for quality measures, which are important gauges of performance. On the other hand, Long Green Center has had two relatively recent complaint inspections - also a rare occurrence.
How bad are things at Long Green? The place was almost shut down because it was in danger of being dropped from the Medicare and Medicaid programs. Why? The center was cited for failing to properly treat residents pain and other serious violations after failing two inspections. In fact, the federal government halted Medicare for new patients for a time. This is not the kind of thing you see every day. This nursing home has had some serious issues.
In 2013, the family of Baltimore Orioles umpire attendant Ernie Tyler - who attended 3,819 consecutive Oriole home games from 1960-1987 - sued this nursing home alleging that the nursing home cut off life-sustaining care to Tyler without proper authorization.
Long Green Center Competitors
Simply put, we think there are better options in Baltimore. Here is a list of some nearby nursing homes.
Nursing Shortage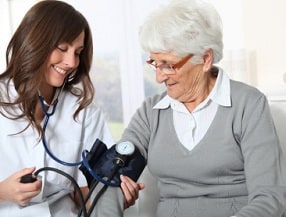 That 2015 health inspection at Long Green Center turned up 15 health deficiencies - higher than the Maryland state average (11.4) and more than twice the U.S. nursing home average (7.1). Long Green Center's 15 health deficiencies spanned seven of the eight Medicare categories. This facility had three deficiencies regarding resident rights, four deficiencies regarding resident assessment, and three deficiencies for mistreatment (always a red flag). It seems that this facility's staffers and its residents do not always see eye-to-eye.
Long Green was exceptionally bad on fire safety, the inspectors finding nine deficiencies -- more than twice the Maryland and U.S. averages of 4 and 3.4, respectively. The fire safety inspection looks at 19 different categories of issues. Long Green distributed its deficiencies very evenly: one deficiency in each of nine different measured categories.
Medicare gave this facility a 1-star rating for staffing - no doubt reflecting the fact that Long Green Center has been very chintzy about the amount of nursing time it has given to residents. Its total daily nursing-time-per-resident was below the Maryland and U.S. averages. For that matter, the nursing time here was lower than average for every measured Medicare category.
Residents here got about 37 minutes a day with RNs, versus the Maryland average of 59 minutes and the U.S. average of 50 minutes. (Long Green's rating on RN staffing was two stars.) This facility gave residents a little less time with LPNs and LVNs (licensed practical nurses, licensed vocational nurses), and a lot less time - about an hour less, on average - with certified nursing assistants. It also gave residents an almost negligible 2 minutes a day with physical therapists.
To us, this sounds like a serious case of understaffing. Staffing costs money and too many large chain nursing homes put profits over people. Sure, it is possible that Long Green Center has a lot of staffers who take long lunches and too many breaks. It's also possible -- and, we think, more likely -- that staffers here may be overloaded and simply not have the time to give residents more attention. Either way, this is Genesis' problem to solve.
With a total of 131 residents at the last official count, Long Green Center is larger than both the Maryland average (107.5) and the national average (86.2) for nursing homes. The important point, however: How many nurses are there? What is the ratio of nurses to residents?
On Par
We are inclined to subscribe to the understaffing theory because of this facility's rating for quality measures: 3 stars (far better than the 1-star rating for staffing). This score suggests that this facility's nursing staffers do try - but there just aren't enough of them. (Quality measures are numeric gauges of types and amounts of care given.)
On balance, Long Green's quality measure stats for short-stay residents were good. The rate of improvement in their functionality was a mite better than the Maryland and U.S. averages. Long Green was about on par in terms of its rate of successful discharges, but its discharged residents were slightly less likely to need rehospitalization or an ER visit. On the measure for pain (how many residents reported having moderate to severe pain) Long Green was way ahead: its 3.2 percent rate on this metric was four to five times less than the rates for Maryland and the U.S. (13.8 percent and 16.4 percent, respectively).
The rate of bedsores and usage of antipsychotic meds was very slightly higher than average at this facility, but the overall numbers are so low (e.g., its pressure ulcer rate was 1.6 percent, versus Maryland's 1.3 percent) that Long Green was practically on par with the state and U.S. averages. Its vaccination rates for flu and pneumonia definitely were low: about three in five short-stay residents got the shots, versus about four in five statewide and nationally.
For 15 quality measures as applying to long-stay residents, five of Long Green's stats were about the same as either the state or national averages or both. For instance, the rate of incontinence here was exactly 50 percent - a little higher than the U.S. average (46.8 percent) but better than the Maryland average (58.5 percent). Many nursing homes have far higher rates of incontinence even if their overall Medicare scores are better.
Long Green did exceedingly well by its long-stay residents in preventing urinary tract infections: the infection rate here was only 1.9 percent - well under half the Maryland and U.S. rates. Again this facility was very successful in preventing pain: its long-stay residents were about half as likely as average to report having serious pain. This facility's use of physical restraints was 0.2 percent - one-third of the Maryland state average. Long-stay residents here were less apt to need medication for anxiety. These are important markers for quality so you have to give this facility some credit.
On the other side of the scale, the pressure ulcer rate among this facility's long-stay residents was a few points higher than the state and U.S. averages. Long-stay residents here were significantly more likely to experience declines in mobility and to need help in conducting daily activities. Long Green's worst stat for long-stay residents was their depression rate of 17.6 percent - over three times as high as the Maryland and U.S. averages. With regard to vaccinations, Long Green was almost average on pneumonia prevention, but for some reason it lagged well behind on flu shots.
Disturbing Patterns
Medicare quality measures are indicators of routine daily care. Medicare complaint inspections, on the other hand, are indicators of something out of the ordinary that has gone wrong. Long Green Center has had two complaint inspections inside of one year. Many Medicare complaint issues are minor or technical in nature, such as administrative errors or cosmetic flaws. But in these cases, the complaints suggest some disturbing patterns at Long Green Center.
Concurrent with its last standard inspection (October, 2015), Long Green Center had a complaint inspection to investigate an incident involving one resident. It unfolded that when this resident refused to return to her section of the facility, a staffer finally resorted to grabbing her by her arms and shirt and dragging her, kicking and screaming, into another room. Medicare chided Long Green because staff witnesses did not report this incident immediately to administrators.
Perhaps the most astounding point in this case, however, was that "The alleged perpetrator was allowed to continue working with the resident for the remainder of the shift." As the Medicare complaint noted, the facility thereby "failed to protect other residents from potential abuse." Indeed, what if that staffer was having a bad night and got rough with this resident again - or decided to drag away somebody else? It sounds like there was a serious lapse of judgment here.
This facility's next complaint inspection, in May, 2016, entailed the investigation of six separate issues. Because these six cases raise serious questions about this facility's actions and judgment, we think they are worth relating in brief.
Item: Staffers failed to assess a resident's condition accurately, and then failed to correct the inaccuracy.
Item: A wheelchair-bound resident could not get safely to the toilet because (due to the way the bathroom was laid out) there wasn't room to wheel in close enough.
Item: A resident alleged that a doctor touched her inappropriately during a breast exam. In what it termed an allegation of "sexual abuse by an attending physician," Medicare determined that Long Green "failed to conduct a thorough investigation" of this case.
Item: A resident told staffers that she wanted to go home. (Medicare reports almost never reveal anyone's gender; we guess that this resident was female.) A facility doctor told her no, she couldn't leave, due to her condition. But staffers never explained to her why a premature discharge would be risky. When a facility staffer later went to her room, she was gone - her family having entered the facility, packed her belongings, put her in a car, and left. Staffers failed to document any of these irregularities.
Item: The facility discharged a "functionally impaired resident" to an emergency shelter even after the resident protested "I can't leave, I can't walk." [Quotation marks added.] Staffers had concluded that "the resident could walk 300 feet with a roller walker" except that a heart condition precluded physical exertion. Long Green discharged this frail resident to a shelter without warning the shelter or determining whether it could provide for the former resident's needs.
Item: A functionally impaired resident needed help in conducting all routine activities, including dressing and using the bathroom. The resident was considered a "fall risk." After two staffers had put her to bed, one of them left the room to get a piece of equipment; and while the other's back was turned, the resident fell out of bed, landing face-down on the floor. The staffer who failed to catch the resident was a temp - not even a regular facility employee. Long Green failed to follow up to ensure that such an episode would not recur.
Failure to provide a resident with a workable bathroom arrangement is, in our view, negligence. So is the failure to investigate an allegation of sexual misconduct (which we think is a very serious issue). So is allowing an at-risk resident simply to bolt, unattended, from the premises.
To discharge an impaired resident who doesn't Want to be discharged is, we think, poor judgment. Letting a resident suffer a fall, when you know she's at risk to do so, reflects both negligence and poor judgment.
Somehow Medicare concluded that in every one of the complaints it investigated, there was "minimal harm or potential for actual harm." What about dragging a resident across the floor? What about failing to stop a resident from falling out of bed? What about ejecting a resident who can hardly walk? And what do all of these episodes say about the quality of staffing, and the quality of care, at this facility?
Baltimore Nursing Home Lawyer
Have you or someone you love suffered harm (or killed) in a Baltimore nursing home or assisted living facility? Call our nursing home lawyer at Miller & Zois today at (800) 553-8082 or get a FREE no obligation case review.
More Information
1Vital Statistics
Number of Beds:
135 certified beds

Beds in the nursing home that have been approved by the federal government to participate in Medicare or Medicaid.
Accepts:
Medicare and Medicaid

Shows if the nursing home participates in the Medicare, Medicaid, or both.
2Key Ratings
Star Rating Summary
Overall Rating
Above Average
Health Inspection

Medicare assigns the star rating based on a nursing home's weighted score from recent health inspections. More stars means fewer health risks

Below Average
Staffing

Medicare assigns the star rating based on the nursing home's staffing hours for Registered Nurses (RNs), Licensed Practice Nurses (LPNs), Licensed Vocational Nurses (LVNs), and Nurse aides. More stars means a better level of staffing per nursing home resident

Above Average
RN Staffing
Above Average
Quality Measures

Medicare assigns the star rating based on data from a select set of clinical data measures. More stars means better quality of care

Much Above Average
3Key Short Stay Statistics
Description
Long Green Center
Maryland
Average
Percent of short-stay residents who self-report moderate to severe pain
Lower percentages are better.
8.9%
10.4%
Percentage of SNF residents with pressure ulcers that are new or worsened
Lower percentages are better.
1.0%
Not Available
Percent of short-stay residents assessed and given, appropriately, the seasonal influenza vaccine
Higher percentages are better.
93.7%
85.3%
Percent of short-stay residents assessed and given, appropriately, the pneumococcal vaccine
Higher percentages are better.
91.5%
84.0%
Percentage of short-stay residents who got antipsychotic medication for the first time
Lower percentages are better.
2.5%
1.7%
4Key Long Stay Statistics
Description
Long Green Center
Maryland
Average
Percent of long-stay residents experiencing one or more falls with major injury
Lower percentages are better.
0.8%
2.7%
Percent of long-stay residents with a urinary tract infection
Lower percentages are better.
0.3%
2.5%
Percent of long-stay residents who self-report moderate to severe pain
Lower percentages are better.
5.4%
5.4%
Percent of long-stay high-risk residents with pressure ulcers
Lower percentages are better.
9.9%
8.8%
Percent of long-stay low-risk residents who lose control of their bowels or bladder
Lower percentages are better.
47.6%
62.3%
Percent of long-stay residents who have or had a catheter inserted and left in their bladder
Lower percentages are better.
1.7%
1.7%
Percent of long-stay residents who were physically restrained
Lower percentages are better.
0.0%
0.2%
Percentage of long-stay residents whose ability to move independently worsened
Lower percentages are better.
27.8%
22.5%
Percent of long-stay residents whose need for help with daily activities has increased
Lower percentages are better.
20.6%
18.0%
Percent of long-stay residents who lose too much weight
Lower percentages are better.
3.7%
5.8%
Percent of long-stay residents who have depressive symptoms
Lower percentages are better.
6.4%
3.9%
Percentage of long-stay residents who received an antianxiety or hypnotic medication
Lower percentages are better.
17.5%
16.2%
Percent of long-stay residents assessed and given, appropriately, the seasonal influenza vaccine
Higher percentages are better.
100.0%
96.7%
Percent of long-stay residents assessed and given, appropriately, the pneumococcal vaccine
Higher percentages are better.
97.1%
94.1%
Percent of long-stay residents who received an antipsychotic medication
Lower percentages are better.
8.6%
12.4%
5Inspection Summary
Date of standard health inspection:04/10/2018
Total number of health deficiencies:19
Average number of health deficiencies in Maryland:14.9