Green House Stadium Place Nursing Home
1010 EAST 33RD STREET
BALTIMORE, MD 21218
(410) 646-6580
Basic Profile:
Located in Baltimore City, Maryland
Nonprofit corporation
Certified beds: 49
Last Medicare rating: 3 stars
Small religious affiliated nursing homes usually provide great care. Green House Residences at Stadium Place is not an awful exception to the rule but its objective ratings do not leave anyone impressed with the care they are giving. Based on its most recent standard Medicare inspection (August 2015), this facility just has a lot of problems. Medicare ranked Green House as "average. " And that might be generous.
Green House is a nonprofit corporation in Baltimore affiliated with the Catholic Charities of Baltimore, an organization that has undoubtedly does wonderful things in Baltimore City. Green House Residences has 49 certified beds. Its services include restorative nursing care, respite care, long-term care, and physical, occupational, and speech therapy.
Promises, promises, promises. Nursing home operators like to make them. The Green House claims to offer "a new approach." But based on its most recent standard Medicare inspection (August 2015), this facility has a lot of the same old familiar nursing home problems. Medicare ranked Green House as "average."
Green House Residences Competitors Over the Top
This facility was distinctly below average in its last Medicare health inspection. The average Maryland nursing home, on inspection, will have 11.4 heath-related deficiencies; the average U.S. home will have 7.1 deficiencies. Green House had a breathtaking 23 deficiencies - over twice the Maryland state average and over three times the U.S. average. It's a wonder that this facility got two stars, not 1 star, for its health inspection.
Green House had deficiencies in all eight measured categories. It had three deficiencies apiece for resident assessments and resident rights. It had four administrative deficiencies, and six for pharmacy services. It had two apiece for quality care, environmental issues, and nutrition and dietary management. It had one deficiency for mistreatment.
All these deficiencies suggest a composite picture of a place where the operators mess up the paperwork, serve up questionable food or the wrong meds, and at times even subject a resident to mistreatment. We don't know specifically what form those 23 deficiencies actually took, but it sounds like this facility ought to try "a new approach."
Green House has had no federal fines or payment denials in the past three years. However, a complaint inspection at this facility in April 2016, exposed further imperfections. Medicare cited Green House because one resident's call bell was unreachable and out of order; because staffers failed to formulate a plan for addressing another resident's significant weight loss; and for failing to report finding bruises "of unknown origin" on the forehead and arms of a cognitively impaired resident.
Two complaints concerned situations that could have caused serious harm to residents. A doctor prescribed medication for a resident without weighing possible drug interactions or the potentially dangerous combination of that drug with certain foods. The pharmacy consultant didn't catch this error either. In another complaint, two staffers were found to be preparing food for residents without wearing hairnets - which could have contaminated the food and thus, said Medicare, "had the potential to affect all residents in the facility."
A Medicare inspector happened to pass one resident's room to see the resident, alone, trying to consume juice with a fork. This was despite a doctor's orders that staffers supervise her mealtimes because of her mental decline and her difficulty in swallowing. This incident didn't quite square with the Green House claim to give its residents "all of the support they need."
The Green House is comparatively small in terms of its resident population: only 45 residents at the last official count (with a maximum capacity of 49). By contrast, the U.S. residential average is 86.2 - nearly twice as high - and the Maryland statewide average is even higher, at 107.5. Yet even with a relatively small population for whom to care, this facility has had some odd lapses.
Less and More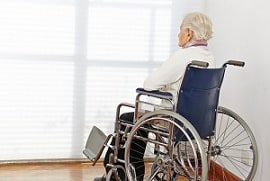 Green House got its best Medicare score - 4 stars, or "above average" - for its nurse staffing. However, this facility rated below-average in four out of five nurse staffing categories (for which the operable metric is the amount of time spent by nurses in each category).
The total nursing time per resident per day here was1 hour, 24 minutes: 18 minutes less per day than the national average, and 27 minutes below the Maryland statewide average. Green House got a 4-star rating on RN staffing, although RN daily time per resident here was a bit below both the state and U.S. averages.
Residents here got only about two-thirds as much time, compared with the Maryland and U.S. averages, with LPNs and LVNs (licensed practical nurses, licensed vocational nurses). Residents' time with physical therapists was the same as the national average, but less than the Maryland average.
This facility tries to make up for those below-average numbers with its certified nursing assistants. At 4 hours and 43 minutes per resident per day, this facility's CNAs give residents almost twice as much time as the Maryland and U.S. averages.
That 4-star nursing staff earned this facility a 3-star average Medicare rating for quality measures, which are stats on the types and amounts of care residents receive. For these measures, Medicare distinguishes between short-stay and long-stay residents.
For short-stay residents, Green House did better than average in three Medicare categories and worse in six.
First the good news: short-stay residents here were less likely than average to have a pressure ulcer (bed sore). They were less likely to be on antipsychotic meds. They were slightly more likely than average to be discharged successfully.
But (to start the bad news) once discharged, they were more likely than average to be rehospitalized or make a visit to the ER. They were more likely than average to report having moderate to severe pain. They were much less likely to get flu or pneumonia shots (only about half of the short-term residents here, versus about four in five statewide and nationally). And they were much less likely than average to show improvement in functionality: 41.4 percent of the short-stay residents here did so, versus 64.6 percent on average in Maryland and 63.3 percent on average nationally.
The Green House did score better than the state and national averages in eight of 15 measured categories for long-stay residents.
These residents were slightly more likely than average to maintain their mobility and their independence in conducting routine daily activities. They were less likely than average to suffer a fall with injury or require ongoing catheterization. None of the long-term residents here were subjected to physical restraints.
Among this facility's best stats, the depression rate among its long-term residents was only about half the Maryland and U.S. averages; and in related categories, its residents were a bit less likely to need anti-anxiety medications - and much less likely than average (three to four times less) to need antipsychotic meds. Make no mistake about it. These are good statistics. It is hard to keep depression symptoms
On the downside, long-stay residents here were more likely than average to get urinary tract infections; more likely to lose much too weight, and more likely to report having serious pain. You can also make no mistake about these numbers. They are not good.
By far the facility's worst metric was on bed sores: the incidence of pressure ulcers among its long-stay residents was 16.8 percent - well over double the Maryland and U.S. averages of 6.9 percent and 5.7 percent, respectively. Whenever a stat is very much worse than the averages, it's a red flag. The fact that this stat concerns pressure ulcers might make it worth two red flags - because the presence of pressure ulcers may imply the absence, or insufficiency, of care.
The Green House Residences paints a different picture. "Elders are encouraged to make themselves at home, decorate their private rooms and baths with their own belongings," the Catholic Charities websites says. "They have easy access to all areas of the house, including the kitchen, laundry, outdoor garden, and patio. Elders are free from schedules and can eat, sleep, and entertain themselves when and where they choose."
We applaud the Green House for attempting to create a pleasant environment and atmosphere for its residents. But we offer words of advice to this (and every other) nursing facility: don't overpromise.
Baltimore Nursing Home Lawyer
Has someone you love suffered needlessly because a Baltimore nursing home or assisted living facility made an error? Call our nursing home attorneys today at (800) 553-8082. Not ready to make a call? You canget a FREE no obligation online case analysis.
More Information
1Vital Statistics
Number of Beds:
49 certified beds

Beds in the nursing home that have been approved by the federal government to participate in Medicare or Medicaid.
Accepts:
Medicare and Medicaid

Shows if the nursing home participates in the Medicare, Medicaid, or both.
2Key Ratings
Star Rating Summary
Overall Rating
Much Below Average
Health Inspection

Medicare assigns the star rating based on a nursing home's weighted score from recent health inspections. More stars means fewer health risks

Much Below Average
Staffing

Medicare assigns the star rating based on the nursing home's staffing hours for Registered Nurses (RNs), Licensed Practice Nurses (LPNs), Licensed Vocational Nurses (LVNs), and Nurse aides. More stars means a better level of staffing per nursing home resident

Average
RN Staffing
Much Below Average
Quality Measures

Medicare assigns the star rating based on data from a select set of clinical data measures. More stars means better quality of care

Above Average
3Key Short Stay Statistics
Description
The Nursing And Rehab Center At Stadium Place
Maryland
Average
Percent of short-stay residents who self-report moderate to severe pain
Lower percentages are better.
9.2%
10.4%
Percentage of SNF residents with pressure ulcers that are new or worsened
Lower percentages are better.
1.2%
Not Available
Percent of short-stay residents assessed and given, appropriately, the seasonal influenza vaccine
Higher percentages are better.
60.1%
85.3%
Percent of short-stay residents assessed and given, appropriately, the pneumococcal vaccine
Higher percentages are better.
87.9%
84.0%
Percentage of short-stay residents who got antipsychotic medication for the first time
Lower percentages are better.
2.3%
1.7%
4Key Long Stay Statistics
Description
The Nursing And Rehab Center At Stadium Place
Maryland
Average
Percent of long-stay residents experiencing one or more falls with major injury
Lower percentages are better.
1.5%
2.7%
Percent of long-stay residents with a urinary tract infection
Lower percentages are better.
3.1%
2.5%
Percent of long-stay residents who self-report moderate to severe pain
Lower percentages are better.
4.1%
5.4%
Percent of long-stay high-risk residents with pressure ulcers
Lower percentages are better.
1.9%
8.8%
Percent of long-stay low-risk residents who lose control of their bowels or bladder
Lower percentages are better.
60.5%
62.3%
Percent of long-stay residents who have or had a catheter inserted and left in their bladder
Lower percentages are better.
0.9%
1.7%
Percent of long-stay residents who were physically restrained
Lower percentages are better.
0.0%
0.2%
Percentage of long-stay residents whose ability to move independently worsened
Lower percentages are better.
15.3%
22.5%
Percent of long-stay residents whose need for help with daily activities has increased
Lower percentages are better.
15.7%
18.0%
Percent of long-stay residents who lose too much weight
Lower percentages are better.
3.2%
5.8%
Percent of long-stay residents who have depressive symptoms
Lower percentages are better.
2.4%
3.9%
Percentage of long-stay residents who received an antianxiety or hypnotic medication
Lower percentages are better.
9.5%
16.2%
Percent of long-stay residents assessed and given, appropriately, the seasonal influenza vaccine
Higher percentages are better.
97.0%
96.7%
Percent of long-stay residents assessed and given, appropriately, the pneumococcal vaccine
Higher percentages are better.
99.2%
94.1%
Percent of long-stay residents who received an antipsychotic medication
Lower percentages are better.
11.3%
12.4%
5Inspection Summary
Date of standard health inspection:10/13/2017
Total number of health deficiencies:13
Average number of health deficiencies in Maryland:14.9