Future Care Charles Village, LLC
2327 N. CHARLES ST
BALTIMORE, MD 21218
(410) 889-8500
Basic Profile:
Located in Baltimore City, Maryland
For-profit corporation
Certified beds: 109
Last Medicare rating: 3 stars
FutureCare Charles Village, in Baltimore, is a unit of FutureCare, a Pasadena, Maryland-based company that operates 14 nursing home facilities in Maryland, including a total of eight in the city of Baltimore. A for-profit organization, it maintains 109 certified beds. Its service offerings include rehabilitation for stroke, cardiac, and orthopedic cases; surgery recovery; and speech therapy. It also provides long-term care and treatment for a range of related conditions. FutureCare has managed and operated this facility since 2005.
Our nursing abuse and neglect lawyers know FutureCare well. In a 2016 landmark appellate case, FutureCare tried to argue that our client could not bring a wrongful death claim in Baltimore County Circuit Court because our client's deceased mother signed an arbitration agreement. Thankfully, the Maryland Court of Appeals rejected this argument, and the lawsuit is back on track.
With so many facilities so close together in Baltimore, these facilities compete with each other. If you were bent on a FutureCare facility (although it is hard to imagine why) this would probably not be your top choice. The keepers of this establishment would differentiate it by its "ornate space, with marble fireplaces and chandeliers." But its Medicare scores are middling. If you're looking for a nursing home, you could do better (and you could do worse).
Law of Averages
With a total of 102 residents at the last official count, FutureCare Charles Village is just below the Maryland state average (107.5 residents) and a bit above the national average (86.2 residents): that is, it was right about in the middle.
The last standard Medicare inspection (July 2015) gave this facility an overall rating of 3 stars - average. Medicare also rated it average for its health inspection and its staffing. On fire safety, this facility was - average. FutureCare Charles Village almost seems to follow the law of averages.
The latest standard health inspection did cite this FutureCare facility for a total of 15 deficiencies - higher than the 11.4 average for Maryland and twice as high as the 7.1 average nationally. (Seven of this facility's 15 deficiencies were for quality of care.) Nonetheless, FutureCare Charles Village got three stars on the health inspection.
It also got three stars on staffing. In terms of total nursing hours per resident per day, this facility fell right in between the Maryland and national averages.
This facility got a 4-star rating on RN staffing, although its RNs spent about 20-30 minutes less time daily per resident than the Maryland and U.S. averages. It also was lower than the state and U.S. averages on residents' daily time with certified nursing assistants and physical therapists, and it was significantly lower than average in terms of time spent by LPNs and LVNs (licensed practical nurses, licensed vocational nurses). In getting an overall 3-star rating for staffing, it may have gotten the benefit of the doubt.
Ups and Downs
This FutureCare facility broke out of the "average" mold with a 4-star (above average) rating for quality measures.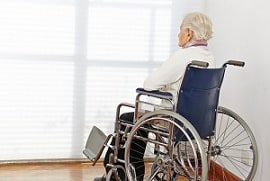 For short-stay residents, this facility had a modestly higher rate of successful discharges than average, although its discharged residents were more likely than average to require rehospitalization or a visit to the ER. FutureCare Charles Village did very well on preventing pressure ulcers (bed sores), its 0.5 percent incidence rate being less than half the Maryland and U.S. averages. It also was strongly better than average in giving flu and pneumonia vaccinations, and in limiting the use of antipsychotic meds. But on the measure of residents' reports of moderate to severe pain, this FutureCare facility had a sharply high metric of 25 percent of residents so reporting, versus 13.8 percent for Maryland and 16.4 percent on average nationally.
In quality measures for long-stay residents, this facility beat the state and national averages in 10 of 15 categories, but it did have a few especially negative metrics.
It did especially well with respect to urinary tract infections (less than two-thirds as many as the Maryland and U.S. averages); falls with injury (one-third as many as the state and U.S. averages); and the use of physical restraints (a perfect zero percent). It also resorted less often than average to ongoing catheterization, antianxiety meds, and antipsychotic meds. Its long-term residents were less likely than average to report having pain, but more likely to receive flu and pneumonia vaccinations.
This facility was a bit below average in maintaining long-stay residents' healthy weight levels, their mobility, and their independence in conducting daily activities. The incidence of pressure ulcers among these residents was higher than average. FutureCare Charles Village was notably less successful in maintaining long-stay residents' continence (72.5 percent had bowel or bladder control failure, versus 58.5 percent for Maryland and 46.8 percent nationally). And the depression rate among its long-stay residents (10.8 percent) was twice the national average (5.4 percent) and more than twice the Maryland average (4.7 percent).
FutureCare Charles Village did have a complaint inspection in February 2016, but it concerned only a single complaint, concerning a relatively innocuous bookkeeping matter. This facility has had no federal fines or payment denials in the past three years.
FutureCare Charles Village Competitors
FutureCare Charles Village is one of four FutureCare facilities within a few miles of each other Baltimore. Being so close, and all part of the same company, they nonetheless have notable differences in their Medicare ratings. Let's take a look at them.
FutureCare Homewood: This FutureCare facility is about three Baltimore city blocks away from FutureCare Charles Village. You might think they would get the same Medicare scores, but they did not: Homewood ranks mostly above-average (4 stars), compared to the mostly average scores (3 stars) for Charles Village.
FutureCare Cold Spring: This facility's main Medicare stats are downright odd: 2 stars overall; abysmal 1 star for its health inspection (whereas FutureCare Charles Village got three stars for each). But the Cold Spring location got perfect 5-star ratings for staffing and quality measures, besting its cross-town sister facility.
FutureCare Sandtown: This facility comes closest (of the three FutureCare nearby competitors) to matching the Medicare rankings of FutureCare Charles Village - except that it's actually better than its sister facility on quality measures (5 stars to 4 stars) and better overall (4 stars to 3 stars).
Charles Village and the other FutureCare facilities in Baltimore compete in very proximity with some of the best nursing homes in the nation (5-star Maria Health Care Center) and some of the worst (mostly 1-star Long Green Center).
Baltimore Nursing Home Lawyer
Has a nursing home made a mistake that cost someone you love dearly? We can help navigate Baltimore's legal system and fight for justice and compensation. Our legal system and a Baltimore jury will hold a responsible nursing home accountable if the nursing home does not make the settlement offer that it should. But before you get that far, you need to fight. Call our nursing home attorneys at Miller & Zois today at (800) 553-8082 or get a FREE no obligation case review.
1Vital Statistics
Number of Beds:
109 certified beds

Beds in the nursing home that have been approved by the federal government to participate in Medicare or Medicaid.
Accepts:
Medicare and Medicaid

Shows if the nursing home participates in the Medicare, Medicaid, or both.
2Key Ratings
Star Rating Summary
Overall Rating
Above Average
Health Inspection

Medicare assigns the star rating based on a nursing home's weighted score from recent health inspections. More stars means fewer health risks

Above Average
Staffing

Medicare assigns the star rating based on the nursing home's staffing hours for Registered Nurses (RNs), Licensed Practice Nurses (LPNs), Licensed Vocational Nurses (LVNs), and Nurse aides. More stars means a better level of staffing per nursing home resident

Above Average
RN Staffing
Above Average
Quality Measures

Medicare assigns the star rating based on data from a select set of clinical data measures. More stars means better quality of care

Above Average
3Key Short Stay Statistics
Description
Future Care Charles Village
Maryland
Average
Percent of short-stay residents who self-report moderate to severe pain
Lower percentages are better.
17.7%
10.4%
Percentage of SNF residents with pressure ulcers that are new or worsened
Lower percentages are better.
2.9%
Not Available
Percent of short-stay residents assessed and given, appropriately, the seasonal influenza vaccine
Higher percentages are better.
93.4%
85.3%
Percent of short-stay residents assessed and given, appropriately, the pneumococcal vaccine
Higher percentages are better.
92.3%
84.0%
Percentage of short-stay residents who got antipsychotic medication for the first time
Lower percentages are better.
1.5%
1.7%
4Key Long Stay Statistics
Description
Future Care Charles Village
Maryland
Average
Percent of long-stay residents experiencing one or more falls with major injury
Lower percentages are better.
3.1%
2.7%
Percent of long-stay residents with a urinary tract infection
Lower percentages are better.
2.8%
2.5%
Percent of long-stay residents who self-report moderate to severe pain
Lower percentages are better.
1.0%
5.4%
Percent of long-stay high-risk residents with pressure ulcers
Lower percentages are better.
13.0%
8.8%
Percent of long-stay low-risk residents who lose control of their bowels or bladder
Lower percentages are better.
76.1%
62.3%
Percent of long-stay residents who have or had a catheter inserted and left in their bladder
Lower percentages are better.
1.9%
1.7%
Percent of long-stay residents who were physically restrained
Lower percentages are better.
0.0%
0.2%
Percentage of long-stay residents whose ability to move independently worsened
Lower percentages are better.
27.2%
22.5%
Percent of long-stay residents whose need for help with daily activities has increased
Lower percentages are better.
18.2%
18.0%
Percent of long-stay residents who lose too much weight
Lower percentages are better.
3.3%
5.8%
Percent of long-stay residents who have depressive symptoms
Lower percentages are better.
4.1%
3.9%
Percentage of long-stay residents who received an antianxiety or hypnotic medication
Lower percentages are better.
15.5%
16.2%
Percent of long-stay residents assessed and given, appropriately, the seasonal influenza vaccine
Higher percentages are better.
98.8%
96.7%
Percent of long-stay residents assessed and given, appropriately, the pneumococcal vaccine
Higher percentages are better.
99.0%
94.1%
Percent of long-stay residents who received an antipsychotic medication
Lower percentages are better.
13.9%
12.4%
5Inspection Summary
Date of standard health inspection:09/15/2017
Total number of health deficiencies:9
Average number of health deficiencies in Maryland:14.9