Lochearn Nursing Home, LLC
4800 SETON DRIVE
BALTIMORE, MD 21215
(410) 358-3410
Basic Profile:
FutureCare Lochearn, as this Baltimore facility now is known, is a for-profit corporation maintaining 200 certified beds (much higher than average for Maryland and the U.S.). It offers skilled nursing and rehabilitation services, including on-site dialysis; physical and occupational therapy; speech language pathology; bariatric care; pain management; and IV therapies. Lochearn has been part of FutureCare since 2005.
FutureCare operates 14 nursing home facilities in Maryland, including a total of eight in the city of Baltimore. Our nursing home lawyers are not fans of FutureCare. We have seen awful things happen in their facilities. Certainly, awful things have gone on at FutureCare Lochearn, too. It is hard to find a nursing home that does not commit malpractice. If you call us with a nursing home lawsuit against Lochearn, we are not going to be surprised. Even good nursing home care in this country is extremely flawed.
That said, let's give credit where credit is due. FutureCare Lochearn (or just Lochearn) is one of its best, its overall 5-star Medicare rating putting it at or near the top. This facility is hardly perfect - its three-star health inspection is evidence of this. But this is a quality nursing home.
FutureCare Charles Village got a 3-star overall rating (average), and FutureCare Cold Spring got two stars (below average). Why such great differences among facilities belonging to the same company?
That is a question for FutureCare to figure out. Some nursing homes with high Medicare ratings may enjoy the advantage of being small. It stands to reason that it is easier to maintain overall quality for 50 residents than for 100. But that does not appear to be a factor in this case: at last official count, FutureCare Charles Village had 102 residents, Cold Spring 123. Lochearn had 187 - a far larger population to serve. Yet it scored far better than a sister facility with only two-thirds as many residents for whom to care. (And that makes its overall 5-star rating all the more impressive: the average number of Maryland nursing home residents is 107.5; the U.S. average, 86.2.)
FutureCare Lochearn Competitors
Before we dig deeper into Lochearn, let's look at the competition in the area. There are a lot of nursing homes close to Lochearn.
Doing Well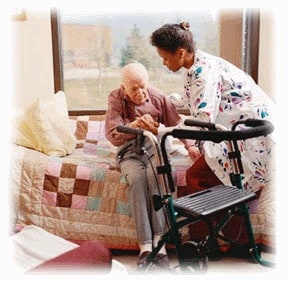 In its most recent health inspection (part of the standard Medicare report on Lochearn), this facility was found to have a total of 4 deficiencies -- outperforming the U.S. average (7.1 deficiencies) and the Maryland state average (11.4 deficiencies). Lochearn also bested the U.S. and state averages in terms of fire safety, having only 2 deficiencies (the U.S. average was 3.4, the state average 4).
Lochearn did get 4 stars (above average) for the staffing category in that last standard Medicare survey (October, 2015). In terms of total daily nursing time per resident, this facility came in between the Maryland and U.S. averages. It did likewise on total RN time, nonetheless getting a 4-star rating for RNs in particular. It was slightly above average in providing time with LPNs and LVNs (licensed practical nurses, licensed vocational nurses), and slightly below average on residents' time with physical therapists.
Lochearn got five stars - tops - for quality measures. This Medicare score, we think, is where the rubber really meets the road, because it measures how much care residents receive, and it gives an indication of how well a facility is doing at keeping its residents well. Its five stars for quality measures must have a lot to do with how Lochearn got a 5-star Medicare rating overall since it got only four stars for staffing and three stars for its health inspection.
With respect to short-stay residents, Lochearn beat the Maryland and U.S. averages in six of nine measured categories, and it was about on par with them in three others. Notably, Lochearn was much better than the state and national averages about half the time.
Its short-stay residents were more likely to enjoy an improvement in functionality (72.1 percent of them, versus 64.6 percent and 63.3 percent, respectively, for Maryland and the U.S.). Lochearn short-stay residents were less than half as likely as the state or U.S. averages to have pressure ulcers (bed sores); and only one-third as likely to need antipsychotic meds. They were five to six times less likely to report having serious pain; and, on leaving the facility, they were less than half as likely to need to make a visit to the ER.
High Level
Could this FutureCare facility maintain such a high-performance level for long-stay residents, who presumably have more serious health issues? The short answer is yes.
In quality measures for long-stay residents, Lochearn beat the Maryland and U.S. averages in 10 out of 15 Medicare categories and was about on par with the state and national averages in two others.
Its long-stay residents were more likely than average to experience declines in their mobility or their ability to carry out routine activities independently. But they were less likely (than the Maryland or U.S. averages) to lose too much weight, or experience serious pain, or get a urinary tract infection. They were three times less likely to need ongoing catheterization. They were entirely unlikely to suffer a fall with injury (zero percent) or be subjected to physical restraints (again, zero percent).
The rate of depressive symptoms among long-stay residents here was higher than the state and U.S. averages (6.8 percent at Lochearn, 4.7 percent statewide, 5.4 percent nationally), but these Lochearn residents were much less likely than average to require antianxiety or antipsychotic meds. In reaching long-stay residents with flu and pneumonia vaccinations, Lochearn beat the Maryland and U.S. averages in both cases.
This facility has not had a federal fine or a payment denial in the past three years. But it has had a fairly recent complaint inspection (December 2015) to investigate a single complaint - but one that may have affected about three-quarters of the residents here. Medicare says that nursing home rooms designed for double occupancy must give each resident at least 80 square feet of space. (If you've got a tape measure, you can see that this is a pretty modest amount of room.)
In its complaint inspection, Medicare determined that 77 double-occupancy rooms at this facility were smaller than the required 160 square feet (that is, 80 square feet per occupant). The month before this inspection, Lochearn had requested a waiver of this Medicare requirement (which, perhaps, was what prompted the complaint inspection in the first place). Whether Lochearn ever did get that waiver, we do not know. But perhaps it was trying to compensate for the room-size deficiency in its self-description, wherein Lochearn offers would-be residents "the beauty and tranquility of our large chapel, featuring amazing stained glass windows."
Baltimore Nursing Home Lawyer
Have you or someone you love suffered harm (or killed) in a Baltimore nursing home or assisted living facility? Call our nursing home lawyer at Miller & Zois today at (800) 553-8082 or get a FREE no-obligation case review.
More Information
1Vital Statistics
Number of Beds:
200 certified beds

Beds in the nursing home that have been approved by the federal government to participate in Medicare or Medicaid.
Accepts:
Medicare and Medicaid

Shows if the nursing home participates in the Medicare, Medicaid, or both.
2Key Ratings
Star Rating Summary
Overall Rating
Much Above Average
Health Inspection

Medicare assigns the star rating based on a nursing home's weighted score from recent health inspections. More stars means fewer health risks

Average
Staffing

Medicare assigns the star rating based on the nursing home's staffing hours for Registered Nurses (RNs), Licensed Practice Nurses (LPNs), Licensed Vocational Nurses (LVNs), and Nurse aides. More stars means a better level of staffing per nursing home resident

Above Average
RN Staffing
Average
Quality Measures

Medicare assigns the star rating based on data from a select set of clinical data measures. More stars means better quality of care

Much Above Average
3Key Short Stay Statistics
Description
Lochearn Nursing Home, Llc
Maryland
Average
Percent of short-stay residents who self-report moderate to severe pain
Lower percentages are better.
2.5%
10.4%
Percentage of SNF residents with pressure ulcers that are new or worsened
Lower percentages are better.
0.6%
Not Available
Percent of short-stay residents assessed and given, appropriately, the seasonal influenza vaccine
Higher percentages are better.
91.5%
85.3%
Percent of short-stay residents assessed and given, appropriately, the pneumococcal vaccine
Higher percentages are better.
87.0%
84.0%
Percentage of short-stay residents who got antipsychotic medication for the first time
Lower percentages are better.
1.3%
1.7%
4Key Long Stay Statistics
Description
Lochearn Nursing Home, Llc
Maryland
Average
Percent of long-stay residents experiencing one or more falls with major injury
Lower percentages are better.
1.8%
2.7%
Percent of long-stay residents with a urinary tract infection
Lower percentages are better.
2.3%
2.5%
Percent of long-stay residents who self-report moderate to severe pain
Lower percentages are better.
3.6%
5.4%
Percent of long-stay high-risk residents with pressure ulcers
Lower percentages are better.
9.9%
8.8%
Percent of long-stay low-risk residents who lose control of their bowels or bladder
Lower percentages are better.
69.6%
62.3%
Percent of long-stay residents who have or had a catheter inserted and left in their bladder
Lower percentages are better.
1.6%
1.7%
Percent of long-stay residents who were physically restrained
Lower percentages are better.
0.0%
0.2%
Percentage of long-stay residents whose ability to move independently worsened
Lower percentages are better.
26.5%
22.5%
Percent of long-stay residents whose need for help with daily activities has increased
Lower percentages are better.
17.9%
18.0%
Percent of long-stay residents who lose too much weight
Lower percentages are better.
3.4%
5.8%
Percent of long-stay residents who have depressive symptoms
Lower percentages are better.
5.5%
3.9%
Percentage of long-stay residents who received an antianxiety or hypnotic medication
Lower percentages are better.
10.8%
16.2%
Percent of long-stay residents assessed and given, appropriately, the seasonal influenza vaccine
Higher percentages are better.
98.9%
96.7%
Percent of long-stay residents assessed and given, appropriately, the pneumococcal vaccine
Higher percentages are better.
98.7%
94.1%
Percent of long-stay residents who received an antipsychotic medication
Lower percentages are better.
6.3%
12.4%
5Inspection Summary
Date of standard health inspection:03/07/2018
Total number of health deficiencies:12
Average number of health deficiencies in Maryland:14.9