Levindale Hebrew Geriatric Center & Hospital
2434 W. BELVEDERE AVENUE
BALTIMORE, MD 21215
(410) 466-8700
Basic Profile:
Located in Baltimore City, Maryland
Nonprofit corporation owned by LifeBridge
Certified beds: 210
Known Lawsuits Against This Facility

Kolodner v. Levindale Hebrew (negligent - improper size catheter - and assault and battery) (2009)
James v. Levindale Hebrew (injury while in rehab - case settled) (2007)
Rozzell v. Levindale Hebrew (wrongful death from bedsore on decedent's heel) (2004)
Barksdale v. Levindale Hebrew (wrongful death from Stage IV bedsore - Levindale settled for just $10,000) (2004)
Troia v. Levindale Hebrew (fall out of Geri chair case - case settled) (2003)
Mizrach v. Levindale Hebrew (case settled) (2002)
Levindale Hebrew Geriatric Center and Hospital is a nonprofit nursing home near Mt. Washington that has 210 certified beds and provides respite, dementia, respiratory, and hospice care, in addition to skilled long-term care. Since 1967 it has been part of LifeBridge Health, a Baltimore-based health care organization that operates five hospitals in the area.
With a total count of 196 residents at the last official count, Levindale is much large (population-wise) than the average for Maryland nursing homes (107.5 residents), and more than twice as large as the national average (86.2 residents). That's a seriously big number of people for whom to care - especially considering that many or most of them probably have special needs and require a lot of attention. (And this facility isn't even filled to capacity.)
Consider, then, that this facility's most recent Medicare rating for staffing was five stars - the top score. (Medicare, being very numbers-oriented, rates nurse staffing based on the amount of time nurses spend with residents.) So Levindale gets an "A" for effort. Staffing - assuming you are not blithely hiring the very worst -- really is the hustle of nursing home care. It is an economic commitment to being good.
Unfortunately, that top rating for staffing doesn't square with Levindale's two-star rating (below average) for quality measures - which are numerical gauges of the quality of the care residents receive.
There are also a very large number of lawsuits against this single facility which is always going to attract the attention of nursing home lawyers. We have not found recent lawsuits. We do not know if means this facility is being sued less frequently or whether the reporting was just better years ago. But clearly this facility has had some problems that led to lawsuits. A single lawsuit proves very little but this many lawsuits, even for such a large facility, raises eyebrows.
Levindale Competitors
Before we dig deep into Levindale's nursing home, let's look at the facility's competition. The immediate area really has the best and worst of nursing homes in Baltimore.
Serious Matter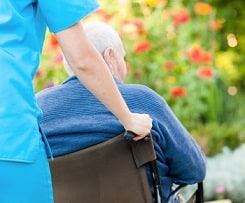 In its last standard Medicare inspection (February 2016), Levindale received an overall rating of 3 stars - average. That cumulative rating reflects the fact that the facility's 5-star rating for staffing was counterweighed by 2-star ratings both for quality measures and its health inspection.
The health inspection found a total of 16 deficiencies -- significantly more than the Maryland state average of 11.4, and over twice the U.S. average of 7.1 deficiencies. Levindale had deficiencies in seven of eight measured categories, including five with respect to quality care, and one for mistreatment. It did far better on its fire safety inspection: just a single deficiency, versus the Maryland and national averages of 4.0 and 3.4, respectively.
Levindale had a Medicare complaint inspection in April, 2016, with respect to two isolated incidents. In this instance, a resident, as discovered by a family member) had a bruised arm and a bloodied mouth. A private aide to the resident was suspected of foul play. What a mess. Medicare cited Levindale for not doing a thorough pre-screening of the aide. Whether this is true or hindsight analysis is anyone's guess. Of course, any abuse of residents is a serious matter.
In the second case, a resident's family member requested that staffers give the resident a certain medication that the facility did not have in stock (but subsequently did attempt to obtain). Medicare said that the facility should have consulted the prescribing physician about the issue.
Lots of Nurse Time
Now we turn to this facility's core strength: its 5-star nursing staff.
One Medicare stat tallies the total amount of nursing time (by all nurses) per resident per day. Levindale was much superior on this score, giving residents a total of 2 hours and 44 minutes of daily nursing time, versus the Maryland state average of 1 hour and 51 minutes, and the national average of 1 hour and 42 minutes. That's about an hour more at Levindale than the state and national averages.
Levindale got a 5-star rating for its RN staffing in particular. RN daily time per resident here was 1 hour and 15 minutes, versus 59 minutes for the Maryland state average, and 50 minutes for the U.S. average.
This facility also beat the Maryland and U.S. averages -- by a lot -- on time spent by LPNs and LVNs (licensed practical nurses, licensed vocational nurses) and certified nursing assistants. Levindale residents got more than half an hour more per day, in both of these nursing categories, than the Maryland and U.S. averages. It also was above average in time provided by physical therapists.
Lost in Translation
Given all that nursing time, the question then becomes: how did this facility score below average (2 stars) on quality measures?
This facility could not have received that low 2-star rating based on the stats for its short-stay residents, because its stats were exceptionally good. Levindale beat the Maryland and U.S. averages in eight of nine measured categories.
Notably, this facility's short-stay residents were only a third as likely as the state and national averages to have problems with pressure sores and they were less than half as likely as the state and national norms to report having serious pain. The rate of successful discharges also was higher here than the Maryland and U.S. averages.
The only metric in which Levindale was a bit below average was on improving short-term residents' functionality - a somewhat dubious statistic because it may not take into account how many residents needed to improve their functionality. If the Medicare score were based on its short-stay residents alone, this facility would seem to deserve at least a 4-star rating on quality measures.
This facility's quality measure scores for long-term residents definitely were less good than for short-stayers, although it also stands to reason that long-stay residents would have more serious health issues.
For the 15 measured categories related to long-stay residents, Levindale beat the Maryland and U.S. averages in seven categories - and sometimes by a lot. The percentage of its long-stay residents who reported having serious pain was an impressively minuscule 0.7 percent - about one-tenth the Maryland and U.S. averages of 6.0 percent and 7.8 percent, respectively. The depression rate among long-stay residents here was only 2.2 percent - less than half the state and national averages - and Levindale also dispensed fewer antianxiety and antipsychotic meds.
On the minus side, long-stay residents here were almost twice as likely as the Maryland and U.S. averages to acquire urinary tract infections, and they were twice as likely to be subjected to ongoing catheterization. And they were about three times as likely as the state or national averages to be subjected to physical restraints. In five other measured categories, Levindale's stats for long-stay residents were somewhat below the state and U.S. averages, though not to as sharp an extent.
Lawsuits Against Levindale Hebrew
There have been a number of lawsuits filed against Levindale as you saw in the introduction. It is hard to get to find out the resolutions to these cases but many were reported to have reached a settlement. Cases against this nursing home have been typically defended by Goodell, DeVries, Leech & Dann.
January 11, 2019: Autry v. Levindale Geriatric Center: A wrongful death lawsuit is filed against the nursing home after a patient dies from significant head trauma after a fall. There had already been a list of documented falls for that patient up until the fatal one.
Baltimore Nursing Home Lawyer
Have you or someone you love suffered harm (or killed) in a Baltimore nursing home or assisted living facility? Call our nursing home lawyer at Miller & Zois today at (800) 553-8082 or get a FREE no obligation case review.
More Information
1Vital Statistics
Number of Beds:
210 certified beds

Beds in the nursing home that have been approved by the federal government to participate in Medicare or Medicaid.
Accepts:
Medicare and Medicaid

Shows if the nursing home participates in the Medicare, Medicaid, or both.
2Key Ratings
Star Rating Summary
Overall Rating
Average
Health Inspection

Medicare assigns the star rating based on a nursing home's weighted score from recent health inspections. More stars means fewer health risks

Average
Staffing

Medicare assigns the star rating based on the nursing home's staffing hours for Registered Nurses (RNs), Licensed Practice Nurses (LPNs), Licensed Vocational Nurses (LVNs), and Nurse aides. More stars means a better level of staffing per nursing home resident

Average
RN Staffing
Below Average
Quality Measures

Medicare assigns the star rating based on data from a select set of clinical data measures. More stars means better quality of care

Above Average
3Key Short Stay Statistics
Description
Levindale Hebrew Ger Ctr & Hsp
Maryland
Average
Percent of short-stay residents who self-report moderate to severe pain
Lower percentages are better.
7.5%
10.4%
Percentage of SNF residents with pressure ulcers that are new or worsened
Lower percentages are better.
1.1%
Not Available
Percent of short-stay residents assessed and given, appropriately, the seasonal influenza vaccine
Higher percentages are better.
91.5%
85.3%
Percent of short-stay residents assessed and given, appropriately, the pneumococcal vaccine
Higher percentages are better.
91.8%
84.0%
Percentage of short-stay residents who got antipsychotic medication for the first time
Lower percentages are better.
1.9%
1.7%
4Key Long Stay Statistics
Description
Levindale Hebrew Ger Ctr & Hsp
Maryland
Average
Percent of long-stay residents experiencing one or more falls with major injury
Lower percentages are better.
2.3%
2.7%
Percent of long-stay residents with a urinary tract infection
Lower percentages are better.
0.9%
2.5%
Percent of long-stay residents who self-report moderate to severe pain
Lower percentages are better.
2.1%
5.4%
Percent of long-stay high-risk residents with pressure ulcers
Lower percentages are better.
11.3%
8.8%
Percent of long-stay low-risk residents who lose control of their bowels or bladder
Lower percentages are better.
51.9%
62.3%
Percent of long-stay residents who have or had a catheter inserted and left in their bladder
Lower percentages are better.
5.3%
1.7%
Percent of long-stay residents who were physically restrained
Lower percentages are better.
0.0%
0.2%
Percentage of long-stay residents whose ability to move independently worsened
Lower percentages are better.
22.2%
22.5%
Percent of long-stay residents whose need for help with daily activities has increased
Lower percentages are better.
18.3%
18.0%
Percent of long-stay residents who lose too much weight
Lower percentages are better.
10.7%
5.8%
Percent of long-stay residents who have depressive symptoms
Lower percentages are better.
0.2%
3.9%
Percentage of long-stay residents who received an antianxiety or hypnotic medication
Lower percentages are better.
14.1%
16.2%
Percent of long-stay residents assessed and given, appropriately, the seasonal influenza vaccine
Higher percentages are better.
98.9%
96.7%
Percent of long-stay residents assessed and given, appropriately, the pneumococcal vaccine
Higher percentages are better.
92.1%
94.1%
Percent of long-stay residents who received an antipsychotic medication
Lower percentages are better.
21.1%
12.4%
5Inspection Summary
Date of standard health inspection:06/25/2018
Total number of health deficiencies:27
Average number of health deficiencies in Maryland:14.9