Larkin Chase Center
15005 HEALTH CENTER DRIVE
BOWIE, MD 20716
(301) 805-6070
Basic Profile Overview
A for-profit partnership located in Bowie, Maryland, Larkin Chase Center maintains 120 certified beds. Its service offerings include short- and long-term care, occupational and physical therapy, bariatric and colostomy care, IV therapy, psychiatric services, pain management, palliative care, dementia care, and hospice.
Larkin Chase (owned and operated by Genesis since December 2012) also was one of six Genesis facilities around Baltimore that got a 1-star rating for its health inspection. Only one other of these Genesis homes (Long Green Center) got a lower score for staffing than Larkin Chase's two stars. Larkin Chase's best Medicare score was three stars for quality measures - a mediocre rating, but good enough to beat nine of the other Genesis homes in the area.
If you think we are biased because we are nursing home lawyers that sue these companies, you have a point. So we refer you to the most recent Medicare inspection of Larkin Chase, in March 2015 so you can get a flavor of what we are talking about with this nursing home.
Larkin Chase Competitors (within 2 miles):
A for-profit partnership located in Bowie, Maryland, Larkin Chase Center maintains 120 certified beds. Its service offerings include short- and long-term care, occupational and physical therapy, bariatric and colostomy care, IV therapy, psychiatric services, pain management, palliative care, dementia care, and hospice.
Larkin Chase Center has no competitors within four miles. This is fortunate because Larkin Chase is not competing well when it comes to quality care.
As we got out further, the competition gets good. Manorcare Health Services - Largo (in Glenarden) and Villa Rosa Nursing & Rehabilitation, LLC (Mitchellville) both got overall 4-star Medicare ratings (which means above average). Collington Episcopal Life Care (Mitchellville) and Crofton Convalescent Center (Crofton) got top 5-star ratings. Larkin Chase cannot compete with any of these, so it's a good thing for this facility that they're not next-door. Still, it's sad when one of your best selling points is that you are located on "Health Center Drive" and that there is no other nursing home choice for miles.
Not the Worst
Larkin Chase, as we have noted, is not the worst Genesis home around Baltimore: three others got about equally bad Medicare scores in aggregate, and two actually did worse. The Medicare picture of Larkin Chase is of a facility that does some things fairly well and other things not so well.
With a total of 114 residents at the last official count, Larkin Chase is a jump higher than the national average nursing home population (86.1) but only slightly above the Maryland state average (107.4).
Larkin Chase got the bottom-level 1-star rating for its most recent Medicare health inspection. Surveyors counted a total of 16 deficiencies here, higher than the Maryland average of 11.5 deficiencies, and more than twice the national average of 7.2 deficiencies. This facility had deficiencies in seven of the eight measured categories, including four for quality of care and two for mistreatment of residents.
This facility got a 2-star rating for staffing. In terms of daily time each resident got with nursing staffers, it was very close to the Maryland and U.S. averages, so there's no issue on that score. Larkin Chase also was about average in the amount of time residents got with physical therapists, and it bested the state and national averages in terms of daily time devoted by LPNs and LVNs (licensed practical nurses, licensed vocational nurses). But residents here got less time with certified nursing assistants and, more significantly, less time with registered nurses. (Larkin Chase got a 2-star rating for the RN category in particular.)
Some Good Numbers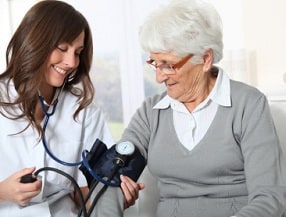 Medicare's quality measures are statistical gauges of the type and amount of care residents receive. Larkin Chase's score for quality measures was three stars, or average. In fairness, we think the detailed stats suggest that it might have deserved four stars.
Larkin Chase had better statistical scores than the Maryland and U.S. averages for seven out of eight categories measured for short-stay residents. Notably, the rate of pressure ulcers among these residents was only half as high as the state and national averages. Larkin Chase had an above-average rate of successful discharges, and its former short-stay residents were less likely to need rehospitalization, and far less likely to need to make a visit to an emergency room.
Of 15 measured categories for long-stay residents, Larkin Chase scored better than the Maryland and U.S. averages in nine and was about even with those averages in three others. The long-stay residents here were less likely to acquire urinary tract infections; about half as likely to lose too much weight, or report having serious pain; and less than a fifth as likely to have depressive symptoms.
These very good stats counterbalance the facility's negative stats: a relatively high rate of pressure ulcers; and, most seriously, the very high usage of physical restraints. Larkin Chase subjected 4.7 percent of its residents to such restraints - almost one in twenty. The Maryland and U.S. averages for using restraints are 0.6 percent and 0.7 percent, respectively. Long-stay residents at Larkin Chase were about eight times more likely to be subjected to physical restraints than the state average. There can be good reasons for using physical restraints, but there is no justification for using them in excess.
Still, the whole set of quality measure stats shows that Larkin Chase was better than the Maryland and U.S. averages most of the time.
Awful Medicare Inspections
But apart from the statistics, Larkin Chase has some other bad spots on its record, including a complaint inspection in July 2016. The previous March, a resident alleged that a staffer "beat him up." A subsequent investigation "supported the allegation." The staffer, a geriatric nursing assistant, was fired. But the facility did not report the incident to the Maryland Board of Nursing as it was supposed to do. (How Medicare found out about the incident to investigate it, we don't know.)
This Genesis facility also got a federal fine relatively recently. Rarely do we see cases of nursing homes receiving these fines, so every such case stands out. In 2014 Larkin Chase received a federal fine of $5,818, the reason not specified by Medicare. That fine may not sound very high, but any fine at all is noteworthy. Think of how many drivers break the speed limit, and how many get ticketed. You have to be going pretty fast to get caught.
Maryland Nursing Home Lawyer
Have you or someone you love suffered harm (or killed) in a Genesis nursing home? This particularly nursing home is a very good facility. But even good nursing homes can make fatal errors. If you think you may have a claim, call our nursing home lawyers at Miller & Zois today at (800) 553-8082 or get a FREE no obligation case review.
More Information
Look at nursing home lawsuits filed in Maryland in 2016. You will see 5-star nursing homes as the defendants in elder negligence. But what you mostly see is a lot of very poorly rated nursing homes getting sued.
We deep dive into every Maryland nursing homes like we did for this facility.
Call our Baltimore nursing home attorneys today at (800) 553-8082 or get a FREE online case review. We are available 24 hours a day to help you get the compensation and justice you deserve.
1Vital Statistics
Number of Beds:
120 certified beds

Beds in the nursing home that have been approved by the federal government to participate in Medicare or Medicaid.
Accepts:
Medicare and Medicaid

Shows if the nursing home participates in the Medicare, Medicaid, or both.
2Key Ratings
Star Rating Summary
Overall Rating
Much Above Average
Health Inspection

Medicare assigns the star rating based on a nursing home's weighted score from recent health inspections. More stars means fewer health risks

Above Average
Staffing

Medicare assigns the star rating based on the nursing home's staffing hours for Registered Nurses (RNs), Licensed Practice Nurses (LPNs), Licensed Vocational Nurses (LVNs), and Nurse aides. More stars means a better level of staffing per nursing home resident

Below Average
RN Staffing
Below Average
Quality Measures

Medicare assigns the star rating based on data from a select set of clinical data measures. More stars means better quality of care

Much Above Average
3Key Short Stay Statistics
Description
Larkin Chase Center
Maryland
Average
Percent of short-stay residents who self-report moderate to severe pain
Lower percentages are better.
5.9%
10.4%
Percentage of SNF residents with pressure ulcers that are new or worsened
Lower percentages are better.
1.6%
Not Available
Percent of short-stay residents assessed and given, appropriately, the seasonal influenza vaccine
Higher percentages are better.
95.6%
85.3%
Percent of short-stay residents assessed and given, appropriately, the pneumococcal vaccine
Higher percentages are better.
99.0%
84.0%
Percentage of short-stay residents who got antipsychotic medication for the first time
Lower percentages are better.
0.5%
1.7%
4Key Long Stay Statistics
Description
Larkin Chase Center
Maryland
Average
Percent of long-stay residents experiencing one or more falls with major injury
Lower percentages are better.
1.1%
2.7%
Percent of long-stay residents with a urinary tract infection
Lower percentages are better.
5.1%
2.5%
Percent of long-stay residents who self-report moderate to severe pain
Lower percentages are better.
1.6%
5.4%
Percent of long-stay high-risk residents with pressure ulcers
Lower percentages are better.
11.1%
8.8%
Percent of long-stay low-risk residents who lose control of their bowels or bladder
Lower percentages are better.
71.8%
62.3%
Percent of long-stay residents who have or had a catheter inserted and left in their bladder
Lower percentages are better.
2.4%
1.7%
Percent of long-stay residents who were physically restrained
Lower percentages are better.
0.0%
0.2%
Percentage of long-stay residents whose ability to move independently worsened
Lower percentages are better.
20.6%
22.5%
Percent of long-stay residents whose need for help with daily activities has increased
Lower percentages are better.
11.2%
18.0%
Percent of long-stay residents who lose too much weight
Lower percentages are better.
6.7%
5.8%
Percent of long-stay residents who have depressive symptoms
Lower percentages are better.
0.0%
3.9%
Percentage of long-stay residents who received an antianxiety or hypnotic medication
Lower percentages are better.
8.7%
16.2%
Percent of long-stay residents assessed and given, appropriately, the seasonal influenza vaccine
Higher percentages are better.
99.0%
96.7%
Percent of long-stay residents assessed and given, appropriately, the pneumococcal vaccine
Higher percentages are better.
99.5%
94.1%
Percent of long-stay residents who received an antipsychotic medication
Lower percentages are better.
7.8%
12.4%
5Inspection Summary
Date of standard health inspection:11/01/2018
Total number of health deficiencies:8
Average number of health deficiencies in Maryland:14.9