Manor Care Health Services - Largo
600 LARGO ROAD
LARGO, MD 20774
(301) 350-5555
Basic Profile
Located in Prince George's County, Maryland
For-profit corporation owned by ManorCare
Certified beds: 130
Last Medicare rating: 4 stars
Overview
Located in Largo, Maryland, ManorCare - Largo is a for-profit facility with 130 certified beds. Its service offerings include post-hospital care, independent and assisted living, rehabilitation, chronic illness care, dementia care, and memory services.
This ManorCare facility is somewhat larger, in terms of resident population, than the state and national averages: at last count it had 125 residents, versus the Maryland average of 107.4, and the U.S. average of 86.1.
For some odd reason, Medicare gives this facility's location as Glenarden, a town a bit north of Largo. But, no, ManorCare - Largo is in Largo. This ManorCare facility is a unit of HCR ManorCare, which in turn consists of Heartland Health Care and ManorCare Health Services. The combined entity operates over 250 facilities nationally. ManorCare Health Services has a very strong presence in Baltimore and elsewhere in Maryland, including Bethesda, Chevy Chase, and Towson.
Like most of these big chains, our nursing home lawyers are unimpressed with ManorCare. While this facility is far from perfect, this is a four-star facility according ot Medicare. We think, given the quality of nursing home care in this country, above average means average. But with one caveat. This assessment takes the quality measures at face value. Quality measures is what elevated ManorCare Largo. This seems like the easily part of the inspection for big sophisticated nursing home can manipulate (much like smart law schools manipulate the rankings). To be clear, we have zero evidence of this with ManorCare on any other facility. But it always makes you wonder when you see the big chain nursing home struggling at everything except these quality measures.
Inspection was not Great
The latest standard Medicare survey, in August of 2016, included the pro forma health inspection, which found a total of 11 deficiencies at this facility. The Maryland statewide average is 11.5 deficiencies, the U.S. average 7.2. ManorCare - Largo got a 3-star rating (average) for the health inspection.
Staffing is Below Average
ManorCare - Largo did less well in the staffing category, receiving a 2-star (below average) Medicare rating. This is classic ManorCare. These nursing homes really seem to shoot for average staffing but sometimes come up a little short. One thing is for sure is that there is an inverse relationship between the level of staffing the chance of a nursing home lawsuit being filed against the facility.
The amount of time residents saw an RN each day was flat-out average (slightly below the state average, a tad above the U.S. average), and this facility got a 4-star rating for RN care in general (which runs against the "they are trying to cut costs at all costs" theory). Likewise, residents' time with LPNs and LVNs (licensed practical nurses, licensed vocational nurses) and physical therapists was about the norm. Only in the category of time spent by certified nursing assistants was this facility below average, although significantly so (about an hour less per day).
Get Well, go Home
Nonetheless, that 2-star staff managed to deliver ostensible 5-star care. The top 5-star rating that ManorCare - Largo received for quality measures begins with its excellent performance with respect to short-stay residents. This ManorCare facility beat the Maryland and U.S. averages in seven out of nine measured categories.
"Our clinical and therapy teams are experienced in providing specialized care focused on your needs, interests and ability. This commitment results in a smoother and safer transition throughout your recuperation." So says the website for this facility.
We note that they talk about recuperation - as in, getting better and then checking out. In fact, the Medicare statistical picture of ManorCare - Largo is one of a facility that is doing well at the job of helping temporary residents get well and go home. The rate of successful discharges here was 71.1 percent, a good stride ahead of the Maryland and U.S. averages (59.3 percent and 56.9 percent, respectively). Short-stay residents here also had much success in improving their functionality: 76.1 percent at this facility, versus 64.6 percent at homes statewide, 63.3 percent nationally.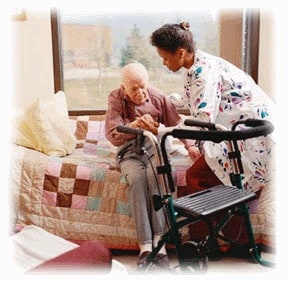 The most striking stat for short-stay residents was their reporting of pain: only 2.1 percent of these ManorCare residents reported having it - a minuscule number compared with the Maryland and U.S. averages (13.8 percent and 16.4 percent, respectively).
The quality measure stats for ManorCare - Largo's long-stay residents were mostly terrific. There was a slightly above-average tendency among these residents to have issues with pressure ulcers (bed sores) and incontinence, but in most other categories these residents have been faring quite well.
Almost none were in serious pain (0.6 percent, a tenth of the Maryland average); few had urinary tract infections (1.4 percent, a third of the state average). Very few were depressed (0.7 percent, about a seventh of the Maryland average), and these long-term residents were much less likely than average to need antianxiety or antipsychotic meds. They suffered fewer injurious falls than average, and none of them were subjected to physical restraints. They all got pneumonia shots.
ManorCare - Largo Competitors (within 2 miles)
ManorCare - Largo has no competitors within two miles. However, compared with the nearest three nursing homes in the area, ManorCare - Largo does comparatively well. For instance, all four of these facilities got five stars for quality measures, an extremely significant indicator of performance.
All told, ManorCare - Largo falls right about in the middle of this sampling of four facilities, with an above-average 4-star star overall rating from Medicare: the same as Villa Rosa Nursing and Rehabilitation, LLC, in Mitchellville, which got very comparable Medicare scores across the board. ManorCare - Largo did better in the Medicare ratings than Forestville Health & Rehabilitation Center, in Forestville, which got an overall 3-star Medicare rating. Collington Episcopal Life Care, in Mitchellville, got not only the five stars for quality measures, but a 5-star rating overall: exceptional scores anywhere.
Prince George's County Nursing Home Lawyer
Has a ManorCare nursing home made an error that ended in tragedy? We can help navigate Prince George's legal system, give you your legal options. We fight for justice and compensation for you. Our legal system and a Prince George's County jury will hold a nursing home accountable if the facility does not make the settlement offer that justice demands. Call our nursing home lawyers at Miller & Zois today at (800) 553-8082 or get a FREE no obligation case review.
More Information
1Vital Statistics
Number of Beds:
130 certified beds

Beds in the nursing home that have been approved by the federal government to participate in Medicare or Medicaid.
Accepts:
Medicare and Medicaid

Shows if the nursing home participates in the Medicare, Medicaid, or both.
2Key Ratings
Star Rating Summary
Overall Rating
Above Average
Health Inspection

Medicare assigns the star rating based on a nursing home's weighted score from recent health inspections. More stars means fewer health risks

Above Average
Staffing

Medicare assigns the star rating based on the nursing home's staffing hours for Registered Nurses (RNs), Licensed Practice Nurses (LPNs), Licensed Vocational Nurses (LVNs), and Nurse aides. More stars means a better level of staffing per nursing home resident

Average
RN Staffing
Above Average
Quality Measures

Medicare assigns the star rating based on data from a select set of clinical data measures. More stars means better quality of care

Above Average
3Key Short Stay Statistics
Description
Largo Nursing And Rehabiliation Center
Maryland
Average
Percent of short-stay residents who self-report moderate to severe pain
Lower percentages are better.
3.3%
10.4%
Percentage of SNF residents with pressure ulcers that are new or worsened
Lower percentages are better.
1.1%
Not Available
Percent of short-stay residents assessed and given, appropriately, the seasonal influenza vaccine
Higher percentages are better.
88.9%
85.3%
Percent of short-stay residents assessed and given, appropriately, the pneumococcal vaccine
Higher percentages are better.
97.3%
84.0%
Percentage of short-stay residents who got antipsychotic medication for the first time
Lower percentages are better.
2.5%
1.7%
4Key Long Stay Statistics
Description
Largo Nursing And Rehabiliation Center
Maryland
Average
Percent of long-stay residents experiencing one or more falls with major injury
Lower percentages are better.
0.3%
2.7%
Percent of long-stay residents with a urinary tract infection
Lower percentages are better.
0.5%
2.5%
Percent of long-stay residents who self-report moderate to severe pain
Lower percentages are better.
0.0%
5.4%
Percent of long-stay high-risk residents with pressure ulcers
Lower percentages are better.
9.3%
8.8%
Percent of long-stay low-risk residents who lose control of their bowels or bladder
Lower percentages are better.
92.3%
62.3%
Percent of long-stay residents who have or had a catheter inserted and left in their bladder
Lower percentages are better.
0.2%
1.7%
Percent of long-stay residents who were physically restrained
Lower percentages are better.
0.0%
0.2%
Percentage of long-stay residents whose ability to move independently worsened
Lower percentages are better.
19.0%
22.5%
Percent of long-stay residents whose need for help with daily activities has increased
Lower percentages are better.
22.8%
18.0%
Percent of long-stay residents who lose too much weight
Lower percentages are better.
4.5%
5.8%
Percent of long-stay residents who have depressive symptoms
Lower percentages are better.
0.0%
3.9%
Percentage of long-stay residents who received an antianxiety or hypnotic medication
Lower percentages are better.
8.4%
16.2%
Percent of long-stay residents assessed and given, appropriately, the seasonal influenza vaccine
Higher percentages are better.
98.0%
96.7%
Percent of long-stay residents assessed and given, appropriately, the pneumococcal vaccine
Higher percentages are better.
95.9%
94.1%
Percent of long-stay residents who received an antipsychotic medication
Lower percentages are better.
6.8%
12.4%
5Inspection Summary
Date of standard health inspection:02/26/2019
Total number of health deficiencies:7
Average number of health deficiencies in Maryland:14.9