Crofton Convalescent Center
2131 DAVIDSONVILLE ROAD
CROFTON, MD 21114
(410) 721-1000
Basic Profile
Located in Anne Arundel County, Maryland
For-profit corporation
Certified beds: 153
Last Medicare rating: 5 stars
Crofton Convalescent Center is a privately owned facility that opened in 1979. It has 170 certified beds (making it much larger than average) and offers both short-term and long-term care services, plus a pulmonary rehab program. Located in the town of Crofton, this facility also goes by the more modern name of Crofton Care and Rehabilitation Center.
"We develop an interdisciplinary and personalized plan of care that puts every resident on the path to better health," says Crofton Convalescent Center on its website. "Our holistic approach encompasses the necessary medical and nursing care needed to heal, the restorative benefits of rehabilitation therapies, and many rewarding activities that culminate to support mind, body, and spirit."
Many nursing homes make such positive general claims. In this case, Crofton modestly forgot to mention the extraordinary honor it received in 2009. The Maryland Health Care Commission produces an annual survey of the families of Maryland nursing homes residents. In MHCC's "2009 Maryland Nursing Facility Family Survey," Crofton was the absolute star. The surveyors asked: "If someone needed nursing home care, would you recommend this nursing home to them?" The response: 100 percent said they would. This survey rated Crofton tops in every measured category: staff and administration; care provided to residents; food and meals; autonomy and resident rights; and physical aspects of the nursing home. Crofton also got the highest overall rating. We are nursing home lawyers who filed lawsuits against these facilities. We look at all of these places with a crooked lens. But Crofton Convalescent Center appears to be a quality nursing home and, as you will see below, it blows away it competition.
Nearly Perfect
Crofton (which also goes by the name of Crofton Care & Rehabilitation Center) also got Medicare's highest overall rating - 5 stars - in the most recent standard survey. It is rather odd, then, that in the same Medicare survey this facility should receive only three stars for staffing (average) and two stars (below average) for quality measures. A closer look at the Medicare data, however, suggests that for quality measures, at least, Crofton received a lower score than it deserved.
The 2015 health inspection, for which Crofton also got five stars, turned up only a single deficiency at this facility, in contrast to the Maryland average of 11 deficiencies, and the U.S. average of 7.1. Crofton has had no complaint inspections since at least September 2015, nor has it had any federal fines or payment denials in the past three years.
These figures are the more impressive, given this facility's size. With a total resident count of 160 in the last official census, Crofton is considerably bigger than the Maryland average (107.5 residents) and the national average (86.2 residents). More residents means more of everything: not only more people for whom to care, but more meals to serve, more facilities to maintain, more details to track.
Crofton's 3-star Medicare rating on staffing stands at odds with this facility's view of itself. Says the Crofton website, "our staff is very much like a family. Many of our staff have been with us for years, some since inception. [And Crofton has been around since 1979!] All are seasoned, licensed clinicians with an impeccable attention to detail and a goal to help our residents realize their highest potential."
But in terms of daily nursing time per resident, Crofton was found by Medicare to be very closely comparable to the Maryland and U.S. averages for RNs (for which it got a 4-star rating) and for total time spent by all nursing personnel. It was slightly lower than the state and national averages in the time spent daily by LPNs and LVNs (licensed practical nurses, licensed vocational nurses) and certified nursing assistants, but a bit above average in physical therapist time per day.
Odd Numbers
Crofton got a below-average 2-star rating for quality measures - even though it scored above average in most of the categories measured by Medicare. There seems to be something wrong with somebody's arithmetic.
With respect to short-stay residents, Crofton scored better than the Maryland and U.S. averages in seven of nine measured categories. For short-stayers, Crofton was marginally better than the state and U.S. averages in five categories, including its higher rate of successful discharges and in the lower rates at which its former residents required rehospitalization or an ER visit. Crofton was clearly better than on giving flu and pneumonia shots to short-termers, reaching about nine in ten (versus the Maryland and U.S. averages of about eight in ten).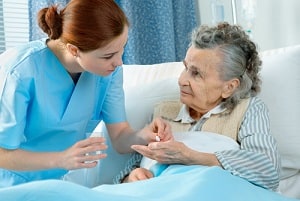 On the minus side, Crofton's short-stay residents were far more likely to report having serious pain (26.4 percent here, versus the Maryland average of 14.2 percent, the national average 16.9 percent). Crofton short-termers also were three times more likely than average to have pressure ulcers: 3.9 percent, versus the state and U.S. averages of 1.3 percent.
Ups and Downs
For long-stay residents, Crofton outscored the Maryland and U.S. averages in seven measured categories and was about equal to them in two categories.
In terms of depression rates among long-termers, Crofton's rate was an excellent 1.7 percent - about a third of the Maryland and U.S. rates of 4.8 percent and 5.4 percent, respectively. In the use of physical restraints, Crofton was perfect, with zero percent usage (versus Maryland's 0.6 percent and the U.S. 0.8 percent averages). Crofton was also less likely than average (which is good) to administer antianxiety and antipsychotic meds to long-stayers. Its rate of resident falls with injury was only about half the Maryland and U.S. averages, and its long-termers were less likely to report having serious pain (4 percent at Crofton, versus 6.4 percent statewide, 8.2 percent nationally).
Crofton was very slightly below the Maryland and U.S. averages in the rates at which long-stay residents experienced serious weight loss, or a decline in their ability to perform daily activities independently, and in their rate of ongoing catheterization.
With long-term residents, Crofton again had a big problem with pressure ulcers (bed sores), its 13.4 percent rate about twice the averages for Maryland (6.8 percent) and the U.S. (5.8 percent). Its incontinence rates were sky-high at 83.9 percent, versus the averages of 58 percent for Maryland, 46.6 percent nationally. Crofton's long-termers also were more likely to acquire urinary tract infections (7.1 percent, versus 4.5 percent for Maryland, 4.8 percent for the U.S.).
By Medicare's scoring, Crofton was better than average in most categories for short-stay residents, and average or better for most long-stayer categories. This facility clearly is having issues with pressure ulcers and incontinence; on the other hand, it also had some exceptionally good metrics, including its successful discharge rate and its very low percentage of residents with symptoms of depression. So why did Crofton get only two stars for quality measures? Based on the stats, it would seem to deserve at least three stars.
Then again, Medicare did give Crofton 5 stars overall. And unless this facility has changed very much from what it was in 2009, that 5-star rating would seem to be a fair one. Granted, it was seven years ago as of this writing, but a facility that is recommended by 100 percent of its clientele probably knows its business.
Crofton Competitors (within 2 miles):
Crofton Convalescent Center is the only nursing home in Crofton. There are three very unimpressive nursing homes nearby.
Waugh Chapel Center: Only about half a mile apart down busy Route 3 (though Waugh Chapel is located in Gambrills, Maryland), these two facilities are many miles apart in terms of their overall Medicare ratings. Crofton got five stars (the best), and Waugh Chapel got 1 star (the worst). Oddly, the two facilities are not that far apart in terms of quality measures: Crofton got two stars, Waugh Chapel 1 star.
Larkin Chase Center: Another extremely poorly rated nursing home that is 8.1 miles away (a 14 minute) from Crofton Care & Rehabilitation Center. This facility, located in Bowie, has a 1-star rating from Medicare.
Fairfield Nursing & Rehabilitation Center: It sounds like we are just cynical here, right? But it is yet another competitor nursing home that has the lowest possible overall rating. Fairfield is located in Crownsville 8.7 miles (a 15-minute drive) from Crofton Care & Rehabilitation Center.
So for any criticisms we have of Crofton Convalescent, it looks like the Johns Hopkins of nursing homes with this group.
Crofton Nursing Home Lawyer
This is a good nursing home. But good nursing homes make mistakes, too. Do you have a possible nursing home lawsuit against this Crofton nursing home or any senior care facility or hospital? Call Miller & Zois today at (800) 553-8082 or get an easy, free no obligation case review. We can counsel you and your family on your options for settlement or a lawsuit and how to get the compensation and justice you deserve for the unnecessary harm that has been done.
More Nursing Home Information
1Vital Statistics
Number of Beds:
180 certified beds

Beds in the nursing home that have been approved by the federal government to participate in Medicare or Medicaid.
Accepts:
Medicare and Medicaid

Shows if the nursing home participates in the Medicare, Medicaid, or both.
2Key Ratings
Star Rating Summary
Overall Rating
Much Above Average
Health Inspection

Medicare assigns the star rating based on a nursing home's weighted score from recent health inspections. More stars means fewer health risks

Much Above Average
Staffing

Medicare assigns the star rating based on the nursing home's staffing hours for Registered Nurses (RNs), Licensed Practice Nurses (LPNs), Licensed Vocational Nurses (LVNs), and Nurse aides. More stars means a better level of staffing per nursing home resident

Average
RN Staffing
Above Average
Quality Measures

Medicare assigns the star rating based on data from a select set of clinical data measures. More stars means better quality of care

Much Above Average
3Key Short Stay Statistics
Description
Crofton Convalescent Center
Maryland
Average
Percent of short-stay residents who self-report moderate to severe pain
Lower percentages are better.
9.3%
10.4%
Percentage of SNF residents with pressure ulcers that are new or worsened
Lower percentages are better.
1.8%
Not Available
Percent of short-stay residents assessed and given, appropriately, the seasonal influenza vaccine
Higher percentages are better.
94.9%
85.3%
Percent of short-stay residents assessed and given, appropriately, the pneumococcal vaccine
Higher percentages are better.
96.7%
84.0%
Percentage of short-stay residents who got antipsychotic medication for the first time
Lower percentages are better.
1.0%
1.7%
4Key Long Stay Statistics
Description
Crofton Convalescent Center
Maryland
Average
Percent of long-stay residents experiencing one or more falls with major injury
Lower percentages are better.
1.0%
2.7%
Percent of long-stay residents with a urinary tract infection
Lower percentages are better.
2.6%
2.5%
Percent of long-stay residents who self-report moderate to severe pain
Lower percentages are better.
2.2%
5.4%
Percent of long-stay high-risk residents with pressure ulcers
Lower percentages are better.
4.9%
8.8%
Percent of long-stay low-risk residents who lose control of their bowels or bladder
Lower percentages are better.
90.8%
62.3%
Percent of long-stay residents who have or had a catheter inserted and left in their bladder
Lower percentages are better.
0.0%
1.7%
Percent of long-stay residents who were physically restrained
Lower percentages are better.
0.0%
0.2%
Percentage of long-stay residents whose ability to move independently worsened
Lower percentages are better.
22.3%
22.5%
Percent of long-stay residents whose need for help with daily activities has increased
Lower percentages are better.
10.6%
18.0%
Percent of long-stay residents who lose too much weight
Lower percentages are better.
2.3%
5.8%
Percent of long-stay residents who have depressive symptoms
Lower percentages are better.
0.0%
3.9%
Percentage of long-stay residents who received an antianxiety or hypnotic medication
Lower percentages are better.
8.5%
16.2%
Percent of long-stay residents assessed and given, appropriately, the seasonal influenza vaccine
Higher percentages are better.
99.0%
96.7%
Percent of long-stay residents assessed and given, appropriately, the pneumococcal vaccine
Higher percentages are better.
95.1%
94.1%
Percent of long-stay residents who received an antipsychotic medication
Lower percentages are better.
10.1%
12.4%
5Inspection Summary
Date of standard health inspection:03/25/2019
Total number of health deficiencies:4
Average number of health deficiencies in Maryland:14.9