Corsica Hills Center
205 ARMSTRONG AVENUE P.O. BOX 50
CENTREVILLE, MD 21617
(410) 758-2323
Basic Profile:
Located in Queen Anne's County, Maryland
For-profit corporation
Certified beds: 120
Last Medicare rating: 4 stars
Corsica Hills Center is located in Centreville, Maryland, a really nice town not too far from the Bay Bridge in Queen Anne's County. This nursing home provides short and long-term nursing and rehabilitation services. It also offer dementia care.
Corsica Hills Center can make legitimate claim to some past glories, having won a prestigious national award in 2011. But that was a long time ago. Based on its most recent Medicare survey, this facility has had some issues - including three complaint inspections and a federal fine. When you are getting a federal fine, it is just not good.
That latest Medicare survey gave Corsica Hills an overall above-average rating of 4 stars; but within that overall rating are 3-star ratings for its health inspection and quality measures. Like many homes east of the Bay Bridge, this facility's picture is rather hazy.
Genesis Unit
The American Health Care Association gives out annual awards to care-giving facilities across the U.S.: Olympics-style gold, silver, and bronze. In 2011, Corsica Hills received one of AHCA's silver awards. At this time Corsica Hills was under the new ownership of Genesis HealthCare, which acquired the facility the same year.
New ownership always can portend change, for better or worse. Let's just say our lawyers are very family with Genesis HealthCare, the biggest nursing home provider in the country. Genesis is the frequent subject of nursing home lawsuit around the country. In fact, the very first malpractice lawsuit file in 2016 was against a Genesis facility.
Corsica Hills has had its own share of issues: In July, 2015, it received a federal fine of $134,030. Medicare did not provide any detail about the nature of this fine or what it was for; but federal fines are rare, and always a red flag. And having three separate complaint inspections over a five-month period is not likely to earn this facility another silver medal this year.
In fairness to this facility, all three of these complaint inspections were small in scope: one inspection concerned only two items, the other two involving only one item each. For all items, Medicare found "minimal harm or potential for actual harm."
An October, 2015 complaint inspection found that this facility failed to maintain an effective accounting system for one resident's money, and it was slow to make a final accounting after a resident's death. In its complaint report of March, 2016, Medicare again cited the facility for being too slow: a resident asked to be moved to a wheelchair, and was still waiting for this to happen five hours later.
More disturbing were the findings of a complaint inspection in January, 2016, in which Medicare ruled that the facility staff failed to report an allegation of abuse to a resident, and failed to investigate the allegation thoroughly. What's troubling is that the staffer accused of abusing the resident was the Corsica Hills director of nursing.
Competition
Let's take an intermission from the nuts and bolts of Corsica Hills and look at the competition. There is not much close. If you want to be in Centerville, you do not have a lot of good options.
Below are nursing homes nearest to this Centerville nursing home and the driving time and distance from it. As nursing home lawyers, we are quick to find fault with these senior care facilities because sometimes the care is just awful even in well-rated nursing homes. But the competition in this area is pretty good with one notable exception:
Near Average
This facility's last standard Medicare health inspection, in November, 2015, identified a total of 12 deficiencies, exceeding the averages for Maryland (11) and the U.S. overall (7.1). Corsica Hills had deficiencies in seven out of eight measured categories, including three deficiencies for quality care and two for mistreatment. (For the full Medicare report, click here.)
Medicare gave this facility 4 stars overall for nurse staffing -- a bit curious, since Corsica Hills was almost exactly comparable with the Maryland and U.S. averages on the amount of nursing time residents received daily. In fact it was low in terms of time by LPNs and LVNs (licensed practical nurses, licensed vocational nurses). But it received 4 stars for RN staffing, which must have contributed to its 4 stars overall.
Corsica Hills got 3 stars for quality measures, which are sort of numerical trackings of the level of care at a facility. Medicare breaks down the stats for short-stay and long-stay residents. (This facility's total resident population of 103 fell right in the middle of the Maryland and U.S. averages.)
Good and Mixed
On balance, Corsica Hills scored well in terms of short-stay residents, doing better than the Maryland and U.S. averages in five of nine measured categories. The incidence of pressure ulcers was only about half as high for this facility's residents as the state and national averages. Corsica Hills was significantly more likely to vaccinate against flu and pneumonia. Perhaps most positively, the rate of successful discharges at Corsica Hills, at 67.4 percent, was a good notch better than the averages for Maryland (59.1 percent) and the U.S. (55 percent). Former residents of Corsica Hills also were less likely than average to require rehospitalization.
For short-stayers, Corsica Hills had only two below-average scores: it was slightly below the state and U.S. averages in terms of residents' improvement in functionality. However, it was almost three times higher than average in its use of antipsychotic meds.
For long-stay residents: Corsica Hills did better than average in six categories, worse than average in six categories, and about the same as the Maryland and U.S. averages in three other categories.
This facility's long-stay residents were less likely to report having serious pain (4.8 percent here, versus the Maryland average of 6.4 percent, the U.S. average 8.2 percent). Corsica Hills was modestly above average at helping these residents maintain their mobility, and at keeping them free of bed sore issues. In the usage of physical restraints, this facility got a perfect score of zero (none used). The Maryland and U.S. averages for using this last-resort measure are very small (0.6 percent and 0.8 percent, respectively), but zero usage is still much preferable.
Corsica Hills also had some very mixed scores for long-stay residents. Although it was better than average in preventing urinary tract infections, it spiked very high in terms of incontinence rates: 75.9 percent, versus 58 percent on average for Maryland, 46.6 on average nationally. Corsica Hills was about on par with the state and the U.S. in terms of using antipsychotic meds, and it was distinctly better than average in using fewer antianxiety meds. On the other hand, this facility's long-termers have a very high rate of depression: 9.6 percent of them had depressive symptoms - higher than the national average (5.4 percent) and twice the Maryland average (4.8 percent). Long-termers at Corsica Hills also were more likely than average to need help with their daily activities, and they were more likely to be injured by a fall.
The parent company of Corsica Hills, Genesis HealthCare, doesn't say a lot about this facility. It does say on its website that "Corsica Hills Center… is the only facility of its kind in Queen Anne's County, Maryland." Whether for good or ill, there's only one of it.
Eastern Shore Nursing Home Lawyer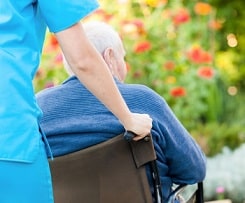 Do you have a possible nursing home lawsuit against this Centerville nursing home or any other senior care facility in Maryland? Call our nursing home attorneys at Miller & Zois today at (800) 553-8082 or get an easy, free no obligation case review. We can counsel you and your family on your options for settlement or a lawsuit and how to get the compensation and justice you deserve for the unnecessary harm that has been done.
More Information
Our lawyers conduct a similar analysis of each nursing homes in Maryland
Value of your potential lawsuit? Learn about how these claims are evaluated by lawyer, insurance companies, and juries.
Call our elder abuse and neglect lawyers today at (800) 553-8082 or get a free online case review if you believe you may have a potential nursing home neglect or abuse lawsuit in Maryland.
1Vital Statistics
Number of Beds:
120 certified beds

Beds in the nursing home that have been approved by the federal government to participate in Medicare or Medicaid.
Accepts:
Medicare and Medicaid

Shows if the nursing home participates in the Medicare, Medicaid, or both.
2Key Ratings
Star Rating Summary
Overall Rating
Above Average
Health Inspection

Medicare assigns the star rating based on a nursing home's weighted score from recent health inspections. More stars means fewer health risks

Average
Staffing

Medicare assigns the star rating based on the nursing home's staffing hours for Registered Nurses (RNs), Licensed Practice Nurses (LPNs), Licensed Vocational Nurses (LVNs), and Nurse aides. More stars means a better level of staffing per nursing home resident

Average
RN Staffing
Average
Quality Measures

Medicare assigns the star rating based on data from a select set of clinical data measures. More stars means better quality of care

Much Above Average
3Key Short Stay Statistics
Description
Corsica Hills Center
Maryland
Average
Percent of short-stay residents who self-report moderate to severe pain
Lower percentages are better.
14.3%
10.4%
Percentage of SNF residents with pressure ulcers that are new or worsened
Lower percentages are better.
2.4%
Not Available
Percent of short-stay residents assessed and given, appropriately, the seasonal influenza vaccine
Higher percentages are better.
90.1%
85.3%
Percent of short-stay residents assessed and given, appropriately, the pneumococcal vaccine
Higher percentages are better.
88.3%
84.0%
Percentage of short-stay residents who got antipsychotic medication for the first time
Lower percentages are better.
0.6%
1.7%
4Key Long Stay Statistics
Description
Corsica Hills Center
Maryland
Average
Percent of long-stay residents experiencing one or more falls with major injury
Lower percentages are better.
2.1%
2.7%
Percent of long-stay residents with a urinary tract infection
Lower percentages are better.
0.3%
2.5%
Percent of long-stay residents who self-report moderate to severe pain
Lower percentages are better.
5.7%
5.4%
Percent of long-stay high-risk residents with pressure ulcers
Lower percentages are better.
7.5%
8.8%
Percent of long-stay low-risk residents who lose control of their bowels or bladder
Lower percentages are better.
64.8%
62.3%
Percent of long-stay residents who have or had a catheter inserted and left in their bladder
Lower percentages are better.
1.3%
1.7%
Percent of long-stay residents who were physically restrained
Lower percentages are better.
0.0%
0.2%
Percentage of long-stay residents whose ability to move independently worsened
Lower percentages are better.
13.4%
22.5%
Percent of long-stay residents whose need for help with daily activities has increased
Lower percentages are better.
21.2%
18.0%
Percent of long-stay residents who lose too much weight
Lower percentages are better.
7.6%
5.8%
Percent of long-stay residents who have depressive symptoms
Lower percentages are better.
2.8%
3.9%
Percentage of long-stay residents who received an antianxiety or hypnotic medication
Lower percentages are better.
26.6%
16.2%
Percent of long-stay residents assessed and given, appropriately, the seasonal influenza vaccine
Higher percentages are better.
96.4%
96.7%
Percent of long-stay residents assessed and given, appropriately, the pneumococcal vaccine
Higher percentages are better.
93.4%
94.1%
Percent of long-stay residents who received an antipsychotic medication
Lower percentages are better.
14.7%
12.4%
5Inspection Summary
Date of standard health inspection:01/19/2018
Total number of health deficiencies:9
Average number of health deficiencies in Maryland:14.9