Heron Point of Chestertown
501 CAMPUS AVENUE
CHESTERTOWN, MD 21620
(410) 778-7300
Hebron Point is a nursing home that sits on 66 acres on the Chester River in Chestertown, Maryland (Kent County). It is owned by Acts Retirement-Life Communities, a non-profit that has been servicing seniors since 1972.
After you cross the Bay Bridge, the quality of nursing homes falls. Heron Point in is a notable exception.
By many measures, Heron Point is at the head of its class - the "deluxe" facility, if the statistical record reflects the reality. Heron Point gets stellar ratings from Medicare: four out of five stars for quality measures (and that's its lowest score), and five-for-five in the categories of health inspections and staffing. Most importantly, its overall rating is five stars.
When Maryland nursing home lawyers bring a lawsuit, often the underlying argument is the nursing home is systemic train wreck. It would be hard to make the same allegation against this nursing home.
Quality
The first striking point about this facility - aside from its beautiful setting on "the unspoiled shoreline of the Chester River" - is its size: a total of 32 residents (with top capacity of 38). (We keep saying, small is at least loosely correlated with better when it comes to Maryland nursing home.) This makes quite a contrast with the national average (86.2) or the Maryland state average (107.5). Its size and its bucolic setting make Heron Point seem not so much a nursing home as a health resort. At any rate, this nonprofit facility appears to emphasize quality over quantity.
Heron Point last had a standard health inspection in 2015, in which inspectors found a total of three deficiencies. In this category, Heron Point came off twice as well as the national average (seven deficiencies) and three times better than the Maryland average (10.6 deficiencies). The number of recent complaint inspections: zero.
All-Star Nursing
Heron Point gets five stars - "much above average" - on nurse staffing. In terms of total licensed nurse staff, per resident, per day, Heron Point scores about the same as the state and national averages (actually Heron Point is a bit higher).
This facility scores lower than the state and national averages on residents' daily time with LPNs and LVNs (licensed practical nurses, licensed vocational nurses), and much lower on physical therapist time (averaging just one minute per resident per day, versus nine for Maryland, six nationally). Usually lower then staffing number leads to nursing home lawsuit because there is not enough people to give care causing mistakes. Our nursing home attorneys think the averages for staffing are too low.
But with Heron, it is hard to argue with their performance. And in the vital category of RN hours per day - that is, how long each resident sees a registered nurse - Heron beats both the state and national averages by several lengths (one hour, 22 minutes, versus 59 minutes for Maryland, 51 nationally).
Well Above Average
In the quality measurements for short-stay residents, Heron Point racks up scores that are in striking contrast to the state and national averages. Heron Point scores about the same as Maryland and the U.S. on rehospitalization rates, successful discharges to the community, and resident reports of pain.
The facility scores significantly below the state and national averages on the percentage of short-stay residents whose functionality improved: 34.9 percent versus 64.8 percent statewide, and 63.3 percent nationally. But there is the distinct possibility that this facility's short-stay residents already enjoyed reasonably good functionality that didn't need improving. You get the benefit of the doubt on these things when you run a good facility.
Heron Point short-stay residents were far more likely to make an emergency room visit than the statewide and national norms (33.3 percent, versus 9.8 percent statewide, 11.5 percent nationally). But in other categories, this facility got perfect scores. Percentage of short-stay residents with new or worsening bed sores: zero. Number of these residents receiving antipsychotic meds: none.
Needless to say, Heron Point beat the state and national averages in both cases. And it by far surpassed both the state and the national averages for protection against pneumonia and flu: while, on average, state and national facilities immunized about four out of five residents, Heron Point vaccinated 98.2 of its short-stay residents for pneumonia, and 100 percent of them for the flu.
Perfect Scores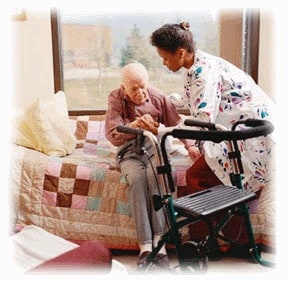 Heron Point's long-stay residents have more health issues than the short-termers. Heron Point scores marginally less well than state and national averages on residents' fall injuries (3.7 percent, versus 2.9 percent statewide, 3.3 percent nationally); urinary tract infections (9.4 percent incidence, versus 4.5 percent and 4.8 percent); pressure ulcers among high-risk residents (10.6 percent incidence, versus 6.8 percent and 5.8 percent); and bowel or bladder control failure (61.9 percent incidence, versus 58.0 percent and 46.6 percent).
Heron Point's scores are roughly comparable to the state and national figures for helping long-stay residents maintain their independence in daily activities; and for administering antianxiety or hypnotic medications.
On the positive side of the ledger, Heron Point beats the state and national averages on maintaining long-stay residents' mobility; on vaccinating against pneumonia; and in resorting less often to antipsychotic meds. In multiple categories, Heron gets perfect scores.
Long-term residents vaccinated against flu: all.
Residents kept on catheters: none.
Physically restrained: none.
Experiencing serious weight loss: none.
Showing symptoms of depression: none.
Again, it goes without saying that Heron Point beat the state and national averages in all of these categories. We are not saying mistakes cannot happen at a place like Heron Point. We see ton of mistakes made by doctors at Johns Hopkins which is one of the greatest hospitals in the history of the world. Good institutions can make awful mistakes. But we are saying that the inspections accurate depict this nursing home, this is a very good facility.
1Vital Statistics
Number of Beds:
38 certified beds

Beds in the nursing home that have been approved by the federal government to participate in Medicare or Medicaid.
Accepts:
Medicare and Medicaid

Shows if the nursing home participates in the Medicare, Medicaid, or both.
2Key Ratings
Star Rating Summary
Overall Rating
Above Average
Health Inspection

Medicare assigns the star rating based on a nursing home's weighted score from recent health inspections. More stars means fewer health risks

Average
Staffing

Medicare assigns the star rating based on the nursing home's staffing hours for Registered Nurses (RNs), Licensed Practice Nurses (LPNs), Licensed Vocational Nurses (LVNs), and Nurse aides. More stars means a better level of staffing per nursing home resident

Much Above Average
RN Staffing
Much Above Average
Quality Measures

Medicare assigns the star rating based on data from a select set of clinical data measures. More stars means better quality of care

Above Average
3Key Short Stay Statistics
Description
Heron Point Of Chestertown
Maryland
Average
Percent of short-stay residents who self-report moderate to severe pain
Lower percentages are better.
18.0%
10.4%
Percentage of SNF residents with pressure ulcers that are new or worsened
Lower percentages are better.
0.0%
Not Available
Percent of short-stay residents assessed and given, appropriately, the seasonal influenza vaccine
Higher percentages are better.
100.0%
85.3%
Percent of short-stay residents assessed and given, appropriately, the pneumococcal vaccine
Higher percentages are better.
100.0%
84.0%
Percentage of short-stay residents who got antipsychotic medication for the first time
Lower percentages are better.
0.0%
1.7%
4Key Long Stay Statistics
Description
Heron Point Of Chestertown
Maryland
Average
Percent of long-stay residents experiencing one or more falls with major injury
Lower percentages are better.
12.7%
2.7%
Percent of long-stay residents with a urinary tract infection
Lower percentages are better.
5.3%
2.5%
Percent of long-stay residents who self-report moderate to severe pain
Lower percentages are better.
6.5%
5.4%
Percent of long-stay high-risk residents with pressure ulcers
Lower percentages are better.
2.6%
8.8%
Percent of long-stay low-risk residents who lose control of their bowels or bladder
Lower percentages are better.
54.5%
62.3%
Percent of long-stay residents who have or had a catheter inserted and left in their bladder
Lower percentages are better.
1.8%
1.7%
Percent of long-stay residents who were physically restrained
Lower percentages are better.
0.7%
0.2%
Percentage of long-stay residents whose ability to move independently worsened
Lower percentages are better.
22.0%
22.5%
Percent of long-stay residents whose need for help with daily activities has increased
Lower percentages are better.
16.4%
18.0%
Percent of long-stay residents who lose too much weight
Lower percentages are better.
3.3%
5.8%
Percent of long-stay residents who have depressive symptoms
Lower percentages are better.
0.0%
3.9%
Percentage of long-stay residents who received an antianxiety or hypnotic medication
Lower percentages are better.
43.5%
16.2%
Percent of long-stay residents assessed and given, appropriately, the seasonal influenza vaccine
Higher percentages are better.
97.1%
96.7%
Percent of long-stay residents assessed and given, appropriately, the pneumococcal vaccine
Higher percentages are better.
100.0%
94.1%
Percent of long-stay residents who received an antipsychotic medication
Lower percentages are better.
11.9%
12.4%
5Inspection Summary
Date of standard health inspection:11/06/2017
Total number of health deficiencies:6
Average number of health deficiencies in Maryland:14.9