Chesapeake Woods Center
525 GLENBURN AVENUE
CAMBRIDGE, MD 21613
(410) 221-1400
Chesapeake Woods Center is a 98-bed skilled nursing care facility in Cambridge, Maryland (Dorchester County). It is owned by Genesis, the biggest nursing home chain in the country and the owner and operator of a lot of subpar nursing homes in Maryland. Nursing home lawyers in Maryland have placed a target on Genesis' back for a good reason: a lot of mistakes occur in their nursing homes that can get people hurt and killed that result in viable lawsuits.
With that backdrop, Chesapeake Woods is actually not bad. In fact, if a nursing home's job is to keep its residents healthy, then Chesapeake Woods Center appears to be doing its job very well. This facility on Maryland's Eastern Shore has excelled the state and national averages, by most recent measures, for both short and long-stay residents.
That's according to Medicare, which gave Chesapeake Woods a top 5-star rating for quality measures in its last standard survey. Although this facility got lower ratings in other categories, Medicare gave it four stars - an above-average rating - overall.
Competition in Cambridge
Before we get into the ratings, let's talk about other nursing homes in Cambridge. But there is not much to talk about because there is not much competition. Another large nursing home chain, Signature HealthCARE, has a mediocre nursing home that is just a stone's throw away on the same street.
That is all there is in Cambridge. There are a few more options in Easton. The Pines Center Genesis Eldercare, yet another below average Genesis owned facility, is a 22-minute drive (15 miles). Another nursing home, Bayleigh Chase, is one block down on the on the same street as the Pines Center. Bayleigh Chase an objectively great nursing home that has gotten excellent reviews.
Five-Star Quality
In terms of resident population (last count: 94), Chesapeake Woods falls right in the middle of the national and Maryland averages (86.2 and 107.5, respectively).
In keeping with that 5-star rating for quality measures, Chesapeake Woods outperformed the state and national averages in six of the nine categories measured for short-stay residents, according to the last Medicare survey.
The short-stayers at this facility had a higher rate of improved functionality; lower rates of rehospitalizations and visits to emergency rooms; and a higher rate of successful discharge into the community. They were a bit less likely to report having significant pain, and they were very unlikely to have bed sore issues (zero percent here, versus state and national averages of 1.3 percent). This nursing home is doing a great job with bedsores. Nursing homes that control bedsores are more likely to focus on the other little things that lead to successful outcomes for residents.
This facility was about average, or slightly below it, on administering flu and pneumonia vaccines. The only notable spike was its higher use of antipsychotic meds (4.9 percent, versus 2.2 percent both statewide and nationally). This always raises a few eyebrows because overly medicated patients are easier to manage and are often given in a nursing home setting with the patient's or the family's consent.
Chesapeake Woods also earned those five stars for quality measures thanks to its metrics on serving long-term residents. Here, Chesapeake Woods scored better than the state and national averages on nine of the fifteen measured categories.
For long-stay residents, Chesapeake Woods was moderately better than the state and national averages on maintaining residents' mobility and limiting the use of antianxiety and antipsychotic meds. Its long-termers were slightly less likely than average to report having serious pain.
Its rate of urinary tract infections was only about half as high as the state and national averages. The depression rate among Chesapeake Woods long-termers was 3.6 percent, a good bit lower than the 4.8 percent Maryland average and 5.4 percent national average. On the incidence of pressure ulcers -- one good gauge for the level of care -- again, Chesapeake Woods did very well in this category, with a pressure ulcer incidence of only 1.3 percent, versus 6.8 percent statewide and 5.8 percent nationally. This facility scored zero percent on using physical restraints - the best number you can get. (The state and national averages for using this last-resort measure were 0.6 percent and 0.8 percent respectively.)
Chesapeake Woods scored right about average in several categories, and markedly below average only on its residents' rate of incontinence: 64.7 percent, versus 58 percent for Maryland and 46.6 percent for the U.S. as a whole.
Otherwise Average
Chesapeake Woods, whose last standard Medicare survey was in July 2015, came in at three stars - average - both on staffing and for its health inspection.
The facility got that average rating on staffing despite the fact that it came in below state and national averages for all five staffing categories in the survey. In the measure of total nursing time per resident per day, Chesapeake Woods residents received over half an hour less time than the state and national averages.
Chesapeake Woods was markedly below average on registered nurse time per resident: 38 minutes a day, versus 59 minutes, on average, for Maryland, and an average of 51 minutes nationally; yet Medicare gave Chesapeake Woods an average 3-star rating for RN staffing. This is classic Genesis: registered nurses are just more expensive. Employees at Chesapeake Woods deserve a lot of credit fighting through poor staffing and keeping quality up.
This facility also was lower in the amount of daily time residents got with certified nursing assistants, and distinctly lower in terms of residents' time with physical therapists (2 minutes a day, versus statewide 8 minutes, nationally 6 minutes) and with LPNs and LVNs (licensed practical nurses, licensed vocational nurses): 31 minutes here, versus 52 minutes statewide, 51 minutes nationally.
In the last standard health inspection, Chesapeake Woods spiked high in the total number of deficiencies: 15, versus an average of 11 for Maryland overall and more than twice the national average of 7.1. This is not a good sign and runs contrary to every good thing we have said about this senior care facility.
On environmental issues, this facility had four deficiencies: the most it had for any category. A related point: Chesapeake Woods had more fire safety deficiencies (6) than the state and national averages (4 and 3.4, respectively). One of the Medicare survey's headings states, "Make sure that the nursing home area is safe, easy to use, clean and comfortable for residents, staff and the public." The July survey did find this facility wanting in some cases. Inspectors found (for example) a refrigerator containing both residents' food items and medications (to which they could have obtained access, apparently); and some of the food items were past their expiration dates or visibly rotting.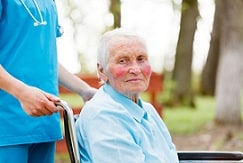 It has had a few reviews from the public, three of which are posted on Caring.com. The first, from 2011, termed Chesapeake Woods a "superb facility," where the reviewer's grandmother resided for three years. "The thing that really blew me away about Chesapeake Woods was [that] the staff would always plan activities for the [residents] and made sure they socialized with each other," the reviewer wrote, adding that "The food was also great." Another reviewer, who also had a grandmother residing at Chesapeake Woods, wrote in 2012 that "It was a very clean center and some of the staff was very delightful." A third review, writing in 2013, felt that one of the managers was rude, and that one of the nurses was overworked. The take home message? It is hard to have a take home message with such a limited amount of reviews. They always seem to be interesting and telling us nothing at the same time. If you focus on the objective data, what you walk away with is that this is a good but not great nursing home.
More Information Cambridge Nursing Home Lawyer
No one should be a victim of nursing house abuse or neglect. If you or someone you love has been harmed in a nursing home, you may have a claim for compensation. Our experienced attorneys have a history of results. To find out what we can do for you, call us today at (800) 553-8082 or get a free online case review.
1Vital Statistics
Number of Beds:
98 certified beds

Beds in the nursing home that have been approved by the federal government to participate in Medicare or Medicaid.
Accepts:
Medicare and Medicaid

Shows if the nursing home participates in the Medicare, Medicaid, or both.
2Key Ratings
Star Rating Summary
Overall Rating
Above Average
Health Inspection

Medicare assigns the star rating based on a nursing home's weighted score from recent health inspections. More stars means fewer health risks

Average
Staffing

Medicare assigns the star rating based on the nursing home's staffing hours for Registered Nurses (RNs), Licensed Practice Nurses (LPNs), Licensed Vocational Nurses (LVNs), and Nurse aides. More stars means a better level of staffing per nursing home resident

Average
RN Staffing
Average
Quality Measures

Medicare assigns the star rating based on data from a select set of clinical data measures. More stars means better quality of care

Much Above Average
3Key Short Stay Statistics
Description
Chesapeake Woods Center
Maryland
Average
Percent of short-stay residents who self-report moderate to severe pain
Lower percentages are better.
16.3%
10.4%
Percentage of SNF residents with pressure ulcers that are new or worsened
Lower percentages are better.
1.7%
Not Available
Percent of short-stay residents assessed and given, appropriately, the seasonal influenza vaccine
Higher percentages are better.
75.0%
85.3%
Percent of short-stay residents assessed and given, appropriately, the pneumococcal vaccine
Higher percentages are better.
67.5%
84.0%
Percentage of short-stay residents who got antipsychotic medication for the first time
Lower percentages are better.
1.2%
1.7%
4Key Long Stay Statistics
Description
Chesapeake Woods Center
Maryland
Average
Percent of long-stay residents experiencing one or more falls with major injury
Lower percentages are better.
0.6%
2.7%
Percent of long-stay residents with a urinary tract infection
Lower percentages are better.
0.6%
2.5%
Percent of long-stay residents who self-report moderate to severe pain
Lower percentages are better.
5.0%
5.4%
Percent of long-stay high-risk residents with pressure ulcers
Lower percentages are better.
2.5%
8.8%
Percent of long-stay low-risk residents who lose control of their bowels or bladder
Lower percentages are better.
68.0%
62.3%
Percent of long-stay residents who have or had a catheter inserted and left in their bladder
Lower percentages are better.
0.3%
1.7%
Percent of long-stay residents who were physically restrained
Lower percentages are better.
0.0%
0.2%
Percentage of long-stay residents whose ability to move independently worsened
Lower percentages are better.
16.7%
22.5%
Percent of long-stay residents whose need for help with daily activities has increased
Lower percentages are better.
17.8%
18.0%
Percent of long-stay residents who lose too much weight
Lower percentages are better.
5.3%
5.8%
Percent of long-stay residents who have depressive symptoms
Lower percentages are better.
4.3%
3.9%
Percentage of long-stay residents who received an antianxiety or hypnotic medication
Lower percentages are better.
13.0%
16.2%
Percent of long-stay residents assessed and given, appropriately, the seasonal influenza vaccine
Higher percentages are better.
98.8%
96.7%
Percent of long-stay residents assessed and given, appropriately, the pneumococcal vaccine
Higher percentages are better.
89.0%
94.1%
Percent of long-stay residents who received an antipsychotic medication
Lower percentages are better.
16.0%
12.4%
5Inspection Summary
Date of standard health inspection:11/03/2017
Total number of health deficiencies:11
Average number of health deficiencies in Maryland:14.9