Chesapeake Shores
21412 GREAT MILLS ROAD
LEXINGTON PARK, MD 20653
(301) 863-7244
Chesapeake Shores is a nursing home in Lexington Park just outside of St. Mary's City. It has 117 beds and 105 residents. The facility provides both rehabilitation and short-term and long-term skilled nursing case.
This nursing home is owned by Signature HealthCARE, a very large nursing home and rehabilitation company that has 143 locations in 11 different states. It owns two nursing homes in Maryland, Chesapeake Shores and Signature HealthCARE at Mallard Bay, an average rated nursing home in Cambridge.
Chesapeake Shores boasts a 5-star rating. Yet within that overall Medicare rating of "much above average" is a 3-star average rating for staffing, and a below-average 2-star rating for quality measures. How do these numbers square up? Good question.
Competition
Before we get into the nuts and bolts of Chesapeake Shores, let's look at the other options available.
Chesapeake Shores is the only nursing home in Lexington Park. The nearest nursing home is Solomons Nursing Center, a pretty well-rated facility that is an 18-minute drive (11 miles) from Chesapeake Shores. St. Mary's Nursing Center in Leonardtown is about the same distance away. After that, you have to drive to Prince Frederick for Calvert County Nursing Center and Charlotte Hall (which is mostly war veterans). The good news? These are all quality nursing homes based on the objective data that Medicare provides to us.
Great Health Inspection
It must begin with the health inspection, for which Chesapeake Shores also received the top 5-star rating. That inspection turned up just one health deficiency - a stunningly good score. That is an A-plus. To put this in context, the Maryland average of 11, and the U.S. average of 7.1. Chesapeake Shores scored above average on fire safety, and it has had no federal fines or payment denials in the past three years.
Chesapeake Shores, which had its last standard inspection in September 2015, did have a complaint inspection in June 2016. But that inspection concerned exactly one complaint, and this one may have been due to an accounting error.
Staffing
Total nursing time per patient per day at this facility was lower than the state and national averages. Chesapeake Shores was significantly below average on time spent by LPNs and LVNs (licensed practical nurses, licensed vocational nurses) - just over half as much as the state and U.S. averages. It was slightly low on time spent by certified nursing assistants. However, Chesapeake Shores was right up there on RN staffing, with an average of 59 minutes per day (same as for Maryland statewide) and higher than the national average (51 minutes). This facility's 4-star rating on RN staffing no doubt helped it attain an overall 3-star score on staffing. This is a big company trying to cut costs. The biggest cost in a nursing home is staffing. The problem that there is a great correlation between the levels of staffing and the number of nursing home lawsuits. Because more qualified hands help keep patients safe.
Quality Ups and Downs
Then came that low 2-star rating for quality measures.
For short-stay residents, Chesapeake Shore's metrics were mostly good. This facility was better than average on having fewer rehospitalizations and ER visits among former residents, and modestly better than average on improving residents' functionality and in limiting the use of antipsychotic meds. Short-stayers here were less than one-fourth as likely as average to have bedsore problems. However, short-stay residents at Chesapeake Shore reported higher pain levels than the state and national averages. This facility scored notably below average on flu and pneumonia vaccinations, inoculating just over half its short-stayers - whereas, statewide and nationally, about four out of five residents receive these vaccinations.
In quality measures for long-stay residents, Chesapeake Shores scored very closely with the state and national averages in most categories: sometimes a bit better, sometimes a bit worse, but only by a few percentage points either way. For these residents, Chesapeake Shores was above average on having lower fall rates, fewer pain reports, fewer residents with depressive symptoms, fewer needing antianxiety meds, and fewer needing help in performing daily activities. But these Chesapeake Shores residents were more likely to have urinary tract infections, pressure ulcers, and incontinence, as well as ongoing catheter use.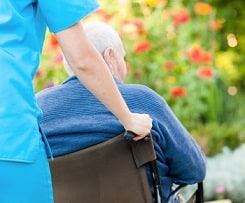 Two stats in particular could be red flags: Chesapeake Shores was significantly higher than average on administering antipsychotic meds to long-termers (28.7 percent, versus 14.1 percent statewide, 17.2 percent nationally); and it was significantly more apt than average to resort to using physical restraints (1.1 percent, versus 0.6 percent for Maryland, 0.8 percent nationally). Why does this raise red flags? The use of antipsychotic medication to manage nursing home patients is strongly associated with increased morbidity and mortality. So why do nursing homes do it so excessively? For some, it is a patient management issue. Drugged and restrained patients are easier to manage. So this nursing home doing so poorly could be foreboding.
So what to make of the stats? Is Chesapeake Shores not as good as its overall 5-star rating says, or is it better than its low rating on quality measures suggests? It is a paradox. The crystal ball this nursing home is cloudy.
More Information St. Mary's Nursing Home Lawyer
If someone you love is a victim of nursing home abuse or neglect, don't be a victim twice. You should take action immediately. Our experienced nursing home attorneys have a history of results in nursing home and medical malpractice cases. To find out what we can do to help you, call us today for a free consultation at (800) 553-8082 or get a free online case review.
1Vital Statistics
Number of Beds:
125 certified beds

Beds in the nursing home that have been approved by the federal government to participate in Medicare or Medicaid.
Accepts:
Medicare and Medicaid

Shows if the nursing home participates in the Medicare, Medicaid, or both.
2Key Ratings
Star Rating Summary
Overall Rating
Above Average
Health Inspection

Medicare assigns the star rating based on a nursing home's weighted score from recent health inspections. More stars means fewer health risks

Above Average
Staffing

Medicare assigns the star rating based on the nursing home's staffing hours for Registered Nurses (RNs), Licensed Practice Nurses (LPNs), Licensed Vocational Nurses (LVNs), and Nurse aides. More stars means a better level of staffing per nursing home resident

Average
RN Staffing
Above Average
Quality Measures

Medicare assigns the star rating based on data from a select set of clinical data measures. More stars means better quality of care

Below Average
3Key Short Stay Statistics
Description
Chesapeake Shores
Maryland
Average
Percent of short-stay residents who self-report moderate to severe pain
Lower percentages are better.
12.0%
10.4%
Percentage of SNF residents with pressure ulcers that are new or worsened
Lower percentages are better.
0.0%
Not Available
Percent of short-stay residents assessed and given, appropriately, the seasonal influenza vaccine
Higher percentages are better.
98.9%
85.3%
Percent of short-stay residents assessed and given, appropriately, the pneumococcal vaccine
Higher percentages are better.
94.1%
84.0%
Percentage of short-stay residents who got antipsychotic medication for the first time
Lower percentages are better.
0.8%
1.7%
4Key Long Stay Statistics
Description
Chesapeake Shores
Maryland
Average
Percent of long-stay residents experiencing one or more falls with major injury
Lower percentages are better.
1.8%
2.7%
Percent of long-stay residents with a urinary tract infection
Lower percentages are better.
1.6%
2.5%
Percent of long-stay residents who self-report moderate to severe pain
Lower percentages are better.
11.9%
5.4%
Percent of long-stay high-risk residents with pressure ulcers
Lower percentages are better.
5.5%
8.8%
Percent of long-stay low-risk residents who lose control of their bowels or bladder
Lower percentages are better.
51.1%
62.3%
Percent of long-stay residents who have or had a catheter inserted and left in their bladder
Lower percentages are better.
0.0%
1.7%
Percent of long-stay residents who were physically restrained
Lower percentages are better.
0.5%
0.2%
Percentage of long-stay residents whose ability to move independently worsened
Lower percentages are better.
21.9%
22.5%
Percent of long-stay residents whose need for help with daily activities has increased
Lower percentages are better.
15.4%
18.0%
Percent of long-stay residents who lose too much weight
Lower percentages are better.
1.4%
5.8%
Percent of long-stay residents who have depressive symptoms
Lower percentages are better.
8.5%
3.9%
Percentage of long-stay residents who received an antianxiety or hypnotic medication
Lower percentages are better.
16.4%
16.2%
Percent of long-stay residents assessed and given, appropriately, the seasonal influenza vaccine
Higher percentages are better.
99.0%
96.7%
Percent of long-stay residents assessed and given, appropriately, the pneumococcal vaccine
Higher percentages are better.
99.0%
94.1%
Percent of long-stay residents who received an antipsychotic medication
Lower percentages are better.
21.9%
12.4%
5Inspection Summary
Date of standard health inspection:01/12/2018
Total number of health deficiencies:6
Average number of health deficiencies in Maryland:14.9