Charlotte Hall Veterans Home
29449 CHARLOTTE HALL ROAD
CHARLOTTE HALL, MD 20622
(301) 884-8171
Charlotte Hall Veterans Home is an extremely large nursing home that sits on 126 beautiful acres in St. Mary's County. It offers a continuum of care from a 168-bed assisted living program to the 286-bed skilled nursing program.
As its name implies, Charlotte Hall Veterans Home caters to those who have served in the U.S. armed forces. The company slogan: "Serving those who served." According to its website, 94 percent of the veteran residents here served during war time. These residents include recipients of the Silver Star, Legion of Merit, Bronze Star, and Purple Heart. To offset their costs, veteran residents get a subsidy from the U.S. Department of Veterans Affairs, which requires annual inspections of the facility.
Charlotte Hall is a for-profit corporation, owned by HMR of Maryland LLC, and managed by HMR Veterans Services Inc. The U.S. Department of Veterans Affairs helps make this facility affordable to veterans with per diem subsidies that - according to Charlotte Hall - save its nursing home residents over $3,000 a month.
With these high standards to meet, it hardly surprising that Charlotte Hall should rate above average in the Medicare survey - and so it does, with four stars overall. Would you like to see an even better from a nursing home and assisted living facility that serves those that put their lives on the line for us? Absolutely. Our nursing home lawyers think that an above average nursing home is quite average given the state of senior care in this country. But, that said, this is probably a pretty good nursing home.
Health Inspections
Sometimes, the bigger the facility (and the larger the resident population), the more challenging it becomes to maintain consistent quality. Charlotte Hall has managed its size pretty well. Its last standard health inspection with four stars - another above-average rating.
That inspection, in May 2016, turned up only six health deficiencies - fewer than the Maryland and national averages of 11 and 7.1. That score becomes the more impressive when you consider that the average facility in Maryland or elsewhere is serving far less than half as many residents as Charlotte Hall. This facility also was superior to the state and national norms on fire safety - again, impressive, considering the number of structures it has on its sprawling 126-acre campus. Charlotte Hall did have a complaint inspection in June 2016, citing two items as issues; however, both items appeared to apply to the same individual resident, and the issues were important but administrative in nature.
Staffing: Good and Bad
Charlotte Hall also received four stars, overall, for staffing -- despite the fact that this facility scored below state and national averages in four out of five measured categories. The key Medicare metric is the amount of time each resident gets with nurses each day. Charlotte Hall was better than the Maryland and national averages on time spent by certified nursing assistants, but lower for LPNs and LVNs (licensed practical nurses, licensed vocational nurses), and considerably lower for RNs and physical therapists.
When you see this, it is usually about money: RNs and physical therapist cost a lot more than LPNs or LVNs. The total nursing time per resident per day at Charlotte Hall was one hour, 29 minutes, versus Maryland's average of one hour, 51 minutes, and the U.S. average of one hour, 42 minutes. Still, we're talking some scale here: all told, these residents receive over 500 hours of nursing time per day.
Quality Can Be a Struggle
Charlotte Hall did less well on the Medicare survey for quality measures, scoring a below-average 2 stars. But this low rating seems at odds with the mostly good Medicare numbers. For short-stay residents, Charlotte Hall was better than the state and national averages for seven out of nine quality measures. For long-stay residents, the facility scored better than average in five measured categories; below average in five categories, and on par with the state and national averages on four other metrics. How did all of this add up to an overall 2-star rating for quality measures?
For short-stay residents, Charlotte Hall was better than the state and U.S. averages on successful discharges, and the rate of rehospitalization; it was distinctly better in helping short-term residents improve their functionality (79.5 percent, versus 64.8 percent statewide, 63.3 percent nationally). Charlotte Hall short-termers were less likely than the state and national averages to report moderate to severe pain; and only half as likely as the state and national averages to have pressure ulcer problems. Whereas the Maryland and U.S. averages for flu and pneumonia vaccinations hover around the 80 percent range, Charlotte Hall covered 95.8 percent of its residents for both of these preventive measures. On the negative side, Charlotte Hall short-term residents were slightly more likely than average to receive antipsychotic meds, and former residents were more likely than average to make a visit to an emergency room.
With respect to long-term residents, Charlotte Hall was outstanding in the very low rate of depressive symptoms among long-stayers: 0.2 percent at Charlotte Hall - almost a negligible figure - versus 4.8 percent statewide and 5.4 percent nationally. This is particularly impressive give how many of the residents are war veterans. It means that Charlotte Hall long-stayers were about 25 times less likely than average to have symptoms of depression.
This facility was excellent on using physical restraints (zero percent, versus 0.6 percent for Maryland and 0.8 percent nationally), and near-perfect with basic vaccinations (reaching 99.6 percent of long-term residents for flu shots, and 100 percent for the pneumonia vaccine). Charlotte Hall also had a lower-than-average incidence of pressure ulcers among long-stay residents.
On the downside, Charlotte Hall long-termers suffered about twice as many falls with injury as the state and national averages; and they were more likely to have urinary tract infections. In one serious spike, Charlotte Hall long-stayers had an incontinence rate of 79.4 percent, versus 58 percent statewide and only 46.6 percent nationally. This facility scored below average on preventing significant weight loss, and slightly below the norms on maintaining residents' mobility. It also was higher than average on using antipsychotic drugs (27 percent, versus 14.1 for Maryland, 17.2 percent U.S.).
The website Citehealth.com posted a 2012 review of Charlotte Hall by an individual who rated this facility poor in every measured category, and also complained that it had "poorly trained staff" and was "mouse infested." But in a survey conducted in 2015, 92 percent of Charlotte Hall's residents said they would recommend this facility to someone looking for a nursing home. You do not know which tells the better story. Suffice to say, no amount of statistics, and no single review, can tell the whole story.
Hiring an Elder Neglect and Abuse Lawyer in Baltimore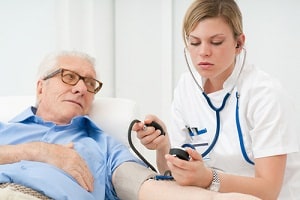 Do you have a possible assisted living or nursing home lawsuit against this St. Mary's facility or any other assisted living or nursing home? The residents of Charlotte Hall deserve compensation and justice more than anyone if a mistake or abuse causes harm. Call our nursing home attorneys at Miller & Zois today at (800) 553-8082. You can also get a case review online for free.
More Information
1
Vital Statistics
Number of Beds:
286 certified beds

Beds in the nursing home that have been approved by the federal government to participate in Medicare or Medicaid.
Accepts:
Medicare and Medicaid

Shows if the nursing home participates in the Medicare, Medicaid, or both.
2
Key Ratings
Star Rating Summary
Overall Rating
Below Average
Health Inspection

Medicare assigns the star rating based on a nursing home's weighted score from recent health inspections. More stars means fewer health risks

Below Average
Staffing

Medicare assigns the star rating based on the nursing home's staffing hours for Registered Nurses (RNs), Licensed Practice Nurses (LPNs), Licensed Vocational Nurses (LVNs), and Nurse aides. More stars means a better level of staffing per nursing home resident

Average
RN Staffing
Average
Quality Measures

Medicare assigns the star rating based on data from a select set of clinical data measures. More stars means better quality of care

Below Average
3
Key Short Stay Statistics
Description
Charlotte Hall Veterans Home
Maryland
Average
Percent of short-stay residents who self-report moderate to severe pain
Lower percentages are better.
8.0%
10.4%
Percentage of SNF residents with pressure ulcers that are new or worsened
Lower percentages are better.
1.4%
Not Available
Percent of short-stay residents assessed and given, appropriately, the seasonal influenza vaccine
Higher percentages are better.
93.7%
85.3%
Percent of short-stay residents assessed and given, appropriately, the pneumococcal vaccine
Higher percentages are better.
91.2%
84.0%
Percentage of short-stay residents who got antipsychotic medication for the first time
Lower percentages are better.
1.0%
1.7%
4
Key Long Stay Statistics
Description
Charlotte Hall Veterans Home
Maryland
Average
Percent of long-stay residents experiencing one or more falls with major injury
Lower percentages are better.
4.0%
2.7%
Percent of long-stay residents with a urinary tract infection
Lower percentages are better.
5.2%
2.5%
Percent of long-stay residents who self-report moderate to severe pain
Lower percentages are better.
7.4%
5.4%
Percent of long-stay high-risk residents with pressure ulcers
Lower percentages are better.
4.8%
8.8%
Percent of long-stay low-risk residents who lose control of their bowels or bladder
Lower percentages are better.
83.3%
62.3%
Percent of long-stay residents who have or had a catheter inserted and left in their bladder
Lower percentages are better.
1.3%
1.7%
Percent of long-stay residents who were physically restrained
Lower percentages are better.
0.5%
0.2%
Percentage of long-stay residents whose ability to move independently worsened
Lower percentages are better.
26.8%
22.5%
Percent of long-stay residents whose need for help with daily activities has increased
Lower percentages are better.
21.0%
18.0%
Percent of long-stay residents who lose too much weight
Lower percentages are better.
9.5%
5.8%
Percent of long-stay residents who have depressive symptoms
Lower percentages are better.
3.3%
3.9%
Percentage of long-stay residents who received an antianxiety or hypnotic medication
Lower percentages are better.
15.4%
16.2%
Percent of long-stay residents assessed and given, appropriately, the seasonal influenza vaccine
Higher percentages are better.
100.0%
96.7%
Percent of long-stay residents assessed and given, appropriately, the pneumococcal vaccine
Higher percentages are better.
99.9%
94.1%
Percent of long-stay residents who received an antipsychotic medication
Lower percentages are better.
23.3%
12.4%
5
Inspection Summary
Date of standard health inspection: 12/04/2018
Total number of health deficiencies: 14
Average number of health deficiencies in Maryland: 14.9