Statistics on Bed Sore and Settlement Value of Lawsuits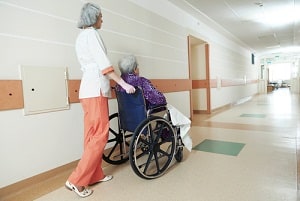 Pressure sores (also known as bed sores) are areas of damaged skin and tissue caused by prolonged pressure which restricts blood flow to that area of the skin. When blood flow to areas of the skin and underlying tissue is interrupted for extended periods the skin and tissue cells become damaged and decay. The result is painful pressure sores.
How Long Does it Take for Bed Sores to Develop?
Time is a critical factor when it comes to pressure sores. This is because pressure sores occur as a result of prolonged compression that over time causes damage to skin and tissue. The most current research suggests that pressure sores can develop after 4-6 hours of compression at particularly vulnerable skin points. Other studies have estimated the critical time frame for bed sores to be as little at 2 hours.
How Common are Pressure Sores in Nursing Homes?
Around 2.5 million patients suffer with pressure sores each year according to the Agency for Healthcare Quality and Research. Pressure sores are particularly common among nursing home residents. Data published by the U.S. Dept. of Health and Human Services, along with other more recent reports, suggest that between 8-28% of all nursing home residents suffer from pressure ulcers. In 2004, a National Nursing Home Survey found that 160,000 nursing home residents were reported to have bed sores. This means that at least 1 out of every 10 nursing home residents can expect to suffer from bed sores. Pressure sores are also a common problem in hospital ICU units. Around 41% of ICU patients are estimated to have pressure sores.
Pressure Sores Cause 60,000 Fatalities per Year
Researchers estimate that pressure sores are the proximate or originating cause of 60,000 deaths each year. The fatality rate for patients admitted to the hospital for treatment of pressure sores is around 13%. Recent studies have also established that there is a causal link between bedsores and general patient mortality and prognosis. A 2012 study by researchers at UCLA Medical School found that seniors with pressure sores were statistically more likely to die after admission to a hospital (for any reason) than those without pressure sores. Elderly hospital patients that had pressure sores were also more likely to stay in the hospital longer and be back in the hospital sooner as compared to senior patients without pressure sores. The UCLA study was published in the Journal of the American Geriatrics Society.
Pressure Sores are Costly
Hospital and nursing home acquired pressure sores increase national healthcare costs significantly. Treatment of pressure sores costs the U.S. Healthcare system over $9 billion annually. Medicaid estimates that the annual cost of pressure sore treatment will soon grow to $15 billion. The average cost of inpatient hospital treatment for elderly patients admitted for pressure sores is estimated at $22,000.
Pressure Sore Lawsuits
Pressure sores are a very unique type of medical injury in that they are almost always preventable. Even if a patient is completely immobile, pressure sores can be avoided with proper care and attention. This means that anytime a nursing home resident develops pressure sores, it automatically suggests that they did not receive the appropriate level of care. This is why pressure sores are frequently the basis for malpractice lawsuits against nursing homes and hospitals. Approximately 17,000 pressure sore lawsuits are filed in the U.S. each year. This ranks pressure sores as one of the most frequently litigated injuries in the country. In contrast to other types of medical malpractice cases, data on pressure sore lawsuits suggests that plaintiffs prevail over 85% of the time. The national average for pressure sore lawsuit settlements is reported to be $250,000 (although this only accounts for publicly reported settlements).
Pressure Sore Lawsuits in Maryland
The statistics in Maryland for pressure sore lawsuits are generally consistent with the national estimates - although the average settlement value of pressure sore cases may be higher in Maryland. For additional information on pressure sore lawsuits in Maryland and settlement values for pressure sore cases, use the following links:
Contact Pressure Sore Attorneys at Miller & Zois
If you have a loved one in a hospital or nursing home that is suffering from pressure sores, contact the nursing home attorneys at Miller & Zois to evaluate whether you may have a malpractice claim. Call us at (800) 553-8082 or click here for a free online consultation.