Bed Sore Lawsuits | Verdicts and Settlements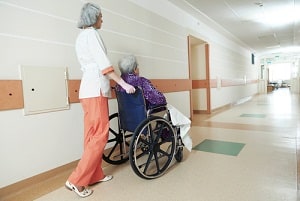 Nursing homes hurt and kill people many different ways. Maybe the most frustrating injuries are out-of-control bedsores. Why? Because so little effort and care is required to avoid these injuries that almost always occur because the nursing home or hospital was negligent in their care of the patient.
People suffering from this often think they are alone. But this is a phenomenon both here and Maryland and nationally. Sure, you might from a feature article in your local paper once a while highlighting these crimes. But then everyone closes that paper and carries on while our most vulnerable continue to be literally mistreated to death.
Sample Bed Sore Verdicts and Settlements
Below are examples of settlements and verdicts in nursing home bed sore cases. You will note that many of these verdicts are not huge. In Maryland, for instance, there are caps on noneconomic damages that make it very rare to get more than a million in a death case because our caps are so draconian.
You may have also noticed that even though we are Maryland nursing home attorneys, there is not one bedsore verdict on this list. Why? The nursing homes and the insurance companies in Maryland are not dumb enough to let these cases go to trial.
Why? Well, besides the fact that they know their chances of losing are ridiculously high, the nursing homes do not want the publicity of taking a verdict. It is bad publicity not only for the nursing home itself but for the whole industry desperate to keep a lid on media articles that bring the pain and death this industry causes every single day.
This information may be useful to you in getting a better general understanding of the value of these cases. There are, however, powerful limitations to finding similar facts to your case and assuming you will get the same outcome. Because a jury trial has so many layers to it, you really cannot know what drove the verdict. Sometimes, the lawyers that tried the case who get a chance to talk to the jurors afterward still cannot tell you what the driving force that led the jury to decide as they did.
February 2016, New Jersey: $300,000 Settlement:An 88-year-old man develops sacral and buttocks bed sores for 40 days before he died. His wife alleged that the pressure ulcers due were caused by neglect. The case settled for $300,000. Why so little? There is no question younger nursing home patients get a higher average settlement in nursing home cases. This claim would be a worth a great deal more if the patient were in his 70s.
May 2014, New Jersey: $13,200,000 Verdict: Classic bedsore case. An 87-year-old woman fell in her home and dislocated her shoulder. She was later admitted for rehabilitation to the Defendant's nursing home. Except for the shoulder, she is doing quite well. Within three months she lost 20 pounds, required two bone shavings, a colostomy, and developed Stage IV bedsores. She was transferred to a hospital where she died from systemic organ failure. Her family's wrongful death claim alleged the facility was absurdly understaffed, making it impossible to provide appropriate care for their patients. Facility records showed nurse hours were below state and industry standards. The jury agreed, awarding an eye-popping $13.2 million verdict.
March 2014, South Carolina: $27,053 Verdict: This is about as small of a verdict as you will see in a nursing home case. In this case, an 84-year-old man with lower extremity paralysis and dementia was a patient at a nursing home. He developed bedsores on his hip that led to sepsis and killed him. The family's wrongful death lawsuit claimed the nursing home failed to properly treat the decedent and should have ordered antibiotics in a timely matter to treat the bedsores. An Edgefield County jury found for the Plaintiff but only awarded $27,000. The only way to make sense of this verdict is that the jury concluded he would have died anyway.
March 2013, New Jersey: $990,000 Settlement: While under the care of a Burlington nursing home, an 88-year-old woman developed an absurd amount of pressure sores on her body; including Stage IV ulcerations of the sacrum, right heel, right lateral foot, and left lateral foot. She suffered from the pressure sores for a total of 21 months before she passed away at the age of 90. Her estate sued the nursing facility on her behalf, claiming the woman was consistently unmonitored. Medical records showed that during an interim transfer to a hospital she had arrived via stretcher and was diapered, but was left to sit in a large amount of diarrhea that was leaking out of the diaper. The parties agreed to settle for $990,000.
February 2014, New Jersey: $500,000 Settlement: After only a four-week stay in a local nursing facility, an 89-year-old man was transferred to a hospital with Stage II bed sores. He remained in the hospital for eight days where his condition only worsened. The wound became infected down to the bone. He died soon after from septic infection. The man's estate sued both the nursing home and hospital for negligence. Plaintiffs claimed Defendant Nursing Home violated multiple federal and state laws, altered records and failed to properly monitor the decedent. Plaintiffs also alleged the hospital failed to properly treat and evaluate the man after his arrival. Defendants denied all Plaintiff's claims, arguing the frailty of the patient resulted in death. Still, they settled the case.
March 2013, New Jersey: $415,000 Settlement. These first four results don't give you a good impression of nursing home care in New Jersey, do they? In this case, an 84-year-old nursing home resident was admitted the hospital. She had dehydration, malnutrition and a Stage IV bedsore on her hip. Seriously, you just should not get a Stage IV bedsore like this without someone royally screwing up. Not surprisingly, she passed a month later. The death certificate's cause of death was an infected bed sore and malnutrition. These are two things that just should not happen. The family brought a wrongful death claim alleging the obvious: that during their mother's eight-month stay, no one was doing the simple little things they could have done to save her life. The nursing home, of course, denied the Plaintiffs' allegations, arguing that she was seeing a wound specialist and underwent nutritional interventions, but that nothing could be done. Defendants argued that the bedsore was unavoidable because the woman was a "failure-to-thrive patient," which the defendants say in these cases when, you know, they can't say anything else. The parties agreed to settle during mediation for $415,000.
March 2013, Pennsylvania: $2,000,000 Verdict: An elderly woman passed away from severe pressure sores, dehydration, and malnutrition at a Philadelphia nursing home. Her family brought suit against the facility for negligence. Plaintiffs claimed the facility failed to hire the appropriate number of staff necessary to care safely and humanely for the residents. Plaintiff's wrongful death case also alleged the facility failed to even create an appropriate pressure sore risk assessment. A Philadelphia jury hit the home hard: $2,000,000 verdict.
December 2012, Illinois: $575,000 Settlement. After a stroke, a 77-year-old woman was transferred to Evergreen HealthCare Center for rehabilitation. She was found to be at high risk for bed sores because she was immobile. Family members also saw the bed sores. But nothing got done. She was hospitalized within two months of her arrival for sepsis, dehydration, and pneumonia. Unfortunately, she passed away the following month from her injuries. Her family brought a wrongful death claim alleging the nursing home failed to monitor properly and treat the woman's bed sores. Depressingly, the family said she often smelled like she had not been changed. The case settled out-of-court for $575,000.
November 2012, Florida: $1,775,000 Verdict. A 72-year-old man with end-stage dementia was admitted to Lake Worth Manor Nursing Home in Lake Worth. He developed bedsores on both heels and tailbone. Sixty days later he was transferred to Heartland Health Care Center in West Palm Beach. Within thirteen days the man's health deteriorated, and he was sent to JFK Medical Center in West Palm Beach where he was diagnosed with bronchial pneumonia. He died shortly after that. The man's wife sued alleging the nursing home negligently caused his death. Plaintiff alleged that both facilities' staff failed to turn her husband while he was in bed and failed to check on the condition of his skin, which led to his bedsores becoming infected. She also alleged the staff failed to monitor her husband's medicine, leading to him being overmedicated and immobile. Plaintiff claimed that during her husband's stay at the facilities, he lost 30 pounds and was severely dehydrated. The defendant claimed decedent's death was unavoidable due to his debilitating health condition. Hartland settled with the Plaintiff before trial. The jury rendered a verdict on behalf of the Plaintiff against Lake Worth, awarding her $1,775,000.
February 2011, New Mexico: $10,345,000 Verdict: A man, 55, had recently fractured his hip from a fall at home that resulted in hip surgery. He was hospitalized for two weeks and was then discharged for rehabilitation to Casa Real, a nursing home. The following week, he returned to the hospital for treatment of an infection at the location of the hip surgery incision. He remained hospitalized for a month. Unfortunately, he passed away from unrelated causes before he could file suit. His family sued, claiming that a special mattress and boots should have been in place to guard against such bedsores. Plaintiff's counsel also alleged that the nurses not only failed to monitor his nutrition, but that they falsified the medical records to say that he did not have bed sores. This is the kind of stuff that makes jurors very mad, and you see that in this verdict.
May 2010, California: $29,100,000 Verdict: A retired government employee, 79, had recently been diagnosed with Alzheimer's dementia and moved into Colonial Healthcare. During her stay, she fell and broke her hip. It was not until nine days after her fall that she was sent to Kaiser Roseville's emergency room. There, a doctor diagnosed the fractured hip but also discovered a bed sore. She was required to undergo a left hip hemiarthroplasty but, unfortunately, passed away within the next month from an infected bed sore. The woman's daughter sued Colonial Healthcare claiming that the nursing home staff failed to obtain treatment for her mother's fractured hip and failed to prevent the terminal bed sore. Plaintiff claimed that her mother was not being regularly repositioned during her stay at Defendants' facility. Defendants denied that the bed sore occurred while at the nursing home. The jury apparently disagreed.
Contact Us
In these cases, the nursing homes almost always put on a defense. Usually, they argue that the victim's pressure sores resulted from obliterative vascular disease, not pressure. These arguments rarely hold up by the time we get to the settlement table. But that does not mean we do not have a real fight in the meantime. You need someone who can fight that fight for you in a way that maximizes the value of your claim.
Call our Maryland nursing home attorneys at (800) 553-8082 for a free consultation, or get a free Internet consultation if someone you love/loved has been hurt by a nursing home.
For More Information