Golden LivingCenter - Westminster
1234 Washington Boulevard.
Westminster, Maryland 21157
(410) 848-0700
The Golden Living Center in Westminster has 170 beds. The nursing home participates in Medicare and Medicaid. It is a for-profit corporate facility, owned by national nursing home titan Golden Living Center, one of the 200 largest privately held companies in the country. There are three other Golden Living nursing homes in Maryland in (Frederick, Cumberland, and Hagerstown).
Medicare rates the Golden Living nursing as 'much below average.' In fact, all of the Golden LivingCenter nursing homes in Maryland had the worst possible overall score except for Hagerstown which managed to earn two stars for a "below average" rating.
Health Inspections
The Golden Living Center of Westminster received a 'much below average' rating in this area. The results should give anyone considering the use of this facility pause. The deficiencies are extensive. In the category of 'health deficiencies,' they ran up a total of 25. In Maryland, the average is 10; nationally it is 7. They received the worst possible rating for a reason.
This facility was cited for such things as
Employees talking about how one of the residents was overweight which caused the resident to cry
Dirty bathrooms
Failure to classify bed sores
Failure to have a care plan in place for such things as urinary incontinence
Failure to document the administration of pain medications
Failure to have an effective pain management system in place
Failure to take proper precautions to prevent UTIs
Failure to make sure residents are not receiving unnecessary drugs
Failure to protect food from potential physical contamination because a server did not wash her hands
Failure to have a program that control and prevents infection and bed sores
We could go on, but you get the idea. You can read the most recent 2016 inspection report here to get the full flavor.
Staffing
Golden Living Center of Westminster received an 'average' rating for their staffing in general, and their RN staffing separately. The total number of licensed staff hours is comparable to national averages but lower than state levels. LPN hours are greater than the state and federal counterparts, but the CAN hours are noticeable shorter. Finally, the time provided per patient for physical therapy is less than half of what is provided by the Maryland state average, and the federal amount is half-again the length of Westminster.
It seems this is how Golden LivingCenter operates its nursing homes. They stay right around the national averages. Why do they shoot for average? The guess here is that it has something to do with the fact that labor costs money and this company brings in over $3 billion in revenues.
Quality Measures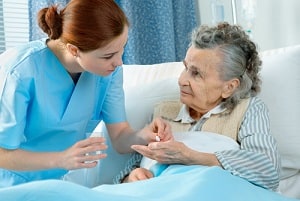 The overall rating of their quality measures is also 'average.' They meet or exceed state and federal levels for seasonal vaccinations, and short-term residents experiencing functional improvements. Additionally, the percent of short-term residents receiving antipsychotic medicine is on par with others, and there are fewer patients with pressure ulcers. Patient pain self-reports, and the successful reentry of short-term residents back to the community both fall short of the state and federal percentages. As well, long-term patients show a propensity for decreasing mobility, and the need for help with independent activities is comparatively high.
1Vital Statistics
Number of Beds:
170 certified beds

Beds in the nursing home that have been approved by the federal government to participate in Medicare or Medicaid.
Accepts:
Medicare and Medicaid

Shows if the nursing home participates in the Medicare, Medicaid, or both.
2Key Ratings
Star Rating Summary
Overall Rating
Much Below Average
Health Inspection

Medicare assigns the star rating based on a nursing home's weighted score from recent health inspections. More stars means fewer health risks

Much Below Average
Staffing

Medicare assigns the star rating based on the nursing home's staffing hours for Registered Nurses (RNs), Licensed Practice Nurses (LPNs), Licensed Vocational Nurses (LVNs), and Nurse aides. More stars means a better level of staffing per nursing home resident

Average
RN Staffing
Average
Quality Measures

Medicare assigns the star rating based on data from a select set of clinical data measures. More stars means better quality of care

Below Average
3Key Short Stay Statistics
Description
Westminster Healthcare Center
Maryland
Average
Percent of short-stay residents who self-report moderate to severe pain
Lower percentages are better.
6.0%
10.4%
Percentage of SNF residents with pressure ulcers that are new or worsened
Lower percentages are better.
3.2%
Not Available
Percent of short-stay residents assessed and given, appropriately, the seasonal influenza vaccine
Higher percentages are better.
65.5%
85.3%
Percent of short-stay residents assessed and given, appropriately, the pneumococcal vaccine
Higher percentages are better.
77.4%
84.0%
Percentage of short-stay residents who got antipsychotic medication for the first time
Lower percentages are better.
0.9%
1.7%
4Key Long Stay Statistics
Description
Westminster Healthcare Center
Maryland
Average
Percent of long-stay residents experiencing one or more falls with major injury
Lower percentages are better.
4.7%
2.7%
Percent of long-stay residents with a urinary tract infection
Lower percentages are better.
2.9%
2.5%
Percent of long-stay residents who self-report moderate to severe pain
Lower percentages are better.
1.3%
5.4%
Percent of long-stay high-risk residents with pressure ulcers
Lower percentages are better.
11.8%
8.8%
Percent of long-stay low-risk residents who lose control of their bowels or bladder
Lower percentages are better.
62.7%
62.3%
Percent of long-stay residents who have or had a catheter inserted and left in their bladder
Lower percentages are better.
1.4%
1.7%
Percent of long-stay residents who were physically restrained
Lower percentages are better.
0.0%
0.2%
Percentage of long-stay residents whose ability to move independently worsened
Lower percentages are better.
27.2%
22.5%
Percent of long-stay residents whose need for help with daily activities has increased
Lower percentages are better.
31.3%
18.0%
Percent of long-stay residents who lose too much weight
Lower percentages are better.
3.7%
5.8%
Percent of long-stay residents who have depressive symptoms
Lower percentages are better.
0.7%
3.9%
Percentage of long-stay residents who received an antianxiety or hypnotic medication
Lower percentages are better.
29.0%
16.2%
Percent of long-stay residents assessed and given, appropriately, the seasonal influenza vaccine
Higher percentages are better.
98.3%
96.7%
Percent of long-stay residents assessed and given, appropriately, the pneumococcal vaccine
Higher percentages are better.
99.6%
94.1%
Percent of long-stay residents who received an antipsychotic medication
Lower percentages are better.
32.1%
12.4%
5Inspection Summary
Date of standard health inspection:11/03/2017
Total number of health deficiencies:35
Average number of health deficiencies in Maryland:14.9