Golden Living Center/Sava Senior Care - Frederick
30 North Place
Frederick, Maryland 21701
(301) 695-6618

Golden Living Center in Frederick has 120 beds. It is one of four Maryland nursing homes owned and operated by Golden LivingCenter (Westminster, Cumberland and Hagerstown). This is chain of a for-profit corporate franchise with 300 sites in 22 state. In case you needed a reminder that nursing homes are big business, this company brings in over $3 billion a year in revenue.
Looking at the inspection reports for this center, does not give you a warm and fuzzy feeling. The Golden Living Center in Frederick, Maryland has received a 'much below average' overall rating due to multiple shortcomings in the areas of health inspection, staffing and quality measures.
Health & Fire Safety Outcomes
The last health inspection for this facility was on September 2015. The Golden Living Center was cited for 9 deficiencies. These included issues of dignity and autonomy of several patients.
Dignity is a strong word. What does that mean in this context? It can mean a lot of things. Here, 4 of 36 residents that were sampled had poster boards in their rooms with their pictures and detailed such medical instructions on how to insert medical devices for their patients. Private information you would not want to be advertised on the wall of your home.
There were also issues with failure to follow care plans and improperly administering medication on a number of occasions. Additionally, the Golden Living Center was reprimanded for multiple hazards and risks within the facility that could result in preventable accidents. Finally, the facility was tasked with creating a quality assessment and review committee to develop corrective plans of action. They failed to do so and were cited again.
Our lawyers have seen over and over again that the nursing homes that make these kind of systemic mistakes are the same nursing homes that frequently face serious injury and wrongful death lawsuits.
Staffing
There are a number of subcategories under the heading of staffing. One is an accounting of the total number of residents at the Golden Living Center. It proved to be significantly higher than the national average, but on par with the number of seniors in the average Maryland center. However, a more grave violation was discovered in the time the staff of RNs, LPNs and CNs spend with each patient. Figures show this to be less than half the national and Maryland averages, and physical therapists spend an abysmal 4 minutes a day with each individual. This is a figure below state and federal averages. Overall, the Golden Living Center received a 'below average rating' in the area of staffing.
Quality Measures
The Quality Measures report is quite extensive. There are nine short-term resident issues that are assessed and compared, and fifteen for long-term residents. This provides a detailed account of what patients can and should expect if they avail themselves of the services at the Golden Living Center in Frederick. The facility received an overall 'much below average' rating for quality measures as a whole.
The sections of short term review include the percent of residents whose function improved, percent that were rehospitalized, percent requiring outpatient services, percent discharged back to the community, percent self-reporting of pain, percent with pressure ulcers, percent receiving influenza and pneumococcal vaccines, and percent receiving antipsychotic medications.
A review of the data finds that short-stay residents showing improvement occurred less often than the state and federal average, but incidences of this same group experiencing re-hospitalization beat state and national averages - to their credit. Unfortunately, patients at the Golden Living Center self-reported moderate to severe pain greater than the Maryland or national average. There was a significantly lower percentage receiving the influenza inoculation than anywhere else. Surprisingly, the percent of patients experiencing successful reentry to the community from Golden Living Center was higher than comparative figures. Finally, while recipients of antipsychotic medicine were higher than average, the figure was quite low overall.
With regard to the long term residents, there are 15 metrics considered. These included falls resulting in major injury, incidence of urinary tract infections, pain level self-reporting, percent with pressure ulcers, incidences of bladder or bowel control loss, catheterization figures, incidences of physical restraint, increase in need for support for physical movements, incidences of depression, figures for receipt of antipsychotic medications, and percent of patients vaccinated.
Unfortunately, several negative metrics for Golden Living Center came out much higher than state and federal figures. That includes the number of patient falls, the incidences of loss of bladder and bowel control, and the use of anti-hypnotic medications. Conversely, the percent of patients receiving appropriate seasonal vaccination was notably less.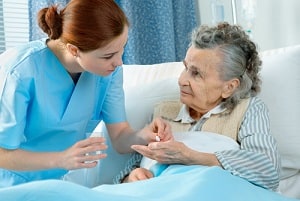 Golden LivingCenter in Frederick appears to have earned their abysmal 'much below average' rating overall for their quality measures.You can, understandably, think there is a bias in our analysis of this nursing home. But read the reports yourself, particularly the last health inspection, to get a better idea of what we are talking about with this nursing home.
1Vital Statistics
Number of Beds:
120 certified beds

Beds in the nursing home that have been approved by the federal government to participate in Medicare or Medicaid.
Accepts:
Medicare and Medicaid

Shows if the nursing home participates in the Medicare, Medicaid, or both.
2Key Ratings
Star Rating Summary
Overall Rating
Much Below Average
Health Inspection

Medicare assigns the star rating based on a nursing home's weighted score from recent health inspections. More stars means fewer health risks

Much Below Average
Staffing

Medicare assigns the star rating based on the nursing home's staffing hours for Registered Nurses (RNs), Licensed Practice Nurses (LPNs), Licensed Vocational Nurses (LVNs), and Nurse aides. More stars means a better level of staffing per nursing home resident

Average
RN Staffing
Average
Quality Measures

Medicare assigns the star rating based on data from a select set of clinical data measures. More stars means better quality of care

Below Average
3Key Short Stay Statistics
Description
Frederick Health & Rehabilitation Center
Maryland
Average
Percent of short-stay residents who self-report moderate to severe pain
Lower percentages are better.
4.6%
10.4%
Percentage of SNF residents with pressure ulcers that are new or worsened
Lower percentages are better.
4.6%
Not Available
Percent of short-stay residents assessed and given, appropriately, the seasonal influenza vaccine
Higher percentages are better.
76.2%
85.3%
Percent of short-stay residents assessed and given, appropriately, the pneumococcal vaccine
Higher percentages are better.
67.3%
84.0%
Percentage of short-stay residents who got antipsychotic medication for the first time
Lower percentages are better.
0.8%
1.7%
4Key Long Stay Statistics
Description
Frederick Health & Rehabilitation Center
Maryland
Average
Percent of long-stay residents experiencing one or more falls with major injury
Lower percentages are better.
6.0%
2.7%
Percent of long-stay residents with a urinary tract infection
Lower percentages are better.
6.1%
2.5%
Percent of long-stay residents who self-report moderate to severe pain
Lower percentages are better.
7.5%
5.4%
Percent of long-stay high-risk residents with pressure ulcers
Lower percentages are better.
9.7%
8.8%
Percent of long-stay low-risk residents who lose control of their bowels or bladder
Lower percentages are better.
56.0%
62.3%
Percent of long-stay residents who have or had a catheter inserted and left in their bladder
Lower percentages are better.
0.0%
1.7%
Percent of long-stay residents who were physically restrained
Lower percentages are better.
0.0%
0.2%
Percentage of long-stay residents whose ability to move independently worsened
Lower percentages are better.
16.4%
22.5%
Percent of long-stay residents whose need for help with daily activities has increased
Lower percentages are better.
17.9%
18.0%
Percent of long-stay residents who lose too much weight
Lower percentages are better.
5.7%
5.8%
Percent of long-stay residents who have depressive symptoms
Lower percentages are better.
2.4%
3.9%
Percentage of long-stay residents who received an antianxiety or hypnotic medication
Lower percentages are better.
19.4%
16.2%
Percent of long-stay residents assessed and given, appropriately, the seasonal influenza vaccine
Higher percentages are better.
98.1%
96.7%
Percent of long-stay residents assessed and given, appropriately, the pneumococcal vaccine
Higher percentages are better.
91.7%
94.1%
Percent of long-stay residents who received an antipsychotic medication
Lower percentages are better.
13.9%
12.4%
5Inspection Summary
Date of standard health inspection:03/23/2018
Total number of health deficiencies:31
Average number of health deficiencies in Maryland:14.9