Future Care Pineview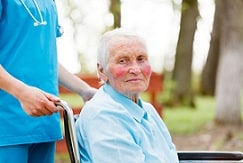 Our attorneys handle nursing home lawsuits against Maryland nursing homes, including FutureCare. The purpose of this page is to provide information specific to FutureCare Clinton facility in Prince George's County, Maryland.
Overview of FutureCare Cold Spring in Baltimore, Maryland
FutureCare maintains a nursing home at 9106 Pine View Lane in Clinton, Maryland. This site has 192 beds and has, at last count we could find, 161 residents. The nursing home's phone number is (410) 880-4353.
This facility has:
physical, occupational, and respiratory therapists
speech language pathologists
a respiratory therapy team
hospice services
This nursing home has some issues. One study found that the incidence of pressure sores in this FutureCare facility's long term residents is over twice the Maryland average. This is a problem that goes to the core of the nursing home injury and death epidemic in this country: the nursing homes refusal to do the little things that it must do to keep its residents protected and safe and able to enjoy their golden years to the fullest extent possible.
Inspections
The Centers for Medicare and Medicaid Services gives this Prince George's County nursing home 3 stars. Which means it is basically average. (Actually, the Maryland average is around 3.36 stars.) So if you think as we do that the average nursing home in this country is terrible, that is not a very good rating.
This FutureCare nursing home in Clinton does even worse on their health inspection rating, earning two stars (also below the Maryland average of 2.78 and the national average of 2.81).
What do you have to do to get two stars? Let's see:
January 10, 2014: This nursing home did not put its best foot forward for this inspection. Here are just some of the things where this facility fell short:

keeping essential equipment working (including wheelchairs and bed rails)
serving sanitary and clean food
failure to maintain a call system
get residents the x-rays and other tests they need
have a plan to stop infection
maintain drugs safely
provide housekeeping and maintenance services
make sure doctor's orders were followed
What Does This Inspection Tell Us About This Nursing Home?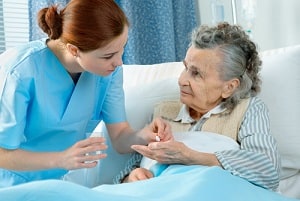 Certainly, it was just one inspection. You can check out some of the others here. But my goodness, is there anything that could happen in this nursing home that would surprise you after reading that? Probably not.
Certainly, it is hard to walk away from all of this and think that FutureCare's Prince George's County location is an A+. But is it a terrible place to spend your golden years? We do not have enough information to go that far. We have never brought a lawsuit or a claim involving this facility and, at this point, you know what we know about it.
Contacting a Nursing Home Lawyer
We are a Maryland law firm that handles nursing home lawsuits. If you or someone you care for has been harmed by this or any other nursing home, call us at (800) 553-8082 for a free Internet consultation to discuss your potential claim for money damages.
More Information
Get reviews of this nursing home. Sneak preview: they are awful. But take them with a grain or two of salt -- people generally do not write nursing home reviews that are happy customers. Still, you get a flavor from these reviews, mixed with the inspection reports, that is not so good.
False Claims Act cases against nursing homes
Learn more about nursing home negligence claims in Maryland
1
Vital Statistics
Number of Beds:
180 certified beds

Beds in the nursing home that have been approved by the federal government to participate in Medicare or Medicaid.
Accepts:
Medicare and Medicaid

Shows if the nursing home participates in the Medicare, Medicaid, or both.
2
Key Ratings
Star Rating Summary
Overall Rating
Above Average
Health Inspection

Medicare assigns the star rating based on a nursing home's weighted score from recent health inspections. More stars means fewer health risks

Average
Staffing

Medicare assigns the star rating based on the nursing home's staffing hours for Registered Nurses (RNs), Licensed Practice Nurses (LPNs), Licensed Vocational Nurses (LVNs), and Nurse aides. More stars means a better level of staffing per nursing home resident

Average
RN Staffing
Above Average
Quality Measures

Medicare assigns the star rating based on data from a select set of clinical data measures. More stars means better quality of care

Much Above Average
3
Key Short Stay Statistics
Description
Future Care Pineview
Maryland
Average
Percent of short-stay residents who self-report moderate to severe pain
Lower percentages are better.
6.7%
10.4%
Percentage of SNF residents with pressure ulcers that are new or worsened
Lower percentages are better.
1.0%
Not Available
Percent of short-stay residents assessed and given, appropriately, the seasonal influenza vaccine
Higher percentages are better.
99.3%
85.3%
Percent of short-stay residents assessed and given, appropriately, the pneumococcal vaccine
Higher percentages are better.
97.9%
84.0%
Percentage of short-stay residents who got antipsychotic medication for the first time
Lower percentages are better.
0.5%
1.7%
4
Key Long Stay Statistics
Description
Future Care Pineview
Maryland
Average
Percent of long-stay residents experiencing one or more falls with major injury
Lower percentages are better.
1.0%
2.7%
Percent of long-stay residents with a urinary tract infection
Lower percentages are better.
1.4%
2.5%
Percent of long-stay residents who self-report moderate to severe pain
Lower percentages are better.
0.0%
5.4%
Percent of long-stay high-risk residents with pressure ulcers
Lower percentages are better.
20.3%
8.8%
Percent of long-stay low-risk residents who lose control of their bowels or bladder
Lower percentages are better.
81.5%
62.3%
Percent of long-stay residents who have or had a catheter inserted and left in their bladder
Lower percentages are better.
2.9%
1.7%
Percent of long-stay residents who were physically restrained
Lower percentages are better.
0.0%
0.2%
Percentage of long-stay residents whose ability to move independently worsened
Lower percentages are better.
9.3%
22.5%
Percent of long-stay residents whose need for help with daily activities has increased
Lower percentages are better.
8.7%
18.0%
Percent of long-stay residents who lose too much weight
Lower percentages are better.
7.4%
5.8%
Percent of long-stay residents who have depressive symptoms
Lower percentages are better.
2.5%
3.9%
Percentage of long-stay residents who received an antianxiety or hypnotic medication
Lower percentages are better.
18.3%
16.2%
Percent of long-stay residents assessed and given, appropriately, the seasonal influenza vaccine
Higher percentages are better.
100.0%
96.7%
Percent of long-stay residents assessed and given, appropriately, the pneumococcal vaccine
Higher percentages are better.
100.0%
94.1%
Percent of long-stay residents who received an antipsychotic medication
Lower percentages are better.
2.9%
12.4%
5
Inspection Summary
Date of standard health inspection: 01/16/2019
Total number of health deficiencies: 7
Average number of health deficiencies in Maryland: 14.9