Fort Washington Health & Rehabilitation Center
12021 LIVINGSTON ROAD
FORT WASHINGTON, MD 20744
(301) 292-0300
Basic Profile
Located in Prince George's County, Maryland
For-profit corporation
Certified beds: 150
Last Medicare rating: 3 stars
Overview
Fort Washington Health Center maintains 150 certified beds on a for-profit basis. It is owned by CommuniCare, a fast growing Ohio-based nursing home chain that now has 14 facilities in Maryland.
Located, as the name would suggest, in Fort Washington, this facility offers short-term recovery, rehabilitation services and long-term care and programming that is focused on your emotional and physical well-being.
Although located not very far from Washington, D.C., Fort Washington Health Center has no competitors within two miles. Its nearest competitor, geographically speaking, is about two and a half miles away - in Alexandria, Virginia.
That facility, Manorcare Alexandria, is modestly better than Fort Washington, according to the Medicare ratings. But in important ways these two facilities are comparable. Both are rated average for their nursing staff and both received top 5-star ratings for their quality measures, which tell you how a facility is really doing at taking care of its residents.
The long and short of it is that Fort Washington Health Center is rather isolated in terms of location, but if this were your only convenient choice of facilities, you could do worse: Fort Washington is average or a bit better than average, compared with Maryland nursing homes in general.
We do have another basis of comparison, moreover. Fort Washington is one of 14 CommuniCare facilities in Maryland. Stacking up all 14 of these facilities based on their main Medicare ratings, we find that Fort Washington is near the top of that list (tied for third place). Fort Washington may be only average compared with nursing homes in general, but it is better than most CommuniCare facilities in Maryland.
That comparison of sister facilities does raise a question, however: how is it that one CommuniCare facility (Marley Neck Health and Rehabilitation Center) should get very high Medicare ratings (including five stars overall), while another (Laurelwood Healthcare Center) should score abysmally (with a 1-star rating overall)? Why are there such great disparities among units of the same parent company? It is easy to be sold on CommuniCare's business model. They are growing like a weed and probably making a ton of money in the process. But are they a model for quality nursing home care? If you believe the Medicare data - which is the only true comparator we have - the answer is no.
Good Measures
Like every nursing home, Fort Washington has good things to say about itself, and talks about how hard it tries to please its residents. Again, no one is questioning Communicare's marketing ability.
But it has a 3-star Medicare rating overall which is average. Our nursing home lawyers think average nursing home care in Maryland and this country is awful.
Fort Washington does get the top 5-star score for its quality measures. Fort Washington has done well by its short-stay residents, scoring above average in seven of nine measured categories, and close to par on the other two.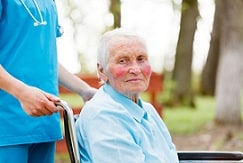 This facility did especially well in limiting these residents' acquisition of bed sores: a mere 0.3 percent of short-stay residents got them (which means only about a quarter as many as the Maryland and U.S. averages). Nursing home lawyers are always looking at this data. Why? Because pressure sores lead to lawsuits and they are also a good market for quality of care. So Fort Washington does well here.
Only 4.3 percent of the short-stay residents here reported having serious pain - again, only about a third to a quarter as many as the state and national averages.
Fort Washington also has mostly good Medicare stats for treatment of long-stay residents, doing better than the Maryland and national averages in nine of 15 measured categories. In fact, most of this facility's good stats for long-termers were very good, and much better than the state and U.S. averages. The percentage of residents here having depressive symptoms: zero. Their need for antianxiety meds: less than a third as much as the national average. The number who suffered a fall with injury: zero percent. The percentage of urinary tract infections: less than half the state and national averages. The number needing ongoing catheterization: one-quarter of the national average. The number reporting that they had serious pain: a mere 1.8 percent - one-fifth of the Maryland average, one-sixth of the U.S. average.
But this facility did have one grim stat pertaining to its long-termers: it subjected 2.4 percent of them to physical restraints. That number may sound low, but compare it with Maryland's average of 0.6 percent: long-term residents here were four times more likely to be restrained physically than residents in other Maryland nursing homes. There can be legitimate reasons for using physical restraints (such as ensuring the safety of an infirm resident); the question is whether a facility uses them without justification or to excess. We hope that is not the case here.
Staffing and Complaints
Fort Washington got a 3-star rating for nurse staffing, as well as 3 stars for RN staffing in particular. Communicare seems to be shooting for average in all of their centers in terms of staffing. When you shoot for average, you usually come up short.
In terms of total nursing time per resident per day, Fort Washington came in four minutes below the Maryland state average, a little farther below the U.S. average. Residents' daily time with registered nurses and certified nursing assistants was below average, while this facility modestly beat the state and U.S. averages for residents' time with physical therapists and LPNs and LVNs (licensed practical nurses, licensed vocational nurses). Trying not to beat a dead horse but this is consistent with what we have said all long. Communicare's business model is profits. So if you are going to go short on staffing, economics dictate you have less of the more expensive nursing.
This facility had two complaint inspections in 2016. The first of these special inspections, in February, involved a staffer who briefly and inadvertently mixed up her record-keeping. The second inspection, in August, was the only slightly less minor matter of the facility's being tardy in handling a couple of small bookkeeping items. These do not relate to care but they do related - like the bedsore's data - to the nursing home's attention to detail.
Health Inspection
Fort Washington's lowest score in the four main Medicare headings was for its health inspection: a below-average 2-star rating. The last standard Medicare inspection, in July, 2015, found a total of 20 deficiencies at this facility - almost twice the 11.5-deficiency average for Maryland, and almost three times the national average of 7.2 deficiencies. Fort Washington's 20 deficiencies included 7 on resident rights, 4 on resident assessment, and 3 on quality care; six of the eight categories had deficiencies. However, they had no deficiencies related to nutrition or mistreatment of residents.
In the last official count, Fort Washington had 135 residents (versus the Maryland average of 107.4, the U.S. average 86.1). So they have 15 more beds available.
In sum, this is not an awful nursing home. But when you dig into the data, it is what Medicare calls is: average.
More Information
Get an inside look at every Maryland nursing home. We pour through that data for every nursing home in Maryland like we did for Fort Washington.
Learn about nursing home fall, UTI, and bedsore cases, the three most common claims against nursing homes
Call our nursing home attorneys todayat (800) 553-8082 or get a confidential and FREE online case evaluation. Our caring lawyers will help you explore your options and help you chart the best path towards compensation if you have a worthy claim.
1Vital Statistics
Number of Beds:
150 certified beds

Beds in the nursing home that have been approved by the federal government to participate in Medicare or Medicaid.
Accepts:
Medicare and Medicaid

Shows if the nursing home participates in the Medicare, Medicaid, or both.
2Key Ratings
Star Rating Summary
Overall Rating
Much Above Average
Health Inspection

Medicare assigns the star rating based on a nursing home's weighted score from recent health inspections. More stars means fewer health risks

Above Average
Staffing

Medicare assigns the star rating based on the nursing home's staffing hours for Registered Nurses (RNs), Licensed Practice Nurses (LPNs), Licensed Vocational Nurses (LVNs), and Nurse aides. More stars means a better level of staffing per nursing home resident

Average
RN Staffing
Average
Quality Measures

Medicare assigns the star rating based on data from a select set of clinical data measures. More stars means better quality of care

Much Above Average
3Key Short Stay Statistics
Description
Ft Washington Health Center
Maryland
Average
Percent of short-stay residents who self-report moderate to severe pain
Lower percentages are better.
0.4%
10.4%
Percentage of SNF residents with pressure ulcers that are new or worsened
Lower percentages are better.
0.2%
Not Available
Percent of short-stay residents assessed and given, appropriately, the seasonal influenza vaccine
Higher percentages are better.
92.2%
85.3%
Percent of short-stay residents assessed and given, appropriately, the pneumococcal vaccine
Higher percentages are better.
83.9%
84.0%
Percentage of short-stay residents who got antipsychotic medication for the first time
Lower percentages are better.
1.2%
1.7%
4Key Long Stay Statistics
Description
Ft Washington Health Center
Maryland
Average
Percent of long-stay residents experiencing one or more falls with major injury
Lower percentages are better.
1.3%
2.7%
Percent of long-stay residents with a urinary tract infection
Lower percentages are better.
0.4%
2.5%
Percent of long-stay residents who self-report moderate to severe pain
Lower percentages are better.
0.0%
5.4%
Percent of long-stay high-risk residents with pressure ulcers
Lower percentages are better.
5.8%
8.8%
Percent of long-stay low-risk residents who lose control of their bowels or bladder
Lower percentages are better.
86.2%
62.3%
Percent of long-stay residents who have or had a catheter inserted and left in their bladder
Lower percentages are better.
0.4%
1.7%
Percent of long-stay residents who were physically restrained
Lower percentages are better.
0.0%
0.2%
Percentage of long-stay residents whose ability to move independently worsened
Lower percentages are better.
21.4%
22.5%
Percent of long-stay residents whose need for help with daily activities has increased
Lower percentages are better.
19.0%
18.0%
Percent of long-stay residents who lose too much weight
Lower percentages are better.
6.6%
5.8%
Percent of long-stay residents who have depressive symptoms
Lower percentages are better.
4.8%
3.9%
Percentage of long-stay residents who received an antianxiety or hypnotic medication
Lower percentages are better.
5.5%
16.2%
Percent of long-stay residents assessed and given, appropriately, the seasonal influenza vaccine
Higher percentages are better.
99.1%
96.7%
Percent of long-stay residents assessed and given, appropriately, the pneumococcal vaccine
Higher percentages are better.
97.3%
94.1%
Percent of long-stay residents who received an antipsychotic medication
Lower percentages are better.
4.6%
12.4%
5Inspection Summary
Date of standard health inspection:11/17/2017
Total number of health deficiencies:6
Average number of health deficiencies in Maryland:14.9