Devlin Manor Nursing and Rehabilitation Center
10301 NORTH EAST CHRISTIE ROAD
CUMBERLAND, MD 21502
(301) 724-1400
Basic Profile
Located in Allegany County, Maryland
For-profit corporation owned by Mid-Atlantic Health Care
Certified beds: 124
Last Medicare rating: 1 star
Devlin Manor Nursing and Rehabilitation Center is part of Mid-Atlantic Health Care, which operates 21 facilities in Maryland and Pennsylvania (12 in Maryland). Located in Cumberland, Maryland, Devlin Manor provides post-hospital care, skilled nursing services, rehab services, palliative care, and dementia care. It has 124 certified beds, though, at last official count, only 98 were occupied.
It's hard to tell what exactly is happening these days inside Devlin Manor Nursing and Rehabilitation Center, because this facility recently came under new management. In its last standard, Devlin Manor received the lowest 1-star rating. So we can't say that Mid-Atlantic has come in and remade the place. But the jury is still out.
Devlin Manor Competitors
Before we get into the not so enjoyable details of Devlin Manor, let's look quickly at the competition. There are three other nursing homes in Cumberland.
Golden LivingCenter-Cumberland: This facility and Devlin Manor got exactly the same four main ratings from Medicare - all awful. Both facilities got a below-average 2-star rating for staffing, and rock-bottom 1-star ratings for their health inspections and quality measures, as well as their overall score. This Golden LivingCenter is 3.1 miles away (a 7-minute drive).
Allegany Health and Nursing Rehab: Located 6.1 miles away (a 13-minute drive most down Willowbrook Road), is the best-rated nursing home in Cumberland although its inspection reports from Medicare are hardly perfect. This facility is owned by… Mid-Atlantic Health.
The Lions Center for Rehabilitation and Extended Care: Approximately 8.4 miles away from Devlin Manor is a higher rated nursing home than Devlin although not as high as Allegany Health. The Medicare ratings for The Lions Center are nothing to brag about, but they are plenty good enough to place this facility above its two Cumberland competitors. Receiving a 3-star Medicare rating overall, The Lions Center did get a 4-star above-average rating for its nurse staffing.
Improving
Mid-Atlantic Health Care, LLC, has been operating and managing Devlin Manor since October 1, 2015. On January 1, 2016, Mid-Atlantic assumed 100 percent ownership of Devlin Manor. Exactly one week later, Medicare conducted its standard nursing home survey of this facility. Concurrently, it conducted a complaint inspection. Medicare found 11 deficiencies in this facility, and it investigated 11 different complaints. The question is: how much of the responsibility for this facility's Medicare issues was that of the new owners - who only had been around for two months?
Though its 11 deficiencies did not earn it any blue ribbons, Devlin Manor had the same number as the Maryland state average. A previous Medicare survey had turned up 21 deficiencies at Devlin Manor - a seriously bad number. So it would appear, at least superficially, that this facility is improving.
A closer look at the Medicare stats suggests that even in its most recent standard survey, Devlin Manor's numbers may not have been as bad as they appeared. Its 11 deficiencies were concentrated in four of the eight Medicare categories: administration, quality care, resident assessment, and pharmacy services. This could mean that most deficiencies were due to just a handful of employees: one administrator, one pharmacist, etc. Devlin Manor had no deficiencies with respect to resident rights, nutrition and dietary issues, or environmental issues, nor any for mistreatment. On fire safety, its latest score was perfect: zero deficiencies. (The Maryland average is 4, the U.S. average is 3.4.)
Leaps and Bounds
A similar situation may apply to the complaint above report: on closer inspection, it may not be as bad as it looks. There were 11 separate complaints, but Medicare will write up the same episode under more than one of its complaint categories, as it did in this case. Devlin Manor actually had fewer complaint episodes than the Medicare number implies. And in all cases, Medicare said that each complaint issue posed minimal harm or potential for harm, and it affected few residents.
The complaint report did cite a number of lapses by staffers: failing to establish a plan for helping a resident maintain or restore her bladder control; failing to try easing a resident off psychotic meds; failing to code resident assessments accurately; failing to toss some meds that were past their expiration dates. Two other complaint items were administrative in nature, and not necessarily the fault of the new owners.
The Medicare complaint report also cited cases concerning individual residents whose behavior hardly seemed the facility's fault. In one case, staffers were trying to help a resident take a shower. The resident threw herself off the shower chair, but was caught by the staffers; then she kept on trying to throw herself off the chair, while throwing things and yelling verbal threats. Finally they put her to bed. The facility was cited because the staffers did not officially document this incident. It would seem worthy of a note, right?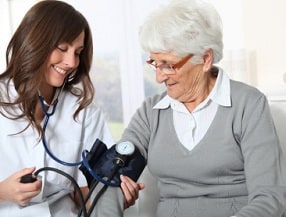 Another incident was even more dramatic. Inspectors found that the facility had "failed to initiate a care plan for a resident [who] had made attempts to elope…." That's Medicare's language. We don't know if it means the resident had a romantic assignation, or if he was just trying to leave the place. (Perhaps both were true.) Staffers had been alerted to his tendency to wander, but he was deemed low-risk "due to his immobility." But soon this resident was trying to board an elevator, saying loudly that he was "going to the parking lot and leaving in his truck." Foiled at his elevator escape, he removed a screen from his window and climbed onto the rooftop. It sounds to us like this guy was pretty darn mobile. Medicare said Devlin Manor should have had a plan for figuring out a way to keep the man from running off, but the director of nursing didn't consider him a flight risk (as it were) because "we never lost sight of him." [Quotation marks added.]
Just Below Average
Devlin Manor's overall 2-star rating for staffing would appear to be due to this facility's lower-than-average amounts of nursing time. Devlin Manor was below the Maryland and U.S. averages for total nursing time per resident per day, about half an hour lower per day on time by certified nursing assistants, and much lower - by half - in time spent by LPNs and LVNs (licensed practical nurses, licensed vocational nurses). It was skimpy on physical therapist time. However, it was right on par with the state and U.S. averages on RN time - and it got 4 stars for RN staffing.
On quality measures, Devlin Manor got another rock-bottom 1-star rating. But, again, and it is odd our nursing home lawyers are defending what is clearly a troubled center, this facility may not be as bad as that score implies.
For short-stay residents, this facility was very close to the Maryland and U.S. averages in three measured categories. It scored less well in six other categories. But in five of those cases, it scored only slightly to moderately lower than the state and national averages. The only stat for which it was significantly lower was in giving flu shots to short-stayers: it reached about three out of five of these residents with the vaccinations, versus the Maryland and U.S. averages of four in five. For the most part, Devlin Manor was very close to the state and national averages.
It is much the same picture for the stats on long-stay residents. Devlin Manor's scores were lower than the Maryland and national averages in 10 of 15 categories - but in five categories, this facility's scores were only moderately or slightly below the state and national averages.
Devlin Manor got a definitely "minus" score on pressure ulcers (bed sores), its incidence rate for long-stayers (12.5 percent) being about twice the Maryland and U.S. averages of 6.8 percent and 5.8 percent, respectively. No doubt, 12.5% raises eyebrows. This gets the attention of elder attorneys because bed sores are a very common source of nursing home lawsuits. You just have to care and pay attention to avoid bed sores.
Long-term residents here were more apt to need help with their daily activities (25.5 percent at Devlin Manor, versus 18.7 percent statewide and 15.4 percent nationally). And this facility was more likely than average to administer antianxiety and antipsychotic meds. It was almost on par in giving long-termers flu shots, and it was better than average in administering pneumonia vaccinations (99.4 percent). On using physical restraints, it was the same as the Maryland average, and slightly better than the U.S. average.
Better scores
But this facility also had some metrics that were distinctly better than the Maryland and U.S. averages - and these, to our way of thinking, are significant numbers. It had a lower rate of falls with injury (2.4 percent, versus 2.9 percent for Maryland, 3.3 percent nationally). It had a much-superior stat on depression rates: only 1.8 percent of Devlin Manor's long-stay residents had depressive symptoms - about one-third as many as the Maryland (4.8 percent) and U.S. (5.4 percent) averages. And in maintaining these residents' continence, Devlin Manor truly was a high-achiever, with an incontinence rate of only 27.1 percent, versus 58 percent for Maryland, 46.6 percent for the U.S.
All told, it is hard to understand how Devlin Manor only got 1 star for quality measures. Incidentally, it has had no federal fines or payment denials in the past three years.
Devlin Manor now is one of the 21 facilities operated by Mid-Atlantic in Maryland and Pennsylvania. Says the parent company's website: "Mid-Atlantic Health Care's mission is both remarkably simple and enormously challenging. We feel that the facilities we own and manage should be an extension of the communities we serve… and represent the best healthcare practices available in those communities. We are not satisfied with anything less than the highest quality healthcare."
Mid-Atlantic Health Care has not owned Devlin Manor for very long yet. But it has a history of at least getting its nursing homes to an average rating. We will see what happens.
Cumberland Nursing Home Lawyer
If your loved one has been badly harmed or unexpectedly passed away in a Cumberland nursing home or assisted living facility, you need a nursing home lawyer to help you determine whether you may be entitled to financial compensation for the losses you have suffered. Miller & Zois is here to help you get the justice you deserve. Call our lawyers today at (800) 553-8082 or get a free online case evaluation.
More Information
1Vital Statistics
Number of Beds:
124 certified beds

Beds in the nursing home that have been approved by the federal government to participate in Medicare or Medicaid.
Accepts:
Medicare and Medicaid

Shows if the nursing home participates in the Medicare, Medicaid, or both.
2Key Ratings
Star Rating Summary
Overall Rating
Average
Health Inspection

Medicare assigns the star rating based on a nursing home's weighted score from recent health inspections. More stars means fewer health risks

Average
Staffing

Medicare assigns the star rating based on the nursing home's staffing hours for Registered Nurses (RNs), Licensed Practice Nurses (LPNs), Licensed Vocational Nurses (LVNs), and Nurse aides. More stars means a better level of staffing per nursing home resident

Average
RN Staffing
Above Average
Quality Measures

Medicare assigns the star rating based on data from a select set of clinical data measures. More stars means better quality of care

Average
3Key Short Stay Statistics
Description
Devlin Manor Nursing And Rehabilitation Center
Maryland
Average
Percent of short-stay residents who self-report moderate to severe pain
Lower percentages are better.
25.6%
10.4%
Percentage of SNF residents with pressure ulcers that are new or worsened
Lower percentages are better.
2.8%
Not Available
Percent of short-stay residents assessed and given, appropriately, the seasonal influenza vaccine
Higher percentages are better.
80.3%
85.3%
Percent of short-stay residents assessed and given, appropriately, the pneumococcal vaccine
Higher percentages are better.
86.8%
84.0%
Percentage of short-stay residents who got antipsychotic medication for the first time
Lower percentages are better.
5.0%
1.7%
4Key Long Stay Statistics
Description
Devlin Manor Nursing And Rehabilitation Center
Maryland
Average
Percent of long-stay residents experiencing one or more falls with major injury
Lower percentages are better.
4.0%
2.7%
Percent of long-stay residents with a urinary tract infection
Lower percentages are better.
3.2%
2.5%
Percent of long-stay residents who self-report moderate to severe pain
Lower percentages are better.
9.3%
5.4%
Percent of long-stay high-risk residents with pressure ulcers
Lower percentages are better.
15.4%
8.8%
Percent of long-stay low-risk residents who lose control of their bowels or bladder
Lower percentages are better.
24.6%
62.3%
Percent of long-stay residents who have or had a catheter inserted and left in their bladder
Lower percentages are better.
1.0%
1.7%
Percent of long-stay residents who were physically restrained
Lower percentages are better.
0.8%
0.2%
Percentage of long-stay residents whose ability to move independently worsened
Lower percentages are better.
19.4%
22.5%
Percent of long-stay residents whose need for help with daily activities has increased
Lower percentages are better.
13.4%
18.0%
Percent of long-stay residents who lose too much weight
Lower percentages are better.
6.3%
5.8%
Percent of long-stay residents who have depressive symptoms
Lower percentages are better.
1.7%
3.9%
Percentage of long-stay residents who received an antianxiety or hypnotic medication
Lower percentages are better.
18.6%
16.2%
Percent of long-stay residents assessed and given, appropriately, the seasonal influenza vaccine
Higher percentages are better.
97.9%
96.7%
Percent of long-stay residents assessed and given, appropriately, the pneumococcal vaccine
Higher percentages are better.
98.1%
94.1%
Percent of long-stay residents who received an antipsychotic medication
Lower percentages are better.
26.4%
12.4%
5Inspection Summary
Date of standard health inspection:06/15/2018
Total number of health deficiencies:18
Average number of health deficiencies in Maryland:14.9