Courtland, LLC
7920 SCOTTS LEVEL ROAD
BALTIMORE, MD 21208
(410) 521-3600
Basic Profile:
Located in Baltimore County, Maryland
For-profit corporation
Certified beds: 151
Last Medicare rating: 2 stars
Most recent lawsuit: February 2018
Courtland is a 151-bed nursing home located just off the Baltimore Beltway in Pikesville. This facility provides both short-term rehabilitation and long-term care. It is convenient to Milford Mill, Randallstown, and Reisterstown in Baltimore County.
The older a nursing home is, the more likely there will be some negatives in its record. Things happen over time: an administrator misfiles something; a resident slips and falls; paint starts peeling here and there.
But if a facility is brand-new, you might expect it to do well across the board. That is why the record of Courtland gives you cause for pause.
Opened in 2014, Courtland is the newest FutureCare facility, which includes 14 nursing and rehab centers in the Washington-Baltimore metro area. FutureCare is based in Pasadena, Maryland and has been in business since 1986. As of this writing, this facility is less than three years old. Our nursing home lawyers know FutureCare well and we know their efforts to avoid liability in personal injury and wrongful death cases. We recently won a landmark decision against FutureCare in the Maryland Court of Special Appeals when they tried to weasel its way around a jury trial in a wrongful death case because the victim signed an agreement to arbitrate when entering the nursing home.
It would seem fair to hold a new facility to higher standards of operation and performance; certainly fair to expect it to be at least average. By various measures, Courtland is not even that. In its most recent Medicare inspection (in fact, probably its only one so far), Courtland received a 2-star rating overall: brand-new though this facility may be, it already ranks below average. And in less than three years of operation, Courtland already has had two complaint inspections. Given its time in existence, that is a striking bit of underachievement.
Bad Start
Besides its overall 2-star rating, Courtland also got the 2-star rating in its standard Medicare health inspection (May 2015). This place is still new, yet its health inspection did not even produce a mediocre rating.
It is striking that this new facility should have had 13 health deficiencies in that review -- exceeding both the Maryland state average of 11, and the overall national average of 7.1. Courtland was found to have more deficiencies than many facilities that are much older.
To make matters worse, Courtland had deficiencies in all eight of the Medicare health inspection categories (including one for mistreatment). Are we getting the picture that this facility has gotten off to a bad start? (At least on fire safety, this facility did well: zero deficiencies, versus the U.S. average of 3.4, the Maryland state average of 4.)
Courtland had Medicare complaint inspections in February and July of 2016. The best news here is that in both cases, Medicare determined that there was "minimal harm or potential for actual harm." But it shows that this facility is no doing the little things that need to be done to keep patient safe (and avoid lawsuits).
In February, inspectors determined that "the facility staff failed to ensure that a resident received showers as scheduled." In one resident's room, "the surveyor observed a box of adult briefs and boxes of disposable gloves piled on a chair by the door." In another's room, "there was soiled linen on the floor by the bed." If residents are routinely smelly or dirty, what does it say about the facility's level of care?
As for the July inspection, the complaint pertained to not hiring people with a history of abusing residents, and to reporting and investigating cases of abuse, should they occur. However, the Medicare report could only state: "Deficiency Text Not Available."
Some Good Scores
Courtland did do better on staffing, this time managing to score three stars ("average") overall. This is classic FutureCare. When it comes to staffing, there are shooting for three starts. Four stars is way too expensive.
In one bright spot, this facility got an above-average rating of 4 stars for RN staffing. Otherwise, it was - at best - average. This is interesting because registered nurses are more expensive. Usually, the big chain nursing home short the RN time to save money.
In measures of daily nursing time per resident, Courtland was even with the Maryland and U.S. averages for physical therapists and certified nursing assistants, but below the state and national norms for LPNs and LVNs (licensed practical nurses, licensed vocational nurses), total daily nursing time (all nurses), and even the time that RNs spent each day with residents.
Courtland got its best Medicare score - 4 stars -- for quality measures. That is a positive sign, since quality measures gauge levels of care. Courtland was somewhat lower than the state and national averages on improving short-stay residents' functionality, but it had a modestly better rate of successful discharges into the community, after which its former residents were about par with state and national averages for needing an ER visit or rehospitalization.
Courtland was close to par with the Maryland and U.S. averages on giving flu and pneumonia vaccinations to short-term residents. Courtland was much better than the Maryland and U.S. averages on short-stayers' incidence of pressure ulcers (bed sores) - only one-quarter as likely; and in their use of antipsychotics - less than half as likely. As for short-stay residents' self-reports of serious pain, this facility embarrasses Maryland and the U.S. overall: only 1.3 percent of its short-stayers reported significant pain, versus 14.2 percent of Maryland residents and 16.9 percent of all U.S. residents.
All told, for short-stay residents Courtland was better than average in four categories, below average in three, and about even in two. And in fairness to this facility, we would note that one must take statistics with a good dose of salt. Consider this facility's stats for short-stayers on improvement of function: only 55.2 percent of Courtland's short-stayers showed such improvement, versus 64.8 percent for Maryland and 63.3 percent nationally. But how do we know the condition of the residents when they went in? Might Courtland have admitted many residents who needed more help than average? If so, it could have dragged down Courtland's score. We just don't know, based on the bare Medicare stats. The numbers never tell the whole story.
Mostly Better
For long-stay residents: Courtland was better in nine of the 15 measured Medicare categories, worse in four, and about even with the Maryland and U.S. averages in two.
At Courtland, the rate of UTIs was about half the state and national averages (2 percent, versus 4.5 percent and 4.8 percent for Maryland and the U.S., respectively). Courtland also made less use of ongoing catheterization. However, the incontinence rate at Courtland was almost calamitous: 82.5 percent of long-stay residents were so afflicted, versus 58 percent for the Maryland average and 46.6 percent on average nationally.
Courtland's use of meds for anxiety and psychosis was only about one-third as high as the Maryland and U.S. averages (a good thing), and the rate of depression among its long-termers was slightly lower than the state and national averages.
Courtland came in moderately above the Maryland and U.S. averages on the rate of falls with injury; on long-term residents' self-reports of serious pain; on the use of physical restraints on residents; on preventing these residents' serious weight loss; and on giving them vaccinations for flu and pneumonia.
Courtland was somewhat below the Maryland and national averages on maintaining residents' mobility, on helping residents maintain their independence in their daily activities, and on preventing pressure sores.
Sister Facilities
By Medicare's 2015 count, Courtland had a total of 132 residents, placing it higher than the Maryland average of 107.5, and significantly higher than the U.S. average (86.2). Courtland has had no federal fines or payment denials in the past three years; then again, it has not even existed for that long.
Courtland's parent company, FutureCare, proudly boasts on its website that in 2015, five of its facilities made the U.S. News & World Report list of "Best Nursing Homes in America." Courtland was not among those five facilities, although FutureCare Old Court was. (Still worth noting: FutureCare Old Court was sued in 2015 in a wrongful death lawsuit alleging negligent failure to diagnose and treat dehydration and c-diff. Its most recent Medicare survey gave Old Court 4 stars for staffing and quality measures and an above-average 4-star rating overall. "FutureCare," the Maryland-based company says on its website, "brings the highest quality of clinical and rehabilitative services to Courtland." If that's true, how did Courtland get lower Medicare ratings than Old Court? The mystery is that FutureCare should operate two facilities less than two miles apart, and achieve such different results with them.
Courtland Competitors (within 2 miles):
Envoy of Pikesville: Less than a mile from Courtland but located in Pikesville, this facility rates inferior to Courtland in 3 of 4 Medicare categories.
North Oaks: This Baltimore facility creams Courtland in its overall Medicare rating (5 stars), but somehow Courtland outperforms North Oaks on quality measures.
Milford Manor Nursing Home: About a mile away from Courtland in Baltimore, Milford Manor has received abysmal (1-star) scores in three of four Medicare categories. Courtland looks like a safer bet.
Augsburg Lutheran Home: This Baltimore facility is almost squarely average in its Medicare ratings, although it excels (5 stars) in quality measures (beating Courtland's four stars).
Northwest Hospital Ctr. Sub. Unit: Located in Randallstown, about 2 miles from Courtland, this facility has great ratings (4 or 5 stars) till you come to quality measures (numerical measures of care) - where Northwest gets a dismal 1 star. Courtland, average or below in other categories, got four stars here.
Future Care Old Court: This facility is a "sister" to Courtland: both are units of FutureCare. But with its solidly average or above-average ratings, this Randallstown facility equals or beats Courtland in every Medicare category. And it's less than two miles away from Courtland.
Pikesville Nursing Home Lawyer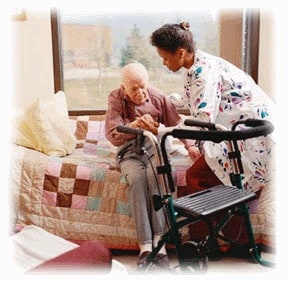 Do you have a possible nursing home lawsuit against this Centerville nursing home or any other senior care facility in Maryland? Call our nursing home attorneys at Miller & Zois today at (800) 553-8082 or get an easy, free no obligation case review. We can counsel you and your family on your options for settlement or a lawsuit and how to get the compensation and justice you deserve for the unnecessary harm that has been done.
More Information
1Vital Statistics
Number of Beds:
151 certified beds

Beds in the nursing home that have been approved by the federal government to participate in Medicare or Medicaid.
Accepts:
Medicare and Medicaid

Shows if the nursing home participates in the Medicare, Medicaid, or both.
2Key Ratings
Star Rating Summary
Overall Rating
Above Average
Health Inspection

Medicare assigns the star rating based on a nursing home's weighted score from recent health inspections. More stars means fewer health risks

Average
Staffing

Medicare assigns the star rating based on the nursing home's staffing hours for Registered Nurses (RNs), Licensed Practice Nurses (LPNs), Licensed Vocational Nurses (LVNs), and Nurse aides. More stars means a better level of staffing per nursing home resident

Above Average
RN Staffing
Above Average
Quality Measures

Medicare assigns the star rating based on data from a select set of clinical data measures. More stars means better quality of care

Above Average
3Key Short Stay Statistics
Description
Courtland, Llc
Maryland
Average
Percent of short-stay residents who self-report moderate to severe pain
Lower percentages are better.
4.8%
10.4%
Percentage of SNF residents with pressure ulcers that are new or worsened
Lower percentages are better.
1.3%
Not Available
Percent of short-stay residents assessed and given, appropriately, the seasonal influenza vaccine
Higher percentages are better.
81.1%
85.3%
Percent of short-stay residents assessed and given, appropriately, the pneumococcal vaccine
Higher percentages are better.
83.4%
84.0%
Percentage of short-stay residents who got antipsychotic medication for the first time
Lower percentages are better.
2.1%
1.7%
4Key Long Stay Statistics
Description
Courtland, Llc
Maryland
Average
Percent of long-stay residents experiencing one or more falls with major injury
Lower percentages are better.
0.2%
2.7%
Percent of long-stay residents with a urinary tract infection
Lower percentages are better.
0.7%
2.5%
Percent of long-stay residents who self-report moderate to severe pain
Lower percentages are better.
3.0%
5.4%
Percent of long-stay high-risk residents with pressure ulcers
Lower percentages are better.
9.2%
8.8%
Percent of long-stay low-risk residents who lose control of their bowels or bladder
Lower percentages are better.
88.5%
62.3%
Percent of long-stay residents who have or had a catheter inserted and left in their bladder
Lower percentages are better.
1.9%
1.7%
Percent of long-stay residents who were physically restrained
Lower percentages are better.
0.0%
0.2%
Percentage of long-stay residents whose ability to move independently worsened
Lower percentages are better.
35.4%
22.5%
Percent of long-stay residents whose need for help with daily activities has increased
Lower percentages are better.
20.4%
18.0%
Percent of long-stay residents who lose too much weight
Lower percentages are better.
5.1%
5.8%
Percent of long-stay residents who have depressive symptoms
Lower percentages are better.
7.1%
3.9%
Percentage of long-stay residents who received an antianxiety or hypnotic medication
Lower percentages are better.
15.3%
16.2%
Percent of long-stay residents assessed and given, appropriately, the seasonal influenza vaccine
Higher percentages are better.
97.5%
96.7%
Percent of long-stay residents assessed and given, appropriately, the pneumococcal vaccine
Higher percentages are better.
90.9%
94.1%
Percent of long-stay residents who received an antipsychotic medication
Lower percentages are better.
7.3%
12.4%
5Inspection Summary
Date of standard health inspection:12/18/2018
Total number of health deficiencies:23
Average number of health deficiencies in Maryland:14.9