Copper Ridge
710 OBRECHT ROAD
SYKESVILLE, MD 21784
(410) 795-8808
Basic Profile:
Located in Carroll County, Maryland
Nonprofit corporation
Certified beds: 66
Last Medicare rating: 3 stars
Copper Ridge specializes in caring for residents with Alzheimer's disease and other dementias. So does this facility define itself on its website (www.copperridge.org). In its last standard Medicare inspection, this facility got an overall rating of 3 stars - average.
Copper Ridge is part of a nonprofit network called Integrace; at the top of its website home page, this facility is called "Integrace Copper Ridge," although elsewhere the website text refers simply to "Copper Ridge." This facility bringing in somewhere around $16 million in revenue every year. It has been in business since 1992.
The total resident population at Copper Ridge was 66 as of the last official tally. This count means that Copper Ridge is smaller than the average Maryland facility (107.5 residents, average) and the average facility across the U.S. (86.2 residents). It is noteworthy, however, that Copper Ridge (at last count) had 66 certified beds and 66 residents: this place was filled right to capacity.
Competition in Sykesville
Below are nursing homes near Sykesville and the driving time and distance from Copper Ridge. As nursing home lawyers, we are quick to find fault with these facilities. But the competition in this area is pretty good.
Exceptional
An examination of the Medicare stats would suggest that, especially given this facility's area of specialization, Copper Ridge has achieved some impressive outcomes. Here is a more elaborate self-description from the Copper Ridge website:
"Over 20 years ago, Copper Ridge became a model residential community dedicated to the treatment and support of those with Alzheimer's disease and related dementias. Through partnerships with some of the best experts in the country, along with cutting-edge research, we have developed practices that are person-centered and best support those living with dementia and their caregivers. Through the work of the on-site Memory Clinic, we are able to support the greater community in providing assessments, diagnosis and supporting treatment plans for those experiencing memory loss, Alzheimer's disease and related dementias. As a recognized leader in the industry, our continued work with research and education through the Integrace Institute at Copper Ridge will support our goal to improve the quality of life for those with dementia, their loved ones, and the dedicated professionals who continue to devote their lives to this important work."
Copper Ridge management has been quoted in the past as saying that some of the Medicare ratings criteria is not fair to Copper Ridge because it skews the facility's rates for patient weight loss and percentage of patients taking anti-psychotic drugs. There is no doubt that this is true. Its focus, in terms of the residents it serves, would seem to make Copper Ridge an exceptional facility. We are not experts in Alzheimer's or other diseases of dementia, but our understanding is that to achieve any progress in this field is progress indeed; and at least some residents at Copper Ridge have progressed.
Many Deficiencies
That said, this is no excuse for poor health inspection. The last standard Medicare inspection, in June, 2015, turned up a sky-high total of 23 deficiencies - over twice the Maryland state average (11) and over three times the U.S. average (7.1). Copper Ridge had deficiencies in all eight of the health inspection categories, including five for environmental issues, four each for quality care, pharmacy services, and administration, and one for mistreatment. On fire safety, Copper Ridge had 6 deficiencies, versus the Maryland average of 4 and the national average of 3.4. With these numbers, Copper Ridge may have been lucky to receive 2 stars overall for its health inspection.
In July, 2016, Copper Ridge also had a complaint inspection - which, ironically, was less deficiency-ridden than the 2015 standard survey. In the complaint inspection, this facility got a demerit because in one case, staffers failed to obtain a physician's orders for a resident. In another case, staffers failed to maintain complete and accurate medical records for a resident. Both cases, Medicare said, posed minimal harm or potential for actual harm, and affected few residents.
Staffing, Quality
In terms of staffing - that is, nurse staffing -- Copper Ridge did much better, receiving an above-average 4-star rating.
Copper Ridge did come in below the Maryland and U.S. averages for total daily nursing time per resident. It was lower specifically on RN time per resident per day: 37 minutes versus 59 minutes for the Maryland average, 51 minutes the U.S. average; yet this facility got a 3-star rating on RN staffing. It also was lower than average in time per resident spent by LPNs and LVNs (licensed practical nurses, licensed vocational nurses).
Bringing up its overall score on staffing, Copper Ridge was slightly about average in physical therapist time per resident -- and a huge jump ahead of the state and national averages for time spent by certified nursing assistants. At 3 hours, 48 minutes, CNA daily time per resident at Copper Ridge was well over an hour higher than the Maryland and U.S. averages of just under two and a half hours.
For quality measures, which give a sort of quantitative summary of a facility's level of care, Copper Ridge scored 3 stars overall.
Medicare tracks quality measures for short-stay and long-stay residents. The first question here is: how does a facility dedicated to caring for patients with Alzheimer's disease and other dementias have any short-staying residents at all? The Medicare stats don't explain that, but apparently Copper Ridge does have residents in this category. Next question: does the nature of this facility's specialization affect its stats?
In the Medicare scoring, Copper Ridge short-stay residents were less apt to show improvement in functionality: 55 percent did, versus 64.8 percent statewide and 63.3 percent nationally on average. But considering the nature of this facility's clientele, a 55-percent rate of improvement would seem to be a real achievement.
Short-termers here were more than twice as likely as the Maryland and U.S. averages to have pressure ulcer issues, and almost twice as likely as the state and national norms to receive antipsychotic meds. They were less likely to receive flu and pneumonia vaccinations. On the other hand, they were only one-fourth as likely as the Maryland and U.S. averages to report having significant pain.
The most striking stat for short-stay residents at this facility was that in the rate of successful discharges to the community, Copper Ridge beat both the Maryland and U.S. averages. It did not do so by much: its discharge rate (60.9 percent) only edged Maryland's average (59.1 percent) and topped the U.S. average (55 percent) by five points. Still: it seems remarkable that Copper Ridge should be above average in this particular category.
Moreover, the rate at which its former residents needed to make an ER visit was only slightly above the state and national norms, and the rate at which they required rehospitalization was almost exactly on par with the Maryland and U.S. averages. Again, considering this facility's area of specialization, Copper Ridge's numbers may be better than purely numerical measurements and comparisons would imply.
Better Than Average
For long-stay residents (even more than for short-stayers), should a nursing home's stats be adjusted for the fact that the facility caters to people with Alzheimer's? Would it not be logical to expect long-term residents at such a facility have many areas of decline? Whether or not that is true, Copper Ridge did well enough by its long-stay residents that its overall 3-star rating for quality measures may be lower than it deserves.
The only metric for long-stayers in which Copper Ridge's stats were very much below the state and national norms was in the use of antipsychotic medications: this facility gave them to 31.1 percent of their long-stay residents, versus the Maryland average of 14.1 percent and the national average of 17.2 percent. Copper Ridge also was below the state and national averages on the rate of falls with injury and cases of serious weight loss, but in both cases, this facility was only a little below par.
In several other categories Copper Ridge's scores were very closely comparable with those of Maryland and the U.S. at large. Surprisingly, one of those comparable categories was the rate in which residents needed help in performing daily activities. Again, it would seem to be to this facility's credit that it should score average on this point at all. And Copper Ridge was marginally better than the Maryland and U.S. averages on helping long-termers maintain their mobility.
This facility was right with the averages, or even slightly ahead of them, for administering flu and pneumonia vaccinations to its long-stay residents. And it was better - even much better - than the Maryland and U.S. averages by several measures. Its urinary tract infection rate was less than half the state and U.S. averages; its use of ongoing catheterization was less than a third as much. This facility resorted less often than average to using antianxiety meds - and the rate of depression among its long-term residents was eight or nine times lower than the Maryland and U.S. averages.
In terms of long-stay residents' self-reports of significant pain, the rate at Copper Ridge was zero percent (versus 6.4 percent for Maryland, 8.2 percent nationally). One might question whether the presence of dementia in residents might account for this "perfect" score. But on the use of physical restraints, Copper Ridge again got a perfect score of zero - no restraints used - and that excellent score had nothing to do with the fact that residents had dementia.
If one reads between the lines of numbers, it appears -- based on its most recent batch of Medicare stats - that Copper Ridge has reason to be pretty proud of its performance.
Sykesville Nursing Home Lawyer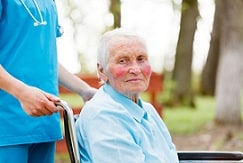 Do you have a possible nursing home lawsuit against this Carroll County nursing home or any other elder care facility? Call our nursing home lawyers at Miller & Zois today at (800) 553-8082 or get an easy, free no obligation case review. We can counsel you and your family on how you can get justice and compensation you deserve for the losses suffered.
More Information
1Vital Statistics
Number of Beds:
66 certified beds

Beds in the nursing home that have been approved by the federal government to participate in Medicare or Medicaid.
Accepts:
Medicare and Medicaid

Shows if the nursing home participates in the Medicare, Medicaid, or both.
2Key Ratings
Star Rating Summary
Overall Rating
Above Average
Health Inspection

Medicare assigns the star rating based on a nursing home's weighted score from recent health inspections. More stars means fewer health risks

Average
Staffing

Medicare assigns the star rating based on the nursing home's staffing hours for Registered Nurses (RNs), Licensed Practice Nurses (LPNs), Licensed Vocational Nurses (LVNs), and Nurse aides. More stars means a better level of staffing per nursing home resident

Average
RN Staffing
Above Average
Quality Measures

Medicare assigns the star rating based on data from a select set of clinical data measures. More stars means better quality of care

Much Above Average
3Key Short Stay Statistics
Description
Peak Healthcare At Copper Ridge
Maryland
Average
Percent of short-stay residents who self-report moderate to severe pain
Lower percentages are better.
7.1%
10.4%
Percentage of SNF residents with pressure ulcers that are new or worsened
Lower percentages are better.
1.1%
Not Available
Percent of short-stay residents assessed and given, appropriately, the seasonal influenza vaccine
Higher percentages are better.
76.7%
85.3%
Percent of short-stay residents assessed and given, appropriately, the pneumococcal vaccine
Higher percentages are better.
82.6%
84.0%
Percentage of short-stay residents who got antipsychotic medication for the first time
Lower percentages are better.
10.1%
1.7%
4Key Long Stay Statistics
Description
Peak Healthcare At Copper Ridge
Maryland
Average
Percent of long-stay residents experiencing one or more falls with major injury
Lower percentages are better.
6.0%
2.7%
Percent of long-stay residents with a urinary tract infection
Lower percentages are better.
1.0%
2.5%
Percent of long-stay residents who self-report moderate to severe pain
Lower percentages are better.
8.0%
5.4%
Percent of long-stay high-risk residents with pressure ulcers
Lower percentages are better.
7.1%
8.8%
Percent of long-stay low-risk residents who lose control of their bowels or bladder
Lower percentages are better.
76.2%
62.3%
Percent of long-stay residents who have or had a catheter inserted and left in their bladder
Lower percentages are better.
1.3%
1.7%
Percent of long-stay residents who were physically restrained
Lower percentages are better.
0.0%
0.2%
Percentage of long-stay residents whose ability to move independently worsened
Lower percentages are better.
24.4%
22.5%
Percent of long-stay residents whose need for help with daily activities has increased
Lower percentages are better.
20.0%
18.0%
Percent of long-stay residents who lose too much weight
Lower percentages are better.
4.0%
5.8%
Percent of long-stay residents who have depressive symptoms
Lower percentages are better.
2.6%
3.9%
Percentage of long-stay residents who received an antianxiety or hypnotic medication
Lower percentages are better.
24.8%
16.2%
Percent of long-stay residents assessed and given, appropriately, the seasonal influenza vaccine
Higher percentages are better.
96.5%
96.7%
Percent of long-stay residents assessed and given, appropriately, the pneumococcal vaccine
Higher percentages are better.
91.0%
94.1%
Percent of long-stay residents who received an antipsychotic medication
Lower percentages are better.
46.3%
12.4%
5Inspection Summary
Date of standard health inspection:09/17/2018
Total number of health deficiencies:11
Average number of health deficiencies in Maryland:14.9