Catonsville Commons
16 FUSTING AVENUE
CATONSVILLE, MD 21228
(410) 747-1800
Catonsville Commons is a 140-bed nursing home in Catonsville, Maryland just off the Baltimore Beltway. It is owned Genesis HealthCare. Genesis is easily the largest nursing home in the country with nearly twice the number of nursing homes as second place Manor Care.
Many Genesis nursing homes in Maryland are below average if you use objective data provided by Medicare. Catonsville Commons is no exception. This facility has low scores on the Medicare survey and a deficiency rate that's well above the tree line.
Deficiencies
On its most recent standard Medicare inspection, in April, 2015, this Catonsville facility scored 2 of 5 stars overall. That below-average rating was consistent with its two stars for the health inspection - which turned up a whopping 22 deficiencies. That's twice the national average and about three times the Maryland state average. Any nursing home lawyer will tell you that the common thread in most nursing home injury and wrongful death lawsuits is a center that has a lot of deficiencies in its health inspection.
Only in the nutrition and diet category did Catonsville Commons have no deficiencies; it had deficiencies in all of the other seven measured categories, including seven in administration, six in resident assessment, and four in quality of care. It had one deficiency for mistreatment.
Staffing
Studies have shown that staffing is a key factor in determining the quality of care provided by a nursing home. Catonsville Commons got 3 of 5 stars for staffing. This is what Genesis seems to shoot for with its nursing home staffing: average. It seems like Genesis wants to spend as little as possible on its staffing without raising too many eyebrows. The problem is when you shoot for average, you find yourself below average.
That is where we are with this nursing home. Catonsville Commons scored below the state and national averages for all five measured categories that track the amount of nursing time per resident. Registered nurse (RN) hours is a good barometer because it is also correlated to good care. It also shows how much the nursing home cares. Do they care to spend extra for the best and most expensive caregivers?
Catonsville Commons was notably lower in terms of RN time per resident (40 minutes a day on average, versus 59 in Maryland and 51 nationally), and it did not compensate with more care time elsewhere. For instance, residents got less than an average amount of time with certified nursing assistants and physical therapists, as well.
Quality: Ups and Downs
This facility got a below-average 2-star rating on quality measures. If this metric applied only to short-stay residents, Catonsville Commons probably would have deserved three stars, since it scored very closely on par with state and national averages across the board. But as for long-stay residents, Catonsville Commons did well on some points, while there also were some serious negatives.
For long-stayers, this facility was far above average on preventing urinary tract infections, with an infection rate of only 0.2 percent, versus 4.5 percent for Maryland, 4.8 percent for the U.S. Only 2.4 percent of the long-stayers here reported moderate to severe pain - less than half as many as statewide, less than a third than the national average. This is certainly a good thing although the cynic who reads this facility's troubling inspection report might worry that patients are unnecessarily overmedicated. Catonsville Commons was a bit above average in having fewer residents with symptoms of depression, and significantly better on limited usage of antianxiety meds (only 8.5 percent of residents receiving them, versus 18.3 percent statewide and 23.6 percent nationally); but this facility was below average in terms of antipsychotic medications (that is, it dealt out a lot more of them).
Catonsville Commons was below average on preventing pressure ulcers, a common source of nursing home lawsuits and a good barometer of the quality of care. This Genesis nursing home was slightly below average on maintaining residents' continence, although better than average on limiting the ongoing use of catheters. Its long-stay residents were somewhat more likely than average to suffer a fall with injury.
"Vitality"
The Genesis website proclaims that it is a "Specialist in Vitality" - and it even highlights this phrase in red. "Genesis focuses on the Vitality of the person," the company says, referring to both short-stay and long-stay residents.
It is noteworthy, then, that for long-stay residents, at least, Catonsville Commons seems to fall short of this claim. It scored below average on maintaining residents' mobility, and significantly below average on helping residents maintain their independence (30.2 percent of its residents needed help with daily activities, versus 18.7 on average statewide, 15.4 percent on average nationally). This facility also was more apt to use physical restraints on residents: 1 percent, versus 0.6 percent statewide, 0.8 percent nationally. Compared with the state and national norms, Catonsville Commons long-stay residents are more likely to be immobilized. They may have vitality, but quite a few of them do not seem to be moving. Could this just be the luck of the draw, that this nursing home just has more patients that are older and less mobile? It could. But Catonsville Commons is not a nursing home that should be given the benefit of the doubt.
Hiring an Elder Neglect and Abuse Lawyer in Baltimore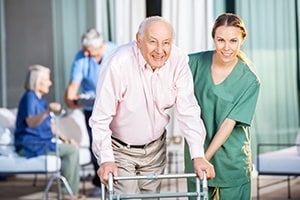 Do you have a possible assisted living or nursing home lawsuit against this Baltimore County facility or any other assisted living or nursing home? We are here to help you get justice and compensation. Call Miller & Zois today at (800) 553-8082. Alternatively, you can get a case review online for free. If you have questions, we have answers for you.
More Information
1
Vital Statistics
Number of Beds:
136 certified beds

Beds in the nursing home that have been approved by the federal government to participate in Medicare or Medicaid.
Accepts:
Medicare and Medicaid

Shows if the nursing home participates in the Medicare, Medicaid, or both.
2
Key Ratings
Star Rating Summary
Overall Rating
Below Average
Health Inspection

Medicare assigns the star rating based on a nursing home's weighted score from recent health inspections. More stars means fewer health risks

Much Below Average
Staffing

Medicare assigns the star rating based on the nursing home's staffing hours for Registered Nurses (RNs), Licensed Practice Nurses (LPNs), Licensed Vocational Nurses (LVNs), and Nurse aides. More stars means a better level of staffing per nursing home resident

Above Average
RN Staffing
Above Average
Quality Measures

Medicare assigns the star rating based on data from a select set of clinical data measures. More stars means better quality of care

Above Average
3
Key Short Stay Statistics
Description
Catonsville Commons
Maryland
Average
Percent of short-stay residents who self-report moderate to severe pain
Lower percentages are better.
6.8%
10.4%
Percentage of SNF residents with pressure ulcers that are new or worsened
Lower percentages are better.
0.0%
Not Available
Percent of short-stay residents assessed and given, appropriately, the seasonal influenza vaccine
Higher percentages are better.
56.0%
85.3%
Percent of short-stay residents assessed and given, appropriately, the pneumococcal vaccine
Higher percentages are better.
50.1%
84.0%
Percentage of short-stay residents who got antipsychotic medication for the first time
Lower percentages are better.
4.0%
1.7%
4
Key Long Stay Statistics
Description
Catonsville Commons
Maryland
Average
Percent of long-stay residents experiencing one or more falls with major injury
Lower percentages are better.
2.4%
2.7%
Percent of long-stay residents with a urinary tract infection
Lower percentages are better.
0.0%
2.5%
Percent of long-stay residents who self-report moderate to severe pain
Lower percentages are better.
3.4%
5.4%
Percent of long-stay high-risk residents with pressure ulcers
Lower percentages are better.
6.5%
8.8%
Percent of long-stay low-risk residents who lose control of their bowels or bladder
Lower percentages are better.
76.5%
62.3%
Percent of long-stay residents who have or had a catheter inserted and left in their bladder
Lower percentages are better.
1.3%
1.7%
Percent of long-stay residents who were physically restrained
Lower percentages are better.
0.0%
0.2%
Percentage of long-stay residents whose ability to move independently worsened
Lower percentages are better.
24.1%
22.5%
Percent of long-stay residents whose need for help with daily activities has increased
Lower percentages are better.
19.2%
18.0%
Percent of long-stay residents who lose too much weight
Lower percentages are better.
9.7%
5.8%
Percent of long-stay residents who have depressive symptoms
Lower percentages are better.
2.4%
3.9%
Percentage of long-stay residents who received an antianxiety or hypnotic medication
Lower percentages are better.
14.8%
16.2%
Percent of long-stay residents assessed and given, appropriately, the seasonal influenza vaccine
Higher percentages are better.
97.1%
96.7%
Percent of long-stay residents assessed and given, appropriately, the pneumococcal vaccine
Higher percentages are better.
88.2%
94.1%
Percent of long-stay residents who received an antipsychotic medication
Lower percentages are better.
20.1%
12.4%
5
Inspection Summary
Date of standard health inspection: 12/21/2018
Total number of health deficiencies: 33
Average number of health deficiencies in Maryland: 14.9