Cromwell Center
8710 EMGE ROAD
BALTIMORE, MD 21234
(410) 661-5955
Basic Profile:
Located in Baltimore County, Maryland
Owned by Genesis, the largest provider of nursing homes in the country
Certified beds: 135
Last Medicare rating: 1 star
Cromwell Center is a unit of Genesis Healthcare, which operates over 500 facilities across the U.S. Located in Parkville off the Baltimore Beltway (Perring Parkway), this nursing home has 135 Medicare-certified beds. Its range of services includes short-term and long-term care, hospice care, cardiac management programs, hemodialysis, a transitional care unit, and a homestead community for residents with Alzheimer's disease.
This is a poorly rated nursing home. Our nursing home lawyers are quick to complain about the flaws in a nursing home. Cromwell Center provides very low hanging fruit. When a nursing home gets a bottom-rung rating of 1 star, one may be tempted to look around to see what gave it so low a rating. In the case of Genesis' Cromwell Center, you do not need to look far.
Cromwell Competitors
Before we get deep into the weeds of the troubles at Cromwell Center, let's look at the competition in the Parkville:
Loch Raven Center: This Parkville facility, Cromwell's next-door neighbor on Emge Road, appears the statistical mirror-image of Cromwell: both facilities got exactly the same ratings in Medicare's four main measured categories. That includes their both getting the poorest rating (1 star) for quality measures, and the "much below average" 1-star rating overall. At least neither facility has to worry about being upstaged by its next-door neighbor.
Perring Parkway Center: This facility is just 2.8 miles from Cromwell but is a 9-minute drive in rush hour. This average rated center looks impressive when pitted against Lock Raven and Cromwell.
Oak Crest Village: Located in Parkville off the White Marsh exit on the Baltimore Beltway 2.8 miles away, Oak Crest Village got Medicare ratings almost identical to those of Perring Parkway Center, except in the important category of quality measures. On this point, Oak Crest Village got an above-average 4-star rating, versus Perring Parkway's below-average 2 stars. Oak Crest is a large, 240-bed facility.
This Nursing Home has Problems
In its last standard Medicare inspection, in April of 2015, Cromwell got a 2-star rating for the health inspection and the very bleak rating of 1 star for quality measures. It also had a complaint inspection in March, 2016, which investigated four separate complaints.
Dig a little deeper, and quickly there appear more reasons for an overall 1-star rating. That 2015 standard inspection turned up a total of 13 deficiencies - higher than the Maryland average of 11, and the U.S. average of 7.1. Cromwell's 13 deficiencies included 3 for quality care, 3 for environmental issues, and 1 for mistreatment. This facility had deficiencies in seven of eight measured Medicare categories.
In terms of fire safety, Cromwell almost sets off alarms. Most Maryland nursing homes do not seem to stray far from the state and national averages on fire safety. But for this metric, Cromwell's record was perilously poor. This facility had eight fire safety deficiencies -- twice the state average and over twice the U.S. average. Its eight demerits included one deficiency apiece in their fire alarm systems; their automatic sprinkler systems; their illumination and emergency power; and in their having a "hazardous area." If a fire were to break out here, could one depend on the fire alarm or the sprinkler system, or (if one were on a life-support system) on getting emergency power?
Just Below Par
Cromwell does better on staffing, for which it received Medicare's 3-star "average" rating. This facility got four stars for its RN staffing in particular. In terms of total nursing time per resident per day, as well as daily time with LPNs and LVNs (licensed practical nurses, licensed vocational nurses), Cromwell nearly matched the Maryland and U.S. averages. It did match the state average on RN time (59 minutes a day), thus exceeding the U.S. average (51 minutes). This facility was slightly below average on physical therapist time, and below average on residents' time with certified nursing assistants.
But Cromwell's 1-star rating for quality measures makes one wonder what all those nursing staffers do all day. Quality measures are numerical gauges of the level of care, such as measuring whether residents are receiving this or that treatment, and whether they are improving in terms of this or that condition. Medicare breaks down its stats by short-stay residents and long-stay residents.
For short-stay residents, Cromwell scored below the Maryland and U.S. averages in six of nine measured categories. In most cases, however, the margin of difference was very slight: one percentage point here, one-tenth of a percentage point there.
Cromwell was below average in terms of short-term residents' rates of improving their functionality (54 percent versus 64.8 percent for Maryland, 63.3 percent for the U.S), but this Medicare metric doesn't show how many residents needed to improve their functionality. Cromwell was about on par with the Maryland and U.S. averages in two other categories. It was superior to the state and national averages for incidence of pressure ulcers (bed sores) among short-stayers: its 0.6 average was less than half the state and U.S. averages of 1.3 percent. Cromwell's worst metrics for short-stayers were for administering flu and pneumonia vaccinations: in both cases this facility was significantly below average.
Disturbing
Judging by the Medicare numbers, it would appear that Cromwell's abysmal 1-star rating for quality measures was due mostly to its metrics for long-stay residents. This facility scored less well than the Maryland and national averages in 11 of the 15 measured categories. (Overall, Cromwell's resident total of 122 in the last official tally was moderately higher than the Maryland and U.S. population averages of 107.5 and 86.2, respectively.)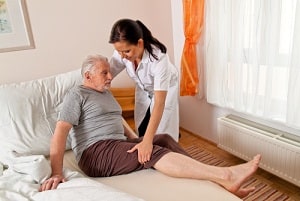 Cromwell long-stay residents were almost twice as likely to lose some of their freedom of mobility (36.9 percent, versus Maryland 22.3 percent, U.S. 18.1 percent); and they were notably more apt to need help in carrying out their daily activities (29.8 percent, versus 18.7 percent for Maryland, 15.4 percent nationally). They were more than twice as likely as average to suffer a fall with injury: 7.7 percent at Cromwell, versus 2.9 percent for Maryland and 3.3 percent in the U.S. On giving flu and pneumonia shots, Cromwell again lagged well below the state and U.S. averages.
Cromwell's worst score, for long-stay residents, was in the rate of depression: a very disturbingly high 21.3 percent of its long-stayers had depressive symptoms - roughly four times the Maryland and U.S. averages of 4.8 percent and 5.4 percent. One in five long-stay residents at Cromwell was depressed. (It is odd, then, that Cromwell was only about half as likely as average to dole out antipsychotic meds.)
Cromwell also came in below average on long-term residents' rates of pressure ulcers; their experiences of serious weight loss; and in their rates of urinary tract infections. (The inspect report, however, paints a different picture of UTI prevention.) Cromwell was slightly more apt than the state and national norms to resort to using physical restraints on residents.
The only bright note for this facility's long-termers (per the Medicare stats) was the incontinence rate: Cromwell's 40.8 percent rate was notably lower than the Maryland and U.S. averages (58 percent and 46.6 percent, respectively). Many nursing homes (even some with much better overall Medicare scores) have big incontinence problems, so its lower-than-average percentage for this metric was a point to Cromwell's credit.
Care not Given
Then there's Cromwell's complaint report. A main difference between a standard Medicare report and a complaint report is that the standard one goes almost strictly by the numbers; a complaint report gives a narrative description. At Cromwell, the Medicare inspectors cited instances of care that residents were not receiving.
Item: Investigators found that for one resident, the facility failed to prescribe and administer the same amount of insulin a resident was receiving before his entry at Cromwell. The resident charged that Cromwell was not giving him insulin on a timely basis and that his blood sugar was higher than it had been when he entered this facility. Anyone who knows anything about diabetes (which, presumably, was his condition) knows that failing to get enough insulin is very serious business.
Item: Investigators found that "the facility staff failed to initiate interventions related to the early detection, prevention/development of [a] pressure ulcer" in the skin of one resident. Sometimes, residents have pressure ulcers, or bed sores but they may have had them before they entered the facility. The difference here may have been that a resident's pressure ulcer started and then developed while this person was under care at Cromwell.
Item: Facility staffers "failed to assess a resident's blood pressure and heart rate" … before the "administration of a blood pressure medication." In 30 instances of giving the medication, staffers failed 14 times to record the resident's blood pressure, and they failed "at least 18 times" to note the resident's heart rate. One might forgive an occasional lapse - say, forgetting to do the record-keeping once out of 30 times but these staffers were failing to do so about half (or more) of the time. (In all these lapsed instances, were they actually doing the monitoring at all?)
Item: An incoming resident to this facility was on a long string of prescription medications, but for some reason the staffers let days go by without giving this resident the meds. In one case the excuse was that the facility's pharmacy did not have a particular med in stock. Cromwell's director of nursing could give no explanation as to "why some of the resident's prescribed medications [were] not available" for two weeks.
In three of these complaint issues, Medicare determined that there was "Minimal harm or potential for actual harm." In the pressure ulcer case, however, inspectors found that there was "Actual harm." Most disquieting, perhaps, is the fact that in all four complaint cases, staffers apparently were not doing their jobs - or, more charitably, perhaps they were busy elsewhere when they should have been dispensing meds, recording vital signs, or checking for pressure ulcers.
So although Medicare rated Cromwell average on staffing, it rated this facility poorly for the work these staffers are supposed to do. One might draw the inference that Cromwell's staffers are about average, but that there aren't enough of them to keep up with the workload. This is only our speculation, but it is a possible way to account for the Medicare inspectors' findings.
Parkville Nursing Home Lawyer
Do you have a possible nursing home lawsuit against this Parkville nursing home or any senior care facility or hospital? We are here to help. Call Miller & Zois today at (800) 553-8082 or get an easy, free no obligation case review. We can tell you whether you may have a claim that would entitle you to compensation.
More Nursing Home Information
The facility's website
Our lawyers conduct a similar analysis of each nursing homes in Maryland
Get answers to your nursing home lawsuit questions from our attorneys
Settlement value your potential lawsuit. Learn about how nursing home neglect and abuse claims are evaluated by attorneys, insurance companies, and juries.
Call our nursing home lawyers today at (800) 553-8082 or get a free online case review if you believe you may have a potential nursing home neglect or abuse claim in Maryland.
1Vital Statistics
Number of Beds:
135 certified beds

Beds in the nursing home that have been approved by the federal government to participate in Medicare or Medicaid.
Accepts:
Medicare and Medicaid

Shows if the nursing home participates in the Medicare, Medicaid, or both.
2Key Ratings
Star Rating Summary
Overall Rating
Below Average
Health Inspection

Medicare assigns the star rating based on a nursing home's weighted score from recent health inspections. More stars means fewer health risks

Much Below Average
Staffing

Medicare assigns the star rating based on the nursing home's staffing hours for Registered Nurses (RNs), Licensed Practice Nurses (LPNs), Licensed Vocational Nurses (LVNs), and Nurse aides. More stars means a better level of staffing per nursing home resident

Above Average
RN Staffing
Above Average
Quality Measures

Medicare assigns the star rating based on data from a select set of clinical data measures. More stars means better quality of care

Much Above Average
3Key Short Stay Statistics
Description
Cromwell Center
Maryland
Average
Percent of short-stay residents who self-report moderate to severe pain
Lower percentages are better.
4.4%
10.4%
Percentage of SNF residents with pressure ulcers that are new or worsened
Lower percentages are better.
1.6%
Not Available
Percent of short-stay residents assessed and given, appropriately, the seasonal influenza vaccine
Higher percentages are better.
84.0%
85.3%
Percent of short-stay residents assessed and given, appropriately, the pneumococcal vaccine
Higher percentages are better.
82.2%
84.0%
Percentage of short-stay residents who got antipsychotic medication for the first time
Lower percentages are better.
1.2%
1.7%
4Key Long Stay Statistics
Description
Cromwell Center
Maryland
Average
Percent of long-stay residents experiencing one or more falls with major injury
Lower percentages are better.
1.6%
2.7%
Percent of long-stay residents with a urinary tract infection
Lower percentages are better.
1.9%
2.5%
Percent of long-stay residents who self-report moderate to severe pain
Lower percentages are better.
3.0%
5.4%
Percent of long-stay high-risk residents with pressure ulcers
Lower percentages are better.
7.8%
8.8%
Percent of long-stay low-risk residents who lose control of their bowels or bladder
Lower percentages are better.
61.0%
62.3%
Percent of long-stay residents who have or had a catheter inserted and left in their bladder
Lower percentages are better.
0.5%
1.7%
Percent of long-stay residents who were physically restrained
Lower percentages are better.
0.0%
0.2%
Percentage of long-stay residents whose ability to move independently worsened
Lower percentages are better.
23.4%
22.5%
Percent of long-stay residents whose need for help with daily activities has increased
Lower percentages are better.
19.6%
18.0%
Percent of long-stay residents who lose too much weight
Lower percentages are better.
9.3%
5.8%
Percent of long-stay residents who have depressive symptoms
Lower percentages are better.
38.5%
3.9%
Percentage of long-stay residents who received an antianxiety or hypnotic medication
Lower percentages are better.
19.9%
16.2%
Percent of long-stay residents assessed and given, appropriately, the seasonal influenza vaccine
Higher percentages are better.
95.5%
96.7%
Percent of long-stay residents assessed and given, appropriately, the pneumococcal vaccine
Higher percentages are better.
90.0%
94.1%
Percent of long-stay residents who received an antipsychotic medication
Lower percentages are better.
6.1%
12.4%
5Inspection Summary
Date of standard health inspection:12/11/2018
Total number of health deficiencies:24
Average number of health deficiencies in Maryland:14.9