Collingswood Nursing & Rehabilitation Center
299 HURLEY AVENUE
ROCKVILLE, MD 20850
(301) 762-8900
Basic Profile
Located in Montgomery County, Maryland
For-profit corporation
Certified beds: 160
Last Medicare rating: 3 stars
Collingswood Nursing & Rehabilitation Center is a large 160-bed, 155 resident nursing home in Rockville, Maryland that provides 24-hour skilled nursing services and respiratory care.
Medicare reports there are four private individuals who own 99 percent of this for-profit corporation: one who has owned half of the facility since 1973, and three others (all with the same last name) who together have owned 49 percent since 2011.
Competition
Rockville is an affluent community that has a lot of very good nursing homes. Residents looking for a nursing home in Rockville have a lot of choices.
Below are the six other nursing homes in Rockville listed in order from their distance from Collingswood. We are nursing home lawyers who see how awful nursing homes treat Maryland seniors. We are not shy about criticizing these facilities. But this is an impressive group of nursing homes:
So, according to the Medicare ratings, Collingswood is ranked 6th of the 7 nursing homes in Rockville. That probably will not go on the company brochure.
Bigger Numbers
Collingswood received an overall rating of 3 stars (average) from its most recent standard Medicare inspection in February, 2016. That composite rating reflected its 2-star rating for its health inspection, its 3 stars for staffing, and 5 stars for quality measures.
This facility got the 2-star rating (below average) for the health inspection despite the fact that it had fewer deficiencies than the state average (10 for Collingswood; versus Maryland state average of 11). However, Collingswood had more deficiencies than the U.S. average (7.1), and it also had one or two deficiencies in all eight of the categories of the health inspection.
But Collingswood was quite better than average on fire safety: only one deficiency in this area, versus an average 4 for Maryland and 3.4 nationally. This is a good sign. Nursing homes need to do the little things and fire safety is a marker for other safety precautions.
With a total residential population of 155 at the last official count, Collingswood is notably larger than the average Maryland facility (averaging 107.5 residents) or other nursing homes across the U.S. (for which the population average is 86.2).
Those 155 Collingswood residents have received a bit less daily nursing time, in total, than their counterparts at other Maryland facilities or across the U.S. Collingswood was slightly lower than the state and national norms for RN time per resident per day, although it got 4 stars for RN staffing. It was also below average in terms of daily time with LPNs and LVNs (licensed practical nurses, licensed vocational nurses), although it was right about on par with state and national averages for time with certified nursing assistants and physical therapists. Collingswood's overall Medicare rating for staffing was 3 stars. It is hard to argue that this nursing home's failure to make a strong commitment to a well-staffed facility is not a reason why this nursing home is ranked 6th in Rockville.
Better Numbers
Medicare gave Collingswood 5 stars on quality measures, and a breakdown of the metrics shows that this facility has performed well, both for short-stay and long-stay residents.
Collingswood was significantly better than the Maryland and U.S. averages in helping short-term residents improve their functionality: 75.8 percent of resident here saw such improvements, versus 64.8 percent for Maryland, 63.3 percent nationally. Short-stayers at this facility were considerably less likely than average to report having moderate to severe pain, and less than half as likely as the state and national averages to be receiving antipsychotic meds.
Collingswood was modestly better than the state and national norms on its successful discharge rate, and its former residents were slightly less likely than average to need a visit to the ER.
On the incidence of pressure sores - another great barometer of the quality of care -- Collingswood was a point higher than the Maryland and U.S. averages (2.3 percent incidence rate, versus state and national averages of 1.3 percent). It was below average on vaccinations: statewide and nationally, facilities give flu and pneumonia shots to about eight in ten residents; according to the Medicare stats, Collingswood reached only about seven in ten for flu and less than six in ten for pneumonia.
Long-stay residents, almost by definition, are more likely to have significant medical issues than those who are looking to check out of a facility and go home. For its long-stay residents, Collingswood outperformed the Maryland and U.S. averages in most of the 15 categories measured by Medicare.
Collingswood was vastly better than average with respect to long-stayers' pain levels. While an average of 6.4 percent of all Maryland long-stayers, and 8.2 percent of long-stayers nationally, reported having significant pain, only 0.2 percent of Collingswood's long-stayers did. The state and national percentages on prevalence of pain were 30 to 40 times higher than the percentage at Collingswood. This facility also did exceptionally well in helping long-stayers maintain their mobility, with only 7.7 percent of its residents experiencing a decline in this regard, versus 22.3 percent for Maryland as a whole and 18.2 percent nationally. Collingwood also was significantly better than average in helping these residents carry on their daily activities without need of assistance.
Collingswood was excellent on the metric of depressive symptoms: only 1.7 percent of its long-termers had such symptoms - about a third as many as the Maryland and U.S. averages. And Collingswood's long-termers were only about half as likely to need antianxiety medications.
Collingswood was modestly better than the state and national averages for its rate of urinary tract infections. It was modestly better, too, in its incidence rate for pressure ulcers (bed sores).
Long-terms at Collingswood had a slightly higher-than-average rate of incontinence, and they were a bit more apt to experience significant weight loss, but in five other measured categories this facility's scores were closely comparable to the Maryland and U.S. averages.
Rockville Nursing Home Lawyer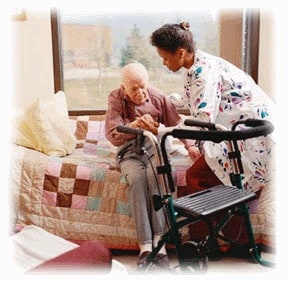 Do you have a possible nursing home lawsuit against this Rockville nursing home or any other elder care facility? Call our nursing home lawyers at Miller & Zois today at (800) 553-8082 or get a free no obligation case review. We can counsel you on how you can get justice and compensation you deserve for the losses you have suffered.
More Information
1Vital Statistics
Number of Beds:
160 certified beds

Beds in the nursing home that have been approved by the federal government to participate in Medicare or Medicaid.
Accepts:
Medicare and Medicaid

Shows if the nursing home participates in the Medicare, Medicaid, or both.
2Key Ratings
Star Rating Summary
Overall Rating
Much Above Average
Health Inspection

Medicare assigns the star rating based on a nursing home's weighted score from recent health inspections. More stars means fewer health risks

Above Average
Staffing

Medicare assigns the star rating based on the nursing home's staffing hours for Registered Nurses (RNs), Licensed Practice Nurses (LPNs), Licensed Vocational Nurses (LVNs), and Nurse aides. More stars means a better level of staffing per nursing home resident

Average
RN Staffing
Above Average
Quality Measures

Medicare assigns the star rating based on data from a select set of clinical data measures. More stars means better quality of care

Much Above Average
3Key Short Stay Statistics
Description
Collingswood Rehabilitation And Healthcare Center
Maryland
Average
Percent of short-stay residents who self-report moderate to severe pain
Lower percentages are better.
2.9%
10.4%
Percentage of SNF residents with pressure ulcers that are new or worsened
Lower percentages are better.
5.0%
Not Available
Percent of short-stay residents assessed and given, appropriately, the seasonal influenza vaccine
Higher percentages are better.
79.3%
85.3%
Percent of short-stay residents assessed and given, appropriately, the pneumococcal vaccine
Higher percentages are better.
69.4%
84.0%
Percentage of short-stay residents who got antipsychotic medication for the first time
Lower percentages are better.
1.0%
1.7%
4Key Long Stay Statistics
Description
Collingswood Rehabilitation And Healthcare Center
Maryland
Average
Percent of long-stay residents experiencing one or more falls with major injury
Lower percentages are better.
5.2%
2.7%
Percent of long-stay residents with a urinary tract infection
Lower percentages are better.
0.6%
2.5%
Percent of long-stay residents who self-report moderate to severe pain
Lower percentages are better.
0.6%
5.4%
Percent of long-stay high-risk residents with pressure ulcers
Lower percentages are better.
7.8%
8.8%
Percent of long-stay low-risk residents who lose control of their bowels or bladder
Lower percentages are better.
61.1%
62.3%
Percent of long-stay residents who have or had a catheter inserted and left in their bladder
Lower percentages are better.
1.2%
1.7%
Percent of long-stay residents who were physically restrained
Lower percentages are better.
0.0%
0.2%
Percentage of long-stay residents whose ability to move independently worsened
Lower percentages are better.
4.7%
22.5%
Percent of long-stay residents whose need for help with daily activities has increased
Lower percentages are better.
8.8%
18.0%
Percent of long-stay residents who lose too much weight
Lower percentages are better.
3.0%
5.8%
Percent of long-stay residents who have depressive symptoms
Lower percentages are better.
0.9%
3.9%
Percentage of long-stay residents who received an antianxiety or hypnotic medication
Lower percentages are better.
6.3%
16.2%
Percent of long-stay residents assessed and given, appropriately, the seasonal influenza vaccine
Higher percentages are better.
100.0%
96.7%
Percent of long-stay residents assessed and given, appropriately, the pneumococcal vaccine
Higher percentages are better.
97.9%
94.1%
Percent of long-stay residents who received an antipsychotic medication
Lower percentages are better.
16.5%
12.4%
5Inspection Summary
Date of standard health inspection:01/08/2019
Total number of health deficiencies:4
Average number of health deficiencies in Maryland:14.9