Coffman Nursing Home
1304 PENNSYLVANIA AVE
HAGERSTOWN, MD 21742
(301) 733-2914
Basic Profile:
Located in Washington County, Maryland
Nonprofit corporation
Certified beds: 59
Last Medicare rating: 4 stars
Coffman's Nursing Home is a small nonprofit nursing home in Hagerstown, Maryland that provides patients with skilled nursing care and rehabilitation. It is a smaller 59-bed nursing home but it does have nearly $5 million in assets and bringing in over $6 million a year in revenue.
This nursing home certainly talks the talk. Coffman Nursing Home's website boldly announces "The 'Right Choice.'"
"When someone you love has an injury or illness that requires skilled care or rehabilitation, all you want to do is make the right decision… the right choice.
"Coffman Nursing Home is that 'right choice.'"
The truth is that this is a better than average nursing home In its most recent standard Medicare survey, Coffman scored an overall 4-star rating - above average - and also scored 4 stars across the board in the survey's three main categories (health inspection, staffing, quality measures). These are good marks. But this facility does have some notable flaws and some of the mistakes that it does make are markers for nursing home lawsuits.
Competitors
Nursing home residents in Hagerstown have a lot of options:
Solid Health Inspection
If the "right choice" implies excellence, then Coffman has a claim here with respect to its most recent Medicare health inspection.
That survey, in June 2015, found only a single deficiency - in the category of pharmacy services - and no deficiencies at all in any of the other seven measured categories. Coffman's lone deficiency compares very favorably with the Maryland average of 11, and the U.S. average of 7.1.
On the other hand, Coffman was cited for nine fire safety deficiencies: more than twice the Maryland average (4) and the U.S. average (3.4). Why does this matter? The first is obvious: nursing home fires are a real problem in nursing homes. But it is also a sign that the nursing home is not doing all of the little things that it should do to be successful. Our nursing home attorneys see a correlation between nursing homes that do the little things and the number of mistakes that are made that lead to injury or death.
Short Staffing with Some Nurses
As nursing homes go, this nonprofit corporation is smaller than average: only 55 residents, at the last official tally, versus the Maryland state average of 107.5, and the national average of 86.2. But at this facility, having fewer residents does not translate into giving each resident more nursing attention. In terms of total nursing time per resident per day, Coffman was decidedly lower than average (1 hour, 16 minutes; versus the Maryland average, 1 hour, 51 minutes, the U.S. average of 1 hour, 42 minutes). Compared with the Maryland and U.S. averages, Coffman gave residents only one-fourth as much daily time with LPNs and LVNs (licensed practical nurses, licensed vocational nurses): just 13 minutes, versus Maryland's 52 minutes, and the U.S. average of 51 minutes. Coffman provided its residents with only one-quarter to one-third as much physical therapist time as the state and national averages. So Coffman is saving a fortune by not even meeting the measly Maryland average for these nurses. Again, this is another correlator for nursing home lawsuits.
However, Coffman slightly beat the state and national averages on RN time per resident per day - and got a 5-star rating for the RN category. This facility was much better than average, by a big leap, in employing certified nursing assistants: residents got 3 hours and 19 minutes per day with CNAs -- almost a full hour more per day than the Maryland and national averages. With its RN and CNA scores counterweighing its lower staffing numbers, Coffman got a 4-star rating for staffing overall. This is a bit of a paradox. Most nursing homes short the RN hours while giving more hours to the lower paid nurses. Coffman is doing the exact opposite.
Good for Short-Stayers
For quality measures, Coffman got yet another four stars - likely helped by its scores for short-stay residents, which were very good almost across the board. Coffman beat the Maryland and U.S. averages in six of the nine measured categories for short-staying residents.
Not only did Coffman have a higher successful discharge rate for short-termers (65.3 percent, versus Maryland 59.1 percent, U.S. 55 percent) but its former residents were less likely than average to require rehospitalization or a visit to the ER. These Coffman residents were more likely to receive antipsychotic meds (a minus) but also more likely to get flu and pneumonia vaccinations (a plus).
Coffman short-termers came in slightly below the state and national norms on residents' making improvement in functionality. But on the incidence of pressure ulcers (bed sores), Coffman was downright perfect, with zero percent incidence among short-termers, versus the Maryland and U.S. averages of 1.3 percent. Like fire safety, bed sores are a good marker for whether the nursing home is doing the little things to keep patients safe. Coffman comes out of the good end on bedsores to be sure.
For long-stay residents, however, Coffman had some really big swings in its metrics: some top scores (as in, you can't do better) and some scores so bad that they would seem to raise red flags. Some of this facility's stats even seem contradictory, as in its very low depression rates but very high use of antianxiety meds.
Coffman scored better than the Maryland and U.S. averages in nine of 15 measured categories for long-stay residents. It was significantly better than the state and national norms in helping long-termers maintain their mobility and their ability to carry out daily activities without help. On preventing bed sores (pressure ulcers), Coffman again was very much better than the state or national averages: its 1.6 percent incidence rate meant that long-termers here were about one-fourth as likely as the state and U.S. averages to have this issue.
On the downside, Coffman long-termers were almost four times as likely as average to have urinary tract infections (16.4 percent, versus 4.5 percent Maryland, 4.8 percent U.S.). But on a related issue, ongoing catheterization of residents, Coffman was perfect: zero percent, versus Maryland average 2.5 percent, U.S. 3 percent.
Striking Figure
Coffman scored near-perfectly in terms of depressive symptoms - a very important gauge of residents' contentment levels. The rate of depression at Coffman for long-stayers was half of one percent - far better than the state (4.8 percent) and U.S. (5.4 percent) averages. In a related stat, Coffman was a bit less likely to administer antipsychotic meds. On the downside, Coffman was very much more likely to give out antianxiety meds: 37 percent, versus Maryland's 18.3 percent average, and the U.S. 23.6 percent average. As to basic vaccinations, this facility bested Maryland and the U.S. on giving pneumonia shots, and for flu its vaccination rate was a perfect 100 percent.
Then there were some sharp drops in this facility's scores. While the Maryland and U.S. average incontinence rates are 58 percent and 46.6 percent, respectively, the rate among Coffman long-termers was 81.8 percent: while only half of long-stayers, nationally, and three out of five, statewide, have this issue, more than four-fifths of Coffman's long-stayers were found to be incontinent.
Then there was one quality measure that produced a figure so striking that it calls attention, once again, to the claims Coffman makes on its website. "The Social Work Department," Coffman states, "is responsible for the psychological and social needs of residents…. The social worker is a resident advocate. In this role the rights of the residents are assured and protected."
Yet one of the greatest disparities between Coffman and the state or national averages was in the use of physical restraints. The Maryland average is 0.6 percent, the U.S. average, 0.8 percent: low numbers, yes; but for a last-resort measure that (one hopes) need not happen at all. At Coffman, the use of physical restraints was 4.9 percent - six to eight times higher than the state and national averages. Statewide and nationally, less than one person in 100 is physically restrained; but at Coffman, one person in twenty is restrained. It is such a high number that it cries out for an explanation; we wonder what the Coffman "resident advocate" would say about it. And we wonder how many of those restrained residents and their families felt that they made "the right choice" in coming here.
Hagerstown Elder Abuse or Neglect Lawyer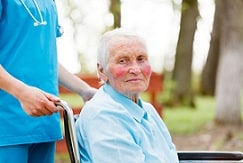 Do you have a possible nursing home lawsuit against this Hagerstown nursing home or any other elder care facility? Call our nursing home lawyers at Miller & Zois today at (800) 553-8082 or get a free no obligation case review. We can help you find the justice and compensation you deserve for the needless harms that have been done.
More Information
Coffman's Facebook page has some reviews that paint a good picture of the facility
Here is Coffman's most recent inspection report. Of course, they need to make sure they are properly labeling and maintaining the resident's drugs. But, again, this is a very good inspection report, especially compared to some of the other facilities in Hagerstown
Our lawyers conduct a similar analysis of each nursing homes in Maryland
Learn how to maximize the value of your negligence claim and find out the trial or settlement value of your assisted living or elder abuse and neglect lawsuit?
Call our elder abuse and neglect lawyers today at (800) 553-8082 or get a free online case review if you believe you may have a potential nursing home lawsuit in Maryland.
1Vital Statistics
Number of Beds:
59 certified beds

Beds in the nursing home that have been approved by the federal government to participate in Medicare or Medicaid.
Accepts:
Medicare and Medicaid

Shows if the nursing home participates in the Medicare, Medicaid, or both.
2Key Ratings
Star Rating Summary
Overall Rating
Above Average
Health Inspection

Medicare assigns the star rating based on a nursing home's weighted score from recent health inspections. More stars means fewer health risks

Average
Staffing

Medicare assigns the star rating based on the nursing home's staffing hours for Registered Nurses (RNs), Licensed Practice Nurses (LPNs), Licensed Vocational Nurses (LVNs), and Nurse aides. More stars means a better level of staffing per nursing home resident

Average
RN Staffing
Average
Quality Measures

Medicare assigns the star rating based on data from a select set of clinical data measures. More stars means better quality of care

Much Above Average
3Key Short Stay Statistics
Description
Coffman Nursing Home
Maryland
Average
Percent of short-stay residents who self-report moderate to severe pain
Lower percentages are better.
16.6%
10.4%
Percentage of SNF residents with pressure ulcers that are new or worsened
Lower percentages are better.
0.0%
Not Available
Percent of short-stay residents assessed and given, appropriately, the seasonal influenza vaccine
Higher percentages are better.
97.0%
85.3%
Percent of short-stay residents assessed and given, appropriately, the pneumococcal vaccine
Higher percentages are better.
94.2%
84.0%
Percentage of short-stay residents who got antipsychotic medication for the first time
Lower percentages are better.
0.7%
1.7%
4Key Long Stay Statistics
Description
Coffman Nursing Home
Maryland
Average
Percent of long-stay residents experiencing one or more falls with major injury
Lower percentages are better.
1.1%
2.7%
Percent of long-stay residents with a urinary tract infection
Lower percentages are better.
6.8%
2.5%
Percent of long-stay residents who self-report moderate to severe pain
Lower percentages are better.
9.5%
5.4%
Percent of long-stay high-risk residents with pressure ulcers
Lower percentages are better.
0.6%
8.8%
Percent of long-stay low-risk residents who lose control of their bowels or bladder
Lower percentages are better.
80.3%
62.3%
Percent of long-stay residents who have or had a catheter inserted and left in their bladder
Lower percentages are better.
5.2%
1.7%
Percent of long-stay residents who were physically restrained
Lower percentages are better.
3.4%
0.2%
Percentage of long-stay residents whose ability to move independently worsened
Lower percentages are better.
13.4%
22.5%
Percent of long-stay residents whose need for help with daily activities has increased
Lower percentages are better.
11.9%
18.0%
Percent of long-stay residents who lose too much weight
Lower percentages are better.
11.4%
5.8%
Percent of long-stay residents who have depressive symptoms
Lower percentages are better.
0.6%
3.9%
Percentage of long-stay residents who received an antianxiety or hypnotic medication
Lower percentages are better.
37.8%
16.2%
Percent of long-stay residents assessed and given, appropriately, the seasonal influenza vaccine
Higher percentages are better.
100.0%
96.7%
Percent of long-stay residents assessed and given, appropriately, the pneumococcal vaccine
Higher percentages are better.
95.5%
94.1%
Percent of long-stay residents who received an antipsychotic medication
Lower percentages are better.
13.0%
12.4%
5Inspection Summary
Date of standard health inspection:12/10/2018
Total number of health deficiencies:15
Average number of health deficiencies in Maryland:14.9