Villa Rosa Nursing Home Negligence Lawsuit
Rush v. Villa Rosa Nursing Home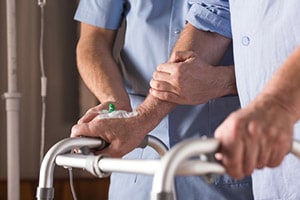 This nursing home negligence claim was filed in Prince George's County after the poor care, hygiene, and living conditions at Villa Rosa caused a woman's health and mental status to deteriorate. It was filed in Health Claims Arbitration on February 20, 2018, and it is the 86th medical malpractice case filed in Maryland this year.
Villa Rosa is swimming in nursing home lawsuits in stunning fashion. This is the 4th lawsuit against this nursing home in the first two months of 2018. The other three claims involve a fall and hip fracture, fall fatality, and bedsores.
Summary of Plaintiff's Allegations
A woman was transferred to Villa Rosa Nursing Home after moving around from numerous other health care facilities following hip surgery. Since she began her residency at Villa Rosa, the woman suffered a multitude of injuries as a result of negligent care and poor living conditions.
She is sluggish due to consistent dehydration and malnourishment, she incurred various bruises and bed sores, her feeding tube is often left hanging on the floor when not in use, and she is routinely left sitting in her soiled diapers.
In a span of sixteen months, the woman was admitted to Doctors Community Hospital twenty-one times, not including her numerous visits to other hospitals and urgent care facilities. When the woman's son questioned Villa Rosa about her deteriorating condition, Villa Rosa staff responded by prohibiting and limiting the son's visits with his mother.
Additional Comments
Out of the 608 claims filed in 2017, 15% were filed against nursing home facilities.
Health inspectors found 23 deficiencies - more than double the Maryland average - during their last inspection of Villa Rosa Nursing Home in 2015.
This lawsuit makes a claim for gross negligence. Gross negligence arises in Maryland after the defendant's assertion of immunity. Once immunity is asserted, gross negligence becomes an issue for defeating certain immunities and for purposes of proper application of the Maryland Tort Claims Act (MTCA).
Villa Rosa is not a state facility. So why did the plaintiff's nursing home lawyers allege gross negligence? It is unclear. In any event, our high court has held that gross negligence is established by evidence of the defendant's "intentional failure to perform a manifest duty in reckless disregard of the consequences as affecting the life or property of another." That is a pretty steep hill to climb and, again, one that is unnecessary to climb to make this case.
What is striking about this case is that this lawsuit reads like the gist of the claim is that this is an awful nursing home. It is hard to argue with this premise given the Usain Bolt-like speed with which this nursing home is picking up lawsuits. But this case is an outlier when it comes to damages. There are few nursing home lawsuits filed in Maryland in which the injuries are as vaguely defined as this case. These cases are expensive to bring to trial. This is the kind of case, even in victim-friendly P.G. County, where the jury could buy into the plaintiff's case and still not award enough money to make the case worthwhile for the victim or the nursing home lawyers that brought the case.
Jurisdiction Defendants Hospitals Where Patient was Treated
Doctors Community Hospital
Negligence
Failing to attend to the woman's physical, emotional, and mental needs.
Failing to prevent or treat the woman's dehydration and malnourishment.
Failing to provide the proper hygiene, physical therapy, exercise, and nutrition.
Specific Counts Pled
As a direct result of the defendant's negligence, the woman is in a poor, unhealthy state, suffering from severe physical, mental, and emotional harm.
Getting a Lawyer For Your Malpractice Claim
Have you suffered a hospital injury due to the negligence of a doctor? Miller & Zois can help you. Call us at (800) 553-8082 and speak to one of our medical malpractice attorneys who can help you or get an online case review.
More Malpractice Claim Information