Prince George's County Nursing Home Fall Lawsuit
McNeil v. Doctors Community Rehab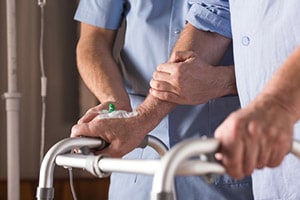 This nursing home negligence claim was filed in Prince George's County after a woman fractured her hip and wrist as a result of unsupervised and unprotected falls. It was filed in Health Claims Arbitration on February 1, 2018, and it is the 60th medical malpractice case filed in Maryland this year.
Summary of Plaintiff's Allegations
An 81-year-old woman suffered a stroke with associated right-side weakness, sensory impairment, and decreased mobility. She was admitted to Doctors Community Rehabilitation and Patient Care Center for skilled nursing services to address her functional impairments. At the time of her admission, she was noted to be on several medications including Pradaxa, Atorvastatin, Docusate, and Pantoprazole.
As a stroke recovery patient with extremity weakness and difficulty walking, the woman should have been rated as a high risk for falls. Based on the medical records, however, the nursing home staff never created a care plan with specific interventions to reduce the woman's high risk of falling.
One day after her admission, the woman fell to the floor in her room. She was found with a red, raised injury over her right eye. Still, no meaningful care plan was created to prevent future falls. Approximately three weeks later, the woman fell again in her room. An x-ray showed a femur fracture near the hip joint of her right leg, and the woman underwent a surgical repair at Prince George's Hospital Center.
Upon her re-admission to Doctor's Community Rehab ten days later, the woman was finally noted to be a risk for falls due to her impaired mobility, cognitive loss, and lack of safety awareness. Even so, the woman suffered a third fall several days after her re-admission. An assessment conducted by nursing home staff reported no injuries from the fall, but an x-ray later showed a broken wrist (nondisplaced distal radius fracture). Doctor's Community Rehab discharged the woman from their facility the next day.
Additional Comments
Nursing home falls are among the most common types of nursing home lawsuits in Maryland, and they are also among the most fatal with a one-year mortality rate of 22%. This claimant was lucky enough to survive her multiple falls, but broken bones are difficult to recover from as an octogenarian. Her statement of claim makes no reference to a decreased quality of life or decreased life expectancy as a result of the fall, but odds are her hip and wrist fractures had a negative impact on her already limited mobility.
The claimant's expert witness, a registered nurse specializing in gerontology, reported that the woman was given a fall risk score of 15 when she returned from the hospital following her second fall. Neither the expert witness report nor the statement of claim cites the scale that was used to determine her fall risk score, but the Johns Hopkins Fall Risk Assessment Tool classifies a patient scoring 13 points or more (out of a possible 26 points) as a "high fall risk."
A nursing home neglect lawyer in Maryland is more likely to take a case like this where there was a fall and an injury but no death in Prince George's County than they would be in most other jurisdictions. PG County is a very favorable jurisdiction for this case.
Jurisdiction Defendants
Magnolia Gardens, LLC d/b/a Doctors Community Rehabilitation and Patient Care Center
Hospitals Where Patient was Treated
Washington Adventist Hospital
Prince George's Hospital Center
Negligence
Failing to develop and/or implement a meaningful plan for fall prevention, including adequate supervision of the claimant.
Failing to protect the claimant's health and safety.
Failing to properly train and supervise nursing home staff.
Failing to have an adequate number of competent and qualified personnel on staff.
Specific Counts Pled
As a result of the defendant's negligence, the claimant incurred medical expenses and suffered undue physical pain and mental anguish.
Plaintiff's Experts and Areas of Specialty
Kathleen A. Hill-O'Neil, R.N., DNP, CRNP, NHA, Nursing Home Administrator, Gerontological Nurse Practitioner, Registered Nurse
Getting a Lawyer for Your Malpractice Claim
Have you suffered a hospital injury due to the negligence of a doctor? Miller & Zois can help you. Call us at (800) 553-8082 and speak to one of our medical malpractice attorneys who can help you or get an online case review.
More Malpractice Claim Information