Nursing Home Wrongful Death Fall Lawsuit Filed in Maryland in 2016
Tarleton v. Glen Burnie Health and Rehabilitation Center
(Filed January 7, 2016)
JurisdictionDefendants
Glen Burnie Health and Rehabilitation Center
SSC Glen Burnie Operating Company, LLC
HospitalsSummary of Plaintiff's Allegations
An elderly man is a resident at Glen Burnie Health and Rehabilitation Center. The man is identified as a fall risk. Lacking proper supervision, he slips and falls, fracturing his hip. He is then taken to St. Agnes Hospital for treatment. Medically unstable and not a candidate for surgery, he dies a week later.
The man's son filed a survival action and wrongful death lawsuit in Anne Arundel County, alleging that Glen Burnie Health and Rehabilitation Center violated the standard of care by failing to employ proper safety devices, failing to implement and observe appropriate fall precautions, and by failing to provide adequate supervision.
Negligence
Failure to use proper safety devices
Failure to implement and observe appropriate fall precautions
Failure to supervise
Specific Counts Pled
Survival action
Wrongful death
Plaintiff's Experts and Areas of SpecialtyAnalysis of These Lawsuits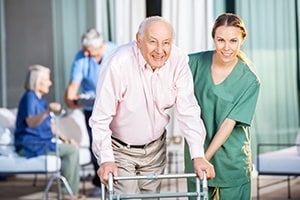 The standard of care requires a nursing home to systematically assess a patient's fall risk. Typically this involves the appropriate named Fall Risk Assessment to determine a patient's individualized fall risk. If the patient is a fall risk, as the patient was in this case according to the Complaint, there may be appropriate protocols in place to prevent falls. The staff must be trained to ensure that each resident receives adequate supervision and assistance to prevent falls. The nurses also need to consider and monitor the medications that the resident is taking and bake that into the calculus of the safety plan for that patient.
Sometimes in these cases the patient is told that they should to go to an assisted living facility (ALF) in the first place. Assisted living facilities are typically for elderly people who are no longer able to safely live their daily lives but do not require the level of care that nursing homes provide. The ALF's gives residents help with meals, housekeeping, medications, and other aspects of their daily lives as well as companionship that is often lost when the elderly loses their ability to travel outside of the home. Residents in an assisted care facility have more autonomy and pay a lower price compared to being in a nursing home.
An ALF is not a good place for a patient who is at a high risk for falls because the level of supervision is not what you will find in a nursing home. The facility has to be in tune with the changing condition of the patient and provide the patient and the family with updated recommendations as to which type of facility is best suited to the patient.
Nursing homes have one primary defense in these cases: you cannot watch a nursing home or rehabilitation center resident 24 hours a day. The typical elderly person has one fall per year. So the argument is that the nursing home cannot prevent falls and even if they did properly assess the risk of the fall or put the appropriate safety protocol in place, it would not have made a difference in this particular case.
The good news for victims is that juries do not give nursing homes the benefit of the doubt that doctors and hospitals get in medical malpractice cases. There are too many nursing home falls that simply would not happen if the nursing home had properly assessed the patient's fall risk and devised a plan that would minimize the risk for a fall. Juries understand this, which is why most of these cases reach a settlement long before the parties get to the courthouse steps.
Hire the Right Nursing Home Lawyer
If you have been badly hurt or if you have lost someone you love as the result of the neglect or abuse of a nursing home or assisted living facility, our law firm can help you get the justice you deserve. Miller & Zois has a long history of success in getting large verdicts and settlements against nursing homes and hospitals who do not do right by their patients. Speak to a nursing home attorney today at (800) 553-8082 or get a free, no obligation online case review. We will review your options and help you chart the path to getting compensation in your case.
More Nursing Home Claim Information