Heritage Harbour Health and Rehabilitation Center
2700 SOUTH HAVEN ROAD
ANNAPOLIS, MD 21401
(410) 897-1300
Medicare's statistical picture of this facility is littered with red flags: let the buyer beware. Although Heritage Harbour scores very well on some measures, the facility's overall rating of "much below average" appears to be justified.
A web search for this particular facility leads directly to "Heritage Harbour Health Group," which appears to be the parent organization. The home page describes this entity as "a privately-run, non-profit organization providing health care to… residents of Heritage Harbour and members of the Health Group."
Sounds good, right? The organization appears to provide care both to residents of its facility, and also sell services to those outside. It is a non-profit in a beautiful city like Annapolis and is in a larger community with many different activities and social options. But the inspections from this nursing home do not paint a good picture.
Heritage Harbour receives the very alarming overall rating of one star out of five: very much a red flag. The facility receives a one-star rating on its health inspection, and only marginally better two-star ratings for staffing and quality measures.
The 154-bed facility (about 90 percent occupied) had inspections in 2015 and 2016: one standard, one complaint-based. The inspections turned up a whopping 25 cited health deficiencies - more than twice the Maryland state average (10.6) and over three times the national average (7.0). The inspections turned up deficiencies (two each) in resident assessment, resident rights; four deficiencies each in pharmacy services, environmental factors, and administration; and, most disturbingly, eight deficiencies in the quality care category. To err is human - but the figures make one wonder how this place operates.
Anomaly
The facility's staffing stats present a seeming contradiction that may reveal another red flag. Medicare gives the RN (registered nurse) rating a three out of five stars: average. But it gives Heritage Harbour an overall staffing rating of two out of five - suggesting that while the nurse scores may be on par, other staff members are dragging down the facility's overall average.
As for the nurses, Heritage Harbor is comparable with state and national averages on the total number of licensed nursing staff hours, per resident, per day, and the daily amount of time residents see a physical therapist. The facility is marginally better than the state and national averages for attendance by LPNs and LVNs (licensed practical nurses, licensed vocational nurses). Heritage Harbor is worse than the state and national averages on the registered nurse time per resident, and is far behind state and national norms on certified nursing assistant time: about an hour and a half per resident per day, versus about two and a half hours, on average, in Maryland and nationally.
Good Scores
On the positive side of the scale, Heritage Harbour does well on quality measurements for short-stay residents. It scores marginally better than the state and national norms on improving the functionality of short-stay residents; on the rate of successfully discharging short-stay residents back into the community; on administering flu and pneumonia vaccines; and in the use of antipsychotic medicines (the less needed, the better). Heritage Harbor scores almost identically with state and national norms on the rate of rehospitalization of discharged residents, on the rate of resident emergency room visits, and on pressure ulcer issues.
On the Other Hand
Then there's the other side of the scale. For long-stay residents, Heritage Harbour scores significantly worse than state and national averages for serious falls suffered by residents, and in rates of bowel or bladder control failure.
The facility comes in marginally worse than average on the rate of urinary tract infections (although better in terms of less catheterization), pressure ulcers, residents' reports of moderate to severe pain, and instances of serious weight loss. Disturbingly, the facility's rate of using physical restraints (on 1.6 percent of long-stay residents) is more than twice the national rate (0.8 percent) and two and a half times the Maryland average (0.6 percent).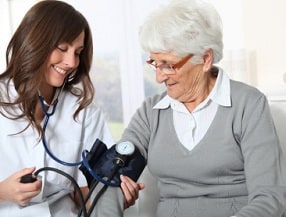 Balancing these negative numbers for long-stay residents are three more positive stats, the more striking when taken together: on depression symptoms, use of anti-anxiety or hypnotic medications, and administration of antipsychotic meds, Heritage Harbour has better (that is, lower) rates in each category than the state and national averages. The facility keeps up with state and national averages on maintaining residents' mobility, and helping patients maintain their independence in daily activities, and it is on par in giving flu vaccinations (although, for some reason, well below par on pneumonia vaccinations).
A final point - which falls in this facility's favor: despite its low Medicare statistical ratings, Heritage Harbour has not received any federal fines, nor been denied any federal payments, in the past three years.
History of Lawsuits and Settlements
We do not have any information on lawsuits, settlements or verdicts involving Heritage Harbour beyond a slip and fall lawsuit the nursing home won at trial many years ago. This does not mean there have not been any. There are not good sources to find Maryland lawsuits filed against nursing homes.
More Information
Learn about what to expect in a nursing home claim in Maryland
What is the trial or settlement value of a nursing home lawsuit in Maryland?
We are nursing home lawyers. If someone you love has been harmed by a negligent or abusive nursing home, our law firm fights for victims and their families. Please call our nursing home victims' rights law firm today at (800) 553-8082 or get a free online case review. There is never a cost of fee unless we get money damages for you.
1Vital Statistics
Number of Beds:
154 certified beds

Beds in the nursing home that have been approved by the federal government to participate in Medicare or Medicaid.
Accepts:
Medicare and Medicaid

Shows if the nursing home participates in the Medicare, Medicaid, or both.
2Key Ratings
Star Rating Summary
Overall Rating
Below Average
Health Inspection

Medicare assigns the star rating based on a nursing home's weighted score from recent health inspections. More stars means fewer health risks

Much Below Average
Staffing

Medicare assigns the star rating based on the nursing home's staffing hours for Registered Nurses (RNs), Licensed Practice Nurses (LPNs), Licensed Vocational Nurses (LVNs), and Nurse aides. More stars means a better level of staffing per nursing home resident

Above Average
RN Staffing
Above Average
Quality Measures

Medicare assigns the star rating based on data from a select set of clinical data measures. More stars means better quality of care

Average
3Key Short Stay Statistics
Description
Heritage Harbour Health And Rehabilitation Center
Maryland
Average
Percent of short-stay residents who self-report moderate to severe pain
Lower percentages are better.
4.8%
10.4%
Percentage of SNF residents with pressure ulcers that are new or worsened
Lower percentages are better.
1.9%
Not Available
Percent of short-stay residents assessed and given, appropriately, the seasonal influenza vaccine
Higher percentages are better.
78.0%
85.3%
Percent of short-stay residents assessed and given, appropriately, the pneumococcal vaccine
Higher percentages are better.
77.1%
84.0%
Percentage of short-stay residents who got antipsychotic medication for the first time
Lower percentages are better.
1.3%
1.7%
4Key Long Stay Statistics
Description
Heritage Harbour Health And Rehabilitation Center
Maryland
Average
Percent of long-stay residents experiencing one or more falls with major injury
Lower percentages are better.
2.5%
2.7%
Percent of long-stay residents with a urinary tract infection
Lower percentages are better.
2.7%
2.5%
Percent of long-stay residents who self-report moderate to severe pain
Lower percentages are better.
4.1%
5.4%
Percent of long-stay high-risk residents with pressure ulcers
Lower percentages are better.
12.4%
8.8%
Percent of long-stay low-risk residents who lose control of their bowels or bladder
Lower percentages are better.
61.9%
62.3%
Percent of long-stay residents who have or had a catheter inserted and left in their bladder
Lower percentages are better.
1.6%
1.7%
Percent of long-stay residents who were physically restrained
Lower percentages are better.
1.0%
0.2%
Percentage of long-stay residents whose ability to move independently worsened
Lower percentages are better.
16.9%
22.5%
Percent of long-stay residents whose need for help with daily activities has increased
Lower percentages are better.
14.4%
18.0%
Percent of long-stay residents who lose too much weight
Lower percentages are better.
8.4%
5.8%
Percent of long-stay residents who have depressive symptoms
Lower percentages are better.
3.7%
3.9%
Percentage of long-stay residents who received an antianxiety or hypnotic medication
Lower percentages are better.
19.4%
16.2%
Percent of long-stay residents assessed and given, appropriately, the seasonal influenza vaccine
Higher percentages are better.
95.4%
96.7%
Percent of long-stay residents assessed and given, appropriately, the pneumococcal vaccine
Higher percentages are better.
92.9%
94.1%
Percent of long-stay residents who received an antipsychotic medication
Lower percentages are better.
10.6%
12.4%
5Inspection Summary
Date of standard health inspection:07/23/2018
Total number of health deficiencies:32
Average number of health deficiencies in Maryland:14.9