Calvert County Nursing Center
85 HOSPITAL ROAD
PRINCE FREDERICK, MD 20678
(410) 535-2300
Calvert County Nursing Center is a non-profit nursing home that provides skilled nursing, rehabilitation, memory support, palliative and respite care in Calvert County. This nursing home has been in business since 1969. Today, Calvert County Nursing Center affiliates with Asbury Communities, another non-profit organization that services senior communities that also has facilities in Gaithersburg and Solomons Island.
This nursing home appears to be run by Auora Health Managment in Millersville, Maryland. There is no mention of Auora on the Calvert County Nursing Center's site. But Auora proudly mentions its involvement on its website. It would seem important to make clear to the public that your non-profit nursing home is run but a for-profit business.
Anyway, the Medicare rating numbers for Calvert County Nursing Center are something of a puzzle. Although rated above average on staffing, this facility scores average on the Medicare health inspection, and below average on quality measures. Yet Calvert County's overall rating is 4 of 5 stars: above average. The numbers do not quite seem to add up. Let's dig into them.
One Minute a Day
"Our therapy services focus on tasks that will prepare residents to function independently upon their return home - or in a setting that is the safest and most appropriate one given their level of function," states this facility's website. "The Therapy Department also works with the restorative Nursing Aides to create exercise programs that are continued with the resident after the intense therapy programs have reached their maximum potential."
Despite these claims, Calvert County scored significantly lower than average, for long-stay residents, on maintaining residents' mobility and their ability to conduct routine daily activities without help.
As for physical therapy, which would appear to be an important point of emphasis here, Calvert County is well below average. Statewide, nursing home residents see a physical therapist, on average, 8 minutes a day; nationally, the average is 6 minutes. Calvert County residents get just one minute a day, on average, with physical therapists.
Few Health Deficiencies
With a total of 108 residents at the last official count, Calvert County is about the same as the Maryland average, higher than the national average of 86.2.
Its last standard health inspection, in October, 2015, produced a 3-of-5 star average rating. The facility was found to have only 4 deficiencies (versus 11 on average for the state, 7.1 nationally). However, two of these deficiencies earned Calvert County a health complaint inspection in the category of resident rights. This inspection, in March, 2016, found that the nursing home failed to "Properly hold, secure, and manage" a resident's money, and to properly convey a deceased resident's money to the appropriate party. The Medicare report did note that Calvert County corrected these deficiencies.
On fire safety, this facility (with 10 deficiencies) performed poorly compared with the state and national averages (4 deficiencies and 3.4 deficiencies, respectively).
Calvert County has not had any federal fines in the past three years, but it did have a payment denial in 2014.
Staffing Scores
In terms of the Medicare scoring, staffing is Calvert County's strong suit, with a 4-of-5 star rating. This facility beat both the state and U.S. averages for total nurse staff hours per resident per day. Calvert County got a strong 4-for-5 rating on registered nurse staffing, although - oddly -- the RN-per-resident time at this facility was lower than both the state and national averages.
Calvert County was better than state and national averages on time spent by LPNs and LVNs (licensed practical nurses, licensed vocational nurses): 69 minutes per resident per day, versus 52 statewide and 51 minutes nationally. Then it fell off on physical therapy time, giving residents just that one minute per day, on average.
Up and Down on Quality
Despite scoring well in many categories, Calvert County received a 2-for-5 below-average rating on quality measures.
For short-stay residents, it scored a bit better than state and national averages on improvement in function; a resident's need for rehospitalization; successful discharges; and administration of flu and pneumonia vaccines. It was significantly better than state and national averages on incidence of pressure ulcers (less than half the state and U.S. averages) and in the use of antipsychotic meds (zero, versus 2.2 percent on average, both statewide and nationally). For short-stayers, Calvert County performed less well than state and national averages on outpatient ER visits and on residents' reports of moderate to severe pain.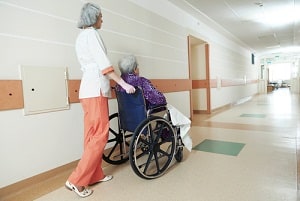 For long-stay patients, Calvert County outperformed state and U.S. averages on maintaining bowel and bladder control; use of physical restraints (zero here, versus 0.6 percent for the state and 0.8 percent nationally); and less use of antianxiety or antipsychotic meds. It performed significantly better on the count of residents with depressive symptoms: a mere 0.8 percent, versus 4.8 percent for the state and 5.4 percent on average nationally.
Hiring a Nursing Home Lawyer
If you believe you have a potential nursing home lawsuit against Calvert County Nursing Center or any other nursing home or assisted living facility, call Miller & Zois today at (800) 553-8082 or get a free no obligation case review. More Information
1Vital Statistics
Number of Beds:
149 certified beds

Beds in the nursing home that have been approved by the federal government to participate in Medicare or Medicaid.
Accepts:
Medicare and Medicaid

Shows if the nursing home participates in the Medicare, Medicaid, or both.
2Key Ratings
Star Rating Summary
Overall Rating
Below Average
Health Inspection

Medicare assigns the star rating based on a nursing home's weighted score from recent health inspections. More stars means fewer health risks

Below Average
Staffing

Medicare assigns the star rating based on the nursing home's staffing hours for Registered Nurses (RNs), Licensed Practice Nurses (LPNs), Licensed Vocational Nurses (LVNs), and Nurse aides. More stars means a better level of staffing per nursing home resident

Below Average
RN Staffing
Average
Quality Measures

Medicare assigns the star rating based on data from a select set of clinical data measures. More stars means better quality of care

Below Average
3Key Short Stay Statistics
Description
Calvert County Nursing Ctr.
Maryland
Average
Percent of short-stay residents who self-report moderate to severe pain
Lower percentages are better.
10.6%
10.4%
Percentage of SNF residents with pressure ulcers that are new or worsened
Lower percentages are better.
1.0%
Not Available
Percent of short-stay residents assessed and given, appropriately, the seasonal influenza vaccine
Higher percentages are better.
82.2%
85.3%
Percent of short-stay residents assessed and given, appropriately, the pneumococcal vaccine
Higher percentages are better.
85.4%
84.0%
Percentage of short-stay residents who got antipsychotic medication for the first time
Lower percentages are better.
1.1%
1.7%
4Key Long Stay Statistics
Description
Calvert County Nursing Ctr.
Maryland
Average
Percent of long-stay residents experiencing one or more falls with major injury
Lower percentages are better.
1.2%
2.7%
Percent of long-stay residents with a urinary tract infection
Lower percentages are better.
2.2%
2.5%
Percent of long-stay residents who self-report moderate to severe pain
Lower percentages are better.
7.0%
5.4%
Percent of long-stay high-risk residents with pressure ulcers
Lower percentages are better.
10.9%
8.8%
Percent of long-stay low-risk residents who lose control of their bowels or bladder
Lower percentages are better.
42.2%
62.3%
Percent of long-stay residents who have or had a catheter inserted and left in their bladder
Lower percentages are better.
1.2%
1.7%
Percent of long-stay residents who were physically restrained
Lower percentages are better.
0.0%
0.2%
Percentage of long-stay residents whose ability to move independently worsened
Lower percentages are better.
25.6%
22.5%
Percent of long-stay residents whose need for help with daily activities has increased
Lower percentages are better.
23.3%
18.0%
Percent of long-stay residents who lose too much weight
Lower percentages are better.
11.1%
5.8%
Percent of long-stay residents who have depressive symptoms
Lower percentages are better.
0.5%
3.9%
Percentage of long-stay residents who received an antianxiety or hypnotic medication
Lower percentages are better.
15.9%
16.2%
Percent of long-stay residents assessed and given, appropriately, the seasonal influenza vaccine
Higher percentages are better.
92.9%
96.7%
Percent of long-stay residents assessed and given, appropriately, the pneumococcal vaccine
Higher percentages are better.
92.6%
94.1%
Percent of long-stay residents who received an antipsychotic medication
Lower percentages are better.
14.1%
12.4%
5Inspection Summary
Date of standard health inspection:04/10/2018
Total number of health deficiencies:19
Average number of health deficiencies in Maryland:14.9