Broadmead
13801 YORK ROAD
COCKEYSVILLE, MD 21030
(443) 578-8020
Broadmead is a retirement community with a nursing home component. It is a non-profit Quaker nursing home.
At the risk of overgeneralizing, Quaker nursing homes are fantastic. If Medicare were using a 10-star system for rating nursing homes, Broadmead probably would score a ten. But since it's a 5-star system, this Baltimore County facility has to settle for an overall rating of 5 out of 5 - "much above average." If every nursing home in Maryland was like Broadmead, we would have a lot fewer nursing home lawyers.
Many stars
Broadmead also gets all 5 stars for two of the main Medicare inspection categories: staffing and quality measures. For its last inspection (September, 2015) this facility scored "only" a 4-out-of-5 on the health inspection, with a total for four health deficiencies found. Yet even here, Broadmead beat both the state and national averages (state average: 10.6 deficiencies; U.S. average, 7). In five of eight health inspection categories, Broadmead had zero deficiencies. It also scored better than the state and national averages on fire safety.
On the "how many times have you been sued?" scale, our lawyers have been unable to find any lawsuits, verdicts or settlements involving any nursing home malpractice cases against this nursing home. This is also a good sign.
Strong staff-resident ratios
Founded in 1979 as a private, not-for-profit, continuing care retirement community, Broadmead has 70 certified beds, of which only 51 were occupied as of the last standard health inspection. That makes this facility considerably smaller, in terms of resident population, than either the state of Maryland (107.5 on average) or the U.S. overall (86.2). Having a relatively small number of residents does not necessarily mean that each residents enjoy far more attention from staffers than average.
On staffing, Broadmead's 5-for-5 top rating includes, notably, a 5-for-5 rating on RN staffing. It rates comparably with the state and the U.S. averages on total licensed nurse staff hours per resident per day; but lower than state and national averages on daily resident time with LPNs and LVNs (licensed practical nurses, licensed vocational nurses). However, Broadmead is significantly better than the U.S. and state averages on physical therapist time per patient (national average 6 minutes; state average, 9; Broadmead, 13). As for certified nursing assistants, Broadmead far outdistances state and national averages (over three hours per patient per day, versus about two and a half statewide and nationally).
Good measure
These high staffing levels probably have a lot to do with Broadmead's high scores on quality measures. For short-stay residents, this facility's metrics are very comparable to state and national averages in some categories. For some odd reason, Broadmead is below state and national averages on giving pneumonia vaccines: about three of five Broadmead residents, versus four out of five state or U.S. residents, receive these vaccines.
But in other important categories, Broadmead excels the state and national norms by a wide margin: Broadmead residents are less likely to get bed sores (an important indicator of care quality), less likely (by about half) to go to the ER as outpatients; and in one happy measure - the number of short-stay residents reporting moderate to severe pain - Broadmead leaves the state and the U.S. in the dust. Whereas 14.2 percent of Maryland residents, and 16.9 percent of residents nationally, report having pain, only 1.4 percent of the Broadmead residents do so. Broadmead residents seem to have little to complain about.
Superlative scores
For long-stay residents, Broadmead scores about on par with the state of Maryland and U.S. averages on a few measured categories - but scores much higher than average on many others. Broadmead long-stay residents are less than half as likely as the state or U.S. averages to experience a urinary tract infection; less likely to contract a pressure ulcer; less likely to be catheterized for long periods; and less likely to need an anti-anxiety medication.
In some of the categories for long-stay residents, Broadmead's record truly is superlative. The percentage of Broadmead residents losing too much weight is 0.6, versus 6.3 percent for the state and 7.1 percent nationally. The percentage of these Broadmead residents having symptoms of depression, or being subjected to physical restraints: zero - vastly better scores than the state and nation on both counts.
Only in the category of resident falls does Broadmead do markedly less well than the state and national averages: 6.3 percent of Broadmead residents were injured in falls, which is over twice the state and national averages. (However, the full 2015 Medicare report indicated that Broadmead had one resident who was highly fall-prone. This single resident might have pushed up Broadmead's overall statistical average.)
And on that revealing barometer of how much pain long-stay residents say they are experiencing, the state average is 6.4 percent; the national average, 8.2 percent; the Broadmead average: 0.7 percent.
It hardly comes as a surprise that Broadmead has received no federal fines, nor been denied any federal payments, for the past three years.
Hiring a nursing home lawyer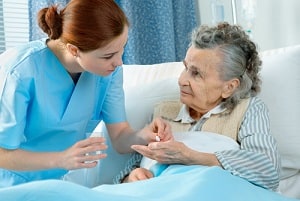 There is no question that Broadmead is a quality facility. Still, nursing home malpractice occurs in many good nursing homes. If you believe you have a potential lawsuit against Broadmead or any other nursing home or hospital, call Miller & Zois today at (800) 553-8082 or get a free no obligation case review. We are here to help you find discovery your options and determine where there is a path to financial compensation for the harm that has been done.
More Information
1Vital Statistics
Number of Beds:
70 certified beds

Beds in the nursing home that have been approved by the federal government to participate in Medicare or Medicaid.
Accepts:
Medicare and Medicaid

Shows if the nursing home participates in the Medicare, Medicaid, or both.
2Key Ratings
Star Rating Summary
Overall Rating
Much Above Average
Health Inspection

Medicare assigns the star rating based on a nursing home's weighted score from recent health inspections. More stars means fewer health risks

Much Above Average
Staffing

Medicare assigns the star rating based on the nursing home's staffing hours for Registered Nurses (RNs), Licensed Practice Nurses (LPNs), Licensed Vocational Nurses (LVNs), and Nurse aides. More stars means a better level of staffing per nursing home resident

Above Average
RN Staffing
Much Above Average
Quality Measures

Medicare assigns the star rating based on data from a select set of clinical data measures. More stars means better quality of care

Much Above Average
3Key Short Stay Statistics
Description
Broadmead
Maryland
Average
Percent of short-stay residents who self-report moderate to severe pain
Lower percentages are better.
5.6%
10.4%
Percentage of SNF residents with pressure ulcers that are new or worsened
Lower percentages are better.
0.0%
Not Available
Percent of short-stay residents assessed and given, appropriately, the seasonal influenza vaccine
Higher percentages are better.
46.9%
85.3%
Percent of short-stay residents assessed and given, appropriately, the pneumococcal vaccine
Higher percentages are better.
52.2%
84.0%
Percentage of short-stay residents who got antipsychotic medication for the first time
Lower percentages are better.
1.5%
1.7%
4Key Long Stay Statistics
Description
Broadmead
Maryland
Average
Percent of long-stay residents experiencing one or more falls with major injury
Lower percentages are better.
1.2%
2.7%
Percent of long-stay residents with a urinary tract infection
Lower percentages are better.
0.6%
2.5%
Percent of long-stay residents who self-report moderate to severe pain
Lower percentages are better.
0.0%
5.4%
Percent of long-stay high-risk residents with pressure ulcers
Lower percentages are better.
5.7%
8.8%
Percent of long-stay low-risk residents who lose control of their bowels or bladder
Lower percentages are better.
60.3%
62.3%
Percent of long-stay residents who have or had a catheter inserted and left in their bladder
Lower percentages are better.
1.4%
1.7%
Percent of long-stay residents who were physically restrained
Lower percentages are better.
0.0%
0.2%
Percentage of long-stay residents whose ability to move independently worsened
Lower percentages are better.
14.3%
22.5%
Percent of long-stay residents whose need for help with daily activities has increased
Lower percentages are better.
18.8%
18.0%
Percent of long-stay residents who lose too much weight
Lower percentages are better.
5.4%
5.8%
Percent of long-stay residents who have depressive symptoms
Lower percentages are better.
0.0%
3.9%
Percentage of long-stay residents who received an antianxiety or hypnotic medication
Lower percentages are better.
17.5%
16.2%
Percent of long-stay residents assessed and given, appropriately, the seasonal influenza vaccine
Higher percentages are better.
72.0%
96.7%
Percent of long-stay residents assessed and given, appropriately, the pneumococcal vaccine
Higher percentages are better.
87.3%
94.1%
Percent of long-stay residents who received an antipsychotic medication
Lower percentages are better.
8.5%
12.4%
5Inspection Summary
Date of standard health inspection:12/21/2017
Total number of health deficiencies:4
Average number of health deficiencies in Maryland:14.9