DVT Nursing Home Wrongful Death Lawsuit
Jasmine v. Fairfield Nursing and Rehabilitation Center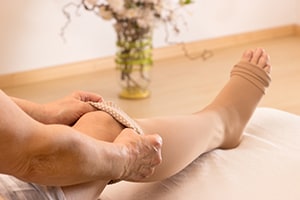 This nursing home wrongful death claim was filed in Baltimore County after medical staff failed to appreciate the symptoms of deep vein thrombosis. It was filed in Maryland Health Claims Arbitration on February 7, 2018, and it is the 65th medical malpractice case filed in Maryland this year.
Summary of Plaintiff's Allegations
A 60-year-old woman went to Baltimore Washington Medical Center (BWMC) for an elective spinal fusion procedure to control her back pain. The surgery was completed without any complications and her postoperative instructions included TED stockings and a cardiac diet to prevent deep vein thrombosis (DVT) and gastrointestinal problems. An ultrasound performed several days after the surgery showed no evidence for DVT, so the woman was considered medically stable for discharge.
The woman was then admitted to Fairfield Nursing and Rehabilitation Center in Crownsville with discharge recommendations from BWMC for physical therapy. The woman's official care plan at Fairfield included a regular diet with thin liquids, TED stockings, physical therapy rehabilitation, and medications.
The day after her admission, the woman's attending physician at Fairfield called in a telephone order to increase her dosage of Oxycodone, a pain medication that can cause lethargy, drowsiness, and respiratory depression. He also increased her Baclofen, a muscle relaxant medication. The physician made another medication change two days later, replacing the woman's Baclofen prescription with Valium. On the same day as this change of order, the physical therapist noticed that the woman was "drowsy during the exercises and needed cues to stay on task." She was only able to sit for a few minutes before experiencing drowsiness.
Physical therapy continued to work with the woman daily. Some days, therapy was the only time she got out of bed. She continued to have difficulty walking and could only move with assistance. An occupational therapist also notified the nursing staff that the woman complained of weakness, shortness of breath, and wheezing while breathing, but the nurses never made any assessment or intervention.
After several days of therapy and medication, a physical and rehabilitation pain management specialist evaluated the woman. In the progress note, the specialist recommended that the medical staff elevate the woman's legs and keep her TED stockings on. This implies that the nursing staff hadn't been using the TED stockings, in direct violation of the care plan.
Additionally, nursing staff had been ignoring the doctor's orders by failing to assess the woman's vital signs and pulse oxygenation level every three hours, before each pain medication administration. Because the nurses were not consistently monitoring the woman's vitals, they did not recognize that the woman's critically low blood pressure was a sign of her worsening condition. They also failed to communicate with the physician about the woman's declining health.
On the morning of her eighth day at Fairfield, the woman was found unresponsive with no pulse or respirations. The staff performed CPR and called for an ambulance to take the woman to Anne Arundel Medical Center where she was pronounced dead. An autopsy revealed her cause of death to be a large pulmonary embolism due to her significant risk factors including obesity, recent orthopedic surgery, and immobilization.
Additional Comments
A blood clot in a deep vein, usually in the legs, is called a deep vein thrombosis (DVT). Large clots in the legs can cause symptoms like swelling, tenderness, soreness, and pain, but a DVT is the most dangerous when it breaks off from the leg and travels through the bloodstream. When such a clot gets stuck in the lungs it is called a pulmonary embolism, causing chest pain, shortness of breath, and possibly death. Pulmonary emboli can occur hours or days after a DVT initially forms in the legs. The woman in this claim had three major risk factors of DVT, including recent surgery, obesity, and minimal movement, so her healthcare providers should have been on the lookout for DVT warning signs.
While it may have been acceptable to administer some pain medication, the woman was administered an inappropriate amount of pain medication and was not monitored closely enough while she was on it. Drugs like Oxycodone might successfully manage pain, but they also mask symptoms and cause drowsiness. For a woman who was already at high risk for DVT, increased drowsiness or lethargy could make DVT preventions such as physical therapy and mobility more difficult.
Jurisdiction Defendants
Mid-Atlantic of Fairfield, LLC t/a Fairfield Nursing and Rehabilitation Center
Mid-Atlantic Health Care, LLC
Crownsville Health Care, LLC
Hospitals Where Patient was Treated
Baltimore Washington Medical Center
Anne Arundel Medical Center
Negligence
Failing to follow physician's orders for 100% application of TED stockings.
Failing to assess lower extremities for skin color, edema, pain, and pedal pulses every shift.
Failing to provide increased DVT preventions including walking, hydration, and repositioning every two hours.
Failing to help the woman walk three times per day or provide exercises in bed.
Failing to maintain patient safety by administering narcotic pain medication every three hours without justification.
Failing to assess pain level, vital signs, pulse oximetry, and neurologic status pre- and post-medication administration.
Failing to communicate significant changes in the woman's status to the physician.
Specific Counts Pled
Medical Negligence - Wrongful Death: As a direct result of the defendants' negligence, the woman received substandard medical care and suffered death.
Lack of Informed Consent: The defendant health care providers failed to inform the woman of the full extent of her medical condition, which was indicative of a pulmonary embolus, and failed to discuss the risks, benefits, and alternatives of treatment.
Getting a Lawyer for Your Malpractice Claim
Have you suffered a hospital injury due to the negligence of a doctor? Miller & Zois can help you. Call us at (800) 553-8082 and speak to one of our medical malpractice attorneys who can help you or get an online case review.
More Malpractice Claim Information